Here on this page, we'll show you a comparison of File History and Back Software, and you can see the advantages and disadvantages to decide which is the most suitable tool for backing up your Windows data or files:
PAGE CONTENT:
File History or Backup Software, which is your best choice?
Comparison: File History vs. Backup Software/dt>
Recommend: Best Windows backup software to fully backup PC, external storage and even network drive files
Why Choose EaseUS Todo Backup? (What can you get from it?)
File History or Backup Software, Which Is Your Best Choice
Have you ever met this problem that when you want to create a backup on Windows computer, hard drive or an external storage device, you don't know how to do it or don't know any smarter ways of backing up files rather than simply copying and pasting, right?
According to Microsoft and Google search result, when we speak of backup tools or backup software, copying and pasting files somewhere is no longer a smart and safe way for people to back up huge or complex data. And when you try to find solutions online, overwhelming information and recommendations of the backup tool will come over to you. As a result, Windows backup tool - File History and online backup software are two top choices for most ordinary users.
So besides the similarities, what are the differences between the Windows File History and Backup Software?
Comparison: File History vs. Backup Software
Here is a comparison form of advantages and disadvantages between File History and Backup Software. And you can follow this form to decide which tool should be your backup assistant now: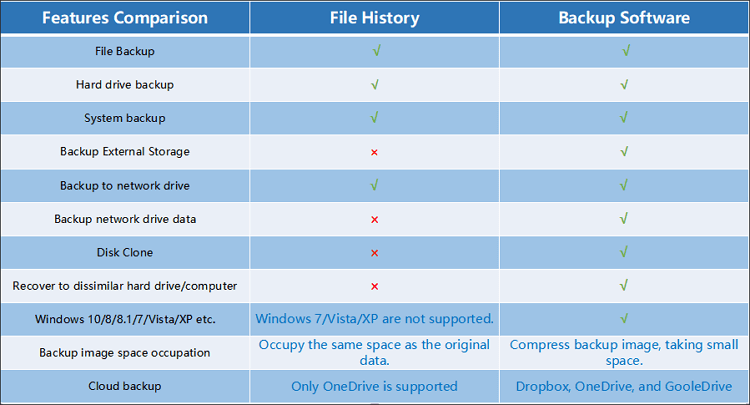 According to this form, you can see that Windows File History indeed can do many backup jobs for you.
File History still has many limitations. Hence, File History requires you know very well about Windows backup on computers.
Therefore, if you prefer a simple and easy way of backing up computer data, Windows system or precious Cloud data, professional Windows backup software is the best choice for you.
Recommend: Windows Backup Software to Fully Backup PC, External Storage, and Even Network Drive Files
So you may want to know how to choose a right Windows backup software to create backups of your Windows PC, system images, external storage data, and even the network drive files. Here we'd like to recommend you try the best Windows backup software - EaseUS Todo Backup and apply it to fully back up your Windows files, system images and even hard drive data with just a few simple clicks.
Note: If you are a Mac user, you can also get a Mac version of EaseUS backup software for help.
Do you want to know why we recommend you try EaseUS Todo Backup rather other famous or big brands of backup software online? Continue, and you'll find out:
Why Choose Easeus Todo Backup (What Can You Get from It?)
Here we'll tell you the advantages and what you can get from EaseUS Todo Backup as the best backup software.
Let's see what you can get from EaseUS Todo Backup right now:
1. Real-time online tech support: EaseUS software provides you a strong tech support team, and you can get real-time online support whenever you've got a problem using EaseUS Todo Backup.
2. 30 Days Free Trial: It's 100% free for you to create backups of your Windows system, computer files, hard drive or partitions or to clone and upgrade system hard drive without reinstalling Windows OS.
3. 30 Days Money Back: If EaseUS Todo Backup doesn't work or fails to resolve your backup problem, your can ask for online support, and you can get your money back after purchasing it within 30 days.
4. 100% Risk-Free: EaseUS Todo Backup is a 100% risk-free backup tool which has no bundled plug-ins or malware. It's clean for you to install and backup your files in a secure way.
No other decrypting tools can unlock the compressed backup image, except for EaseUS Todo Backup.
5. Powerful and multiple functions: EaseUS Todo Backup has multiple functions for you to simply apply and accomplish diverse backup tasks such as file backup, hard drive backup, system backup, clone system, clone hard drive, cloud backup, upgrade system hard drive without reinstallation, etc.
And you can get this software for backing up your precious files and valuable data on your Windows PC or storage devices with ease now.
You may also want to know how to use this backup software for file backup, right? Here is a simple guide for you to follow and simply backup Windows system, files or even hard drive within 3 simple steps:
1. Launch EaseUS Windows 10 backup software and then choose the "System Backup" option.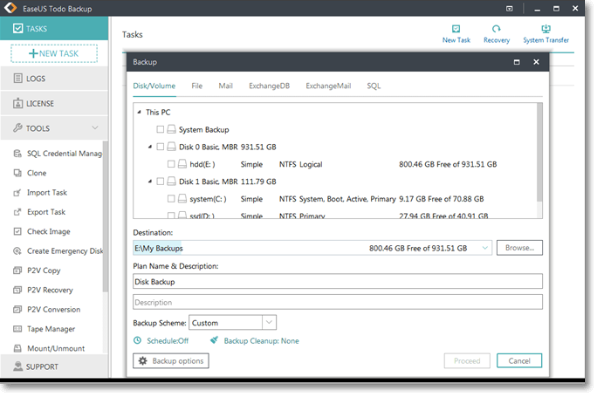 2. The software will then automatically recognize your operating system. And what you need to do here is to perfect the Destination, Plan name, and Description.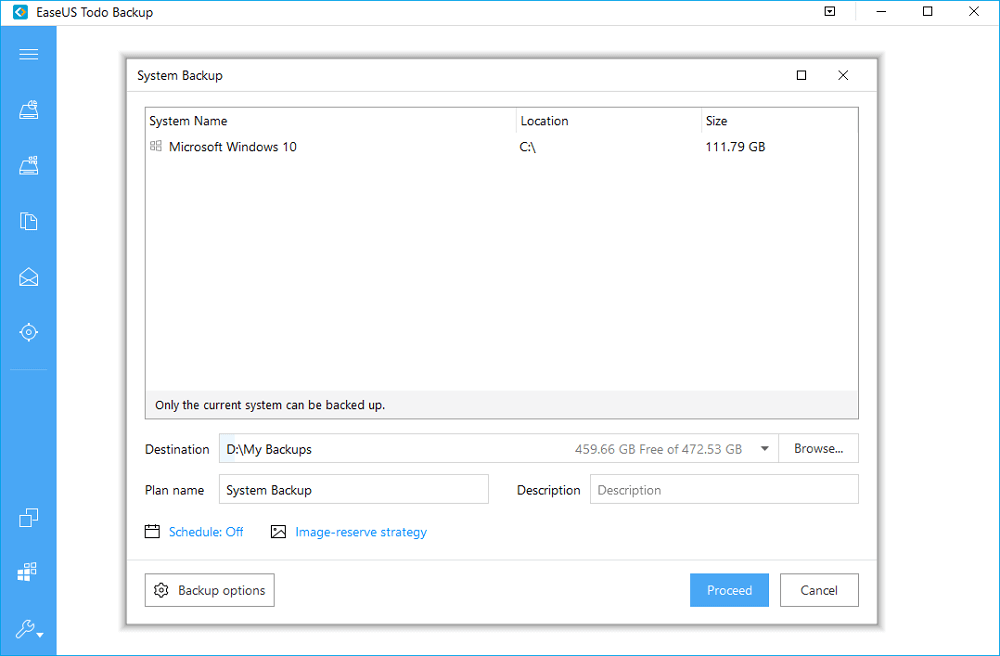 Note:
Destination - Click the folder icon to modify your backup destination.
Plan name and Description - An accurate plan name and appropriate description can help you find the needed image file easily.
You'd better create the backup file to an external storage device or in some other drives. If not, there may be a risk of the backup file getting corrupted or destroyed.
3. Click Proceed to start Windows 10 system backup.
Just wait for the backup process to finish, and you should be able to get a complete backup of your Windows system and files. No Windows backup failure error would occur.
 Notice:

If you have other problems with disk cloning or system upgrade, cloud backup, etc., please refer to the guide page - Backup and Recovery for help.