Symptom
Blue screen always comes all of a sudden while you're working on a Word document, downloading an extremely large size application, watching NBA live broadcasting, drawing an engineering draft or doing whatever job you never expect a sudden disrupt!
And, one of the most commonly seen Blue Screen of Death (BSOD) error in each Windows operating system generation is called faulty hardware corrupted page, with a blue screen displaying a white text error message:" Your PC ran into a problem and needs to restart. We're just collecting some error info, and then we'll restart for you. (0% complete)...FAULTY_HARDWARE-CORRUPTED_PAGE."
Causes
So, what caused faulty hardware corrupted page blue screen error? We listed some reasons. Try to determine which one is fit for your own case.
Incomplete installation or uninstallation of a specified program/application.
Virus and malicious software that infected the computer, consequently making system or system related program files corrupted.
Incorrectly configured an old or corrupted device driver, of which like HP, Dell, Lenovo, etc.; Or, driver conflict after installing new hardware.
Windows registry corruption due to a recent software change.
Removed system files, or system files damaged.
Hard disk bad sectors, hard disk damaged or corrupted.
Troubleshooting
You can follow the next two parts to cope with your problem.
Part 1. Emergency measure for system and data protection
Finding no way to fix faulty hardware corrupted page error makes us worried, however, losing data or system can be dreadful. So, when such a blue error strikes your computer for the first time, do not stay there watching as nothing has happened.
When faulty hardware corrupted page is reported, take an emergency measure as soon as possible, which is to back up everything important on the computer with some backup and recovery software.
Selected as a simple and all-in-one solution, EaseUS free backup software should be a perfect choice to backup computer and repair faulty hardware corrupted page error without losing data.
 Tip

You'd better create the backup file on an external disk or on the cloud in case the local backup gets corrupted or destroyed.
Step 1: Launch EaseUS Todo Backup software and then choose "File Backup", "Disk/partition Backup" or "System Backup" for different backup purpose.
Step 2: Choose the system, disk partition, files or apps that you want to back up. Then select a destination where you want to store the backup file.
Step 3: Click "Proceed" to start the data backup process.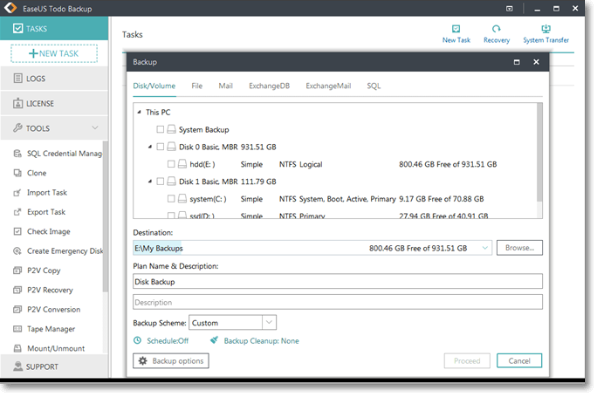 Part 2. Viable Solutions for faulty hardware corrupted page blue screen error
In fact, even Microsoft cannot confirm a 100% working method to fix the discussing issue. Though it's not a good thing to happen, the FAULTY_HARDWARE-CORRUPTED_PAGE error really will not cause damage to any computer, because usually the computer will do a restart and for most cases, the computer just went back to normal.
Only for people who experienced a frequent blue screen disaster, there are some suggested fixing methods that deserve a try.
Step 1. Download the latest update of Windows 10, 8, 7 operating system.
Step 2. Update all drivers, especially the display driver. For Dell, Lenovo, HP, Asus computer users, you'd better visit the official website and get the drivers.
Step 3. Find a disk cleanup program, and simply use the program to clean your hard drive. Check the tutorial disk clean up Windows 10 which helps clean up junk files, delete temporary files and system files.
Step 4. Check and repair hard disk partition errors in Windows.
Step 5. Run the Windows system file checker. In the command prompt, type "sfc /scannow" and hit ENTER.
Step 6. Factory reset your Windows, or clean install Windows 10. This will definitely result in complete data loss, so remember to create a backup with EaseUS Todo Backup software.