"I just bought a used Windows 7 computer from a yard sale. It has a bunch of stuff on it, which I don't need or would use. How do I delete the whole data on the hard drive and start from scratch? Or how can I wipe the PC and restore it to a factory-fresh state?"
When you buy a second-hand computer with data or decide to sell/give your computer to others; when your computer is full of trashes and becomes slow, you may need to delete everything off the computer on Windows 7/8/10. You can wipe your PC and restore it to a factory state, with nothing but the Windows operating system installed.
 Warning

Wiping and factory resetting will erase all the data on your computer, which means unrecoverable. Hence, you should back up important files on your computer to an external storage device. If you like to do it with backup software, EaseUS Todo Backup is highly recommended for its simplicity and convenience in backup and restore.
How to Delete Everything on Windows 7/8/10 and Wipe a Computer
If you only want to keep the clean Windows system on your computer as when you bought it. And you want to wipe user accounts, personal files, customized settings, programs, data to make it unrecoverable for privacy reasons; you can do it in two steps. The first is resetting Windows to the factory state, and the second is wiping disks/drives. Read the following how-to content.
How to Reset Windows 7/8/10 to Factory State
The ways to factory reset vary on different systems, see details below.
Reset Windows 7
To delete everything on Windows 7 and reset your computer to the factory state, you have to use an original Windows 7 installation media or recovery disk. If you don't have the disc, you will need to contact the computer manufacturer to order a new restore disc or skip to see how to delete everything on windows 7 without a CD.
Step 1. Insert the Windows 7 installation CD in the CD-ROM drive and restart the computer. When you see the message "Press any key to boot from CD," press a key on the keyboard.
Step 2. On the "Install Windows" page, select your preferred language and other preferences, then click "Next".
Step 3. Follow the prompt to accept the terms and agreements and click "Next". On the Installation Type screen, choose the "Custom" option.
Step 4. Select the Drive Options (advanced) option. Click on "Disk 0" to delete all partitions. When all partitions have been deleted, you should see a single entry named "Unallocated space." Then, select "Next".
Now, the Windows installation process will start by creating a new partition, formatting the partition, and installing Windows on the hard drive. The formatting process will erase the hard drive before installing Windows.
Restore Windows 8
Step 1. Go to "Settings". Click "Change PC settings" > "General" > "Remove everything and reinstall Windows" > "Get started". If your operating system is "Windows 8.1", click "Update and recovery" > "Remove everything and reinstall Windows".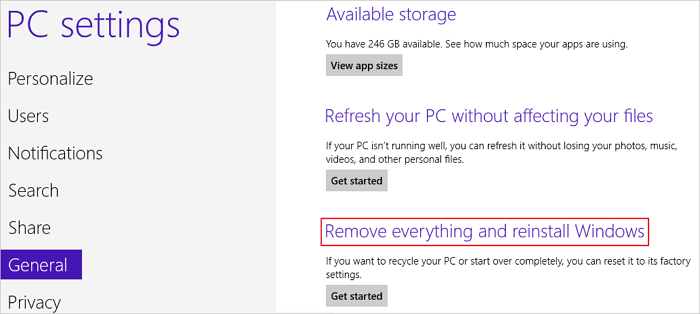 Step 2. Click "Next". Note: All your personal files, settings, and apps will be removed.
Step 3. Select the drives which you want to remove files from. Here, you can select your system drive.
Step 4. Choose "Just remove my files" or "Fully clean the drive". Click "Reset" to reset your PC.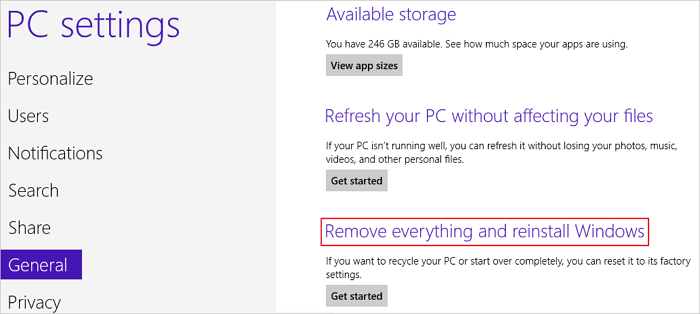 Reset Windows 10
Step 1. Go to "Settings". Select "Update & security" > "Recovery" in the left pane > "Get started" under "Reset this PC".
Step 2. Click "Keep my files" or "Remove everything". Here, to restore a clean Windows, choose "Remove everything".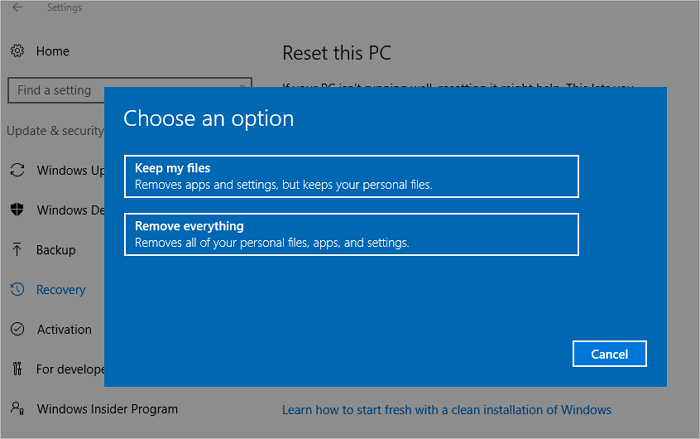 Step 3. Select "Just remove my files" or "Remove files and clean the drive". Cleaning the drive takes a lot longer. If you are giving the computer away, choose the latter one; while if you are keeping the computer, choose the first one.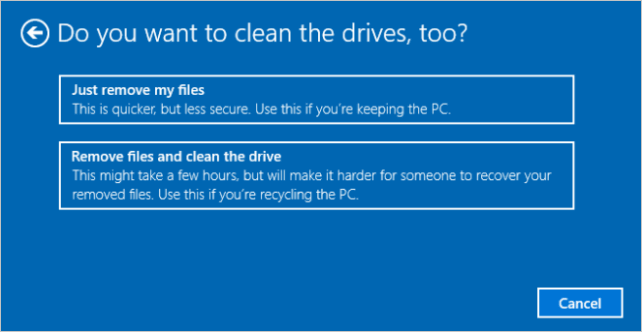 Step 4. Click "Next" > "Reset" > Continue when prompted. Windows will then restart and take several minutes to reset.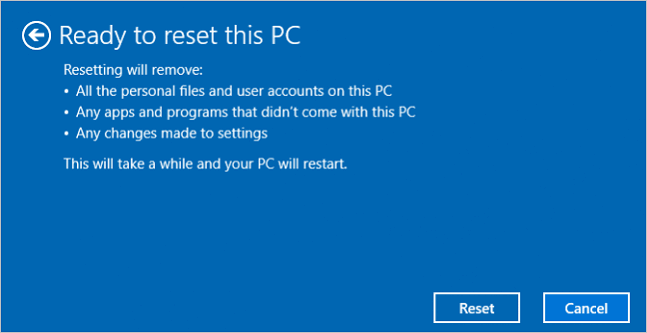 After you have restored the Windows 7/8/10 PC to factory default settings, the system drive (Usually C: ) is cleaned up. The next step is to erase the data drives, which can be done easily with the help of reliable third-party software.
How to Wipe a Computer in Windows 7/8/10
Windows only provide you the option to format a hard drive. But after formatting, the data is recoverable through some professional data recovery software. However, when you ask how to delete everything on a computer, you must mean to erase data so that it can't be recovered. Let's say how to wipe all the data off a computer quickly.
EaseUS Todo Backup wiping tool helps you wipe one or more disks/drives at one time. And you can choose the erase times to make sure the data is clean.
Notice:
The wipe data operations cannot be undone after applying the changes. Please be careful that once the operation is carried out by EaseUS Todo Backup, the data will not be recovered by any data recovery software! Once you decide to wipe your partition or disk, your data will disappear forever.
Step 1. Download EaseUS Todo Backup for wiping data.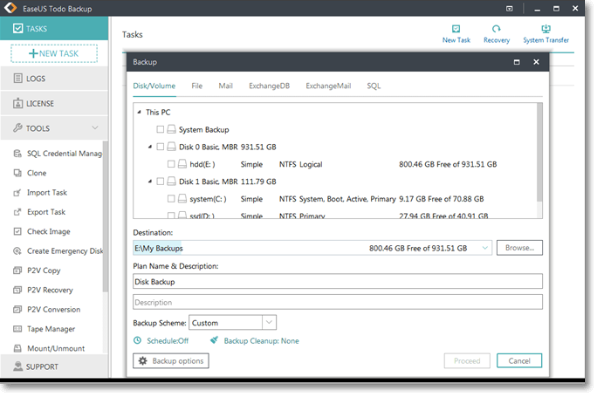 Step 2. Launch the program, select the "Tools" button and Choose "Wipe Data"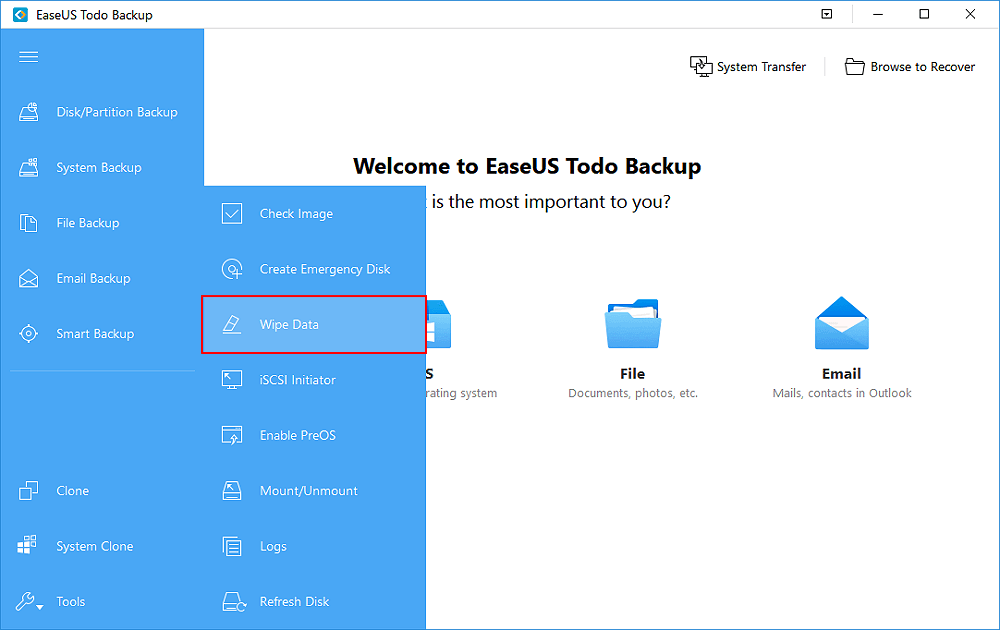 Step 3. Select the partition or disk that you want to erase data, and set erase times.
Step 4. Click "Proceed" to wipe data and wait until it finished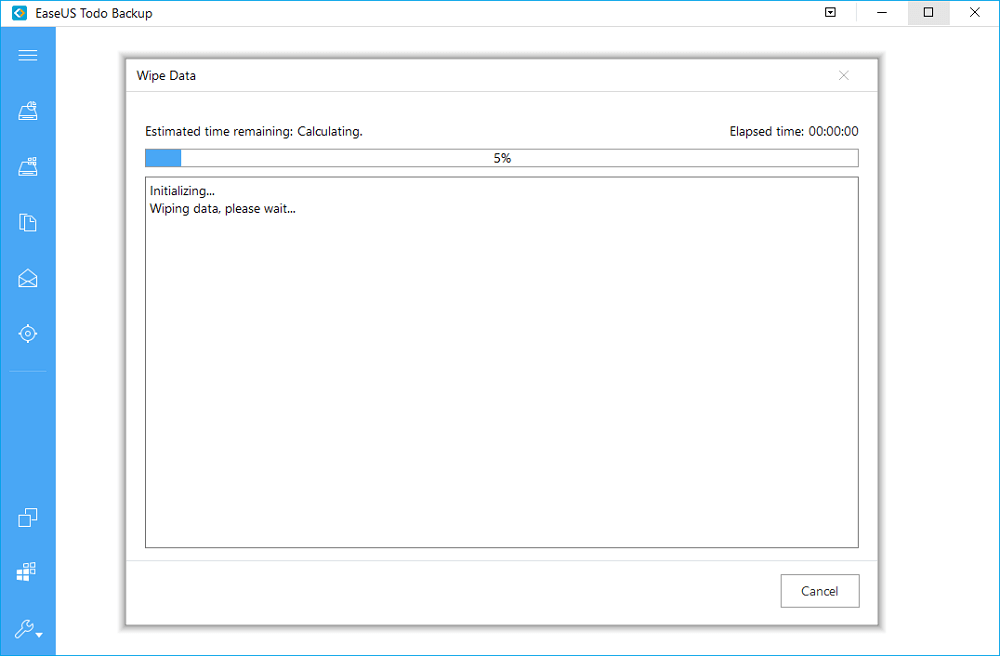 How to Delete Everything on Windows 7 Without Restore Disc
If you need to delete everything on Windows 7 without CD, you can try the following method to reset Windows 7 computer to factory state and wipe data from it.
This method works by first erasing all data on Windows 7 in WinPE bootable disk, including the system, and then reinstall the Windows system. This solution can be done with the help of EaseUS Todo Backup software.
1. Create a WinPE Bootable Disk
Step 1. Prepare an empty USB or CD/DVD drive
Note: Do remember to empty or clear your USB or CD drive. If you saved data on it, move them to another safe location.
Step 2. Connect USB/CD/DVD to your Windows PC
Step 3. Run EaseUS Todo Backup and click Create Emergency Disk in Tools on the left pane.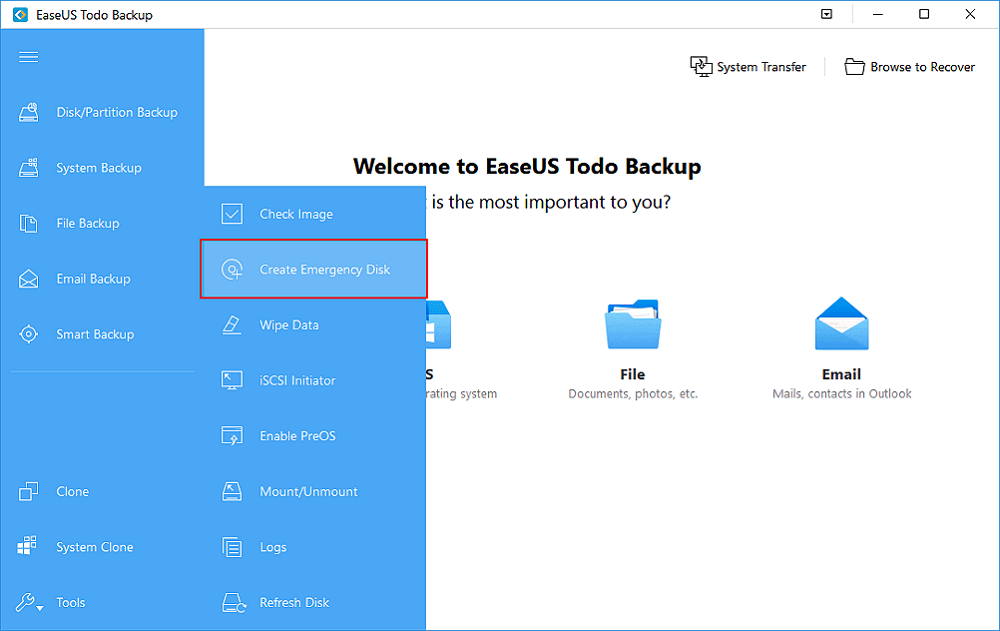 Step 4. Choose USB or CD/DVD as the disk location for creating to WinPE disk so as to boot up the computer when the Operating System fails to boot or computer dies.
Step 5. Click Proceed to start creating the WinPE disk to your USB or CD now.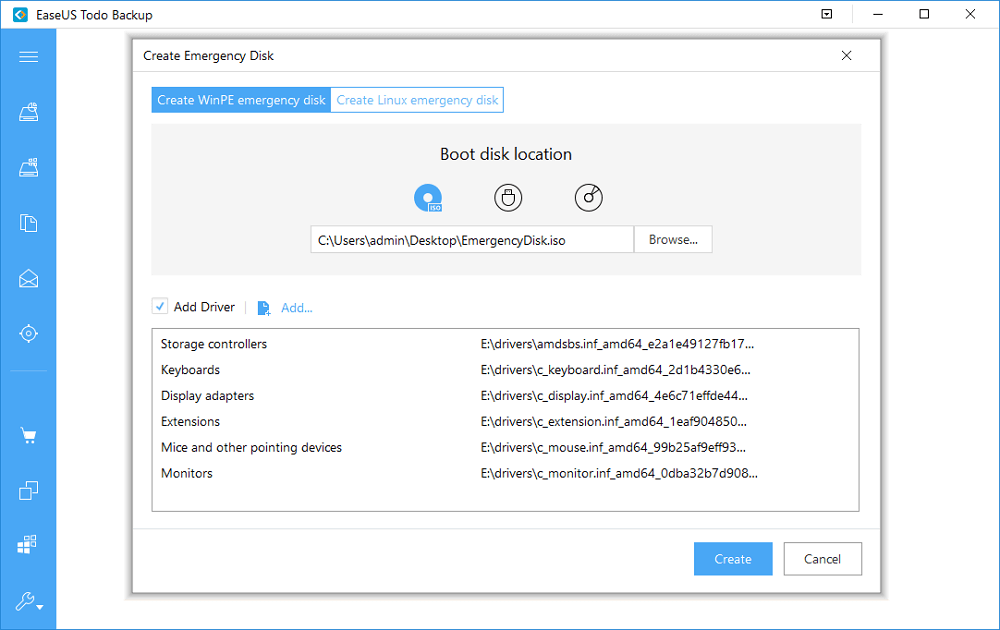 2. Wipe Windows 7 Computer in 1-Click
After successfully creating the bootable disk, you can boot the computer, press Del to enter DOIS and set "USB Boot Device" as the first boot device. Then, you can use EaseUS Todo Backup to erase your computer, including the system and data drives. Now, go back to see how to wipe a computer in Windows 7/8/10.
3. Reinstall Windows 7 or Windows 10
To install Windows 7: Download Windows 7 Disc Images (ISO Files) and follow the instructs to complete the task.
To install Windows 10: Download the media creation tool from Microsoft and finish the clean installation.
If you do not want to pay for the license, you can also install Windows OS by using the system transfer feature of EaseUS Todo Backup. This program enables you to clone and restore the system image to a different computer.
More relevant readings at last:
100% of people found this article helpful.
Frequently Asked Questions
Why choose EaseUS Todo Backup?

"The easiest way to protect your data and system files." —techradar

"EaseUS Todo Backup Free is one of the most popular free data backup applications available. This software offers a myriad of features and is extremely user-friendly. It provides a full system backup, meaning you can back up your entire operating system." —TopTenReviews

"EaseUS ToDo Backup Home is a great backup program, well suited to the home and SMB space." —PCWorld
What is the difference between Clone and Backup? In what cases should I use Clone?

Clone will copy one disk to another or one partition to another (unallocated space is also supported). Usually, this option is used to upgrade the current disk by creating an identical copy. Backup will generate a .PBD image file containing the selected files or system that can be restored from the .PBD image if needed.
What is the difference between System Backup and Disk Backup?

System Backup will auto-select the system boot related partition(s) as the backup source to make sure the system image can be restored properly. Disk/Partition Backup will allow you to manually select a whole disk or speficy a certain partition as the backup source. You will get the same backup result as System Backup if you manually select the system and boot partitions with the Disk/Partition Backup option.
As a computer newbie, what features should I use to protect my computer?

You can use System Backup to back up the system and boot partitions, use Disk/Partition backup to back up the data partition and add plans to run an automatic backup. If you use the computer frequently or have software that may cause boot failure of the computer, we would suggest you back up the computer every 1 to 2 days. For other situations, you can backup the computer once a week. In addition, you can schedule File Backup to back up the files which are changed frequently.
What kind of storage service should I use to save my backup images?

EaseUS Todo Backup can save backup images to internal disks, external disks, network drives, or free cloud(Google Drive, Dropbox, and OneDrive) and CD/DVD. It is suggested to save the images to the internal/external/network drives to save time as those kinds of disks have a better read-write speed. It is suggested NOT to save the image on the source disk, because once the disk is damaged, all the files on the disk will become unavailable and you will be unable to restore the image.
As a company network administrator, what features should I use to protect our internal computers?

It is recommended that you use the SQL Backup feature to back up your company's SQL server and Exchange Backup feature to back up the Exchange server. In addition, you can execute System Backup to back up the system and boot partitions on every computer and set a plan to execute the backup once a day or twice a week to ensure that the computer can be restored timely when it has boot issues. File Backup feature can be used to back up important user data. If there are a large quantity of computers, you can purchase EaseUS Backup Center to manage the backups on the client computers centrally.
About EaseUS Todo Backup
Be it a file, system, partition, or disk, EaseUS Todo Backup will help you back up or clone the item and provide you with multiple backup plans.