Windows To Go is an enterprise feature of Windows 10, Windows 8.1 and Windows 8, by which users can create a bootable USB external hard drive that carries a Windows live system. With a portable Windows To Go USB drive at hand, you don't need to worry about system startup disasters, like a boot failure, malware or virus infection that crashing a system... You can use a Windows To Go USB drive anywhere on any computer! Only meeting the following requirements of installing Windows OS on a certified USB flash drive.
Here's the list of Windows To Go certified USB stick!
Imation IronKey™ Workspace W300 / W500 / W700
Kingston DataTraveler Workspace
Spyrus Portable Workplace
Spyrus Secure Portable Workplace
Spyrus WorkSafe
Super Talent RC4/ RC8
WD My Passport Enterprise
So, check first whether you got a supported flash drive. Meanwhile, you must know that those Windows To Go certified drives all start at 32GB of storage space, so it costs much in general.
Can you create Windows To Go with non-certified USB flash drive?
Users' attempts to create a Windows To Go workspace on a non-certified USB flash drive would definitely fail, and most of the time accompanied by an error message saying this is a removable drive and isn't compatible with Windows To Go.
As a matter of fact, a majority of worldwide users are using popular USB 3.0 flash drives from SanDisk, Kinston, Toshiba or Samsung, and most of which is not Windows To Go supported. To widely assist the non-certified USB owners who are in the demand of installing personized Windows operating system on a portable drive, third-party Windows To Go creator is developed, which puts Windows To Go non-certified USB in use!
Finally, let's create your own Windows To Go on any USB drive!
To make it happen, finding the best USB bootable software shall be perfect. EaseUS Todo Backup, for example, with its system clone feature that supports to image the whole system configuration and files to an external storage, the creation of a portable Windows operating system which is so much akin to Windows To Go becomes really easy and relaxed. let's download and install the Windows backup software on a PC and start off.
Notice

No matter what brand of USB flash drive you got, even it's not in the list of Microsoft Windows To Go certified USB stick, it can be used with EaseUS Todo Backup. However, you must follow two rules. For a new USB flash drive without anything on it, make sure that the storage space is no less than that of the system partition; while for an old USB drive, there has to be enough unallocated space in front of the existing partitions.
2-step guide to create Windows To Go with non-certified USB flash drive
Step 1. Insert Your USB into a Windows computer. Launch EaseUS Todo Backup and click System Clone.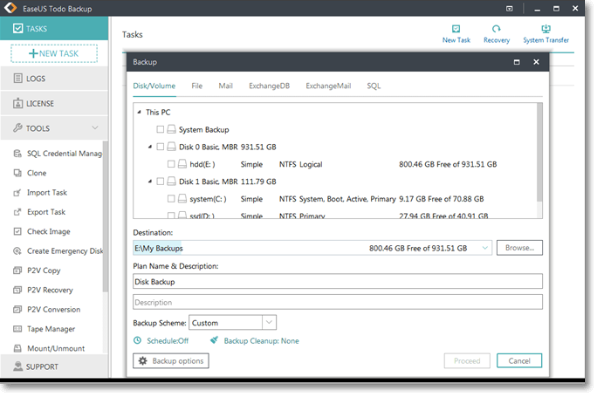 Step 2. Choose the USB drive as the destination disk to clone system disk. Click on Advanced options and then Create Portable Windows USB drive. Click Next.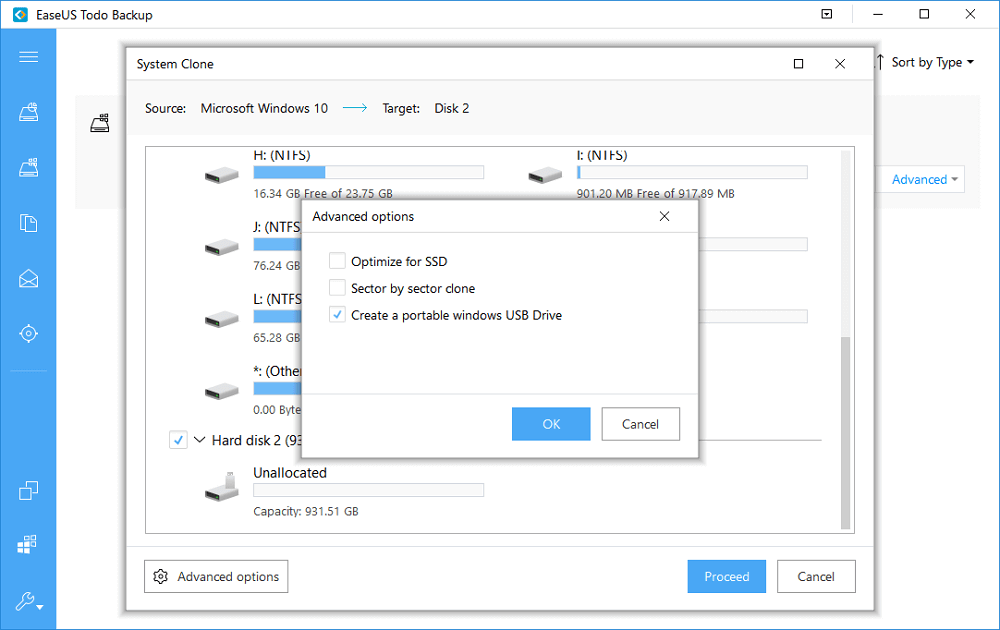 The whole process will be quickly done. After it finished, try to boot your current computer or another one from EaseUS Todo Backup bootable USB flash drive. You'll definitely like it!