Overview
Every time when you re-installing or upgrading Windows 10, the operating system will create a Windows.old folder which holds a copy of your previous Windows installation, including user profiles, installed program & settings and personal files. If something goes wrong during or after the installation, you can restore windows.old to easily and quickly go back to previous Windows version without reinstalling system & installed programs and losing data. So, it is important for you to protect windows.old folder from unexpected data loss disaster. The best way to do this job is to move or copy windows.old to an external hard drive. Here we will show you how to do it in simple steps.
Why You Need to Backup or Move windows.Old to External Drive
Even windows.old folder is important, but it is not existing on your computer all the time. In some special situations, it might be deleted. First, Microsoft only keeps windows.old folder on your computer for 30 days since your last Windows installation. Now it is minimized to 10 days since you installed the Windows 10 Anniversary update. After the time, windows.old folder will be deleted automatically. And second, as a complete backup of your whole system partition, Windows.old will take much of your disk space and cause low disk space. In this case, you might delete it when you are trying Windows 10 disk cleanup or other tools to free up disk space by deleting system files.
When you lose windows.old folder in these special cases, you won't be able to go back to previous system without losing data. So we recommended you move or copy windows.old to another drive (here external drive is a better choice). It is the best way to keep and backup windows.old folder for a long time.
Backup windows.old to External Drive with EaseUS free Backup Software
To backup windows.old in a safe and easy way, EaseUS free backup software is your best choice. The free software works well to backup file/folder, system, installed applications, partition, and disk for Windows 10/8.1/8/7. Coming with advanced & flexible backup features and intuitive user interface, it can guide you copy or move windows.old folder to another drive, external hard disk, USB flash drive, SD card and another external storage device with ease.
To move/copy windows.old to external drive, follow these steps:
 Notice:

Empty the external hard drive or USB flash drive that you want to backup files to. If you have important data saved there, please do remember to move them away so to avoid data overwritten issue.
Step 1. Connect the external hard drive or USB flash drive to your PC and run EaseUS Todo Backup.
Step 2. Click the left top icon and expand the pane, click "File Backup".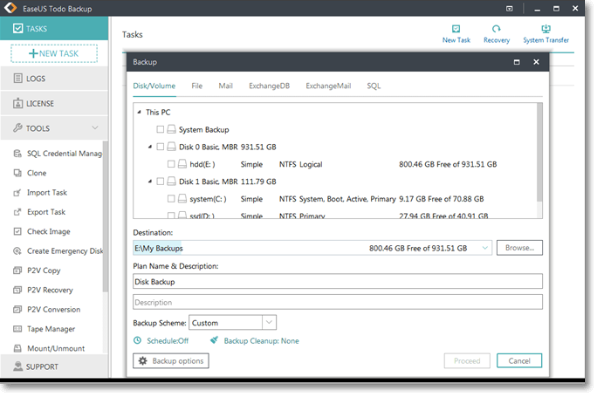 Step 3. Select the specific files that you want to backup to external hard drive or USB. And then click "Browse" to navigate the external hard drive or USB flash drive as the file backup destination.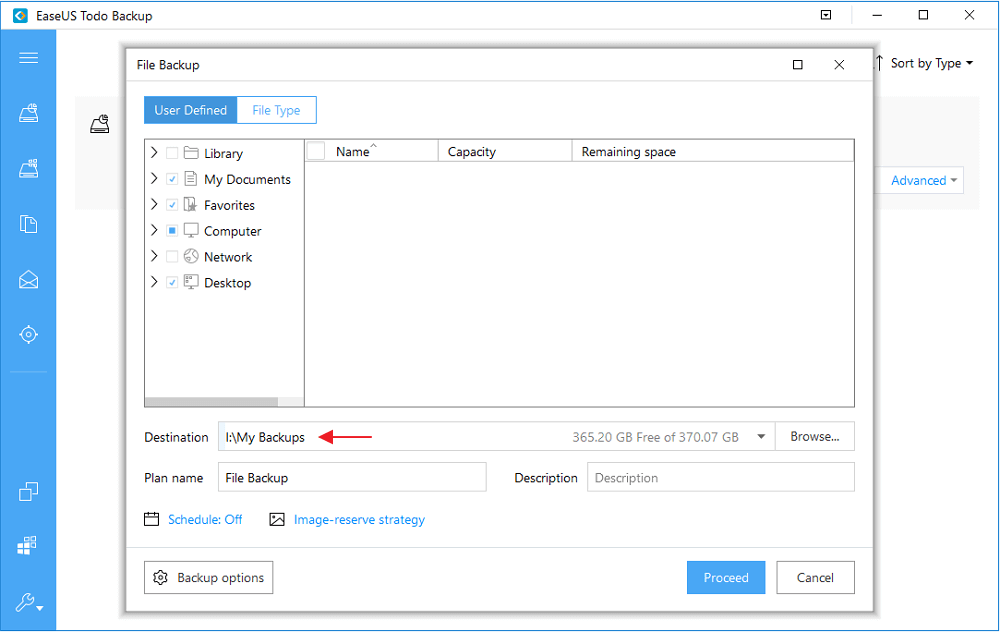 If you prefer to create a file backup plan and automatically back up files to your external hard drive or USB flash drive, try below tips:
1. Click "Schedule: Off" and click "Upon even" to set automatically backup files as USB device plugged in (only the device on which you created tasks).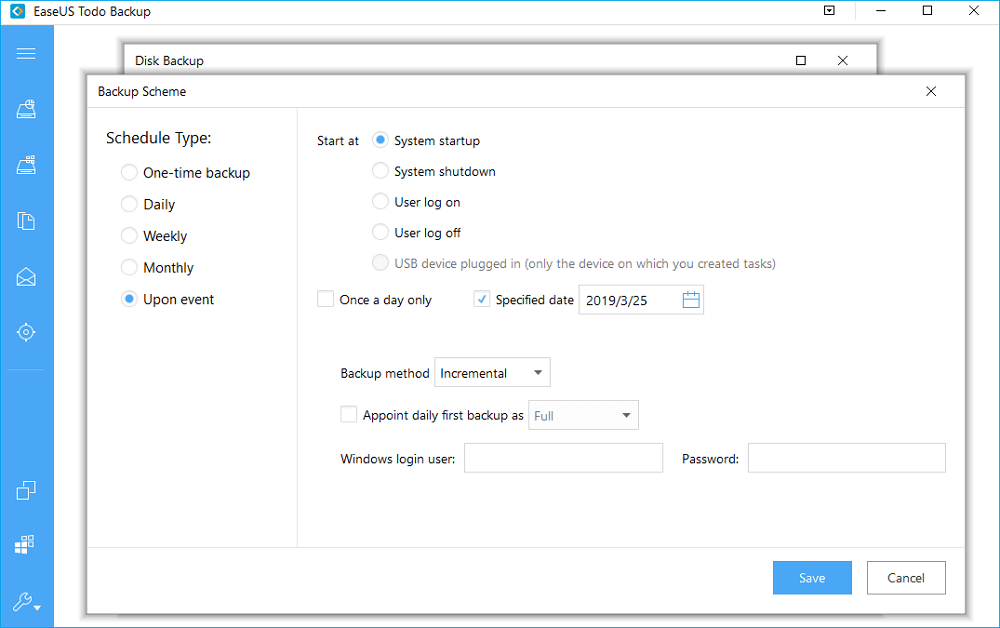 2. Click "Save" to keep the changes.
Step 4. Click "Proceed" to execute the file to external hard drive/USB backup operation.
EaseUS Todo Backup will do the automatic backup job after the first full backup of all selected files or folder if you've set the program to automatically back up files to your external hard drive or USB once it's plugged in your computer.