Help! Clonezilla won't backup hard drive due to bad sector!
"It's no longer the first time that Clonezilla fails to backup or clone a hard drive which has bad sectors. And I'm now having a similar issue again on my PC.
I tried to backup some useful files from my hard drive D: to an external hard drive with Clonezilla free version. Guess what? It won't work again. And this time, the program warned me that Clonezilla cannot backup target hard drive to new location due to bad sectors. What can I do? The whole D: drive contains quite a lot important and useful files and I don't want to copy them one by one to new external hard drive. It's a waste of time! And if you have any recommendations to fix Clonezilla won't backup error, please help!"
If your hard drive or external hard drive contains bad sectors, it won't be able for Windows system or other programs to read and find data on the drive. And don't worry if you cannot clone or backup hard drive with Clonezilla due to bad sectors. Just follow below two methods to get your problem fixed right now.
Step 1. Repair and fix bad sectors on hard drive by CHKDSK command
Here we'd like to recommend you try CHKDSK command to repair and fix bad sectors on your hard drive. You may follow below guidelines to repair bad sectors on hard drive and retry backup hard drive with Clonezilla now:
1. Press Win + R to open Run dialog and type: cmd to bring up Command Prompt by hitting Enter;
2. Type: diskpart and hit Enter;
3. Type: chkdsk and hit Enter;
4. Type: chkdsk E: /f and hit Enter; (Replace E with your hard drive letter.)
5. Type: exit to finish the process.
After this, bad sectors will be repaired and fixed. You can retry Clonezilla to backup hard drive data again.
If Clonezilla is still not working, don't worry. Professional and free Clonezilla alternative backup software can help!
Step 2. Backup hard drive with Clonezilla alternative freeware
In order to simplify the hard drive backup process, we'd like to recommend you try a perfect Clonezilla alternative freeware - EaseUS Todo Backup Free which fully supports you to backup whole hard drive data within 3 simple steps.
Just free download it and follow to see how to backup hard drive in 3 steps now:
1. Run EaseUS Todo Backup Free in PC and click Disk/partition Backup;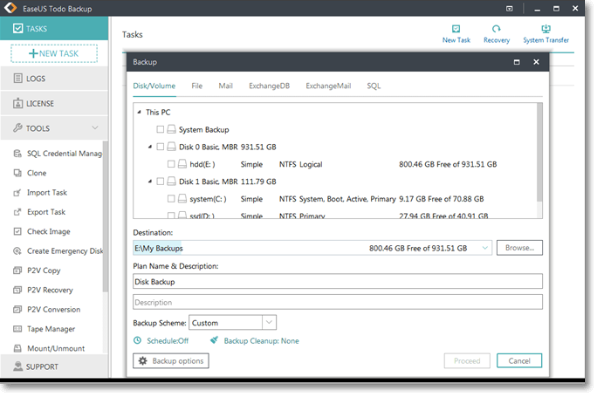 2. Select source drive or partition that you want to backup in PC as backup source;
Specify a secure drive or external hard drive as backup destination;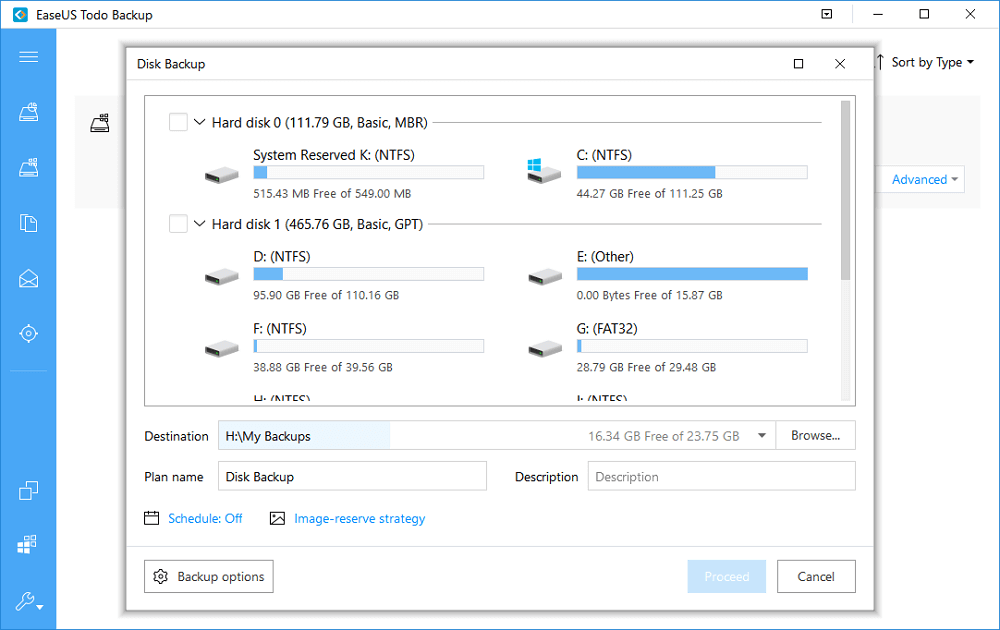 3. Click Proceed to backup wanted files now.
Beside backing up hard drive or single files, you can also free apply this free backup software to backup Windows 10/8/7 etc systems, clone drive or create images for target hard drive partition in your PC.