Are you looking for an easy way to change your computer hard drive with a bigger HDD or SSD without losing whole Windows system? Do you need a safe and effective way to change system disk without reinstalling Windows in your PC? Don't want to lose any important data in your PC? Relax! Here now in this article, we'll guide you to change system hard drive without reinstalling Windows system. This can be applied by all Windows users.
And you can even change system disk for free within 30 days with powerful Windows backup software - EaseUS Todo Backup. You can now free download this software and change hard disk without reinstalling Windows system and losing any data.
Step 1. Backup important data in advance
If you are afraid of losing any precious data in system drive or partition while changing system disk, you can apply EaseUS Todo Backup Workstation to backup wanted files and data in advance.
Note: It's also recommended for you to backup wanted data into external hard drive.
1. Connect external hard drive with PC. Launch EaseUS Todo Backup Workstation and click New Task > Select Disk/Volume, File or other important data to backup;
2. Choose destination and click Proceed to let this software backup selected data for you then.
Step 2. Change system hard drive without reinstalling Windows
You may wonder how to change system had drive without reinstalling Windows? EaseUS Todo Backup allows you to free clone system with system and boot partition into new disk.
You can even choose to leave all other partition data in old drive and just clone system to new disk so that to speed up PC and optimize system. If you want to change whole disk, you can choose to clone other partitions to new disk after cloning system to new HDD/SSD.
1. Launch EaseUS Todo Backup Workstation and click Clone;
2. Click System clone and the program will automatically clone system and boot partitions for you to new disk > Select destination disk (new HDD/SSD);
You may also tab Settings to tick Sector by sector clone, Optimize for SSD or Create a portable Windows USB drive to clone all system files and data to new HDD or SSD disk;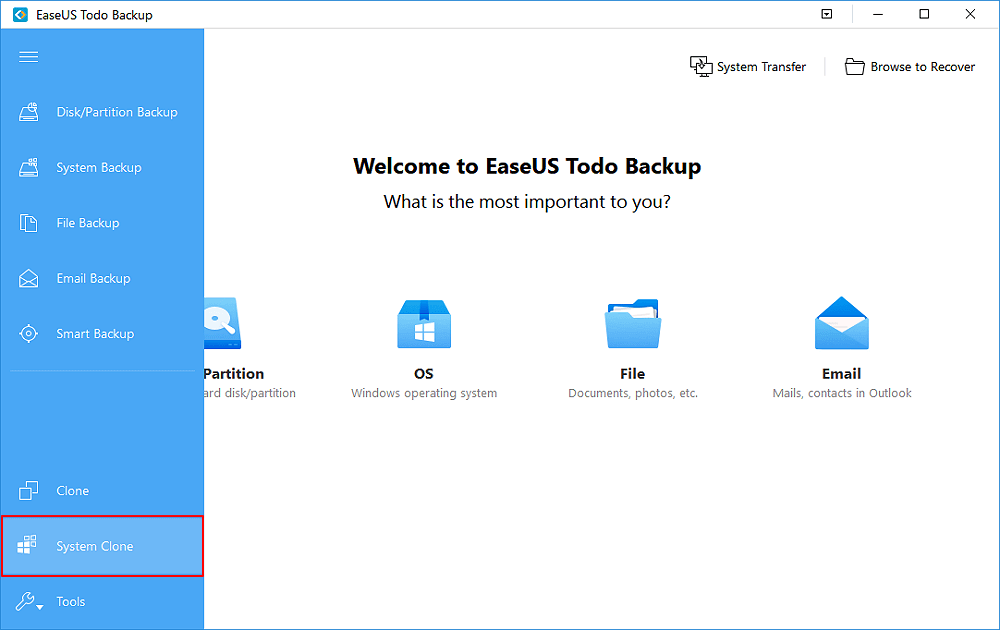 3. Click Proceed to execute all changes.
Whole system with files will be cloned to new HDD/SSD without re-installation.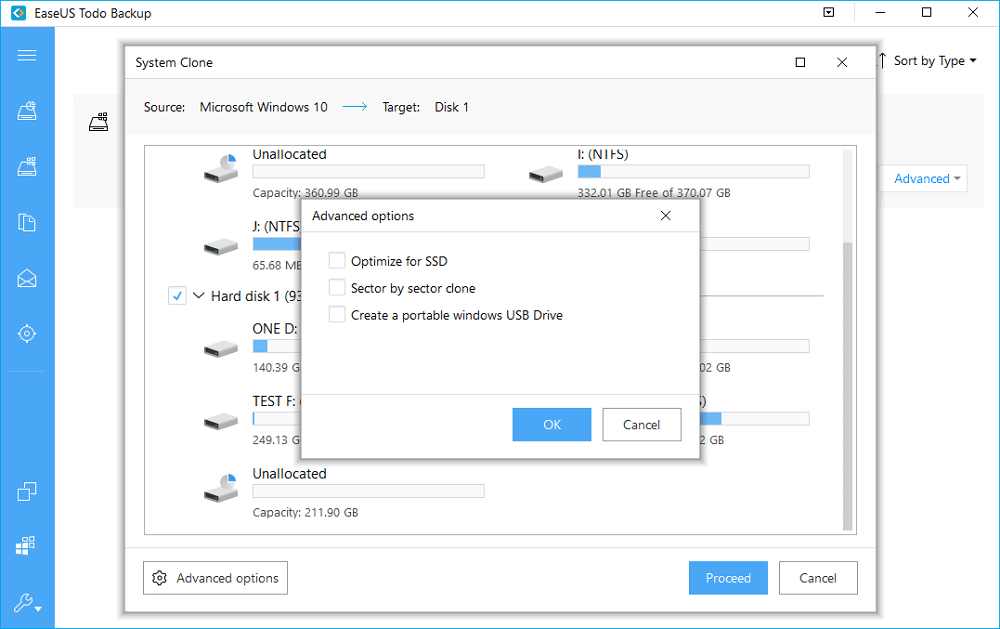 Tip: 1. If you need to clone all disk data to new HDD/SSD, you can click Clone to select rest partitions with data to new disk.
2. After all system clone process, do remember to reboot PC and press F2 to enter BIOS settings and you may need to change boot order from previous hard drive disk to new HDD/SSD.
Now you can reboot computer from new disk drive without reisntalling any programs or system. You'll get improved computer performance with a faster running speed in Windows system on new disk now.