PAGE CONTENT:
Everything You Need to Know about System Backup in 2019

How to Pick the Best System Backup Software

Create A Secure and Fast System Backup of Windows 10/8/7/XP/Vista
With the frequent releases of Windows 10 October Update, April Update, Fall Creators, Spring Creators, Anniversary Update, etc, about millions of Windows users may have experienced system update failure, system crash or even BSIO issue on their computers.
And the best way to prevent these disasters is to create a system backup in advance. But before you start, here are something that you should know about system backup.
Everything You Need to Know about System Backup in 2019
1. When should you create a system backup?
It's obvious that not all Windows users have realized the importance of creating a full backup of their computer OS.
Here is a list of when to execute this task:
Prepare for a new Windows system update
The computer becomes slow with the OS running fine
The OS starts up slow or shuts down randomly on a failing hard drive
Avoid suddenly virus attack
Prevent random system errors
...
The best time for you to create a system backup image is to it as early as you can.
The early you take action, the healthier Windows OS backup you'll get.
2. Why create a system image?
Speaking of backing up Windows OS, most of you may come up with the idea of creating a system restore point of your system using the System Protection option in Control Panel.
But here, what we are talking about is to create a system backup image by using system backup software.
You may wonder to know why is that. And here we picked 4 top system backup software in the word and make a comparison with System Protection in Control Panel in creating a system backup image. This System Backup Software vs. System Protection table will help you understand better:
 Notice:

1. This form is a test of backing up Windows 10 with software and Windows built-in tool - System Protection.
2. The estimated time in the below table may not be a standard criterion but still can be a reference.
| Comparison | System Backup Software | System Protection |
| --- | --- | --- |
| Duration | 5 min - 30 min | 5 min - 1 or 2 hour |
| Image size | 2 GB - 4 GB | 600 MB - 4 GB |
| Image content | Windows OS, programs and all useful files on C: drive | Shadow copy of an entire C: drive (only non-personal files can be restored ) |
| Image location | Customized (on any storage devices and visible) | C: drive only (hidden) |
From this table, it's obvious that choosing system backup software is a wise decision since the system restore point indeed take up huge space on the C: drive and even slow down the whole computer.
So how to pick the best or the most suitable backup software? It's a coming up topic that we'll discuss next.
Pick the Best System Backup Software
Now you may come up with the idea of how to pick the best system backup software which at least exceeds all the listed criteria in the above table.
Here is a new list for you to refer and learn how to pick the suitable system backup software which means the best to you:
System compatibility (Windows OS or macOS)
System backup features (System backup, system transfer, etc.)
Price (visible online)
Refund Policy (Guaranteed and marked clearly)
Install size (Not taking too much space on your disk)
Customer service (Live Chat, email, etc.)
When you browse online with these criteria, you'll be able to decide which backup software for imaging OS is the best.
Recommend: Best System Backup Software of 2019
To browse online and check all the Windows system backup software one by one is still a time-consuming task.
To provide an unbiased recommendation, we've connected four of the best backup software with high fame and honor for your reference:
Product
Nova BACKUP PC
EaseUS Todo Backup Home
Macrium Reflect 7 Home Edition
Acronis True Image 2019
Price
$49.95
$29
$69.95
$49.99
Platform
Windows 10/8.1/8/7
Windows 10/8.1/8/7/Vista/XP
macOS
Windows 10/8/7/Vista/XP
Windows 10/8.1/8/7/XP
macOS
iOS/Android
Size
355MB
92.9MB
552MB
800MB
System Backup Strategy
System backup and restore
1. System backup and restore
2.Universal restore (transfer system image to dissimilar hardware)
3. Restore system from disasters with Pre-OS/Emergency disk
System backup and restore
System backup and restore
Customer service
Email only
1. Live Chat
2. Email
Email only
Email only
Now you can decide to choose the best software to create a fast and secure system backup.
If you can't decide yet, here are the two most recommended backup software for macOS and Windows users:
1. If you are looking for a backup tool to create a system image of macOS, Acronis True Image is the best.
It's a cross-platform backup software which is fully compatible with macOS.
You may also search it online and find it to back up your macOS: https://www.acronis.com/en-us/personal/computer-backup/
2. If you are looking for a comprehensive backup solution for Windows OS, EaseUS Todo Backup is a perfect choice.
Its system backup strategies and efficient customer service untangle Windows system backup issues anytime.
It is free to download and try:
After picking up the best and most suitable backup software, the last thing is to create a secure and fast system backup image.
And you can browse to the website of each software for a detail tutorial guide of backing up Windows system or macOS.
If you've selected EaseUS Todo Backup, you can move one and follow the next guide to create a secure and fast backup of Windows 10/8/7/Vista/XP now.
Create A Secure and Fast System Backup
The following is a tutorial example of backing up Windows 10 with EaseUS Todo Backup.
You can also fully back up Windows 8/7/XP/Vista, etc. with the below steps.
Back Up Windows 10/8/7/XP/Vista in 3 Steps
Step 1. To backup only Windows 10 on your computer, please directly choose the option "System Backup".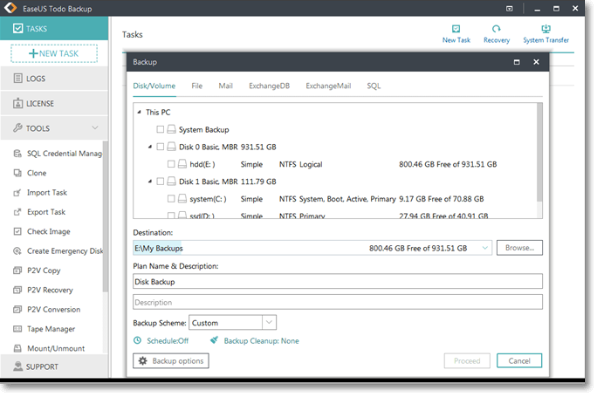 Step 2. Now the new window pops up, where you can customize your own Windows 10 backup by choosing a backup location(HDD, USB hard disk, network drives, Cloud drives...), adding a plan name and text description to it.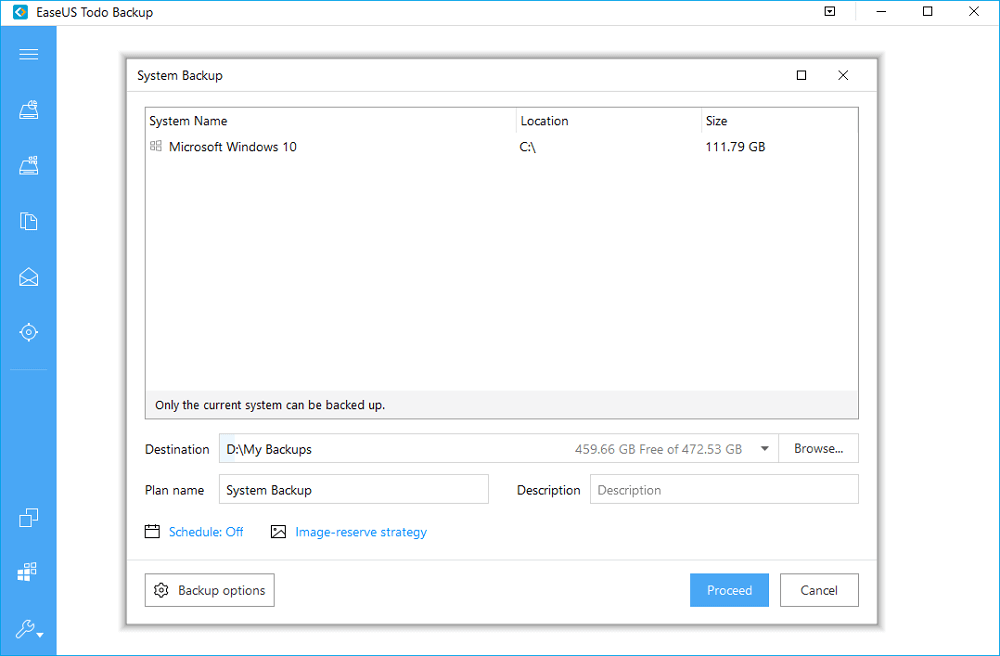 Since it's about backing up OS, it's significant to turn on the "Schedule", where you can enable an automatic Windows 10 backup at a set time like daily, monthly...or upon an event, telling the Windows 10 backup to start when system startup, system shutdown, user logon or user log off.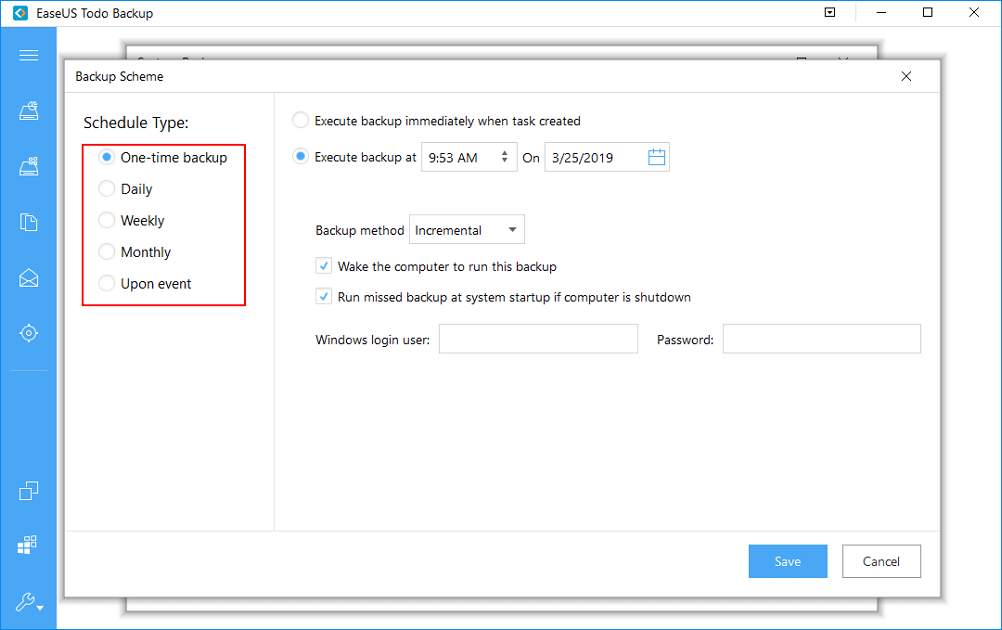 Step 3. Once all the basic settings were made, click "Proceed". Wait for a while you will create a full Windows 10 backup to protect your system from unexpected disasters.