Need a simpler Windows System Restore tool than the Windows version, how to find it?
"I'm looking for a simpler system restore program than the Windows' version. It has spent me too much time trying Windows Restore tool in PC for backing up files, data and even Windows system on my PC.
Is it possible to find free alternative software to replace Windows System Restore for Windows system and file backup and recovery? And can I even clone disk with the Windows System Restore alternative tool to fully backup wanted data on hard drive to external hard drive? How?"
Are you looking for a simple and effective Windows backup and recovery tool as an alternative for Windows System Restore? 2017 best free Windows backup and recovery software from EaseUS is available to help. It can replace the Windows System Restore tool in Windows to help you fully backup wanted data, single files, and even the whole Windows system for free in simple clicks. How to get it?
Download Windows System Restore alternative software for Windows 10/8/7
Best free Windows System Restore alternative software from EaseUS allows you to backup files, hard drive partition, Windows system and even clone disk on Windows 10/8/7 PC. You may free download this free Windows backup and recovery software in 2017 to start creating images for fancy data and Windows system right now.
Apply EaseUS System Restore alternative software to free backup Windows system, files, and data.
Backup Windows 10/8/7 System/File for Free
Step 1. Connect your external hard drive to your PC.
Launch EaseUS Todo Backup and then click System Backup to backup Windows 10/8/7.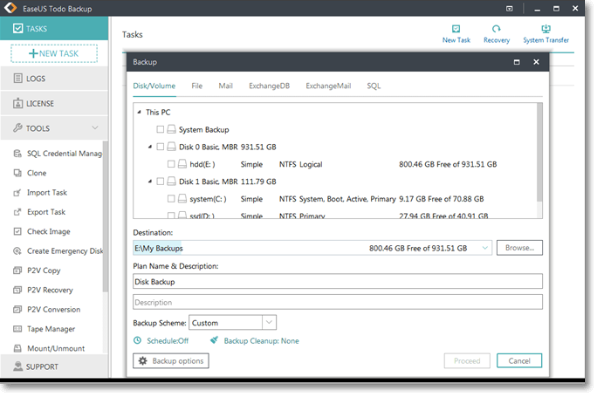 Step 2. Select the destination as the external hard drive is and click Proceed.
Important Notice:
If you stored data on the external hard drive, remove data first in case of data overwritten.
Plan name and Description - An accurate plan name and appropriate description can help you find the needed image file easily.
A schedule is to create an automatic backup plan.
Backup options are to edit the advanced parameters.
Image-reserve strategy is to reserve the limited image as per image retention rule.
Restore Windows System/File Backups in Windows 10/8/7
Step 1. Launch EaseUS System Restore alternative tool, click "System Transfer" or "Browse to recover";
Step 2. Select System backup image or file backups, select destination to restore the system or file backups and click "Proceed" to finish the process.