Overview of disk cloning
Disk cloning is copying the contents of one hard drive to another disk which requires users to move over the ENTIRETY of one drive to their other storage device. And usually users need to clone hard drive for various purposes, for example, to recover lost/damaged data, to upgrade a hard drive, to save a failing drive or to transfer system, applications or a large amount of data onto a new computer, hard drive or SSD. When you encountered any of these mentioned situations, you may want to find and download the best disk cloning software so that you can manage the job with the least time and efforts.
3 Top-rated cloning software of 2016 & 2017
1. EaseUS Todo Backup Free. $0.00 (free)
Disadvantages: /
2. Macrium Reflect. $69.95.
Disadvantages: The interface is much more cluttered than some of the other software.
3. Clonezilla. $0.00 (free)
Disadvantages: Online imaging/cloning is not implemented yet. The partition to be imaged or cloned has to be unmounted.
Here, we list 3 top-rated cloning software of 2016 & 2017. But what is the best one for you? Actually, the answer only depends on your requirements. Next, we will teach you how to choose the best cloning software in your case.
How to choose the best cloning software for your case
Finding the best hard drive cloning software can be tough as you need to consider many factors. To make the job easier, here we give the two factors that we think is the most important for the average user when choosing a hard drive cloning software: ease of use and stable performance with no cloned hard drive won't boot issue. And besides, if you have a small budget, you may prefer a free or high performance-price ratio choice. Now, having gotten the exact requirements down, it's time to check the list to see which software will fulfill them. Here, obviously, EaseUS Todo Backup Free is the best choice for many reasons.
It has a wizard-like interface
It supports all versions of Windows OS including Windows10/8/8.1/7/XP/Vista.
It is being updated and improved on a regular basis.
Guide: how to clone hard drive with EaseUS free cloning software
Step 1. EaseUS Todo Backup clones a hard disk/partition for completely free. Let's begin with its "Clone" feature.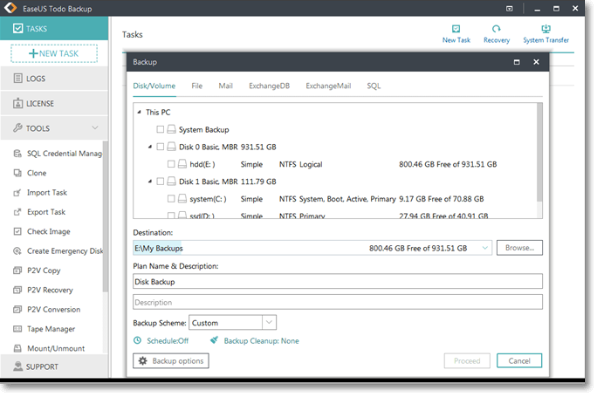 Step 2. You need to choose the HDD as the source disk and click "Next".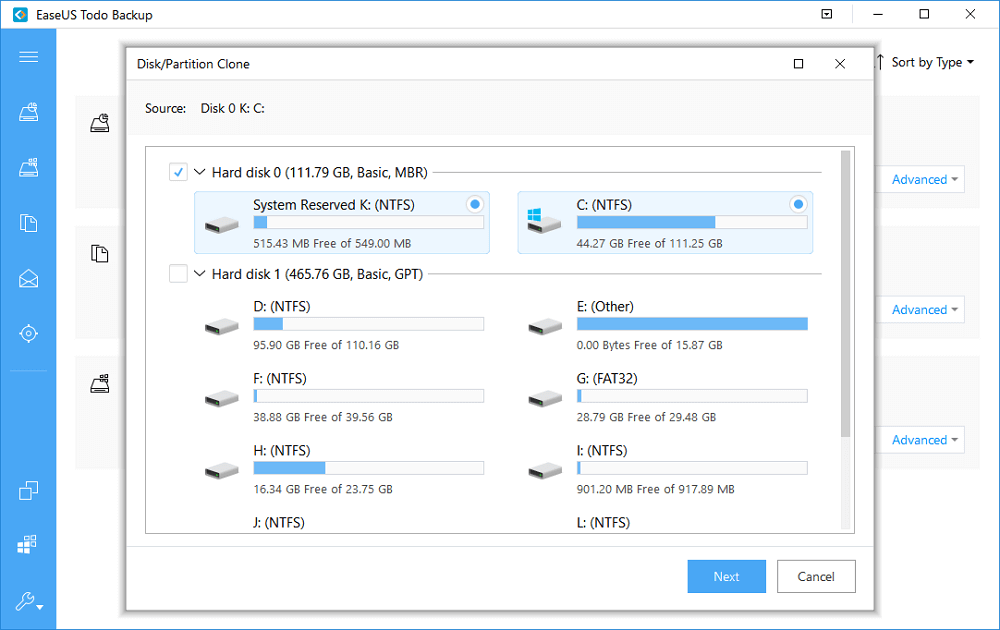 Step 3. Now choose a destination disk, which can be another HDD or an SSD or an external USB hard disk as well. Only make sure that the destination disk is larger than the source HDD. It's necessary to tick the option "Optimize for SSD" under "Advanced options" when the destination disk is an SSD. Click "Next".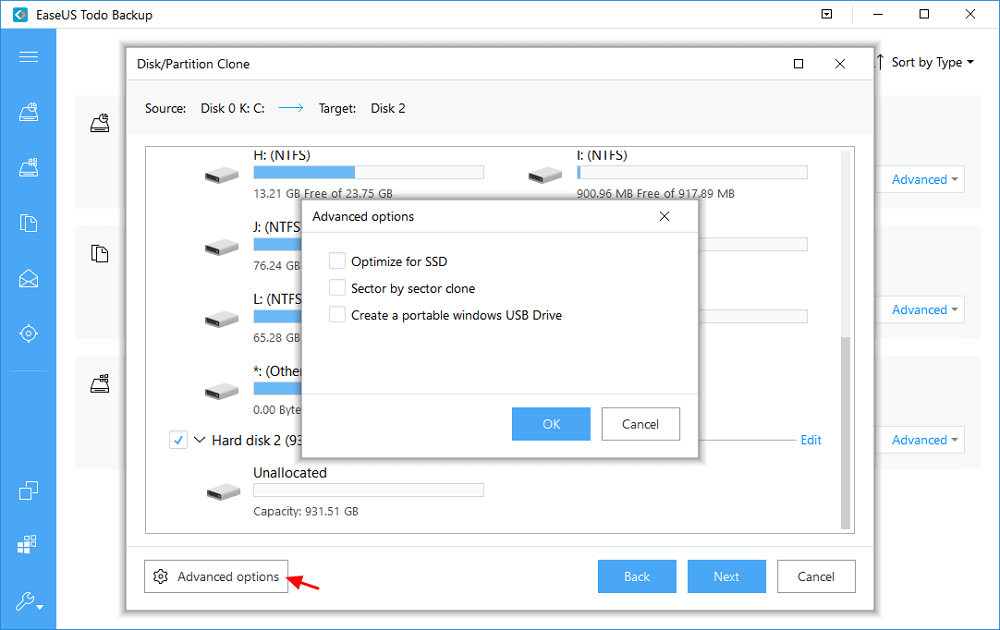 Step 4. Preview a disk layout and click "Proceed".