Top 9 Best Backup Software for Windows
Updated by
Daisy
on Aug 11, 2021
Data is money. If you lose data, you will have to invest a substantial amount of your time as well as money to recover that lost data. Right from a regular computer user to a content creator to IT admins, everyone should regularly make a backup of their data. In this post, we will share some of the best backup software for Windows 10. We will also talk about why you need to back up your data regularly, features you should look for when selecting a backup software, followed by the top ten backup software. We will also talk about the pros and cons of each software, which will help you zero in on one, finding the best for you.
Why Do You Need A Backup Solution?
It is the most crucial question every user should ask themselves. Why spend money on any backup software or even make an effort to back up all the data? The answer is simple —your work is essential. You do not want to put the same amount of effort and time in recreating it. Maybe you will, but it would never be the same. 
While you can always back up the data on the cloud, which works for less critical data, but when it is your work or your client files, one cannot take the risk. There is a reason why people make a backup of the backup. Below are my reasons why I think backing up one's data is essential:
Saves a lot of time when there is a hardware failure. I can buy new hardware, instantly use the backup to restore my data, and resume working.
Small businesses can restore computers within no time and get clients' work done on time.
New updates can cause all kinds of problems. If you have a backup, you can switch back to the older version and work peacefully.
Many a time, you accidentally delete a file thinking it is not required, but later, you need it at any cost. Backup software that can perform real-time backup can help.
Ransomware has been the most notorious of all. It will encrypt your files and ask for money. 
Then there are Trojans and Viruses, which can erase your file. You will end up paying for recovery software to get back all your data, so why not invest in it beforehand.
Must-Have Features of The Best PC Backup Software
Before we go ahead and talk about the backup software, here is a list of must-have features in any backup software. You may or may not find everything in one place, so in the end, it will depend on your requirements.
Simple User Interface
Scheduled Backups & Faster Recovery
Lightweight and not resource-hungry
Password protection and Encryption for the backup data
Perform well on Wi-Fi or LAN
High Compression
Support for incremental backup
Backup Verification 
On-demand backup
Cloud Integration to OneDrive, Dropbox, AWS, and other services
Excellent Support if anything goes wrong
Backup Rules
Out of my personal experience, do look for these features in any backup software.
1). It creates a backup of a backup. There is a lot of best backup software for Windows 10 that will allow you to create a disk clone.
2). Create backups in different locations. You can have one on the cloud while others on network storage or an external hard drive.
3). Always choose Incremental backup. It saves time and storage.
4). Test your backup. It is the most important thing to do. A backup that cannot be used to restore data, later on, is pointless.
5). File Integrity matters. When you test restore, check if your files are exactly how they were backed up. If a backup software corrupts your data, then it is doing more damage.
Top 9 Best Backup Software for Windows
A lot of professional software offers their best backup software for free, but they are limited by either number of features or the amount of data you can back up. They also provide a limited restore feature. It is useful in a way because you can test them out and build enough trust to invest in the professional version.  
Some of them will fall into the category of best free backup software for Windows 10 if they offer a trial version.
1] Easeus Todo Backup Home 
EaseUS offers professional backup software with a one-click backup and instant recovery option. It also comes with a free version of the software which you can try to see if it works for your needs. Before we show all the features and how it works, let's check out the pros and cons of the software. 
The backup software offers all types of backup. It includes Disk or partition backup, System backup, File backup, Email backup, Smart backup, Clone regular partition, and create System clone.
When you install it for the first time, the software will prompt you to set a default location of the backup. I would strongly recommend you use an external drive for all the backups. If the existing system or drive faces corruption, you will lose everything.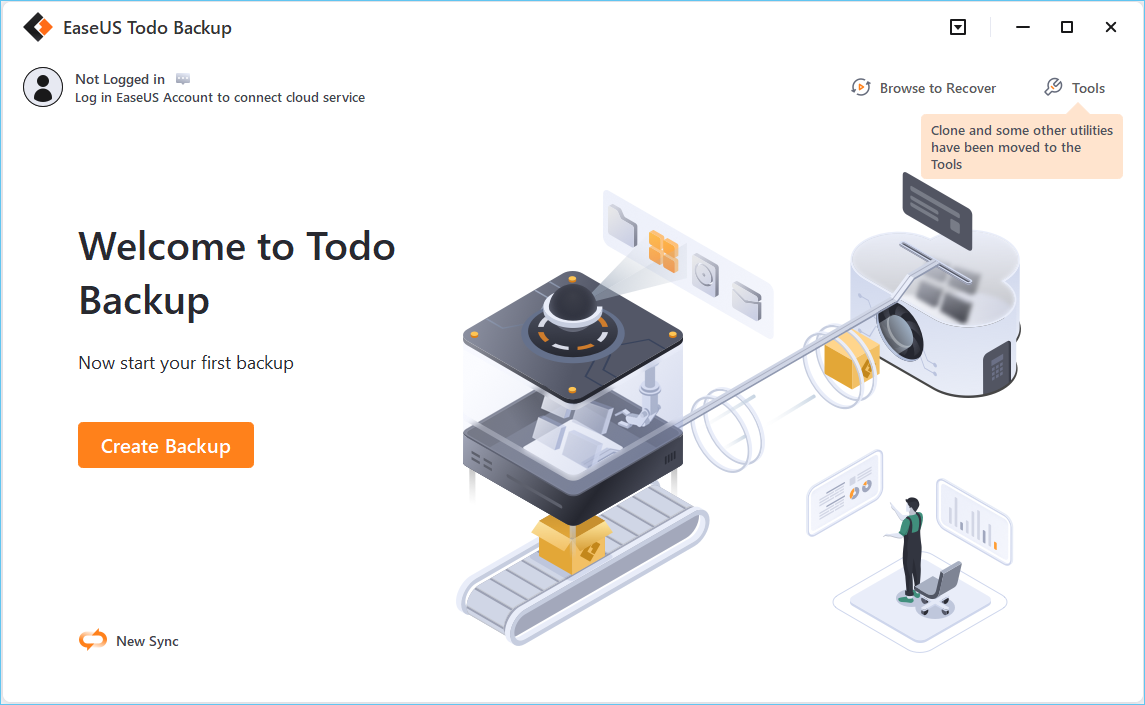 When you launch the software, it offers three options upfront — System backup, System transfer, and Browse to Recover. Once you have taken a backup, it will list down all the backups here. We will talk about them once we are through all the backup features.
The first method which I am going to explain will give you a clear idea of how the backup works. Most of the options will vastly remain the same. So, for the rest of the methods, I will identify critical points.
Backup drive or partition
Since you are using it for the first time, I would suggest expanding the menu by clicking on the hamburger menu. It will reveal the text against each of the icons.  Click on Disk/Drive Backup. This option lets you backup a complete drive or set of partitions.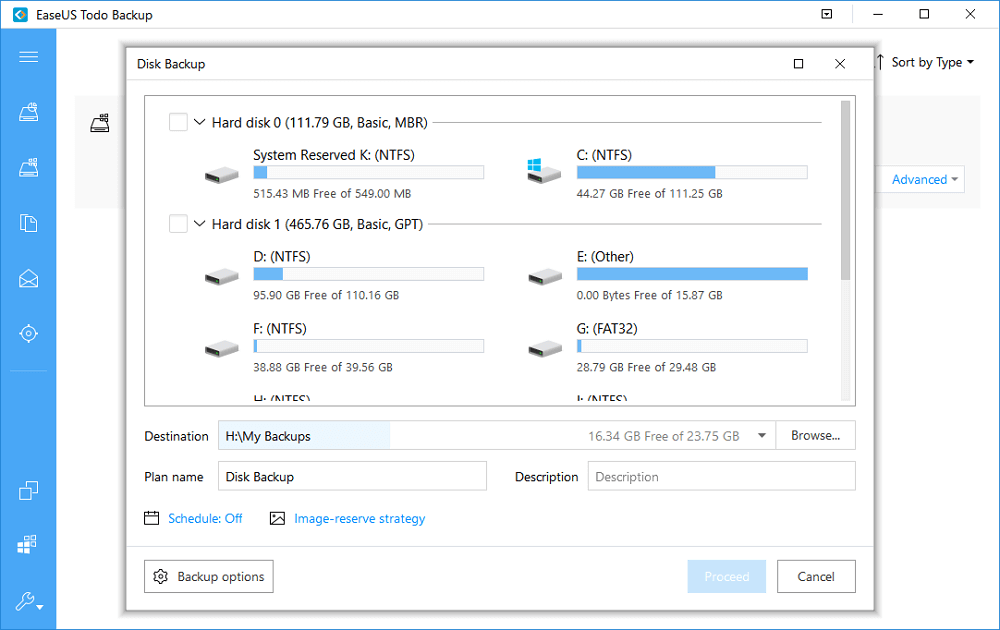 Select the drive or partitions you want to back up by checking the box against it.
You can change the destination of the backup by clicking on the browse button of the destination box. 
Make sure you have enough free space, which can be estimated by looking at the amount of storage left displayed in the destination box.
While it is not essential, but if the drive or partition was for a specific purpose, you could add Plan Name for easy identification.
Add a description which again is optional but can be handy for anybody else restoring the data. If there is a warning you want to add, this is the place.
Next is to schedule the backup. While the first backup can be triggered right away, scheduling is always preferred. Make sure to take a backup when the computer resources are free. Choose what fits you best from one-time to daily and more.
The Image Reserve Strategy helps you to make sure that backup never fails if backup storage is running low on space. 
Clicking on the Save button will start the backup instantly. You can always cancel the operation, but there is no way to pause it. I would highly recommend you run the first backup with plenty of time in hand. If you are in a hurry, you can choose to shut down the computer once the backup is complete automatically.
The backup time will depend on the size of the files and drive. You will see a progress bar indicating how much time is left for it to complete.
Taking a backup using one of the best backup software should be as simple as that. While you will have to configure EaseUS backup according to your need, but it is straightforward to use. Before going ahead, it is a good idea to understand some of the configurations, which we stated above. 
Files Backup
You should use this when you want to backup selected files and folders. You get a File Explorer-like interface, which makes it easy to find and select the data you want to backup. It can be a system limitation, but there is no way to see the size of individual folders. However, you can sort according to file type and add custom file types. It is beneficial for those who work with file types, which are not very common.
System Backup
If you plan to take a backup of the primary drive, i.e., where Windows is available, use this option. I would recommend you select sector by sector backup from the Advanced in backup option so you can restore the primary drive in case of a crash. It will get your Windows started in no time.
Email Backup
If you use Outlook, the software can take a backup of the Outlook database. The backup includes an inbox, drafts, calendar events, contacts, and more.
Smart backup
It is a handy feature if you work in an environment where files are often changing. For example, I share a lot of data with my co-workers on cloud storage. When you use this option, the backup will trigger every time whenever there is a change in the file. There is no schedule for this backup, but instead, it acts as a data monitoring service.
Clone for Disk Clone and System Clone
While backup has its purpose, if you want to create a replica or copy of a drive, partition, or System partition, it is one of the most effective ways.  There are two types of cloning that EaseUS Todo Back offers:
Disk Clone: When you are either changing your primary storage device or upgrading from HDD to SSD, then use this option. It will create an exact copy of your storage device, including partitions, and data inside it. The only condition is the target drive should be larger than the used space of the source drive.
System Clone: If you only want to create a clone of the System drive, i.e., the partition where Windows is installed, then use this option. It is useful when you are reorganizing the partition structure on the target drive. 
When choosing System Clone, you have a few additional options—Optimize for SSD, Sector by Sector Clone, and create a portable USB Drive. Choose accordingly.
Recovery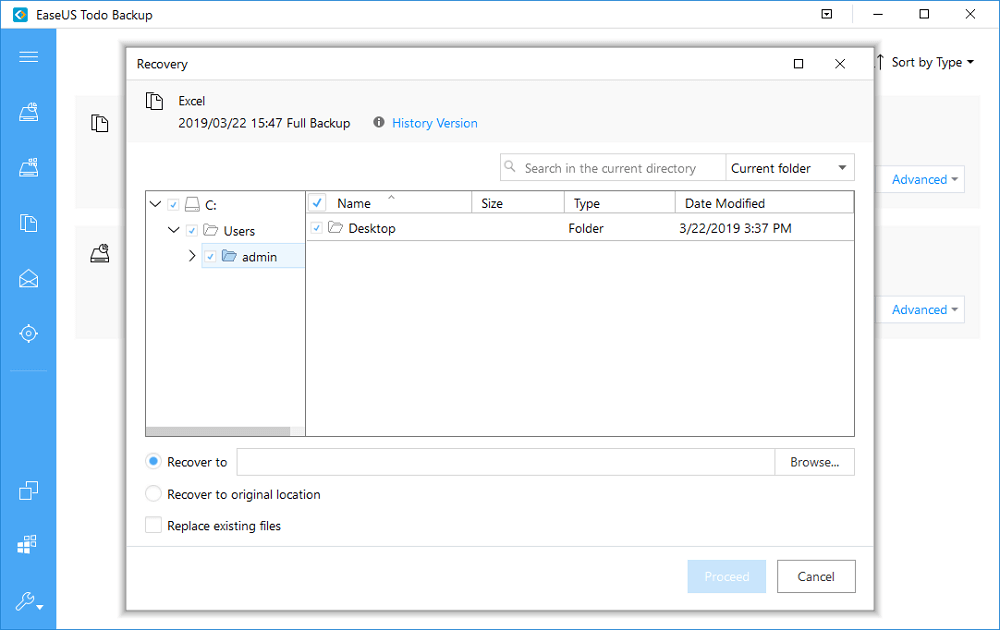 All the backups you have taken will be available on the dashboard. There is a direct Recovery option that allows you to perform Full Restore, Individual File Restore, Select History version, Recovery to the same or different location, and opportunity to search by filename.
Pros:
The user interface offers a Windows-like experience.
One-click backup and restore functions. 
Once configured, you can schedule backups and forget that it is there.
Supports the cloning of disks, which is handy when you are replacing hard drives or upgrading them.
The free version supports backing up your entire system, file, disk, partition with full, incremental, and differential backup.
The paid version supports smart backup, Outlook backup, Cloning System, transfer to another PC, email notifications, custom command, offsite copy, and file inclusion.
Cons:
You cannot retrieve files from the backup image without using EaseUS Todo Backup.
2] Paragon Backup and Recovery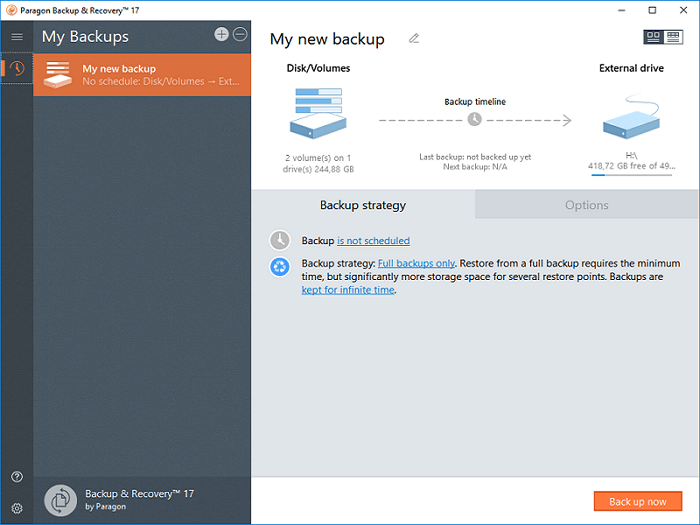 Features:
Set your own rules for backup
Disk space management to make sure storage space never runs out of space
Version Control
Pros:
Excellent compression rate
Consumes fewer CPU resources
Best suited for server backups
Free version available
Cons:
The interface and features look like built its built for technically advanced users
Backup and Restore is rather slow
Encryption and password protection are only possible with pVHD (paragon virtual hard drive) backup sets
3] CloudBerry Backup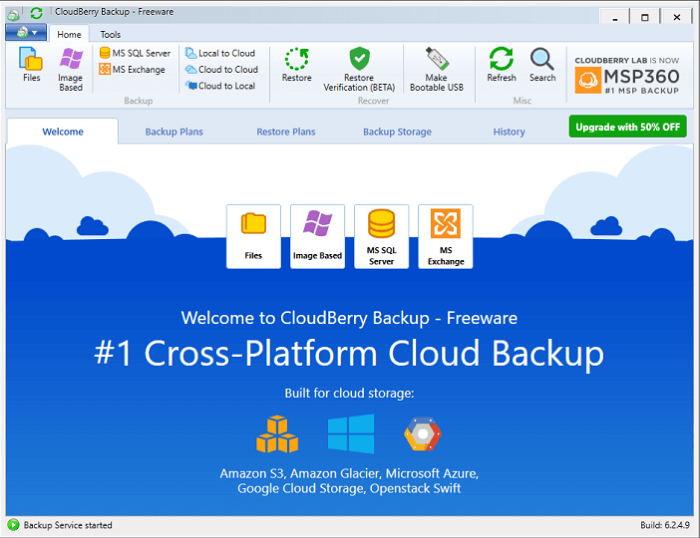 Features:
One of the best backup solutions which offers local and cloud backup in a single pass. If you are a server person, it can back up the SQL server along with network locations.
Pros:
One Time Fee
Best suited or business users as its cheaper in that segment
A lot of customization options
Cons:
Backup and Restore is slow
The user interface is not friendly for general consumers
4] Zinstall Full Back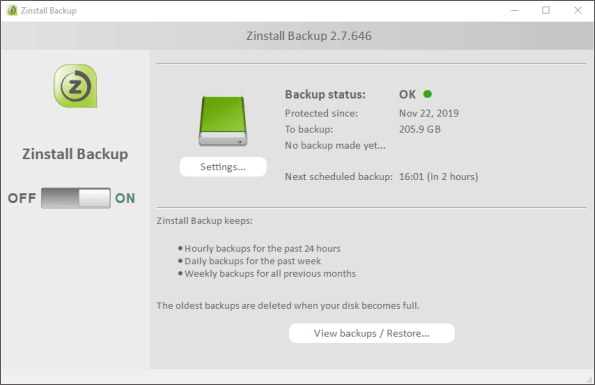 Features:
Offers an all-in-one solution and backups/restores almost everything. You can save the backup on cloud storage or a USB drive or Dropbox, OneDrive, or Amazon.
Pros:
Easy on CPU
Full and Partial Restore is possible
Single One-time payment
Cons:
This software doesn't create a Clone
No option to disable incremental backup
The Interval backup method is missing
5] Iperius Backup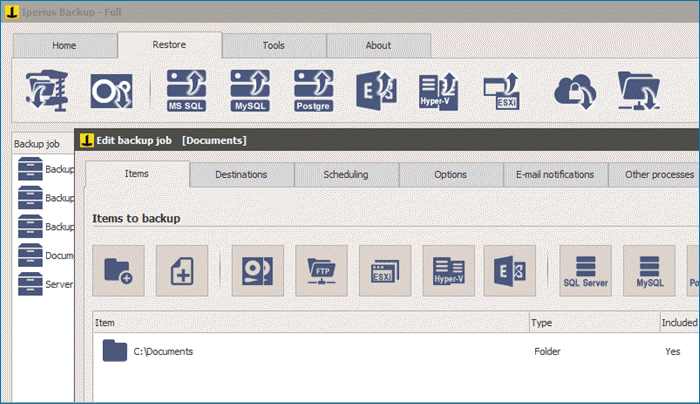 Features:
It is a versatile backup software that can backup Windows PCs and Servers, databases, and virtual machines. One of the best parts is the backups are not property, but it uses Open file backup (VSS), which can be opened by any other software as well.
Pros:
Fast backup and recovery
Multiple ways to backup
Cons:
Multiple Windows Image Backups
Daunting to use for first-time users
6] Ashampoo Backup Pro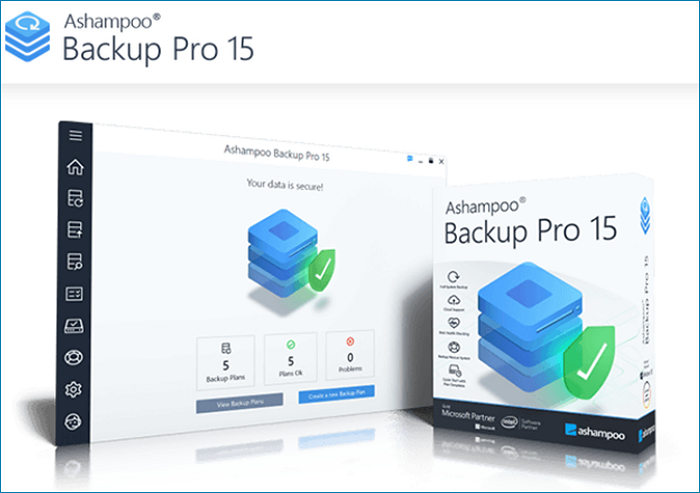 Features:
Powerful backup software and yet it offers one of the most user-friendly interfaces. You can back up a massive amount of data and has a well-guided program to restore data.
Pros:
A user-friendly interface makes the program a breeze to operate for anybody
Your privacy is protected, supports error handling versioning encoding
Pauses the backup when resources are low on the computer
Cons:
No Free version
Versioning has issues as they are not easy to differentiate. 
7] Ivybackup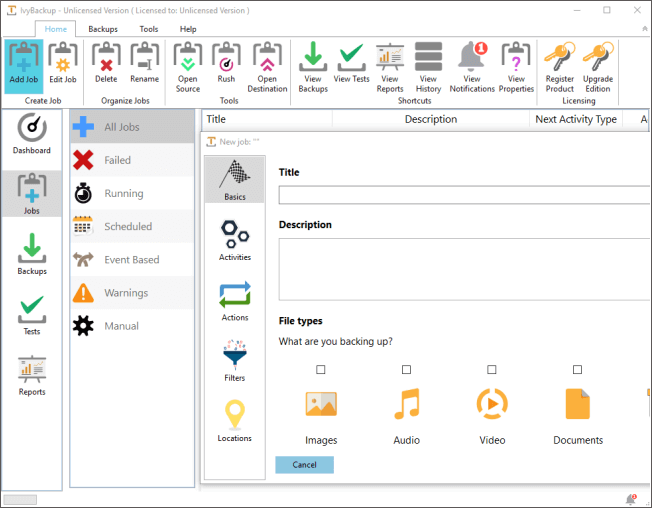 Features:
Along with other options, it also offers standard ZIP files and supports ZIP64 backups for massive size backup. When configuring the backup, you can set a series of filter rules, and use the "backup tests" feature to verify that your backups are not compromised.
Pros:
Free trial available
Supports Cloud Backup
Secure Data storage
Cons:
No Remote Server options 
Continuous backup is missing
8]  Cobian Backup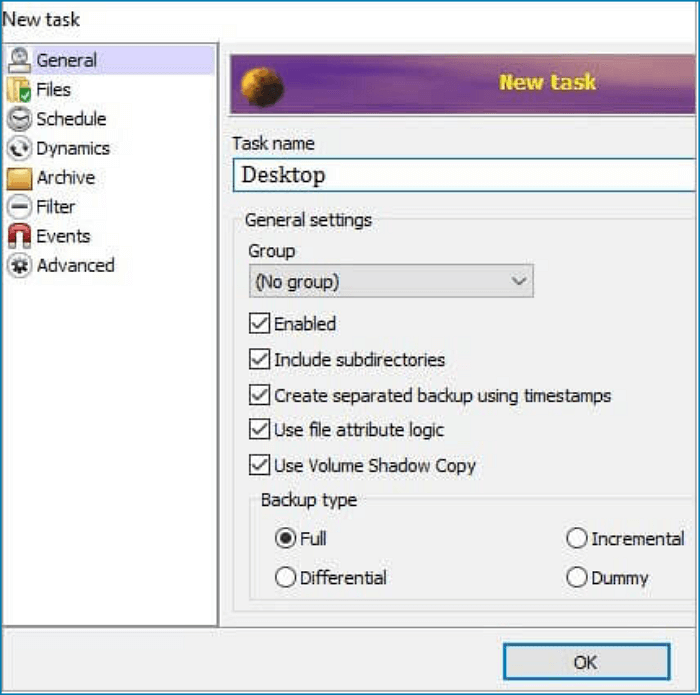 Features:
If you want the best free backup software that offers almost all the features, then Cobian is what you need. However, it remains best for primary backups with basic features. There is no versioning; for example, it can backup files, store it to multiple locations, including network. 
Pros:
Highly customizable
Optional encryption
Cons:
No wizard for beginners
No versioning
A regular user might get into a lot of troubleshooting which I can easily figure out from their FAQ
9] Carbonite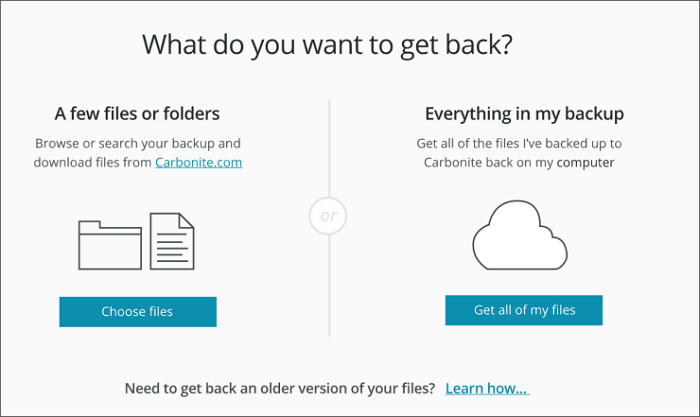 Features:
If you are looking for a cloud backup software, Carbonite is an excellent fit at a low cost. Not only it is easy to install and configure, but it will also protect you against accidental file deletion and overwriting Ransomware, and more. If managing storage in your house is not your style, Carbonite is for you.
Pros:
Migrate to any other OS without worrying about the version
Restores without wiping the computer
Unlimited cloud storage at a low cost
Offers backup for Microsoft Office 365
Cons:
No Free account plans
No folder or file-sharing capabilities even though it's a cloud backup
No option to Restore System or clone drives.
Conclusion
Keeping in mind what the backup software can do for you, I think it is worth paying for them. It saves you more than what you lose in monetary terms. At most, you will end up paying $50-$100 a year for the backup software. Since you can always try the best backup software free either through trial or refund policy, I am sure it will convince you to buy one.
That said, EaseUS aces compared to all in this list. Not only it offers an easy to use interface, the options are clear and self-explanatory. Then it offers plethora of features. Right from regular backups to incremental to system and drive clones. All of these in one software makes it worth. Lastly, the restore feature is worth a mention because its convenient. It allows you to search for individual files and restore them.
Daisy is the Senior editor of the writing team for EaseUS. She has been working in EaseUS for over ten years, starting from a technical writer to a team leader of the content group. As a professional author for over 10 years, she writes a lot to help people overcome their tech troubles.

Myra joined EaseUS in 2017. As a big fan of Apple products, she mainly focuses on iOS data transfer and iOS troubleshooting tips. Meanwhile, she is expanding her knowledge and skills in other fields like data recovery and disk management. Myra is open-minded and likes both extensive and intensive reading. Other than reading and writing, she is also fond of mobile games and K-pop stars.
Taking everything into consideration, we can say that EaseUS Todo Backup Home can offer you a little extra sense of security with a set of advanced tools. The interface provides quick adaptation, every process guiding you all the way through so you don't get stuck or further damage your system rather than keeping it safe.

 Read More

EaseUS Todo Backup Free lets you create backups of your important files or your entire computer through its streamlined interface. Just choose the backup type you'd like to get started, and let the program do the reset.

 Read More

EaseUS includes all the features I expect from backup software like versioning, incremental backups, and scheduling. For more advanced users, EaseUS allows you to install a pre-boot environment onto your hard drive so you can use it to restore files without burning a CD or putting it on an external USB drive.

 Read More

EaseUS Todo Backup
Smart backup tool for your files and entire computer in Windows 10/8/7.
Install Windows on Multiple Computers at Once? No Problem!
Learn how to install Windows 11/10/7 and special programs/software on a batch of computers. Use 10 minutes to do the 10 hours work without making a single mistake!
Get Free Solution!