Home users, small businesses, medium to large businesses and enterprises, they all require a backup solution that fits their specific needs. Do you know what are the common backup strategies for small business? Well, there are many small business backup options today provided by professional IT companies. Here in this page, we concluded the following 3 backup strategies for small business.
Small business backup solutions
1. Disk-based backup
As today's business generates more data than ever before, the hard disks are becoming correspondingly cheaper and more plentiful. Many small businesses choose to protect data and backup them to some hard disk drives, which are mostly used when doing backups.
2. NAS
A NAS appliance is a storage device that connects directly to the network, so every user on the network can access it. NAS can do more than just backup a few files but multiple computers in a home or office. So this is an excellent backup strategy for small businesses running several to tens of computers.
3. Cloud storage
It's the trend of modern computer data storage. We've heard all the time how good it is to have cloud backup. Some cloud service offers you free storage to have file backups there, while some charge a sum of money for ampler space. For small businesses, they would prefer to choose a cloud service package with moderate storage, with which enhance the security of business data.
Have regular backups by employing the mentioned backup strategies
Despite they are all fantastic backup strategies for small business, still you'd better not rely on a single strategy. Have a least two of them, and make sure the business data is thoroughly protected. Now find a powerful backup and recovery utility to have a regular backup.
EaseUS Todo Backup is an ultra-cheap but outstanding backup tool among its competitors, of which there are many powerful features that are designed for a complete backup of small business information. Old users who as soon as upgrade EaseUS Todo Backup can backup files, emails, SQL and Exchange to cloud drives (OneDrive, DropBox and GoogleDrive only).
Steps to create disk-based, NAS, cloud backup image by using EaseUS Todo Backup
Step 1. Install EaseUS Todo Backup and launch it. Choose any of the backup options that works best for your needs.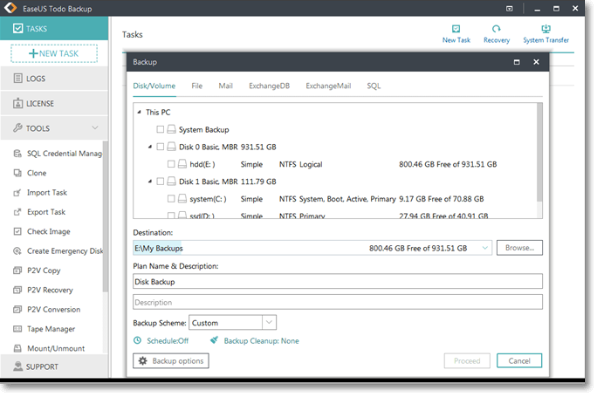 Step 2. Choose backup image location. As we've discussed, you can create the backup image to hard disks, NAS and cloud and more showing in the following screenshot.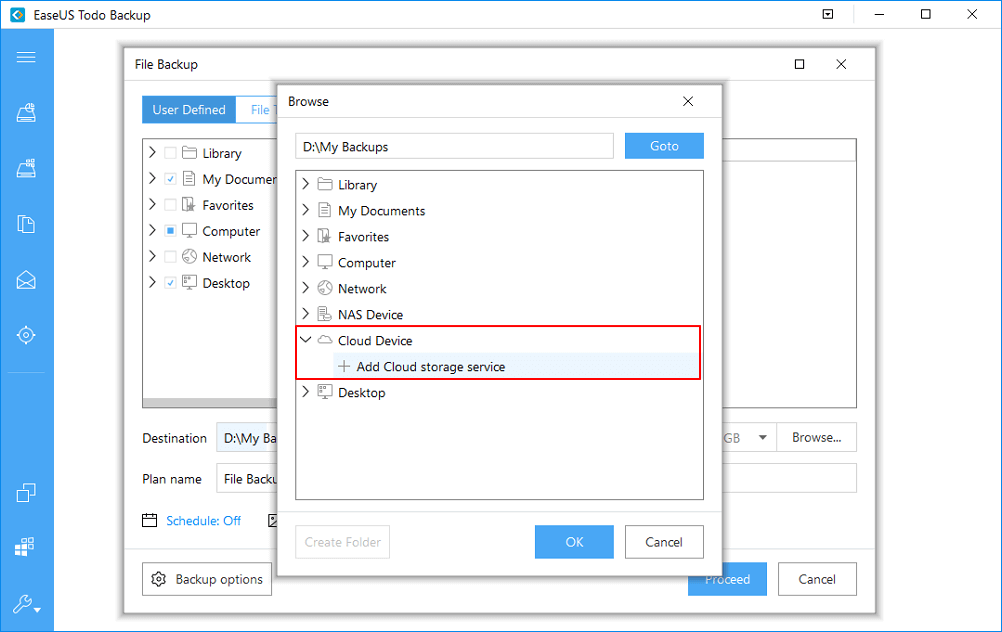 Note the Cloud Device part. You can only backup files including business documents and other sheets or materials, mails, SQL and Exchange to the cloud. And only OneDrive, DropBox and GoogleDrive are supported.
How to backup to the cloud?
Step 1. When choose the backup destination, click Cloud Device > Add Cloud device. Select one of the cloud service to connect.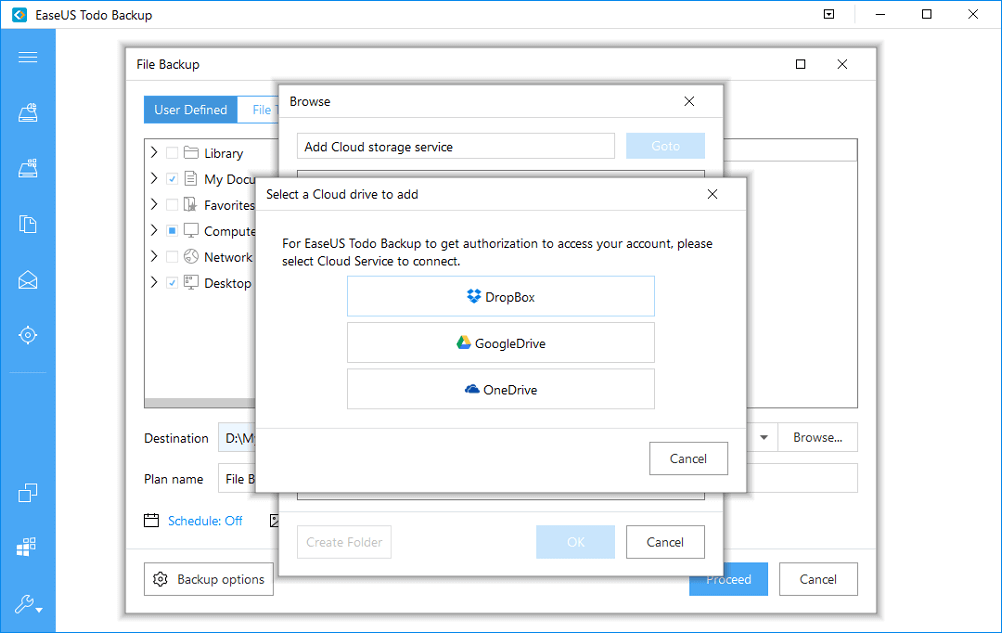 Step 2. With any account of the three, sign in and allow the program to access the cloud service. When it is done, proceed to backup business information to the cloud.