"I decided to reinstall Windows 7 on my computer but all the installed programs in the Program Files in C drive will be erased. I really want to keep some of the very important programs, especially the ones I did the upgrade. Is there any program backup software for me to make the backup?"
What's the Significance of Backing up Program Files in Windows
Do you fully understand what the Program Files folder is for? When you access the C drive on your computer, you will find a Program Files folder and another Program Files (x86) folder as well. In fact, both folders are available to place the installed software programs in Windows, but the x86 version is there for backward compatibility so that you can run 32-bit applications on a 64-bit operating system.
Before we introduce the Program Files backup solution to you, please be aware that not all programs are able to set up and run correctly after restore. You must be very clear that when it is significant to backup those program files. We listed three cases in which you may want to make this backup.
No.1 You don't want to lose the status of some programs after the reinstallation, such as game progress, account information, browser bookmarks and so on.
No.2 Only demand to backup program files and settings due to the lack of storage space on a backup location.
In conclusion, the coming backup solution to backup Program Files is not applicable when you're looking for a way to copy, transfer or backup the installed programs without reinstalling. If that's what you need, you should go to the linked page to learn how to backup installed applications in Windows 10 with Windows apps data backup software.
How to Backup Program Files to an External Hard Drive in Windows 10/8/7
Instead of directly copying the very large Program Files folder to an external hard drive, here is a much more efficient way. Use third-party free backup software to create a backup image of the Program Files folders.
EaseUS Todo Backup is recognized as the best Windows program files backup software, with which you can back up the whole Program Files folder to an external hard drive, USB flash drive, network drive or cloud drive in order to keep the very important program information up to date even after reinstalling.
The backup guide is as follows, please first connect your external hard drive to your computer and make it detected by Windows.
 Notice:

Empty the external hard drive or USB flash drive that you want to backup files to. If you have important data saved there, please do remember to move them away so to avoid data overwritten issue.
Step 1. Connect the external hard drive or USB flash drive to your PC and run EaseUS Todo Backup.
Step 2. Click the left top icon and expand the pane, click "File Backup".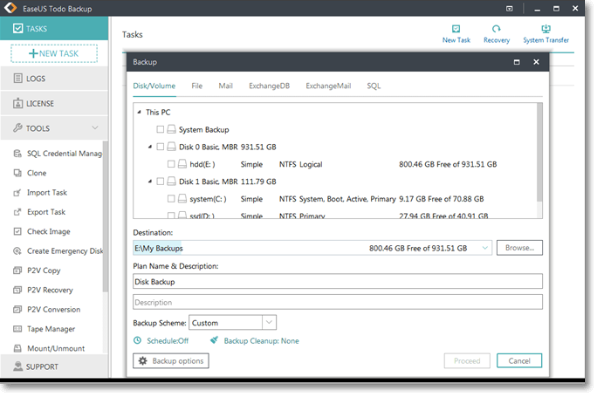 Step 3. Select the specific files that you want to backup to external hard drive or USB. And then click "Browse" to navigate the external hard drive or USB flash drive as the file backup destination.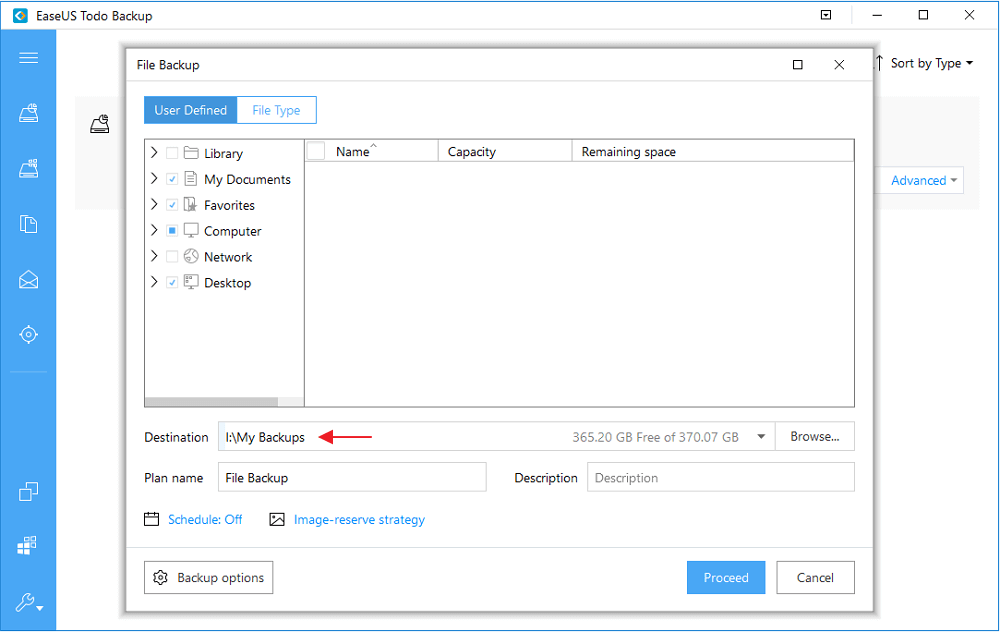 If you prefer to create a file backup plan and automatically back up files to your external hard drive or USB flash drive, try below tips:
1. Click "Schedule: Off" and click "Upon even" to set automatically backup files as USB device plugged in (only the device on which you created tasks).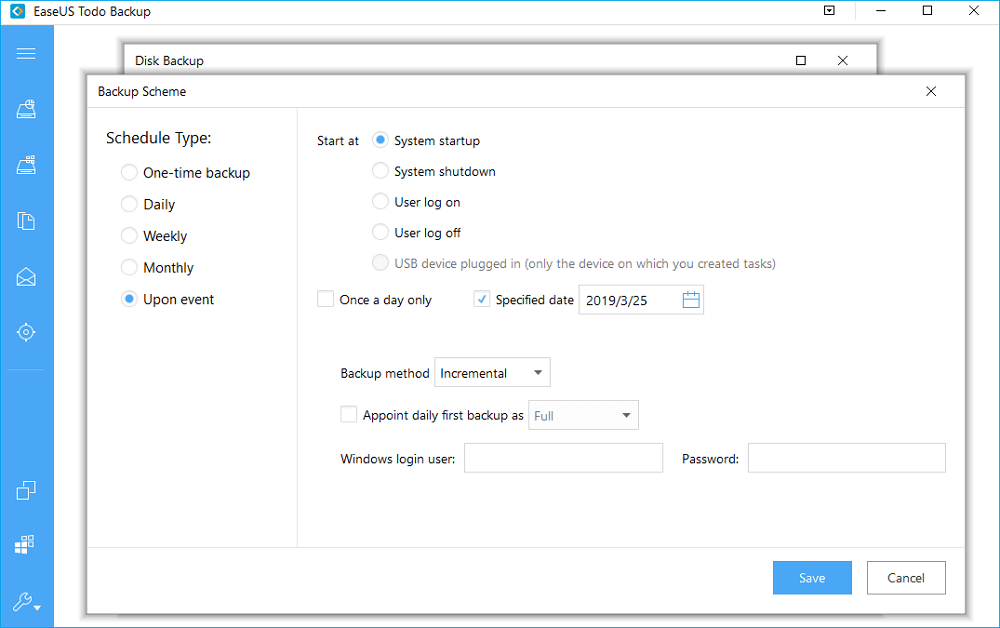 2. Click "Save" to keep the changes.
Step 4. Click "Proceed" to execute the file to external hard drive/USB backup operation.
EaseUS Todo Backup will do the automatic backup job after the first full backup of all selected files or folder if you've set the program to automatically back up files to your external hard drive or USB once it's plugged in your computer.