Applied to: Windows Server 2003/2008/2012/2016/2019 and Windows 10/8/7/Vista/XP
Hyper-V Virtual Machines Backup Overview
All of the users know clearly how it is vital to back up Hyper-V Virtual Machines, but not everyone knows how to do it, whether it's in Windows personal computer or the Windows server device. That's why most people suffer terrible data loss caused by Hyper-V VM crashes or some other reasons. But don't worry now! After you read this article, you will find that it is no longer a difficult task as you have expected before to back up Hyper-V VM. We will make you through with step by step guides here.
The Easiest Way to Backup Hyper-V Virtual Machines in Windows Server
Although Hyper-V comes with its administrative tool, called Hyper-V Manager, enabling you to write backup scripts to back up Hyper-V that you have to implement yourself, it still has many limitations and is very difficult for you if you are new to Hyper-V. Therefore, It's essential to use a much simpler third-party server backup software to help you achieve your goal, like EaseUS Todo Backup Server. This powerful backup and restore tool provides you simpler and more flexible Hyper-V backup options.
Perform or schedule full, differential, or incremental Hyper-V backups based on your needs.
Quickly restore Hyper-V VMs in minutes when there is a virtual machine failure or malfunction.
The smart backup feature provides you with a user-defined backup work.
Use Schedule backup feature to automatically back up Hyper-V VM after you create a backup plan.
EaseUS Todo Backup Server is developed to keep all contents on Windows Server protected via intuitive and powerful backup solutions. With this ultimate tool, you can schedule back up Windows Server, migrate OS to a new Server, clone Windows Server hard drive, and more.
How to Backup Hyper-V Virtual Machines in Windows Server
To back up Hyper-V virtual machine, you can download and install EaseUS Todo Backup Server into your virtual machine. Then use the System Backup to back up the system of Hyper-V VM or apply the Disk Backup to back up the whole disk. The backup image can be stored on the external drive or local area network, or the real machine.
 Notice:

1. Please notice that if you want to back up Hyper-V VM to an external hard drive, USB, or even SD card, move important data to another safe location to avoid data overwritten in advance.
2. The storage space of your external storage device should be as equal to or even bigger than your Hyper-V system drive. Otherwise, the system backup process may not succeed.
Step 1. Connect your external hard drive, USB or SD card to your PC.
Step 2. Run EaseUS Todo Backup Technician on your Windows 10 PC. Click "Disk/Volume Backup" and then check "System Backup" where the necessary partitions required by the boot of Windows will be automatically included. You can customize the "Destination" and "Plan Name & Description".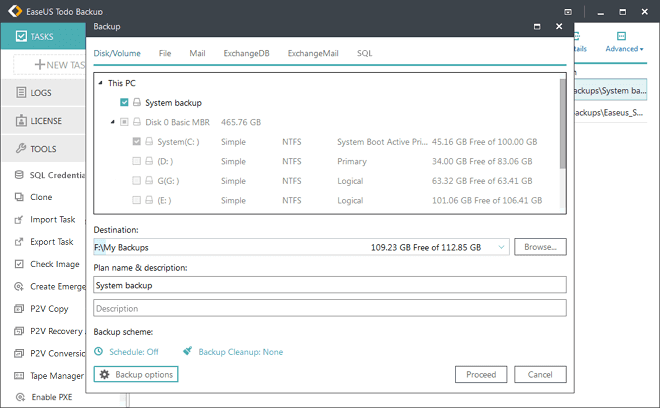 Step 3. You can click the "Backup options" to make the backup custom Settings. Then, click "Save" > "Proceed" to start backing up your Hyper-V virtual machine.