If your Windows 10 machine is acting up, it may be time for a tune-up. If it's a new purchase, you may just need to clear the junk files. However, if you don't think your computer is running as well as it should be, or you're getting worrying error messages, it might be time to reset your PC to its factory settings. But before you reset your Windows 10, you must back up data to avoid data loss.
Back up Data Before Factory Reset
To effectively and safely backup files and installed programs before factory reset windows 10 computer, you should find a reliable Windows backup software. As there are so many such utilities on Google, which one you can trust is a problem. Here, to save you time and effort, we would like to recommend you use EaseUS free backup software. Coming with many advanced and flexible backup features, it can help you backup your system, files, settings, disks, partitions with ease.
To back up files & installed apps before factory reset windows 10, follow these steps:
 Tip

You'd better create the backup file on an external disk or on the cloud in case the local backup gets corrupted or destroyed.
Step 1: Launch EaseUS Todo Backup software and then choose "File Backup", "Disk/partition Backup" or "System Backup" for different backup purpose.
Step 2: Choose the system, disk partition, files or apps that you want to back up. Then select a destination where you want to store the backup file.
Step 3: Click "Proceed" to start the data backup process.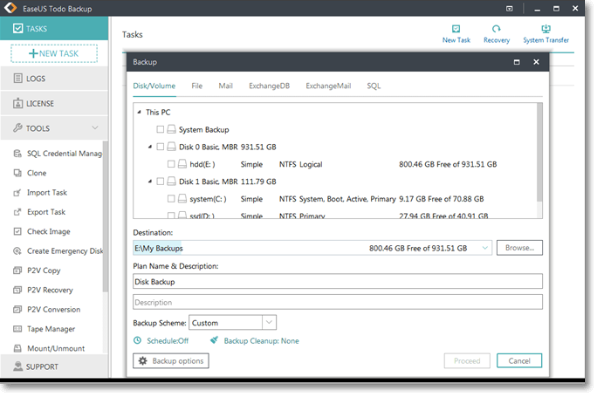 To back up or transfer apps and programs, refer to this page:
Steps to Factory Reset Windows 10
After the backup, you can start the factory reset process.
Step 1: To access it, head to Settings > Update & Security > Recovery. You'll see a Reset this PC header; Click "Get started".
Step 2: Click either "Keep my files" or "Remove everything", depending on whether you want to keep your data files intact. Either way, all of your settings will return to their defaults and apps will be uninstalled.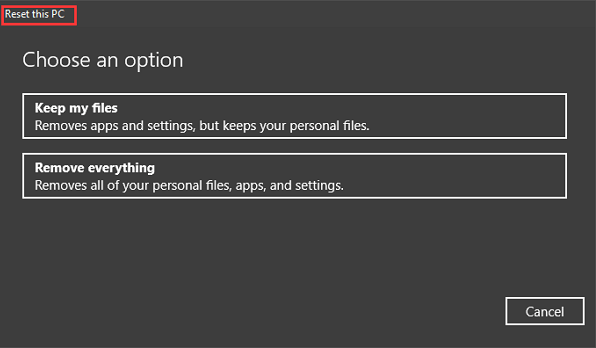 Step 3: Click "Next" if Windows warns you that you won't be able to roll back to a prior version of the OS. Click "Reset" when prompted. Click "Continue" when prompted.
Once the PC is restarted, you can then reinstall your apps, and configure settings. If the system still crashes, there may well be a hardware problem, in which case a hardware engineer may need to inspect the system for any issues the PC might have.