When an Outlook app is installed on your computer, you can use it to back up email, contacts, and calendar items. However, Outlook stores everything in one big PST file. You know what can happen when you put all your eggs in one basket. To organize and safeguard your messages by storing them in separate folders on your hard drive or other storage devices, we have provided you with two Methods.
Automatically Copy/ Back up Emails from One Folder to Another
You need to download backup software to back up emails from Outlook folder to another folder if you want to try method one. EaseUS Todo Backup is the very one you are looking for. A few clicks to realize backing up outlook email, contacts, and calendar items, etc. EaseUS can not only help you easily back up all emails from one folder to another but also have the following advantages.
01
Easy Backup & Recovery
Simply select what you want to backup: your entire system, a disk, a partition, particular folders, and create a backup in seconds. Create an automated schedule to keep your backup up to date.
02
Quick Disaster Recovery
Restore a backup of your system and data after disaster strikes to quickly get your machine back to working order.
03
Extensive Backup Modes
EaseUS data backup software conducts full, incremental, differential, and scheduled backups to give you the best overall performance for your particular system environment.
04
Reporting and Support
Real-time backup reports keep you informed during every stage of the backup process. First-rate technical support can help you out of any trouble and ensures you get the most out of the product.
With this backup software, you can move the .pst files to the wanted folder in a short time. Steps to back up or copy all emails in Outlook:
1. Download and launch EaseUS Todo Backup. Click Email Backup.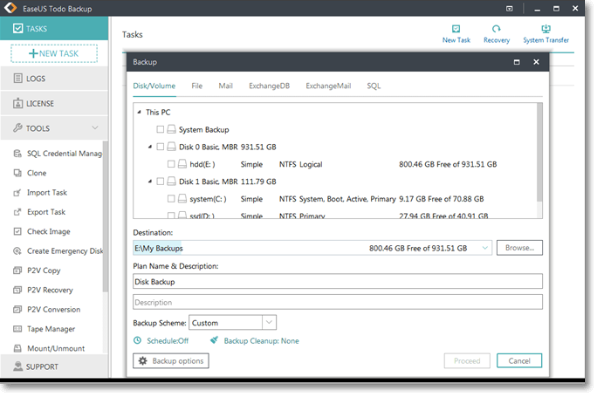 Tips:
Windows live mail and Mozilla Thunderbird is not supported.
2. Specify contents for backup. You may choose to back up the whole mailbox, individual folder(s), Contacts and Calendar, etc.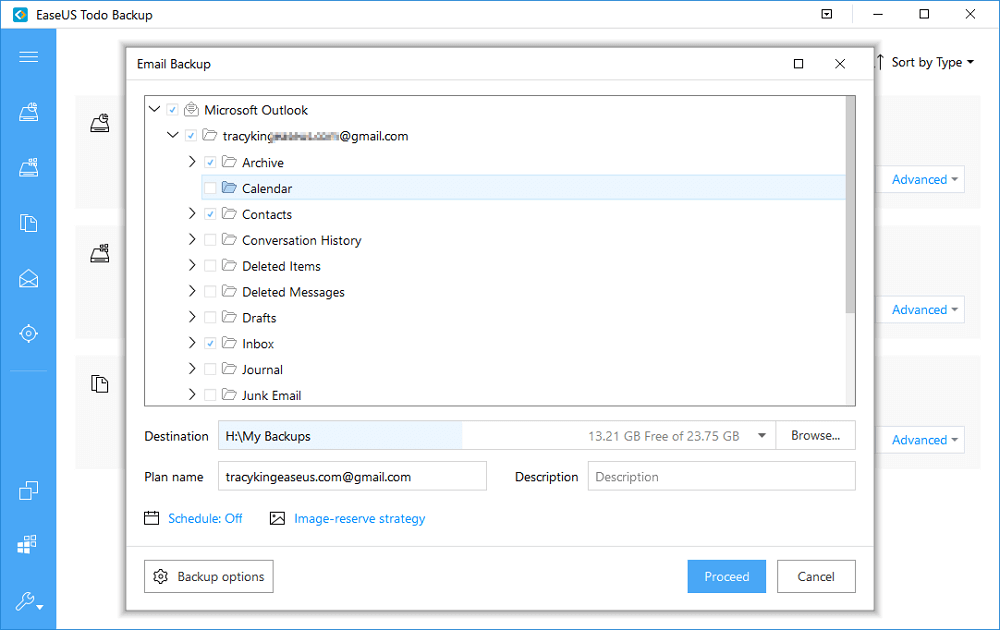 3. Click the folder icon to modify your backup destination. Enter Plan name and Description for your disk and partition backup. By default, the name and description are given based on the backup time and backup type.
Note:
Backup options are to edit the advanced parameters.
The schedule is to create an automatic backup plan. You can choose to back up emails daily, weekly, or monthly.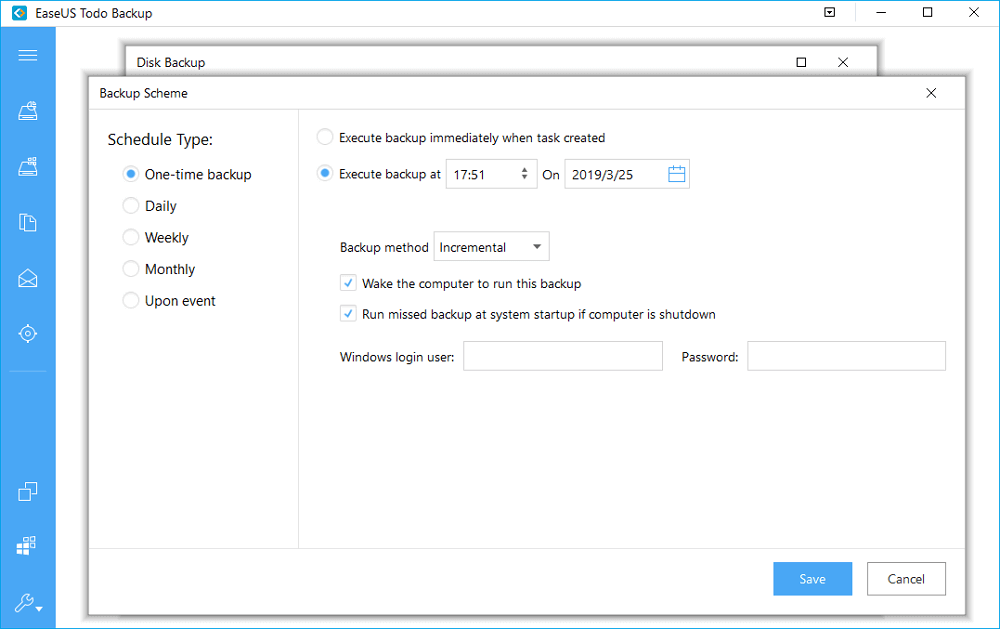 These settings are for reference only but not a prerequisite for backup.
4. Click Proceed to perform Email backup.
A scheduled backup helps you automatically copying the wanted Outlook items automatically. You'd better set a schedule If you want to know the way to restore the copied emails, refer to Outlook Backup and Restore.
Manually Export/Move Outlook Emails to Another Folder
Compared with the first method, this method allows you manually moving Outlook emails from one place to another. For example, let's say you have an Office 2016 mailbox. You can add it to Outlook. You export items by creating a .pst file, which is an Outlook Data File that contains your messages and other Outlook items and is saved on your computer.
Here's what you do:
Step 1. Add your Office 2016 email account to Outlook.
Select File > Add Account > Enter your email address and click Connect > Select OK > Finish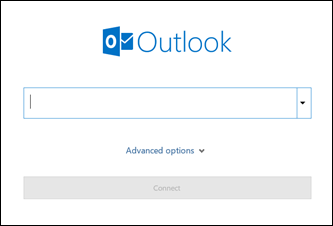 After you do this, Outlook will automatically sync with Office 2016. You'll see the contents of your Office 2016 mailbox appear in Outlook.
Step 2. Choose from the export instructions to export your email from your source account to a .pst file.
Open Microsoft Outlook and log in > Click File > Open & Export and then click Import/Export.
Choose Export to a file. Choose Comma Separated Values. In the Select folder to export from the box, scroll to the top if needed and select the folder that's under your account. Choose Next.
Choose Browse, name your file, and choose OK.
Confirm where your file will be saved on your computer, and choose Next.
Choose Finish to start exporting your contacts immediately.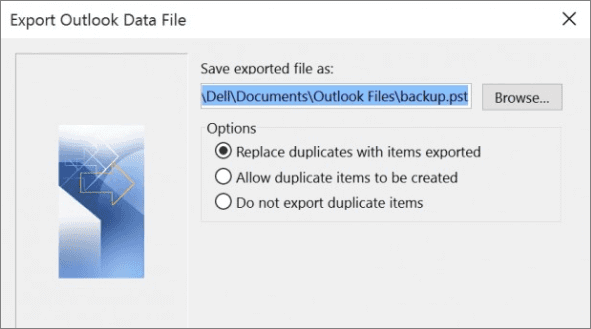 When Outlook exports email, contacts, and calendar info to a .pst, it makes a copy of the information. Nothing leaves Outlook. You'll still see and have access to your email, contacts, and calendar in Outlook.
When Outlook exports emails, it includes any attachments to the emails.
Outlook does not export meta-data such as folder properties (views, permissions, and AutoArchive settings), message rules, and blocked senders lists.
Normally we can export/save an email message as a text file with the Save As feature in Outlook. But, for batch saving/exporting multiple emails to individual text files, you have to manually handle each message one by one. If you have to back up or copy Outlook emails every day, method 1 is better. If you only want to move the emails for one time, method 2 is suitable.