How Can I Automatically Backup Data When Log off User Account
"I have to back up a lot of data before I finish my everyday work. However, manually backup takes a lot of time and energy. Every time I finish my work, I have to spend a lot of time to back up large files! Is there any effective way for me to automatically finish this backup? Perhaps it's a great idea to find a piece of easy-to-use tool that allows me to backup data as soon as I log off user account. Is it possible to make the idea come true?"
EaseUS Todo Backup Can Help!
According to the user's description, a satisfied backup and recovery program could significantly save time and effort when a periodical backup task is required. EaseUS Windows backup software is your best choice for its advanced & flexible backup features. No need to manually copy and paste the files, as long as you set up a scheduled backup plan, it will help you backup data when system startup, system shutdown, user log on as well as user log off. Read the following details to schedule a backup and start the backup when logging off user account.
Steps to Backup Data When Log off User Account
Note: This software is fully compatible with all Windows OS - Windows 10/8/7/XP etc. So you can just relax to let this tool help if you are using an early Windows system on your computer.
Step 1. Launch EaseUS Todo Backup. Click and choose to back up the system, disk/partition or files on the main menu.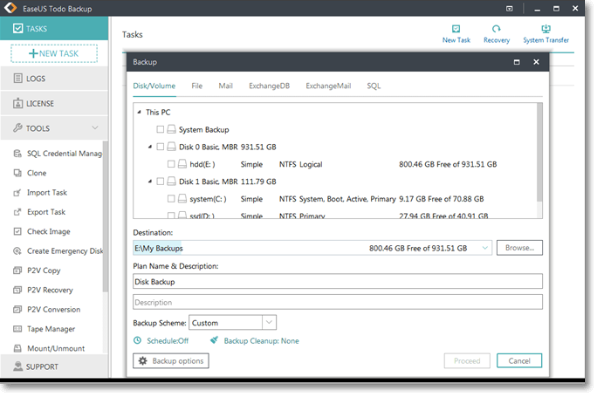 Step 2. Choose a backup location to keep your backup image. Add a backup name and description if needed. On this step, you'll need to click the "Schedule" option.
Step 3. At the stage of the backup scheme, under the Schedule Type, click on "Upon Event".
Step 4. On the right side, you can choose to make the backup start at System startup, System shutdown, User log on, User log off, or backup when USB device plugged in. Now, tick the "User log off" option and click Save.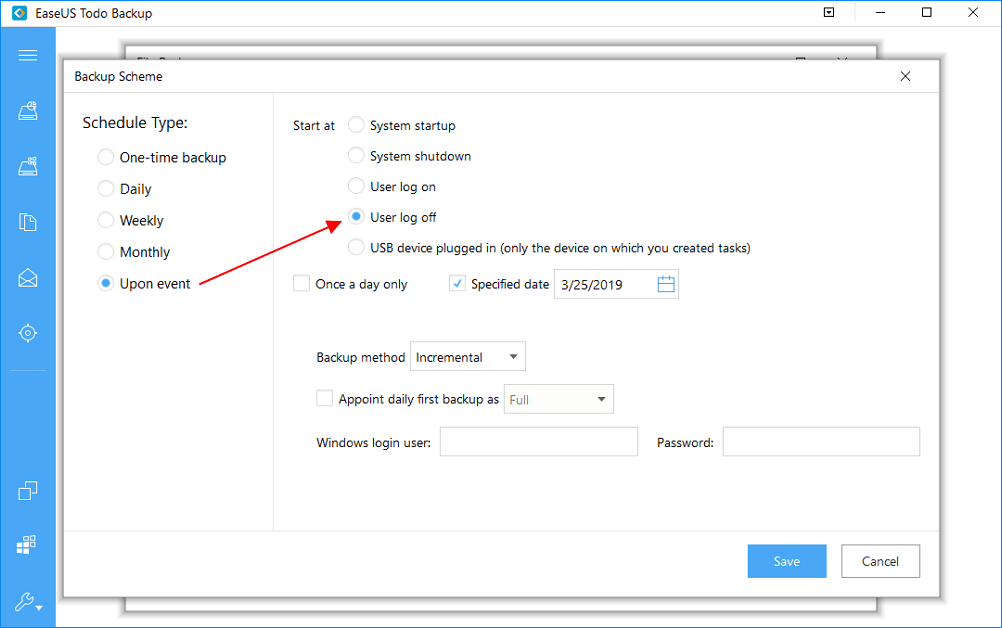 Step 5. Click Proceed to save your backup plan.
By accomplishing all the necessary backup settings, your backup plan will automatically start each time when you log off user account.