Our computer is always at high risk of data loss, we can lose files for some manual mistakes, technical problems and other unexpected reasons. Delete files or programs accidentally, software and hardware failure, the hard disk failure, wrong operation like misplace CDs or Memory sticks, the worm and virus, hacker or theft etc...
Now most of people know the necessity of data backup, and know the best way to recover from data loss is to backup the computer and store the backup image file in a physically separate location. One day, we just need one click to recover the image to get back whatever we want.
How to restore the image file with EaseUS Todo Backup?
Before we start to restore image file, ensure we have backup files before. Please don't forget to make a copy of files anytime and anywhere.
How to restore disk partitions
Step 1. Run the EaseUS Todo Backup and select a backup task in the mainly windows to recover
Step 2. According to your needs, choose the backup version or image files to recover. Created time could help us to recognize the backup version and accurate backup time.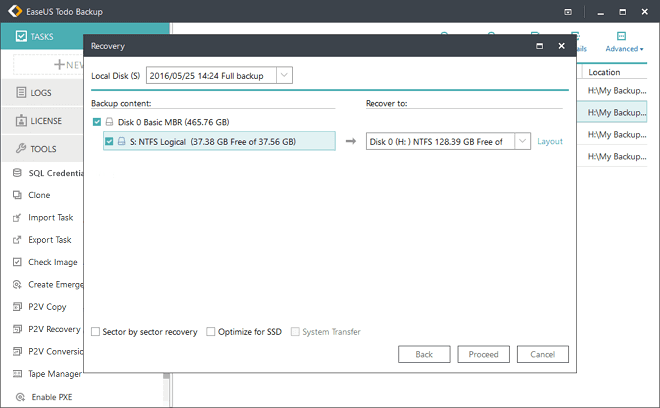 Step 3. Follow the wizard to continue.