View
Display/Hide parts of the interface in our program.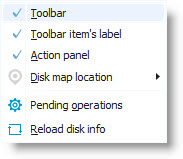 Toolbar - the toolbar gives you quick access to frequently used commands in EaseUS Partition Master. Move the mouse pointer over a toolbar button (or a pull-down menu item) to read a brief description of what the option does in the status bar located at the bottom of the window. Also, when the mouse pointer is over a toolbar button, a pop-up description is displayed next to the button.
Toolbar item's label - the Toolbar item's label can display the name of toolbar items. You can also hide the Toolbar item's label.
Action panel - click Action Panel to view a list of tasks and operations you can perform on partitions, and view the operations pending on these partitions.
Disk map location - click Disk Map Location, then click the location on the main screen you want the Disk Map to display in.
Pending operations - use View Operations pending to view a description of what changes you have specified on your system, but have not yet come into effect.
Reload disk info - reload the current disk information if there is any change of the hard disk after running our program.
Tips:
You may also look at the operations pending window located in the bottom of the left pane.
Operations that must be run at boot time are marked with a small yellow triangular exclamation mark in front of the operation under the 'Pending Operations' panel. If any operation requires going into boot mode, it will be run at boot time.