Main interface
After launching our product, you will get the main interface in a short while of splash screen.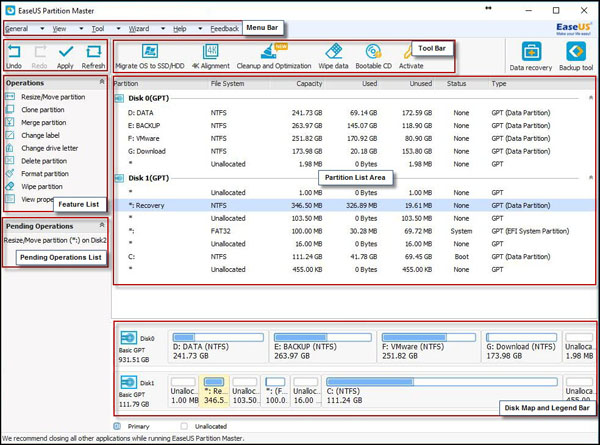 Menu bar - some advanced settings can be found here. The specific instruction for each menu would be available in latter paragraphs.
Tool bar - This bar consists of 4 resident features on the left (in red box on the graphic above) and several main features which are available for the operation target you select.
Feature list - All operations you can do to the selected operation as the targets are listed here.
Pending operation list - All "have made", but "not execute" operations are shown in this area, you can click Undo to cancel the operation or click Apply to proceed it. The yellow triangular exclamation mark means the related operation requires reboot to complete, and execute under native mode after you apply it.
Partition list - The biggest area in our product, it will list all recognized disk(s) and partition (s).
Disk map and legend bar - Displaying all recognized disk(s) and partition(s) in graphic map, and some changes can be directly made from here, such as resize or move a partition by dragging it on this map.