Help
Preview user guide and update of our product. It will help you to operate our program easier.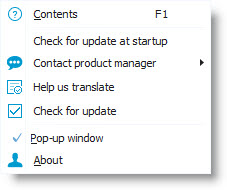 Contents - export the "Help" document of our program to view how to operate our product. You can also press "F1" to export it.
User guide(PDF) - export the user guide of our program which is saved as .pdf file.
Check for update at startup - tick this option to help you check whether it is the latest version when it starts every time.
Check for update - check whether there is a newer version of our product manually.
About - to view the version information of the current product.