Extend system partition
By default, the files on Windows desktop are all located in a user folder under system partition (usually it is C), and most applications (including IE and Windows itself) will generate some temp files while they are running, these files also locate on system partition. Besides, the page file which is dedicated to swap space on a Windows based on systems may also occupy some space on system partition.
In view of the facts above, you may get an message stating insufficient space on system partition after a period of time, after that, the computer performance might be significantly reduced. To get rid of this trouble, you need a partition management tool to extend your system partition to make more available space for system running. According to some user survey, extending system partition is also the most frequently-used feature in partition management tools. Following are the detailed graphical instructions about how to do the operation with our product.
Scenario 1
No unallocated space on the hard disk where system partition need to be extended.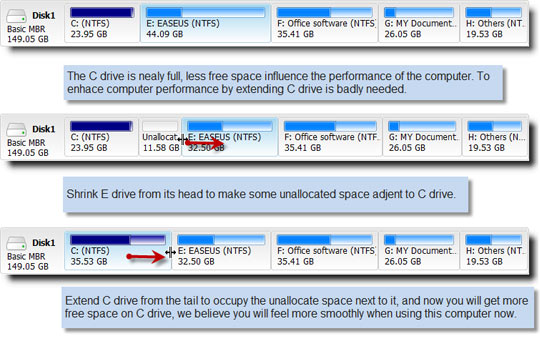 Scenario 2
There has some unallocated space on the hard disk, but it may not next to system partition.