How to create WinPE Bootable Media with Data Recovery Wizard?
Introduction
A single license of Data Recovery Wizard WinPE can be created from the executable file. WinPE Bootable Media is used to boot a crashed machine or a machine without any operating system.
Note: Prepare a CD/DVD-Recorder and a CD/DVD or USB drive beforehand to have data written.
Solution
To create Data Recovery Wizard WinPE Bootable Media, you need to run the executable file first.
1. Launch EaseUS Data Recovery Wizard WinPE Edition.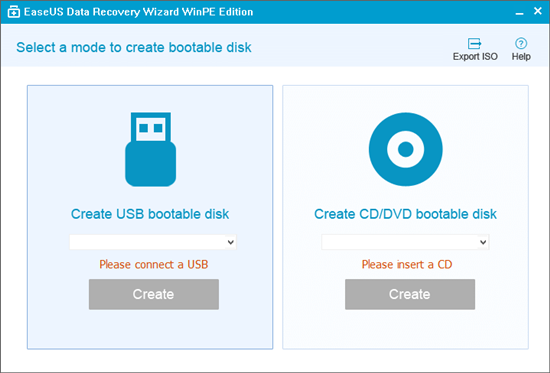 2. Choose USB or CD/DVD and select proper device. Click 'Proceed' to begin the creation.
3. You can select 'Export ISO' to export the ISO file, and use your own burning program to create the Bootable Media.
Besides, as some specific device cannot be recognized under WinPE environment without driver installed, such as RAID or some specific hard disk, you can refer to following method to add drivers for WinPE bootable disk of Data Recovery Wizard:
Boot from Data Recovery Wizard WinPE bootable disk.
Select "Add Device Driver" from main menu of Data Recovery Wizard WinPE bootable disk.