Memory cards are now one of the most popular storage media used in mobile phones, digital camera, or some other devices to save and transfer data like pictures, videos, and documents. But SD card not detected and memory card not opening or showing data issues caused by errors, corruptions, bad sectors, or virus infection happens now and then and put users into trouble.
Steps to repair corrupted memory card not detected using cmd
Fortunately, there is a list of solutions created by professionals, technicians, and geeks to troubleshoot the problem. Among them, repairing a corrupted memory card using CMD is tried by a majority of victims because it works effectively. Next, let's take a look at how to do it.
Step 1. Insert your memory card into a card reader and then insert the card reader into your computer.
Step 2. Go to the start menu, type in "cmd" in a search bar, hit enter and then you can see something named "cmd. exe" under a list of programs.
Step 3. Right-click "cmd.exe" and then you will get the following command windows that allow you to fix your corrupted memory card without format.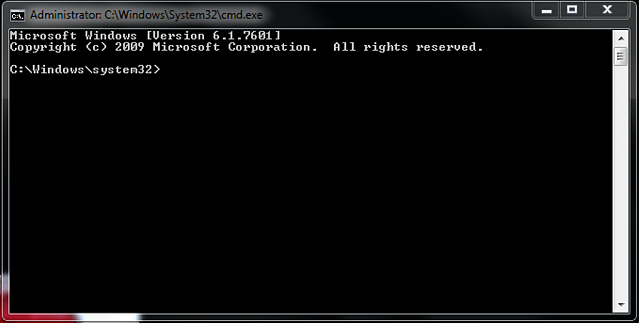 Step 4. Type in "chkdsk /X /f memory card letter:" or "chkdsk sd card letter: /f ", for example,"chkdsk /X /f G:" or "chkdsk h: /f".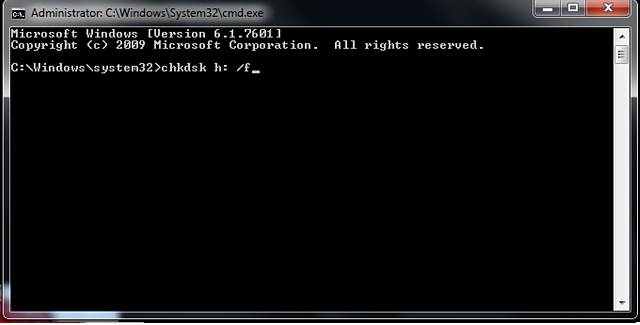 Finishing all the steps, CMD command prompt will then start to repair corrupted memory card. If it works, you will see "Windows has made corrections to the file system" in the command window. Then, the card is successfully fixed and will be detected by your PC again. If you find your important data get deleted or lost, don't worry. EaseUS data recovery software is here to help you retrieve them back.
Bonus Tip: How to recover data from a corrupted memory card
Usually, deleted or formatted data is not permanently removed. Stop using the memory card once you lost data on it. With powerful memory card recovery software, you can hopefully get lost data back.
Step 1. Run memory card recovery software
Connect the memory card on which you lost your files to your computer and launch EaseUS card recovery software - Data Recovery Wizard on your PC.
Select your memory card under External Devices and click "Scan" to start finding your lost files.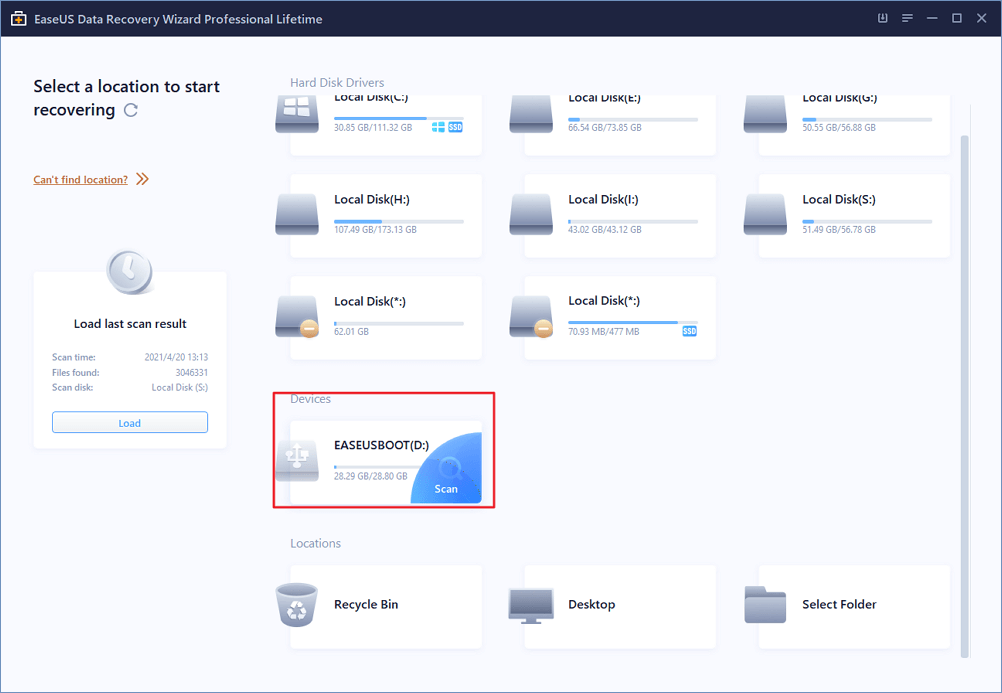 Step 2. Scan to find all lost files from memory card
EaseUS Data Recovery Wizard will fully scan your memory card and find all your lost data on it.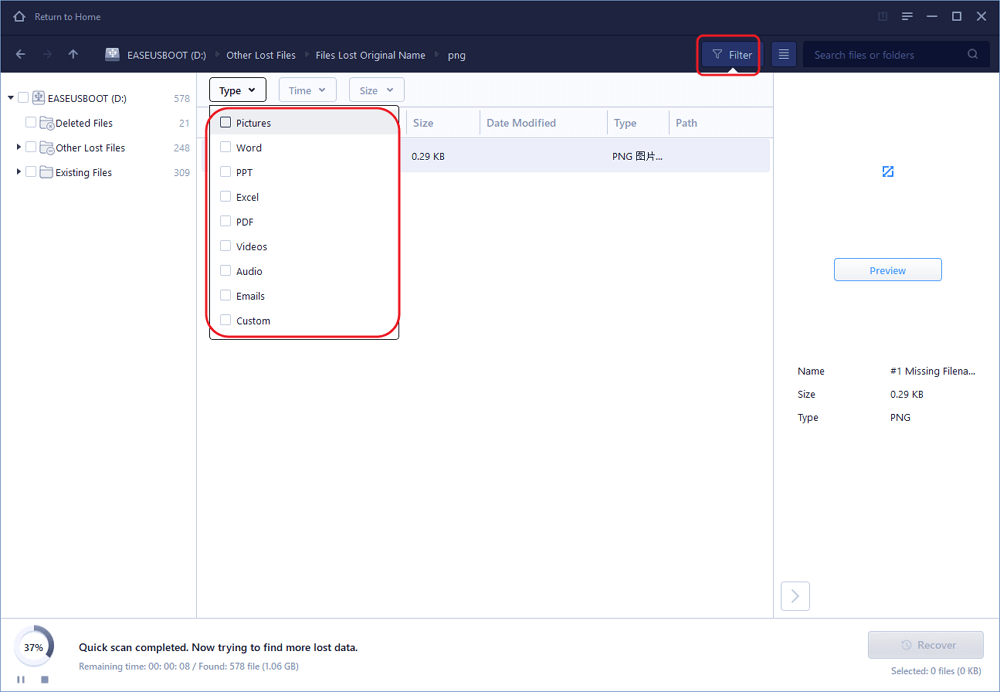 Step 3. Scan to find all lost files from your memory card.
After the scanning process, you can check and preview found files in this program.
Underneath Deleted Files, you can find your deleted memory card files there.
And if you formatted the memory card, you can check those files under Lost Partition Files.
And Filter will help you quickly find your lost files from Graphics, Documents, Videos, Audio, and Email, etc.
You can directly double-click the files to preview and see if found files are all right. After this, you can choose those files and click "Recover" to restore them to a secure location on your PC or other external storage devices.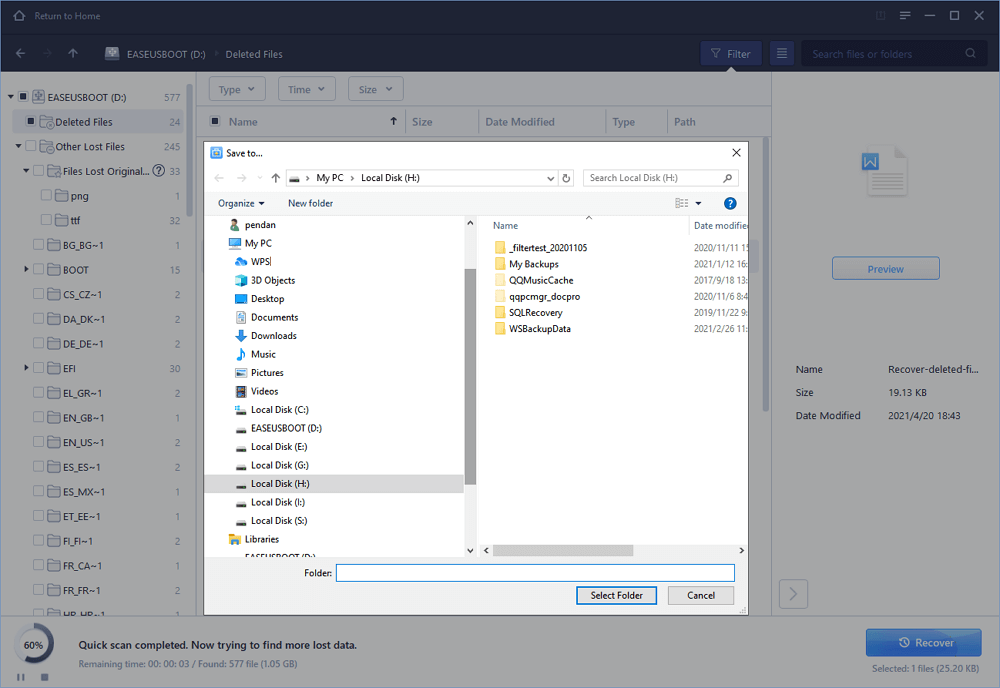 Alternative solutions to repair a corrupted memory card
If cmd cannot repair the corrupted memory card, then you may want to try other possible solutions. They are all the options you can try:
Option 1. Change the drive letter
Go to Disk Management, right-click on your memory card, and choose Change Drive Letter and Paths.
Click the drive letter and select Change option, then specify a drive letter for the card and click OK.
Option 2. Reinstall the drivers
Go to Device Manager, double-click Disk Drives in the list.
Right Click on the name of your memory card and click Uninstall. Click OK.
Restart your PC to check if the memory card can be detected.
Option 3. Repair a corrupted SD card by formatting
Open My Computer or This PC, right-click the corrupted memory card and click Format option.
Follow the instructions to finish the process.
Formatting will erase all your files, so please recover the data you want from the corrupted memory card using EaseUS data recovery before you start.