Recently, Microsoft introduced its new mobile OS, Windows 10 phone version to users. But it didn't mention "Windows Phone" once during the presentation. It suggests that the company wants to build Windows 10 as a single, cross-platform operating system that works on all sorts of devices. That means Windows 10 is going to arrive on your PC, your phone and your tablets. This page talks about some new Windows 10 phone version features and how to recover data from Windows 10 phone version with Windows 10 recovery tool
Windows 10 phone version new features
Windows 10 for phones coming with lots of new features to guarantee a natural and comfortable user experience. Let's look what these feature are.
Background Image: The most immediate change is a shift of the background image to sit behind the UI tiles, making for a much tidier and more attractive interface.
Action Center: Windows 10 new Action Center that collects notifications and syncs with your PC allows you to dismiss a notification across devices.
Notification: Windows 10 phone version offers users new support for in-line responses to notification, that means you can directly reply to messages, alarms, calendar alerts, etc. right from the pop up notification.
Phone and message apps: Being equipped with the messaging switching capabilities, Windows 10 mobile version enables you to swap between talking to people over SMS, Skype and other apps. So you can easily upgrade from a messaging conversation to a voice call.
Other apps: Except for all the above features, Windows 10 mobile version supports a collection of wonderful apps including better-looking, touch-optimized version of its Office suite, a new Outlook mail client and new Calendar and Photos apps. All these applications contribute to make your work and life easier.
How to recover data from Windows 10 phone version
Windows 10 phone version is a mobile operating system that many users want to try. And here a related problem comes. That is how to recover data from Windows 10 phone version.
You know, phone data such as pictures, videos, documents that usually stored on an SD card that inside the mobile phone. But sometimes, these files may be lost due to some reasons, for example, accidental deletion, card formatting or corruption.
Suppose that you lost your data on a mobile phone that runs the Windows 10 phone version, how do you recover the data? Here we would like to recommend you to try EaseUS disk data recovery. This program is a reliable data recovery solution that offered by prestigious software company EaseUS Software.
Whenever you come across data loss troubles, you can use this professional tool to recover lost data from Windows 10 computers or mobile phone & tablet cards.
Stop using your SD card immediately once you lost files on it. Continuing using the card would hugely increase the chance of data overwriting, which makes data unrecoverable.
Step 1: Connect the SD card to PC
Insert the SD card to a card reader, and connect the card reader with your SD card to a healthy computer.
Step 2: Run SD card recovery software and scan the card.
Launch EaseUS Data Recovery Wizard on your PC and select your SD card under the External Devices column.
Then click Scan to start finding lost data on your SD card now.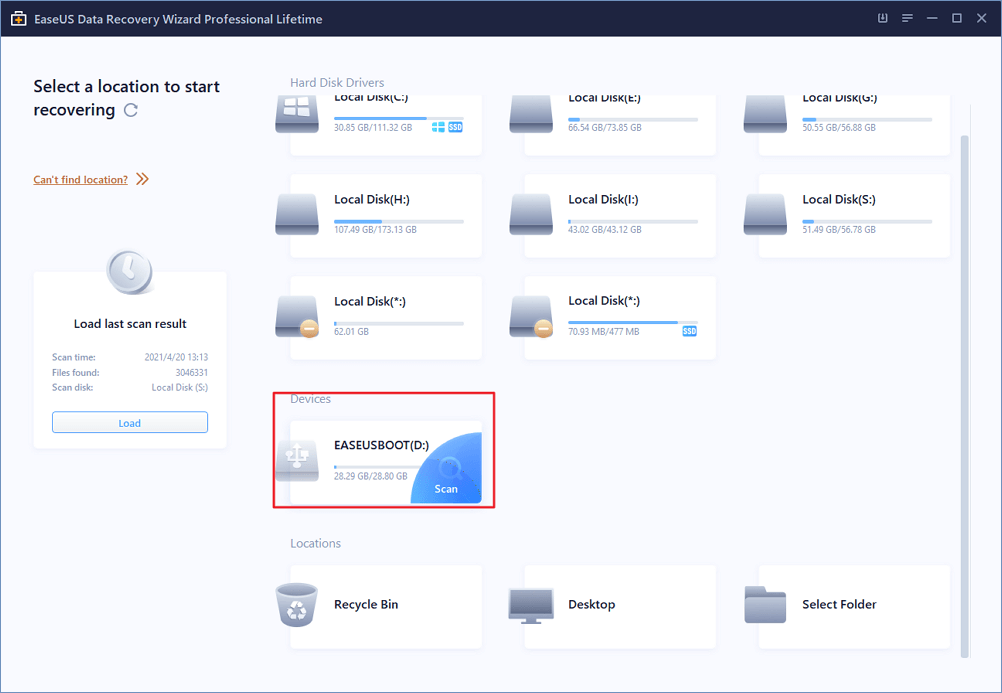 Step 3: Check found SD card data.
After the scanning process, you can preview and find your lost SD card files from below listed tabs:
Deleted Files: List your deleted files there.
Drive X: All lost files can be found here.
Lost Partition Files: Check first if it's for formatted recovery.
Extra Files: Finds files that lost names or paths.
And you can use Filter and Search to quickly find your files.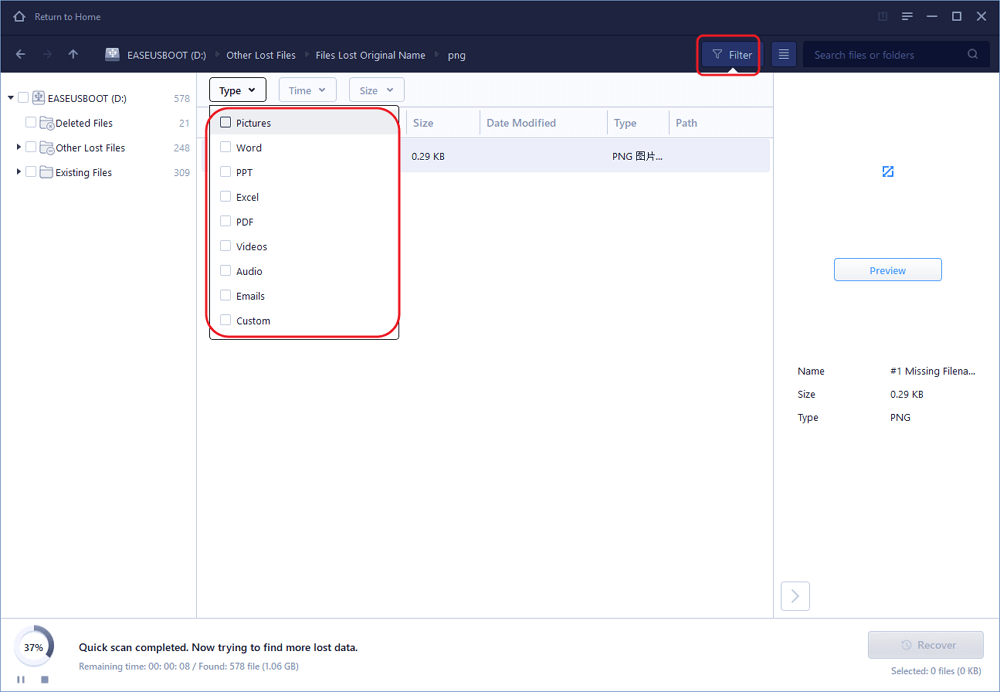 Step 4: Restore SD card data.
You can check and preview found files by double-clicking each one of them.
Then click Recover to save found SD card files to a secure location on your PC or an external storage.