Overview of Fujifilm SD card recovery
Fujifilm digital camera is a nice device for people to record wonderful moments by pictures and videos in their life. Most FujiFilm digital cameras are adopted with an XD card or SD card inside to store pictures and video files. But sometimes these precious files might lose due to various reasons and no one can expect when it will happen. If you have an available backup file, congratulations, you can restore your lost files easily. Otherwise, you may lose your pictures or videos file forever.
To avoid this terrible disaster, on this page we introduce you how to get back lost pictures with reliable Fujifilm camera photo recovery software. It is the most efficient and easiest Fujifilm SD card recovery solution. You can read to learn it and hope it is helpful!
Fujifilm SD card recovery is easy
FujiFilm photos can be lost due to deletion, formatting, SD card error and many other unexpected accidents. You may ask "is it possible to recover lost pictures from Fujifilm SD card", "how can I perform photo recovery on FujiFilm SD memory card" and many other questions like that. Here we tell you that Fujifilm SD card recovery is possible and easy as long as you find the best data recovery software for Fujifilm camera photo recovery.
Steps to perform Fujifilm SD card recovery easily
EaseUS Data Recovery Wizard is a powerful data recovery tool you can rely on. It works well to recover lost pictures and videos from Fujifilm sd card. And this program also supports Fujifilm XD card. That is to say it also available for Fujifilm xd card recovery. Next, you can learn how to perform Fujifilm SD card recovery step by step.
Stop using your SD card immediately once you lost files on it. Continuing using the card would hugely increase the chance of data overwriting, which makes data unrecoverable.
Step 1: Connect the SD card to PC
Insert the SD card to a card reader, and connect the card reader with your SD card to a healthy computer.
Step 2: Run SD card recovery software and scan the card.
Launch EaseUS Data Recovery Wizard on your PC and select your SD card under the External Devices column.
Then click Scan to start finding lost data on your SD card now.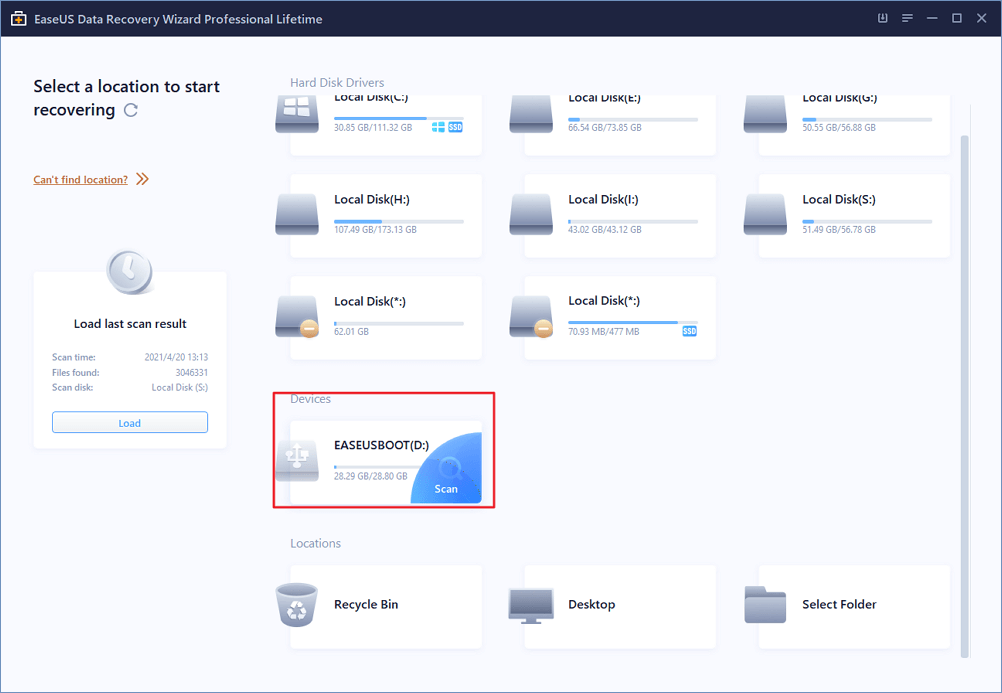 Step 3: Check found SD card data.
After the scanning process, you can preview and find your lost SD card files from below listed tabs:
Deleted Files: List your deleted files there.
Drive X: All lost files can be found here.
Lost Partition Files: Check first if it's for formatted recovery.
Extra Files: Finds files that lost names or paths.
And you can use Filter and Search to quickly find your files.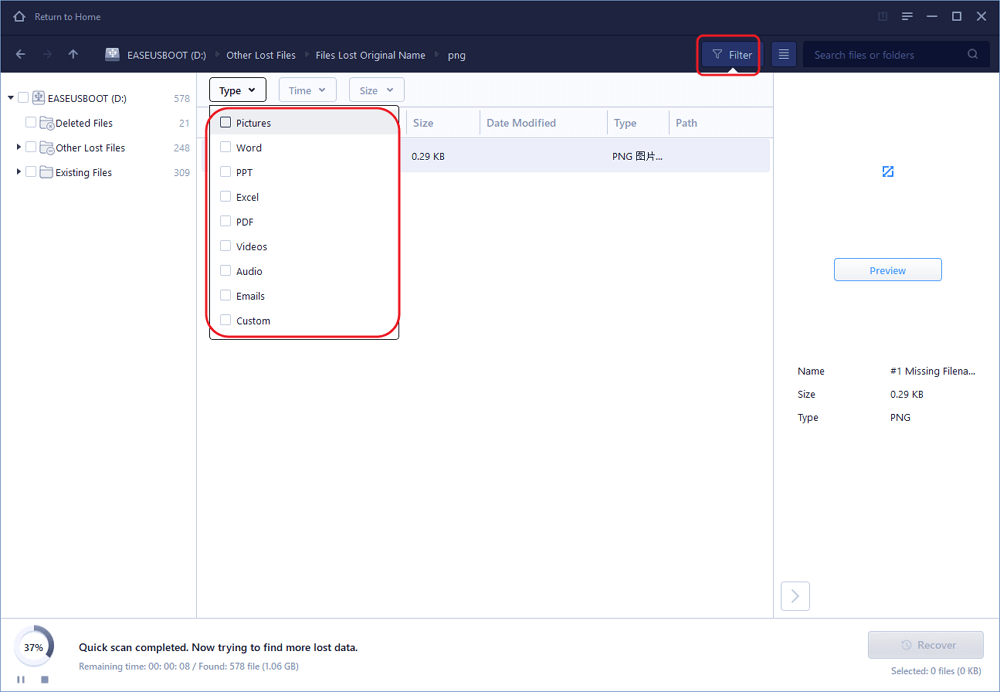 Step 4: Restore SD card data.
You can check and preview found files by double-clicking each one of them.
Then click Recover to save found SD card files to a secure location on your PC or an external storage.