Summary
External hard drive keeps disconnecting and reconnecting while copying or transferring files. We have found the causes and solutions for you. The interrupted connection is likely to ruin data on the USB external hard drives in Windows 10/8.1/7. If you are subject to data loss, try EaseUS Data Recovery Wizard for full hard drive data recovery.
A quick overview of all five troubleshooting methods of external hard drive keeps disconnecting:
| Workable Solutions | Step-by-step Troubleshooting |
| --- | --- |
| Fix 1. Change a USB port | Try every USB port available; Determine you're using USB 2.0 or 3.0...Full steps |
| Fix 2. Turn off USB selective suspend | Open Control Panel > Change plan settings > Change advanced power settings...Full steps |
| Fix 3. Turn off Mass Storage Device | Open Device Manager > Universal Serial Bus Controller > USB Mass Storage Device...Full steps |
| Fix 4. Disable USB legacy support in BIOS | Open Device Manager > Policies > Better performance > Enable write caching on this device...Full steps |
| Fix 5. Check and repair hard drive errors | Open hard drive Properties > Tools > Check now > Automatically fix file system errors...Full steps |
How to Recover Data from External Hard Drive [Free]
"My Seagate external hard drive keeps disconnecting itself and then starting to reconnect automatically every second or so. I didn't notice the problem until Windows 10 asked me to format the hard drive before using it. What should I do now? I won't format the drive because it has all my backup data."
Backup is the primary task when an external hard drive has a connection problem on a computer. However, if errors occurred, especially the error messages that tell you to format the disk or currently your hard drive is not accessible, it's high time that you should recover data from the external hard drive. EaseUS Data Recovery Wizard is a free data recovery program that is universally applied for retrieving lost & inaccessible data under "external hard drive disconnecting/reconnecting' issues.
A quick tip for you - don't format the hard disk until you've gotten data back. EaseUS data recovery guide is about three steps.
Step 1. Choose the external hard drive
Since you're going to recover data from the external hard drive, run EaseUS Data Recovery Wizard and under the External Devices tab, choose the exact drive where you lost data. Click Scan.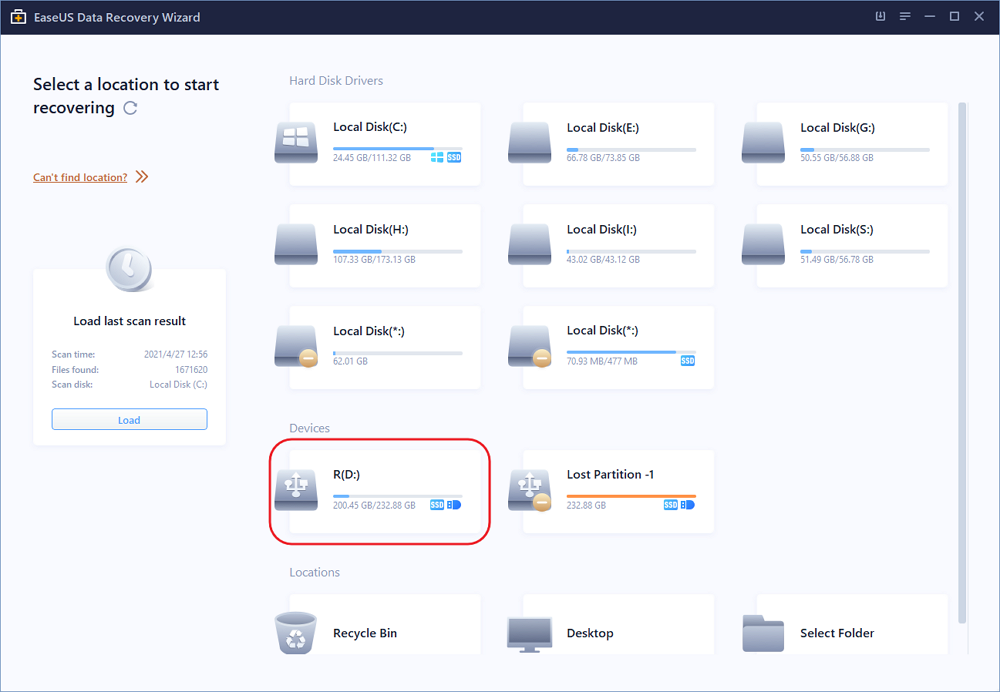 Step 2. Scan for lost data
The software will start immediately to scan all over the selected drive for all lost data. During the scan, you could see more and more data showing up in the results.
Step 3. Preview and recover data
After the scan is over, check the scan results for the desired data. You can preview the file by double-clicking on it. Click Recover and choose another location to save the recovered data.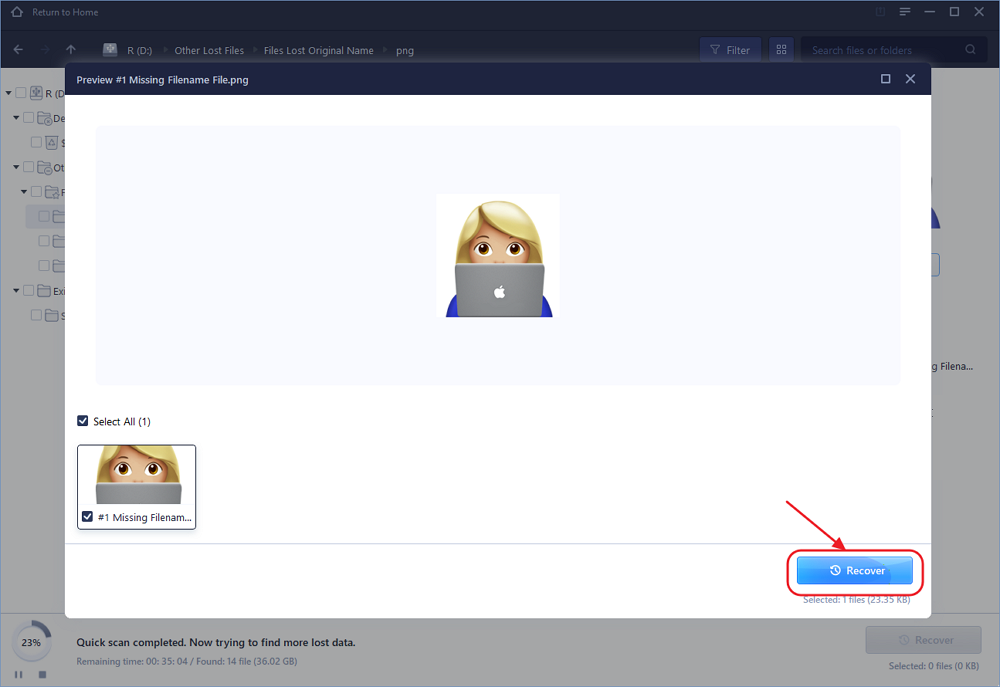 You'll be asked to restore and export the hard drive data to the other safe location.
A bonus tip for you - An unstable connection of an external hard drive won't cause data loss for sure, but it needs you to pay attention. Back up hard drive data as soon as possible. EaseUS Todo Backup Free is an ideal plan for in-time hard drive data backup and recovery.
External Hard Drive Keeps Disconnecting [How-to Fix]
Next, we gathered some viable solutions that should fix the bad connection issue of an external hard drive with USB 2.0 or USB 3.0 in Windows 10, 8.1, 8 or 7. From our point of view, to largely reduce the risk and worry of ruining data on the drive, you should strictly follow the first part of data recovery guide to recover inaccessible data, or, do a full hard drive backup even if the data currently stays safe.
Let's now focus on the workarounds, which most of the cases in the following could apply.
External hard drive keeps disconnecting when copying or transferring.
Internal hard drive/external USB drive keeps disconnecting and reconnecting, and it never stops.
The external hard drive is not showing up, not accessible, not initialized or not recognizing after randomly disconnecting.
You need to format the disk before you can use it, or you don't currently have permission to perform this action, access is denied.
Fix 1. Connect to a different USB port
On your laptop or desktop computer, there should be more than one USB port. So, try to connect your external hard drive to each USB port until the drive doesn't disconnect anymore.
It's said that some devices with USB 3.0 are easily affected by Windows 10 operating system, but owners can avoid the repeatedly disconnecting and connecting problem by putting the external hard drive to a USB 2.0 port. Only accept the truth that the data transfer speed will be slower than in the USB 3.0 port.
Fix 2. Turn off USB selective suspend
The insufficient power supply is another one of the biggest factors that causes a hard drive disconnecting problem. Most people don't know that the computer is usually configured to turn off USB devices after a while in order to save power. To resolve the unwanted disconnection problem of an external hard drive, you can suspend the default power saving feature.
Step 1: Navigate to Power Options in Control Panel.
Step 2: In your own power plan, click the Change plan settings.
Step 3: Click the Change advanced power settings.
Step 3: Go to USB settings > USB selective suspend setting and set the Settings to Disabled. Click Apply to save the changes you made.
Fix 3. Disable your PC to turn off Mass Storage Device
The other path to turn off the power saving feature is in the Device Manager. Here's how you can do it.
Step 1: Press Windows + X to bring up a menu, and choose Device Manager from the list.
Step 2: Go to Universal Serial Bus Controller > USB Mass Storage Device.
Step 3: Click the Power Management tab and uncheck the box in front of Allow the computer to turn off this device to save power. Click OK the save the changes.
Fix 4. Disable USB legacy support in BIOS
This troubleshooting is very helpful for computers with both USB 3.0 and USB 2.0 ports. Try to disable USB legacy support in BIOS, and the complete guide is given here.
Step 1: Open Device Manager, locate your external hard drive and double-click it.
Step 2: Navigate to Policies tab and check Better performance. Check Enable write caching on this device option. Now click on OK to save changes.
Step 3: Locate Intel USB 3.0 extension driver in Device Manager and uninstall it.
Fix 5. Check disk partition errors and repair
At last, you might be able to fix the hard drive disconnecting and reconnecting issue on your computer through checking and repairing hard drive bad sectors. Too many bad sectors on a hard disk will lead to corruption, which is so prone to cause an unstable hard drive connection problem. To check hard drive errors in Windows 10. 8.1 or 7, the built-in check tool is a good choice.
Step 1: Open "This PC/Computer", right-click the hard disk or partition which you want to check and click "Properties".
Step 2: Select "Tools" and Click "Check now" under Error-checking.
Step 3: Check Disk Options dialog will show up and select any one of the following options to check and repair hard disk.
Step 4: Select and check both "Automatically fix file system errors" and "Scan for and attempt recovery of back sectors", then click "Start"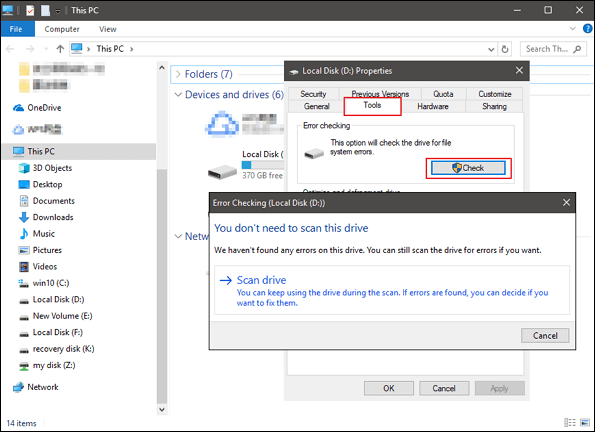 100% of people found this article helpful.
Frequently Asked Questions
1. Why choose EaseUS Data Recovery Wizard?

"EaseUS Data Recovery Wizard is the best we've seen. It's far from perfect, partly because today's advanced disk technology makes data-recovery more difficult than it was with the simpler technology of the past, but it's fast and efficient..." —PCMag

"The first thing you'll notice about EaseUS Data Recovery Wizard Pro is that its interface is very clear and uncluttered, with only a small collection of self-explanatory controls. You won't find lots of extra options hidden in a system of hidden menus, either; what you see really is what you get." —techradar

"Recover lost files, even after deleting a partition or formatting your drive." —Macworld
2. Why cannot I recover 2GB data for free?

It is recommended to check the version installed is Free or Trial because they are different versions.

Trial has data preview function but cannot save any files, while the Free version enables to recover 2 GB files. The default free space is 500 MB and you may share the product on social media to get another 1.5 GB.
3. Why cannot the recovered files be opened?

A file is saved as 2 parts on the storage device: directory info (which is comprised by file name, time stamp and size info, etc.) and data content.

If the files with original file names and folder structures cannot be opened, one possible reason is the corrupted directory info. There is still a chance to recover the data content with the RAW Recovery method in our software.
4. Why isn't it suggested to recover the files back to the original drive?

The storage structure of the lost files would be altered or damaged by any changes on the drive. If you save the recovered files back to the same drive, the original data structures and data content would be corrupted or overwritten, which causes permanent data loss. So you should prepare another disk to save the files.
5. How can I check whether my data is recoverable or not before purchase?

The Free version helps you save 2GB files to better verify the recovery quality of our product before purchase.
6. How long does it take to scan the drive?

It strongly depends on the capacity of your hard drive and the performance of your computer. As reference,most drive recoveries can be completed in around 10 to 12 hours for a 1-TB healthy hard drive in general conditions.
About Data Recovery Wizard
It's super easy to recover 250+ types of files after deletion, disk formatting and virus infection. Click the links and compare the difference of each version.