
Table of Contents

About the Author

Related Posts
Top 12 Best YouTube Recording Software for All Platforms
Do you want to record YouTube videos with a few clicks? It's exciting to record favored YouTube videos like game videos, tutorial videos, movies, music videos, etc., and save them as your collection. Unlike YouTube downloaders, a YouTube recorder can be more flexible as users can record a whole video or only a part of the target video. 
So what is the best YouTube recording software? Here we collected the top 12 best free screen recorder software for Windows, Mac, Online, Android, and iPhone users. The provided YouTube recorder tools on this page support recording all types of YouTube video and audio. Pick up one YouTube recorder to start recording now. 
Best YouTube Recorder for Windows and Mac [7 Picks]
Some Windows 10 users may have known that Microsoft added a built-in screen recorder for Windows 10, named Game bar. It supports capturing screenshots, game videos on Windows 10. 
However, this is not the best choice. To satisfy most Windows users' demand for recording YouTube videos, here we collected the 4 best YouTube recording software for you to capture fascinating moments from YouTube videos. Pick up one and let it help now.
# 1. EaseUS RecExperts 
Compatibility: Windows/Mac
EaseUS RecExperts is one of the most popular video recorder tools on the market. This streaming video recorder can help capture your favorite YouTube videos without effort and save the recordings as high-quality videos. Besides, this Windows screen recorder can record streaming audio, or record webcam effectively.
For Mac users, EaseUS RecExperts for Mac allows you to capture any video or any part of your screen. Also, it can be an effective audio recording software to capture system and external sound on Mac. 

Features of EaseUS RecExperts:
Simple and intuitive user interface
Capture any area of your screen according to your needs
Record YouTube video and video simultaneously
Provide Auto-split and Auto-stop features to make your recording easier
Export high-quality videos with different formats
Looking for more advanced features? Click the below button to download the YouTube recording software.
# 2. Snagit 
Compatibility: Windows/Mac
Like Camtasia, Snagit is produced by the same company - TechSmith, enabling uses to capture a process, recording screen, or how-to guide tutorial videos on YouTube with ease. Apart from a YouTube video recorder, it also enables users to create videos from templates with pre-made layouts.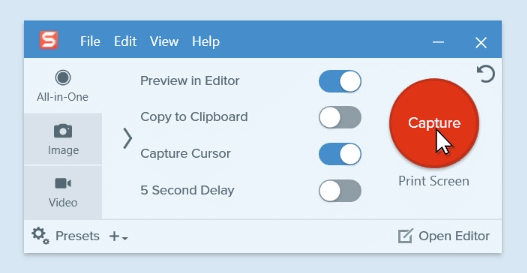 Pros:
Support recording screen, webcam, audio
Convert recorded videos like YouTube videos into an animated GIF
Record the iOS screen
Cons: 
Support only one format to export videos
Best for: Beginners who need to capture YouTube videos and re-make them better. 
# 3. Camtasia 
Compatibility: Windows/Mac
Compared to Flashback Express and Bandicam, Camtasia is more advanced in video recording. It's more than a YouTube recorder. It's flexible to change the recording settings, adjust the recording window size. It also supports you to record with a camera, microphone. 
Camtasia offers some advanced video editing features as a comprehensive video editing software to assist users in adding effects, text, transitions, etc., fantastic features to the target video.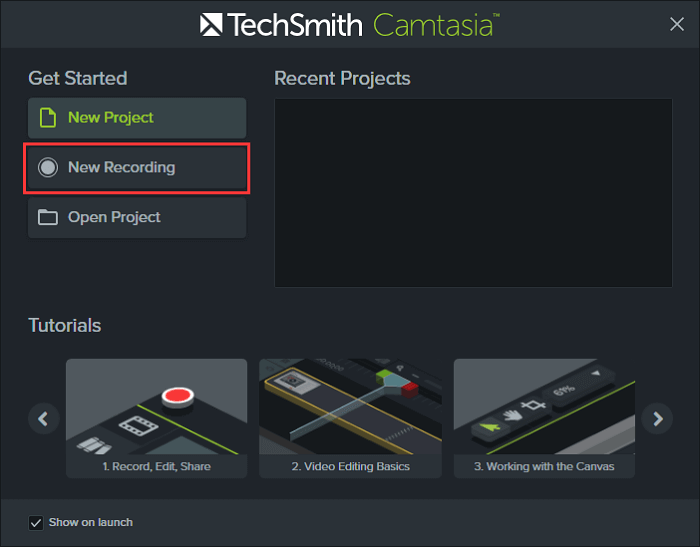 Pros:
Record YouTube video without webcam
Support built-in video editor with captions, callouts, and quizzes, etc.
Support 30-day free trial: record and editing videos for free in 30 days
Cons:
The cost is high for ordinary users
Best for: Experienced or ordinary users who need to edit and add effects after recording YouTube videos.  
# 4. Screencast-O-Matic
Compatibility: Windows/Mac
Screencast-O-Matic is more than a YouTube video recording software that lets you capture any area of your screen. With it, you can even add narration from your microphone and video from a webcam. All you need is to download a launcher and then double-click the weblaunchrecorder.exe file to start recording your favorite YouTube videos.
Pros:
Support voice narration
Support sharing recorded videos to YouTube
Support draw and zoom videos and images
Cons:
Only support 15 minutes of recording
Best for: Users want to record short videos or part of a YouTube video with 15 minutes. 
# 5. Flashback Express 
Compatibility: Windows
Flashback Express, produced by Blueberry Software, is an amazing YouTube recording software that allows you to record your screen, webcam, sounds, etc. Users can flexibly adjust the window's size while recording the YouTube video in three modes - full screen, region, and windows.
Besides video recording, Flashback Express also supports some simple editing features, like trimming, adding captions, arrows, images, etc. Users can even add commentary and music for recorded videos.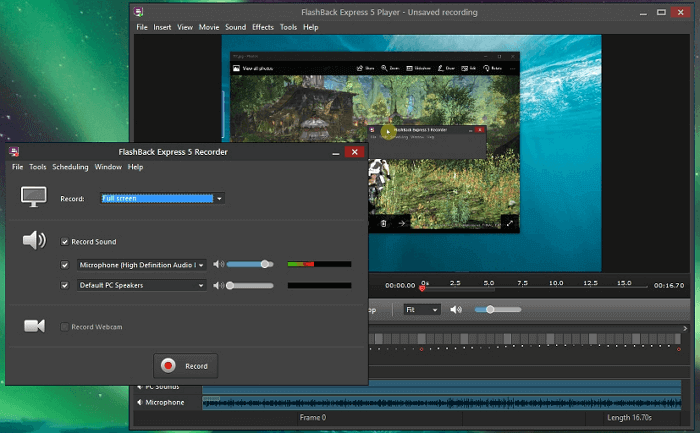 Pros: 
No time limit
No watermark
Work as YouTube Audio Recorder
Cons: 
The limited video editing feature
Best for: Windows beginners to capture YouTube videos.
# 6. QuickTime Player 
Compatibility: Mac
QuickTime Player is a macOS built-in media player that supports playing videos on Mac computers. Mac users also use it as a YouTube video recorder with its screen recording feature. Besides video recording, it also enables Mac users to record voice or audio with the microphone.
Mac users can also use the Show Mouse Clicks in Recording feature to highlight the point when recording a tutorial video on YouTube or Mac.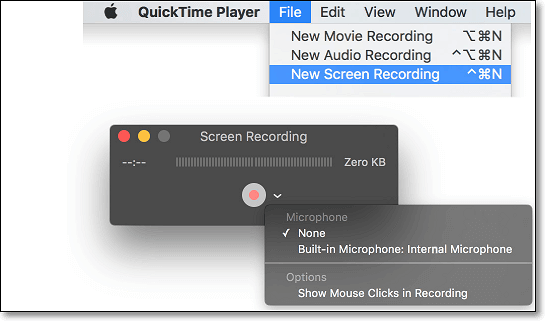 Pros:
Work as a YouTube video recorder free
Support screen recording, voice recording
Cons:
Lack of video editing features
Best for: Beginners who need to take high-quality video capture on YouTube or Mac computer.
# 7. Bandicam 
Compatibility: Windows
Unlike Flashback Express, Bandicam is a sophisticated YouTube video recorder that supports multiple features to make your recorded videos interesting and alive. 
Bandicam mainly supports three recording modes - Screen Recording, Game Recording, and Device Recording. It can meet most users' needs for recording different types of videos on Windows PC.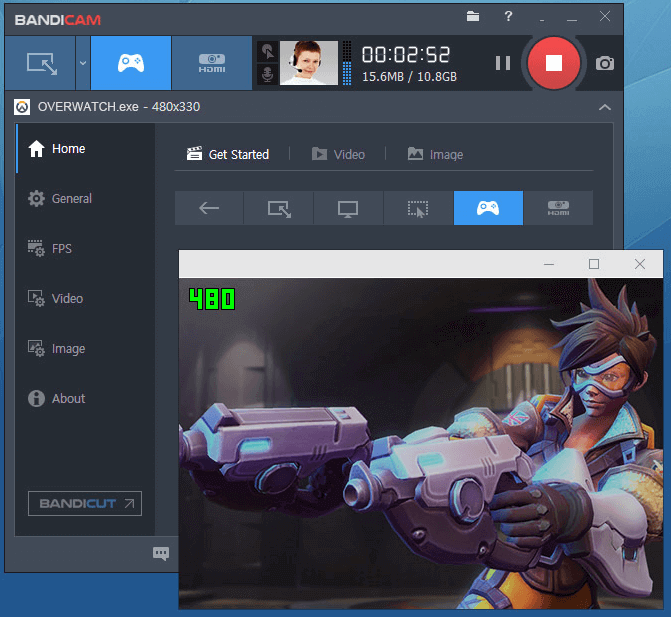 Pros:
Support real-time drawing, add webcam overlay, schedule recording, mix voice, add mouse effect, etc.
Adjust the window size - fullscreen, region, webcam, and microphone
Cons:
Lack of built-in video editor
Best for: Beginners who need to record YouTube tutorial videos with some extra editing features.
Online YouTube Recording Software [3 Options]
For those who don't want to download a third-party YouTube screen recording software on Windows or Mac computers but want to capture a high-quality YouTube video for free, an online YouTube video recorder is a good choice.
Here in this part, you will find 3 top free online YouTube recorders available to help. If you have the same demand, check and get it to capture your favorite YouTube videos online.
# 1. Online Screen Recorder 
Online Screen Recorder, produced by screenapp.io, is a 100% free online YouTube video recorder for Windows and Mac users. It supports users to record YouTube videos, game videos, tutorials for free on Chrome, Firefox, and Opera browsers.
Pros:
100% free for video recording
No time limit
No watermark
Cons:
Limited browser support, doesn't support Safari
No video editing features
Best for: Windows and Mac beginners who need to take screenshots, record YouTube videos. 
# 2. Loom
Loom is a Chrome-based online YouTube recorder that allows users to add Chrome extension and start recording YouTube videos for free.
Loom makes it easy for video sharing online via links. If you feel like using it on your Windows or Mac computers, you can also download the program version to capture screen movements with ease.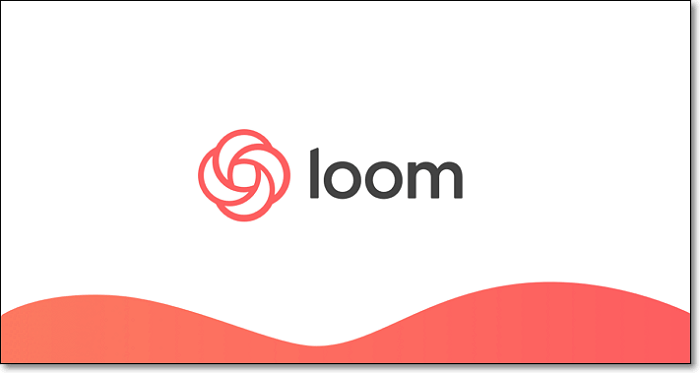 Pros:
No time limit
Support video sharing via links
Support serving as YouTube audio recorder
Cons:
It only supports Chrome, doesn't work on other browsers
Best for: Beginners who would like to record videos and quickly to their friends online. 
# 3. Screencastify
Screencastify is a Chrome YouTube recording software. It lets you do lots of screen recording activities in browse directly. Working with this online screen recorder, you can record your desktop, browser tab, and webcam effortlessly. What's more, it enables you to narrate with your microphone or embed webcam while capturing screen. All the recorded videos will be saved in full HD resolution.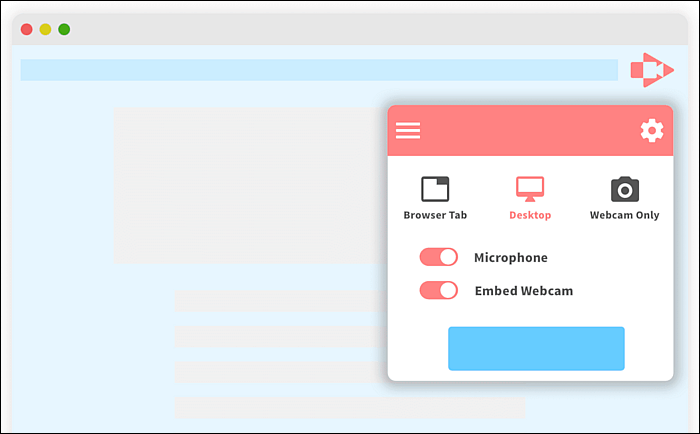 Pros:
Work in your browser
Record screen, webcam, and audio flexibly
Offer basic video editing tools
Support sharing the recordings to social media platforms
Cons:
Can't select the recording area
Best for: Users who need to record and edit the video simply
YouTube Screen Recorder App for Android/iPhone [2 Picks]
Many people also like to record and share videos on their cellphones. Many YouTube fans even want to play and record videos on their phones. If you are looking for a free and reliable YouTube recorder for cellphone, check the recommended tools below. You can record YouTube videos and your screen like a Pro.
# 1. iPhone Built-in Recorder
Screen Recording is a built-in iOS feature available on iOS 11 and later versions. It's also available on iPadOS. Users can create a screen recording and capture sound on iPhone, iPad, and iPad for free.
To record a YouTube video, you can enable it and then play the YouTube video to start the recording process.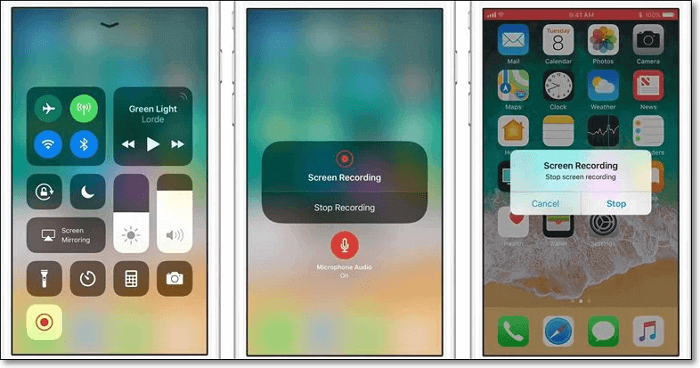 Pros:
Easy to use and100% free
A built-in screen recorder on iOS device
Cons:
Lack of video editing feature
The intro and outro background on iPhone will be recorded
Best for: iPhone, iPad users to record short YouTube videos, screen movements.  
# 2. AZ Screen Recorder 
AZ Screen Recorder is an Android-based YouTube recorder app that supports screen capture, screen video recorder, video editor, and even live stream screen. Android users can use this app to record YouTube videos, video calls, game videos, live shows, etc., for free.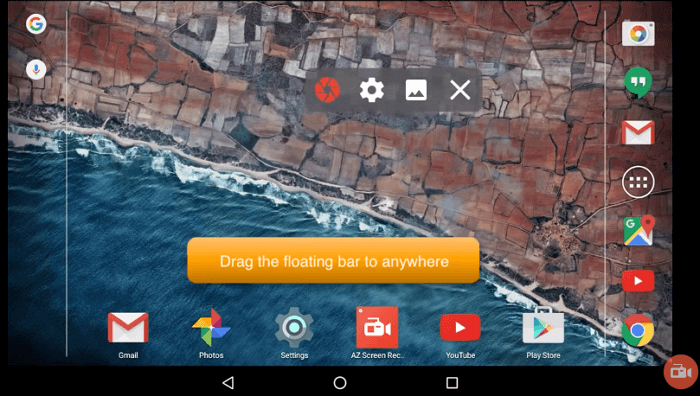 Pros:
Support recording 1080p video
No time limit
No-root needed
Cons:
Doesn't compatible with old Android OS (5.0 older)
Best for: Android users who need to capture screen movements, short videos on cellphones, and trim the video. 
Conclusion
After following this page, you should have surely found a useful YouTube recorder to record videos on your Windows, Mac computers, online, or on cellphones. Among all those recording tools, EaseUS RecExperts is the best choice for both Windows users and Mac users.
FAQs About Best YouTube Recorder
1. Can I record from YouTube?
Yes, you can record from YouTube with great YouTube video recording software, like EaseUS RecExperts, OBS Studio, etc..
Steps to record from YouTube with EaseUS RecExperts.
Step 1. Download and launch EaseUS RecExperts, then open the YouTube video that you want to capture.
Step 2. Click "Record Screen" to choose the recording area and set the audio resources. Once done, click the "REC" button to begin your recording.
Step 3. When you are going to stop the recording, click the record button to end the recording. And the recorded video will be saved on your computer.
2. Does YouTube have a screen recorder?
No, YouTube does not have a screen recorder. If you want to record your favorite videos on YouTube, you can try some screen recorder like OBS Studio, ShareX, Game Bar, QuickTime Player, etc.
3. What recorder do YouTubers use?
YouTubers usually use some lightweight but full-featured screen recorders like below.
EaseUS RecExperts
Bandicam
Flashback Express
Camtasia
Loom
Screencast - O - Matic
...
About the Author

Crystal Chen is very interested in technology products. She experiences many technological utilities and focuses on writing in this area. Meanwhile, Crystal aims to solve users' problems through sharing experiences.