Top 7 Video Screenshot Tools on Windows and Mac

Vanessa Chiang updated on Dec 22, 2020 to Screen Recording Utility | How-to Articles
When choosing software or a tool for taking screenshots, users would want one that is convenient to use, can edit pictures and videos, and the output quality is clear. If they are paying for a tool or software, then they wouldn't want blurry pictures or videos. This is why, before getting a software, the user should always look for reviews online, to know the experience of other users, and what would be the best choice for them.
There are many tools that allow the user to take screenshots on Windows and Mac. Even though a print screen is available for people to take a screenshot of the entire desktop, people feel frustrated when they have to crop the sides of the picture.
There are seven best screenshot tools on Windows and Mac listed in this article. These tools are:
When people want software for taking screenshots, they need something simple. EaseUS RecExperts is a screen recorder, which captures the whole screen and webcam sessions, on any occasion. The software records sound, and if there is a narrator's voice, then that is also recorded.
The post edit tools include enhancing video by adding text, lines, arrows, and taking screenshots. While the screen is recording, the user can add their audio simultaneously. When the recording is done, then the user can take screenshots from the video. For taking screenshots from existing videos, this tool captures the whole screen, or if the user wants, they can select a specific part of the screen. If you want to know more about this software, you can click the following link to download it and have a try.
This tool works well with Windows 7, 8.1, and 10.
Pros:
This tool can edit videos in real-time, making post-editing easier
If someone is recording a video or taking screenshots with this tool, they can easily upload it to popular platforms like YouTube
Using the F10 key, the user can zoom in to whatever they want to record
If the user wants to highlight some specific points during the recording process, they can do so using this tool
Cons:
The price of this tool is very expensive
The user interface of the tool is not easy to understand
The steps of how to use screenshots function:
Step 1. Launch EaseUS RecExperts, you can see the four main functions on the screen. Choose "Record Screen" here.

Step 2. Select the screen area you want to capture and click the red "REC" button.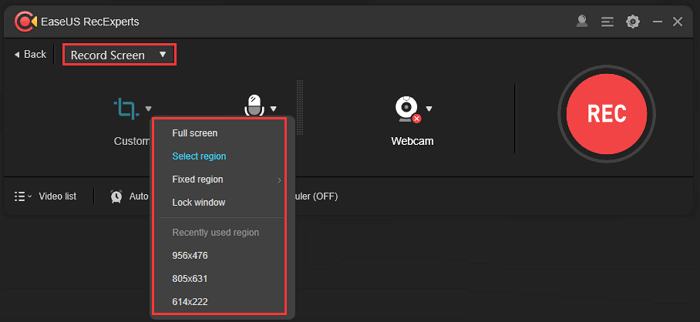 Step 3. When the recorder is record screen for you, you may click the camera sign on the toolbar to take a screenshot.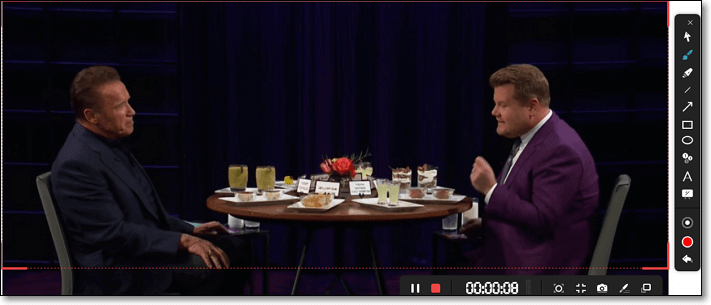 Step 4. When the screen is captured, the image will be saved on the "Video List". You can right-click the picture to preview, rename, or delete it. The screenshot can be saved as JPG, PNG, BMP, GIF, and TIFF formats.

Snagit is a screenshot tool, produced by TechSmith Software Company. When a user takes a screenshot using this tool, then he can add comments using things like arrows and shapes. This tool has an advanced imaged edition, and it even shows the zoomed image in a preview window.
The user can add special effects to the screenshots that he takes.
This tool works on both Windows and macOS. It is available in multiple languages like Japanese, and Korean. Snagit can record a video as well, which the user can share through email or on social media platforms. The tool is helpful for those who want to take a full-page screenshot, both vertically and horizontally.
Pros:
The screenshots can be taken of selected regions
Videos can be recorded easily
Full-page screenshots are available
It is an easy to use tool
It is intuitive
Cons:
When users take full page screenshots, sometimes they are not very clear
There are so many functions of this tool that, it can become confusing for users
Price:
The user has to pay a onetime fee only (individual and business), and i.e. $49
Students can buy the license for $29.95
The government can buy it for $49.95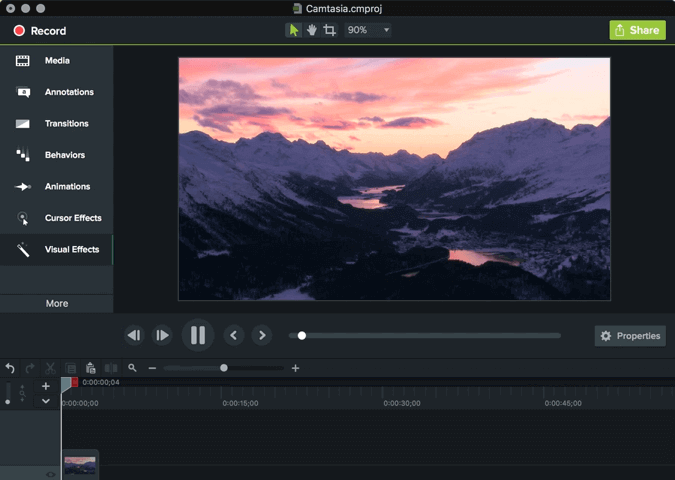 This is a screen recorder and video editor. It is compatible with Windows, and Mac. When you are using your desktop, and you want to record your screen for entertainment or educational purposes, then this tool will allow you to do so.
You can make video tutorials with Camtasia, record meetings with your colleagues, record webinars, instructional videos, and much more. You can add effects to your videos and screenshots, using the drag and drop option. If there is a piece of music you want to add to your video, you can do that too.
Pros:
It is very easy to add text, title, and annotations using this tool
The user can zoom in and zoom out of screenshots and screen recordings
Users can organize their media as per genre
There are many output formats available to the user
This tool connects with the cloud
Cons:
There should be more sound effects
The editing features are not easy to figure out
The output files are large in size
Price:
Camtasia offers a one-time fee, which is $249, with 30 days money-back guarantee
For an education license, the price per license is $169
For the government, it is $223.97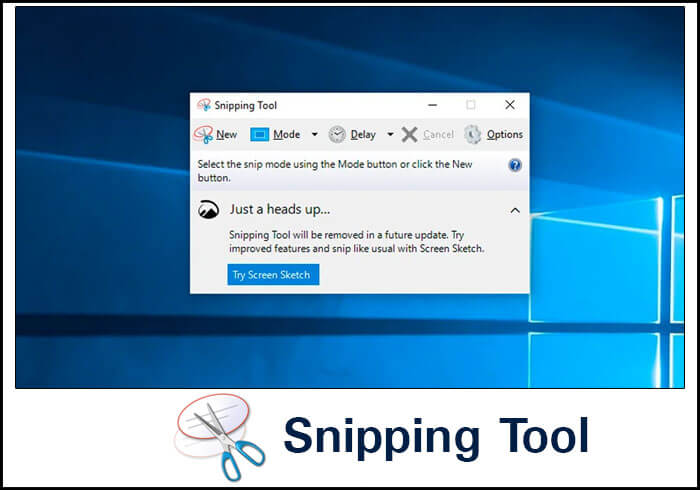 This is a program, which allows the user to take a screenshot of their screen, and does it very quickly. The user can specify the area they want to capture, or they can capture the whole screen. It is a default tool in Windows, and it is free to use. The user can right away edit the screenshots that he takes, using a colored pen or a highlighter. If you want to write something on your screenshot, like a smart caption, then that is possible as well.
The images are mostly stored in formats like JPEG and PNG. When the screen is captured, the picture becomes automatically copied and can be pasted anywhere the user wants to.
Pros:
It is a free tool
There is no need to download it, as it comes installed in Windows
It can easily capture any screen
Cons:
There are no export options in this tool
Multicapture option should be included because selective capture is of no use for some users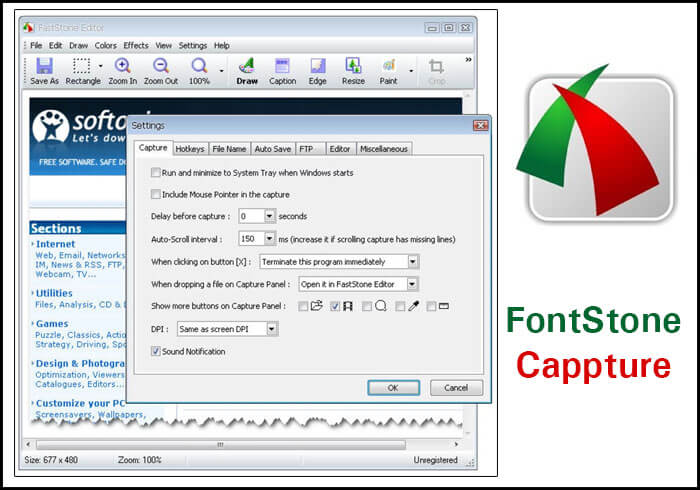 This tool is best for screenshots because it captures the entire screen, and that too, in different shapes. If the user wants to take a rectangular screenshot or the screenshot of a fixed region, then they can easily do so. The captured images can be printed, or sent to the clipboard. This is a very lightweight tool, which responds quickly to the command sent by the user. It can capture multiple windows and saves screenshots in JPEG, TIFF, and PDF formats.
Pros:
The user can edit the screenshots and include their own watermarks
It has a built-in screen recorder
The user can activate global hotkeys, to take screenshots quickly
It allows the user to combine multiple images into one image file
Cons:
The video output of the tool is only available in one format - WMV
Price:
FastStone Capture's lifetime license is available in $49.95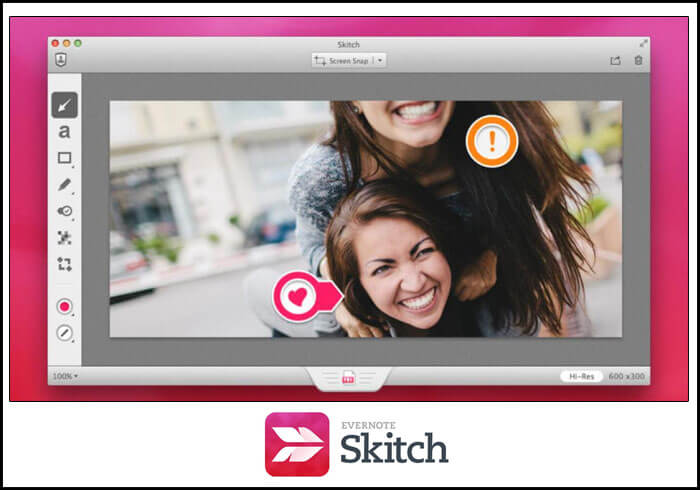 Skitch is very easy to use the tool, which can take screenshots and record the user's screen as well. It is available for both Mac and Windows, and the user can add annotations to the captured images. If the user uses this tool, then they can highlight any area of the screen. This tool is available for Android and iOS as well.
Using Skitch, the captures images can be uploaded to social media accounts, or sent through email messages. The editing options are available under one heading, which makes it easier for the user to find them.
Pros:
It is very easy to capture the screen and add text to the images
User can make presentations for work or schools within minutes
User can highlight information or mask any text they want to
This tool can edit and crop photos very quickly
Cons:
The captured annotations can't be directly exported to Google slides
For downloading a screenshot, the user has to go to Evernote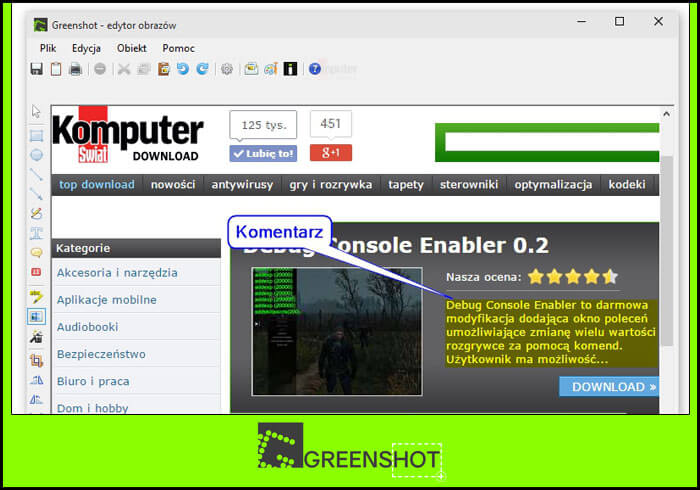 This is a very lightweight software for Windows, which can capture the screen of a user, and make screenshots within seconds. The user can select a region, or capture the whole window. The user can also annotate images, highlight some parts, and hide the ones he doesn't want to show. The screenshot can be saved to the computer, can be sent to the printer, or added to the clipboard.
Pros:
There is a built-in image editor for this tool
The screenshots are very clear and easy to understand
The software remembers the regions that were previously captured
The user has access to 26 languages, including English
Cons:
This tool cannot record a video
The built-in editing tool doesn't have advanced features
Conclusion
The software that I will recommend downloading, even though the user has to pay a fee, is EaseUS RecExperts. This tool has many features for the user, and not only can the user take screenshots from a video, but he can also record a video and edit it in real-time. If someone wants to do voice over for a video, this tool makes it pretty easy for them to do it. The picture and video quality of this tool are very good and make things clearer for the user.
The reviews of those who have used EaseUS RecExperts have been really good. They feel that the tool is easy to use, and is perfect for those who want to take screenshots for educational or entertainment purposes. Thus, this is the best choice for users.