
Table of Contents

About the Author

Related Posts
[2021 List] 9 Best Streaming Audio Recorder Free Download
When you hear a wonderful song on Spotify or other platforms, what would you think? Do you want to download it to your computer or mobile devices for offline enjoyment? However, there is no official way for you to download the streaming audio from platforms like Spotify, if you want to save the music locally, you can try another optional way: recording music with streaming audio capture software. 
A streaming audio recorder lets you capture various online streaming sounds with high quality, and it can export the sound file in your desired audio format. On this page, you will learn the top 9 best free streaming audio recording software in detail. Choose the best one based on your preference and capture the audio you like now!
Top 9 Best Free Stream Audio Recorder:  
#1. EaseUS RecExperts 
By virtue of its compatibility, both EaseUS RecExperts for Windows and EaseUS RecExperts for Mac can work as a powerful streaming audio recorder. This audio capture software enables you to record internet radio, capture live music from YouTube and other media sites with one simple click. While recording, it offers you an option to record your own voice and add it to the recording simultaneously.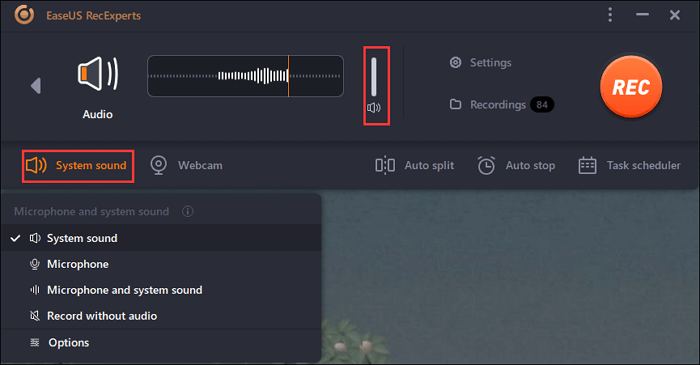 Apart from being one of the best streaming audio recorder software, it is also an excellent streaming video recorder. Using it, you can record Hulu, Netflix, and other live video shows in high resolution. After recording, you can preview, trim or take screenshots of your recordings.
Main Features:
Now download try this great Windows 10 audio stream recorder to capture your favorite live streaming music.

Recording streaming audio for free is not a tough task nowadays. There are lots of easy yet efficient ways to capture streaming audio within simple clicks. Learn more by reading this post.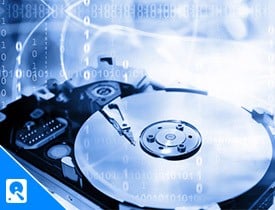 #2. Audacity 
Audacity is a free streaming music recorder with basic editing features, and it lets you record both system audio and microphone sound. It is handy if you do not have a Stereo Mix option on your computer. That said, you will have to configure the software to record if you use it for other purposes. If all you want to do is to record streaming audio, then you can set it and forget.
To record it, you will have to change Host to WASAPI host and loopback device. Once done, make sure to monitor sound, and then start recording with the red button.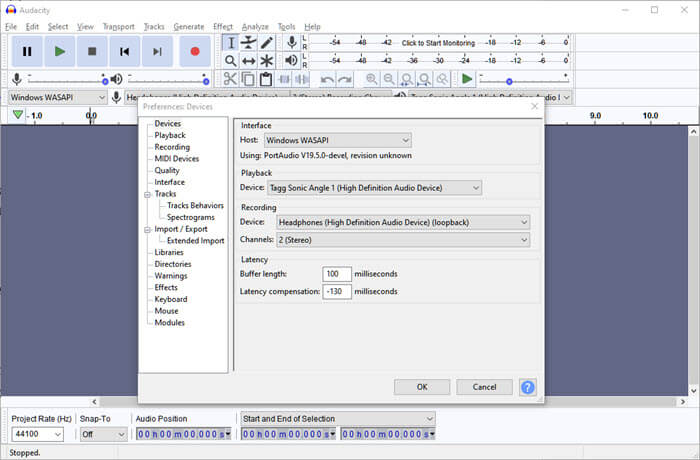 Pros:
Configurable host to record quality audio
Powerful editor to remove anything extra from the audio
Pure digital recording
Cons:
Not easy to configure for the beginners
Overly complex user interface
Editing can be overwhelming because of too many options
#3. Free Sound Recorder 
Free Sound Recorder is another streaming audio capture freeware. It is elegant and allows you to record live streaming music from any music site like Grooveshark/YouTube. You need to pay nothing for tons of newly released songs and classic albums as long as you record it using Free Sound Recorder. 
Moreover, it enables you to record internet radio or local audio files reproduced by other programs like iTunes and so on. After recording, you can export it as MP3, WMA, WAV, or OGG files in near-perfect quality.
Pros:
Capture any sound passing through your sound card
Support schedule for longtime and handsfree recording
Offer a free digital audio editor
Cons:
No audio converter is available
Only for audio recording
#4. StreamSour 
If you are looking for the best audio capturing software that can record streaming audio free, then StreamSour is a perfect solution for you. It's non-nonsense audio capture software that can record any streaming audio from your PC and save it as a WAV or MP3 file. It can also capture microphones, input lines from the external mixer, audiotape, and more.
The software is used directly to disk, which allows it to record unlimited broadcast or streaming in WAV file format or MP3.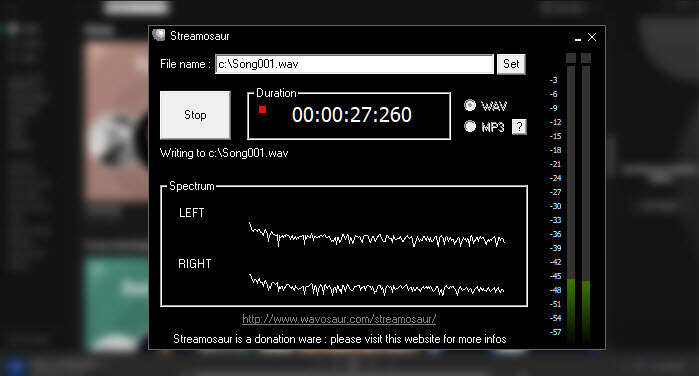 Pros:
Automatic detection of input and out to record audio
Wav file recording makes it easy to play it on almost any platform
Completely free to use for both personal and commercial usage
Cons:
Third-party encoder required for MP3 recording
No editing tools
No way to set up the audio quality
#5. Cinch Audio Recorder 
Cinch Audio Recorder can record high-quality audio and capture all the information about the music, including the title, artist, and album name. That said, since it uses system-level recording, you can record silently without connecting to the speaker or even with volume down. The software is also capable of removing any advertisement delivering a perfect audio recording tool.
You can also use this as your audio player as all metadata is available, and you can also add an album cover.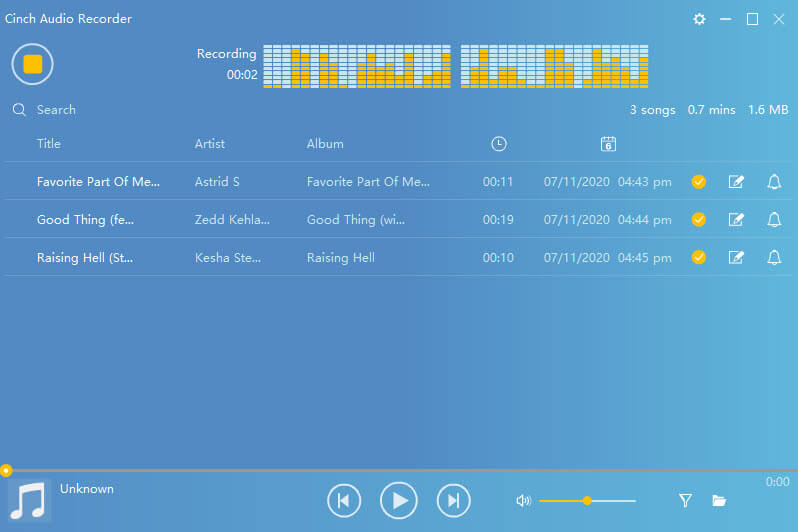 Pros:
Create Ringtone from recorded audio files
Find metadata, i.e., ID3 tags for the audio file, which you can also manually edit
Built-in search to find any audio you recorded earlier
Auto Split large audio files
Cons:
No audio trimmer is available
Only MP3 format is supported
No audio convertor
#6. SoundTap Streaming Audio Recorder 
It's a professional audio stream recorder that records live streaming sound using s special kernel driver, ensuring the quality is preserved. You can also choose to record a microphone if you plan Karaoke or voice over with audio streaming recording. It also works with third-party software and messenger system, which is used in Business meetings.
When setting up VRS, make sure to check the configuration to set up the code. You can also choose the audio output type and quality. Other than that, if you are using any specialized hardware, make sure to change the input device.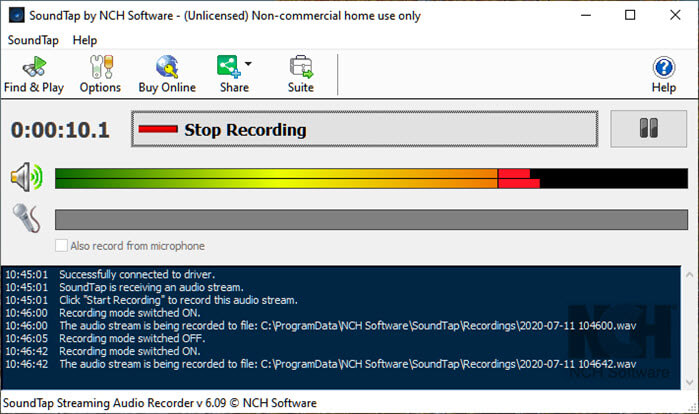 Pros:
Multiple ways to share recorded audio file
Convert and Burn audio files into a USB drive or DVD
Built-in backup of files into a network folder
Cons:
No option of basic audio editing is available
Most of the additional features showcased on the software work with another tool that has to be downloaded
Outdated interface
#7. Movavi Screen Recorder 
It's a pure screen recorder with no option to record only audio, but it can record system sound. So when it comes to recording streaming audio, you will have to choose an area and then record the whole thing. It will finally save it as an MP4 file from which you need to extract the audio.
That said, the software is free to use, and you can edit the audio files once the video is recorded. That said, you can also capture separate streams, i.e., record screen and audio simultaneously or separately. It supports the following output format MP4, AVI, MOV, MKV, GIF, and other images.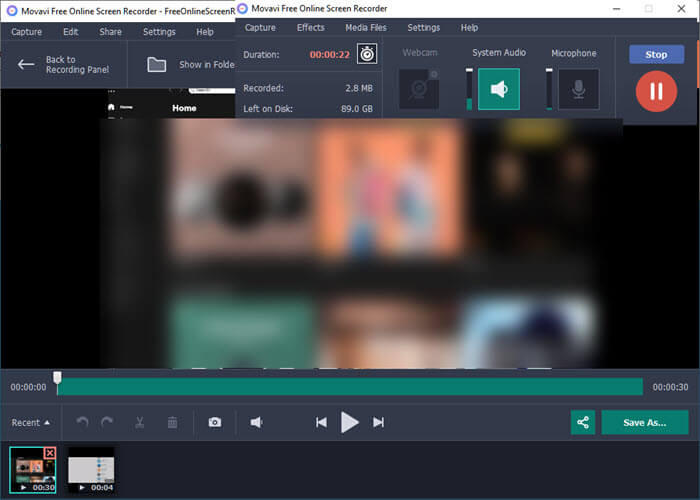 Pro:
Option to choose the best audio quality
Can use Microphone while recording audio
The timer can be set to start recording automatically
Cons:
No Option to save as MP3 file
MP4 file should be converted to MP3 using third-party software
Limited free version
#8. Chrome Audio Capture 
It's a free online streaming audio recorder that allows you to capture audio playing on a particular tab. If the streaming audio can be played on the browser, the streaming audio recording chrome extension can capture twenty minutes of sound in the MP3 format. For example, you can capture YouTube audio online with the help of this tool.
It will instantly start recording. Once done, click on the stop, and it will encode the audio. You can then download streaming audio chrome and save it as an MP3 file.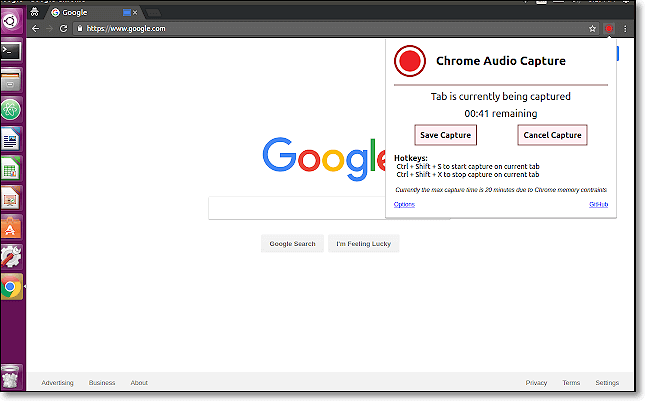 Pros:
Support keyboard shortcut (Ctrl + Shift + S/Ctrl + Shift + X) to start capture on current tab or stop it
Encoding is high-speed, keeping in mind it's a browser-based tool
No need to install additional software
Cons:
No audio editor is available
Cannot record system audio
It only saves in the MP3 file
#9. AZ Screen Recorder
Recording streaming audio is not a simple task on an Android phone if you don't have an appropriate recording tool. Therefore, we advise you to download a wonderful recorder which is named AZ Screen Recorder.
If you want to record the streaming audio playing on your phone, you need to select "Internal Audio" as the settings' audio source. You can then play the song or some other audio you want to capture and start the recording. Then, stop the recording to save the recorded audio to your phone.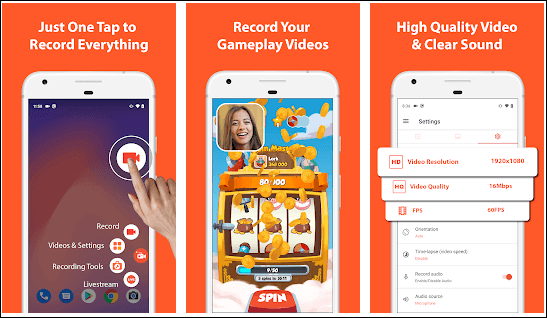 Pros:
No recording time limit
Record gameplay in full HD
Transfer the recordings to the computer through Wifi
Cons:
Contain ads on the interface
Conclusion
Now that you know about so many streaming audio recorders, I am sure you have understood the power of a tool that offers both audio and video. EaseUS RecExperts provides an excellent combination of audio and video recording. You can choose to only record audio, which is not available in every screen recorder tool. 
FAQs About Streaming Audio Recorder
1. What is the best streaming audio recorder?
EaseUS RecExperts is the best streaming audio capture freeware, which can run on both Windows and Mac computers. Besides it, there are many other streaming audio recording software you can take a look at.
2021 Best Streaming Audio Recorders:
EaseUS RecExperts
Free Sound Recorder
StreamSour
Cinch Audio Recorder
Chrome Audio Capture
EaseUS RecExperts
Audacity
SoundTap Streaming Audio Recorder
Movavi Screen Recorder
2. How do I record streaming audio on Android?
For Android users, you can download some streaming audio recorders from Google Play. Like DU Recorder, AZ screen recorder, etc., these apps will help you capture streaming music with ease.
3. How do I record streaming audio from online radio?
You can use any recording tool to record the streaming audio file first and then choose to save it as MP3 files. Many free audio streaming recorders are available, such as EaseUS RecExperts, which can record or download them on the computer.
About the Author

With the interest in English writing and computer technology, Vanessa chose to be an editor in EaseUS. She is professional in video and audio topics, including video & audio editing, converting, and recording. Vanessa will keep writing to help people solve problems.