[New] Top 11 Best Skype Video Recorder in 2021 for Windows/Mac

Vanessa Chiang updated on Dec 11, 2020 to Screen Recording Utility | How-to Articles
Among video conferencing applications in the market, Skype has gained massive popularity as people regularly use it with friends or family. An active Skype user might be willing to capture some important moments during a Skype call. To get that done, a competent screen recorder that has the ability to record a Skype call is necessary.
Which is the best Skype video recorder, and how to utilize it? You can find all the answers in this post.
EaseUS RecExperts is a competent video and audio recorder that can enable you to capture video and record audio on windows 10. EaseUS RecExperts could be used for various uses, ranging from recording voices and Skype calls to capturing podcasts and interviews.
It can record various kinds of audio, including internal sound and voice from the microphone. With this powerful recording tool, one can even capture a video conference on Skype. If you need to process the recorded file, a built-in editor may be used to refine it, add effects, change volumes, and much more. 
Key Features of EaseUS RecExperts:
Record video and audio simultaneously
Record stream from a webcam for an interactive experience
Dedicated Record Game mode to record in high resolution
Support schedule recording to record video automatically
Upload to Youtube, Google Drive, Vimeo, and more
Don't hesitate to download this all-in-one recorder to help you capture Skype video.
Steps to Record a Skype Call Video:
If you have downloaded and installed EaseUS RecExperts, follow this guide now.
Step 1. Start your Skype and EaseUS RecExperts. You can choose what to record – a whole screen, part of the screen only with the Skype conversation, or just the Audio track.

Step 2. When you start the call, just click the big Red button "REC", and the program will start recording. 

Step 3. During the call, you can pause the recording or stop it. Then the application generates an MP3 file, which you can preview, compress, edit, rename, delete. You can also open the folder with all recordings and do the same operations with them.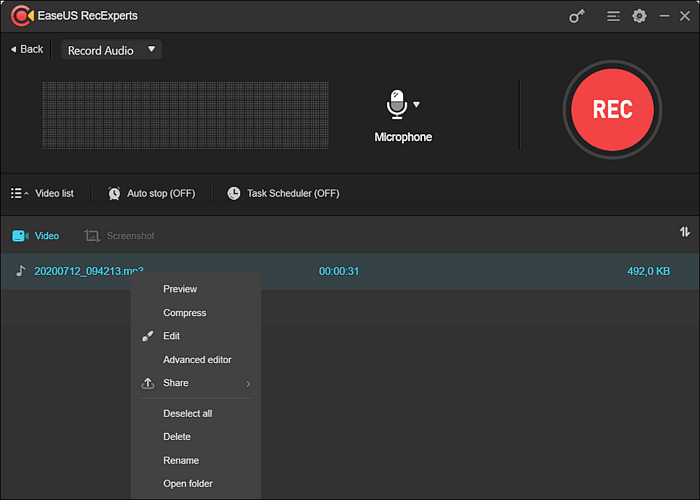 Step 4. Click on the button "Share", you can send the recording to Google Drive, Dropbox, your YouTube or Vimeo account.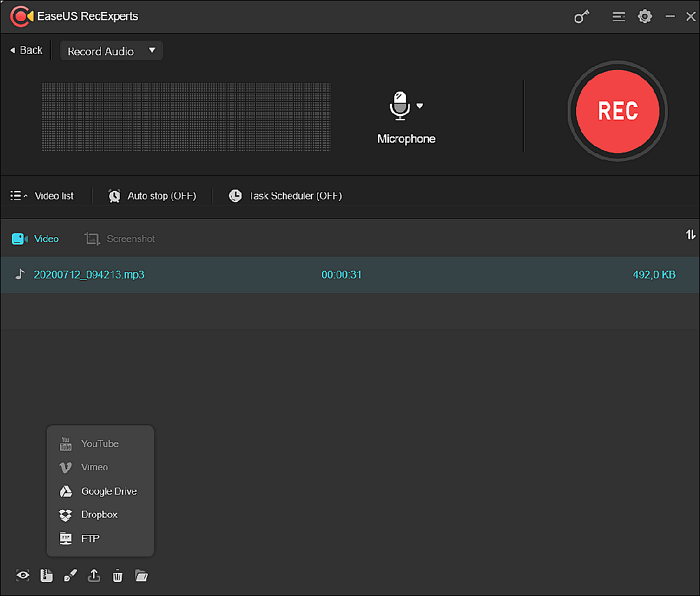 TalkHelper Call Recorder for Skype provides one all the ease of use they have been hoping for with a simple, smooth, and intuitive interface. It's a reliable Skype recorder with a dedicated audio/video recording mode.
Additionally, you won't lose any voicemails because this app catches it, too. Unlike many other applications out there, audio is captured in stereo mode and different channels to differentiate the parties concerned. Either one is in standard, full-screen, or floating window mode, every video frame can be recorded.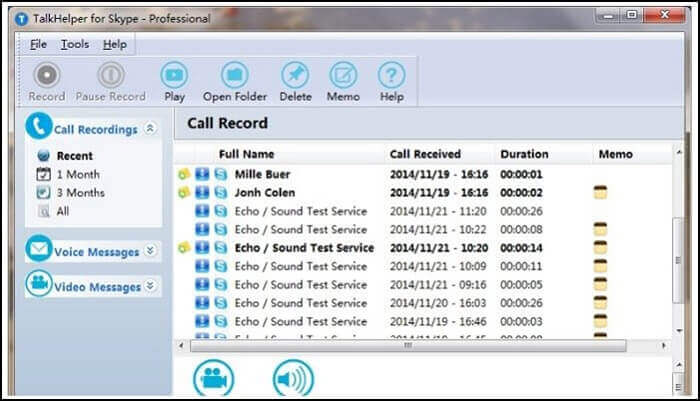 Pros:
Auto call recording
Record voicemails
Supports audio recording in stereo mode
Cons:  
No notification sound feature
Takes a lot of storage space
Compatibility: Windows
Pamela for Windows is a free Skype video and audio recording app that boasts durability and ease of use. One can capture Skype calls and chats when there's a need. It also allows one to schedule call recordings and record audio in either mono or stereo mode based on a user's preference.
The software offers a lot of control and customization in capturing calls and controlling the background of chats. To ensure that one doesn't miss a Skype audio or video message, there's support for an automatic call recording function that operates without the need for your interaction.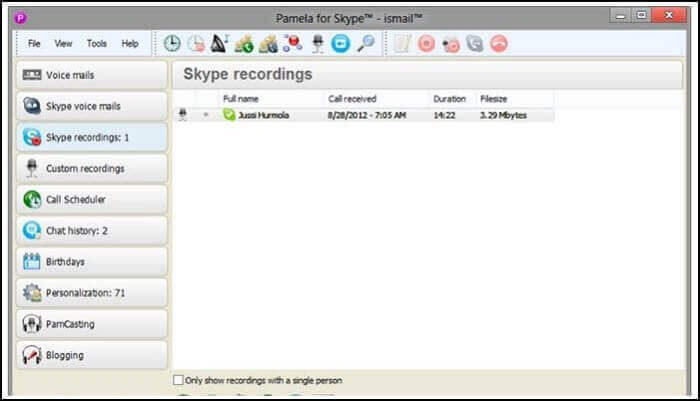 Pros:
Support for automatic call recording
A lot of customization options
Advanced answering machine
Cons:
Not compatible with Linux/Mac
Certain limitations in the free version
Compatibility: Windows
Evaer Skype Recorder is its kind application offering users a range of modes that you can use to capture Skype video calls, including PiP, a side-side window, different files, remote-only webcams, local-only webcams, and save in either MP4 or AVI format. Additionally, Both video and audio calls will be captured automatically for the users, ensuring no risk of losing a crucial call.
It also has options for one to preview the footage while the Skype video recording process begins. There are so many parameters to adjust, such as video codec, resolution, frame rate, and aspect ratio concerning Skype video call capture.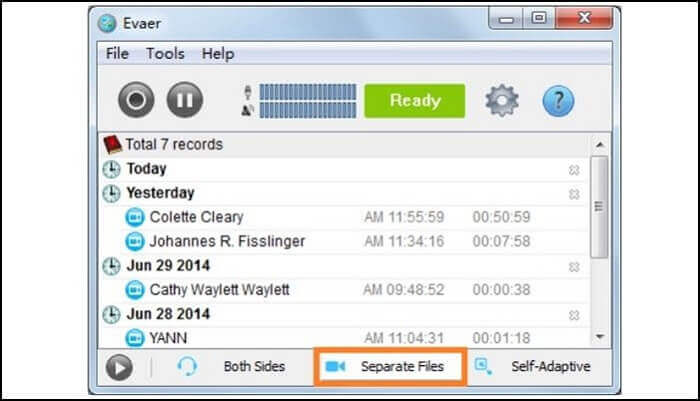 Pros:
Support for automatic call recording
Preview footage
Options to record audio, either central, distant, or both sides
Cons:
Take some time to load up
Tools might be confusing for beginners
Compatibility: Windows
Athek Skype Recorder is one of the most sophisticated Skype video and audio call recording applications that provides nothing less than the highest standard. It also offers a free trial period to test the features available in the paid version.
For privacy and hidden access, there's a secret mode that allows users to capture any part of the Skype calls on your Windows PC without anyone ever recognizing them, so there's parental control. The application further can be used in both commercial and personal modes without any restriction whatsoever.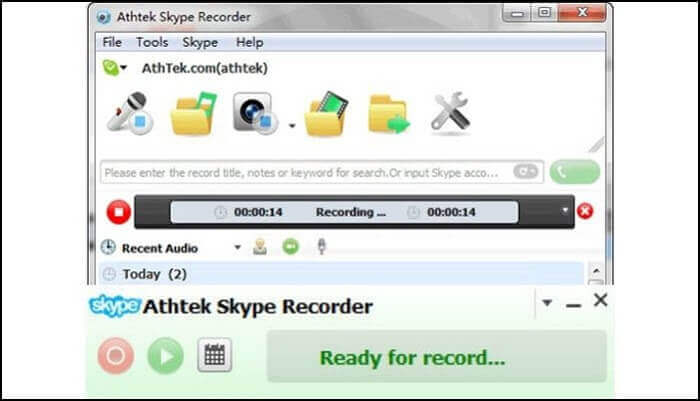 Pros:
Record both sides of the conversation
Easy and convenient to use
Support for automatic call recording
Cons:
Record videos only in AVI format
Hasn't been updated for quite a while
Compatibility: Windows
DVDVideoSoft is a Skype call recording software with a minimalistic experience and limits at all. One will experience high-quality video and audio recording with the application, along with a user-friendly GUI. With the application, one can open up to more than one recording mode, including a PiP, video from the person at the other end, or audio from both the sides combined and more.
Additionally, one has complete control over the recording process, particularly because there's a pause and play button while recording. For ease of playback, videos are normally stored in MP4 format, while normal audio-only calls are stored in MP3 format.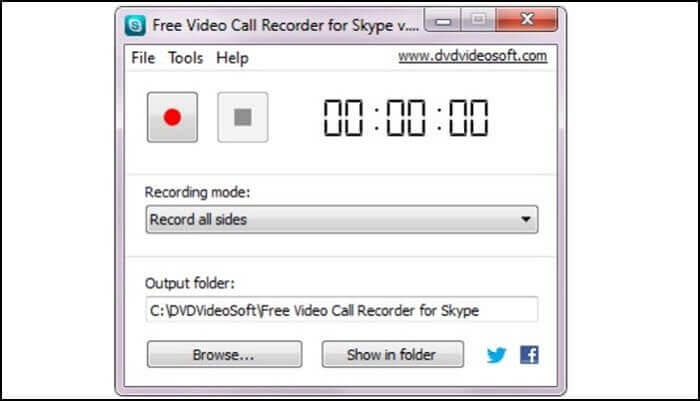 Pros:
Support re-recording the Skype call
Support for PiP mode
Record Skype calls in video format as well
Cons:
No support for automatical call recording
Only a few advanced features
Compatibility: Windows
Amolto Call Recorder is another Skype call recording application that guarantees one infinite Skype call recording time with no lack of output quality. This software is best suited for a user who requires reliability and efficiency while record Skype calls anytime and anywhere.
While one may prefer the manual method of capturing Skype calls individually, this software can make the process much simpler by automatically recording them for you.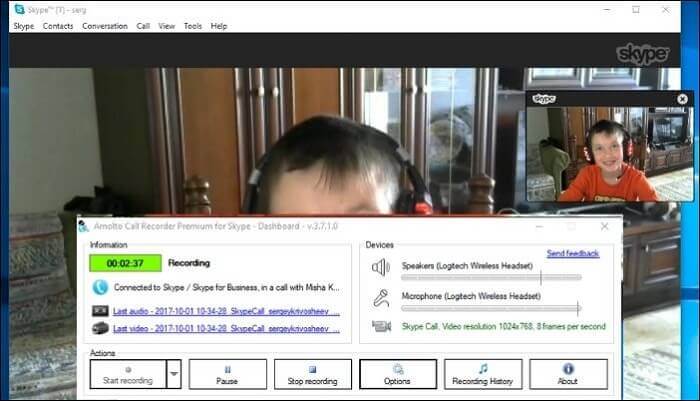 Pros:
No certain boundaries or limitations
Simplified process of recording calls
Cons:
Crashes randomly on certain PC's
Doesn't offer much customization
Compatibility: Windows
If you tend to be part of Skype podcasts and interviews, CallGraph Skype Recorder could be a good option to capture Skype calls more effectively. Audio calls can be captured in either MP3 or WAV format and accessed on any video platform out there. Additionally, It is also completely free to use for personal and commercial purposes without any charges, conditions, or limits.
There are quite a few small options in this application that some other applications don't offer. For example, you're free to choose where you want your recordings to be saved, unlike other software that preset the directory for you. Additionally, there's manual and automatic modes built-in and can be used as considered appropriate in addition to a silent mode.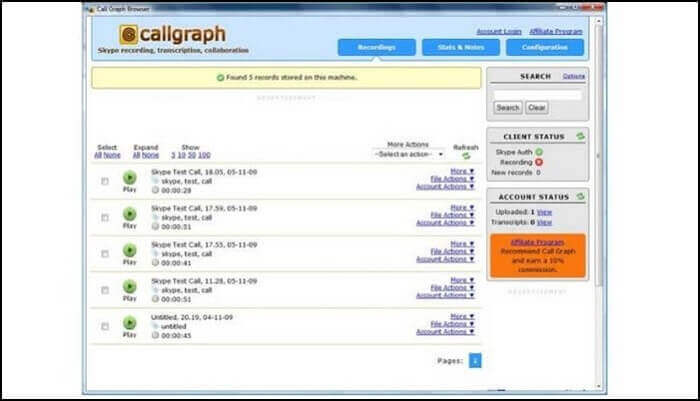 Pros:
Suitable for recording Podcasts and Interviews
Support manual call recording
Cons:
Not support changing the file format
Compatibility: Windows
As one of the best Skype recorders for Mac, Ecamm Call Recorder provides direct and automated recording while also providing users with access to the usual "Record" and "Pause" keys. 
Besides, File conversion features are also offered at your fingertips. Its unique ability to transform calls to MP3 equivalents for certain podcast moments or video clips for video sharing platforms such as Vimeo and YouTube is a bonus. There is a free trial available, which could help you test the functionality before making up your mind to get a paid version.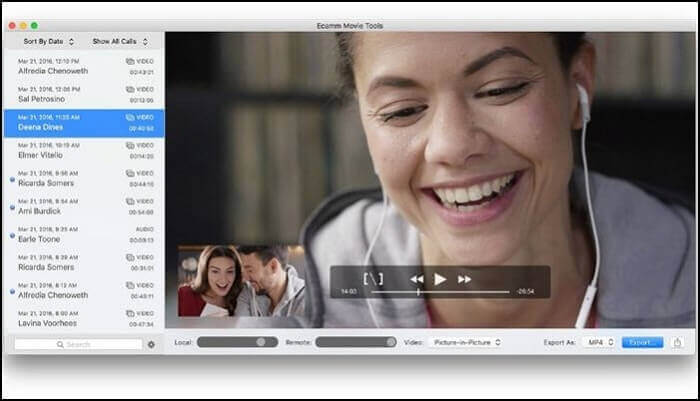 Pros:
Built-in editing tools are available
Support to backup recordings
Customization options
Cons:
Only for macOS
Require a costly subscription
Compatibility: macOS
QuickTime, known for its ability to play media files on a Mac, has many other features that only a certain number of people know about. QuickTime can capture the whole screen along with the audio from the microphone, which can help you record Skype calls without much trouble.
However, the QuickTime recorder will produce a reasonably large file. Ensure you save the recorded call from a Skype conference, interview, or podcast in high resolution. Coming built-in without costing a dime, QuickTime is one of the best Skype Recording applications for Mac.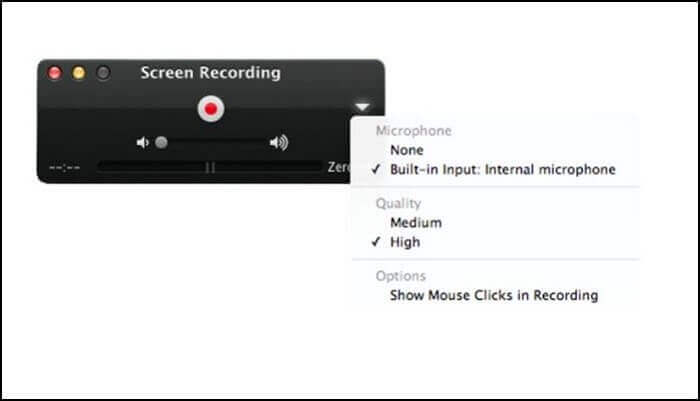 Pros:
Comes pre-installed on Mac for free
Records in high resolution
Offers a variety of customization options
Cons:
Recorded files are huge
Might be confusing for some people
Compatibility: macOS
With a simple and succinct user interface, CallNote is an effortless Skype call recorder software for Mac, without any constraints whatsoever. Users can record both the audio or video simultaneously during a Skype call or a Mac meeting. The application can also convert the recorded speech to be translated to text transcripts as an additional bonus.
One can refine the recorded meeting/call using the built-in editor to improve the captured audio and video. It can also easily share files to websites such as  YouTube, Facebook, and more.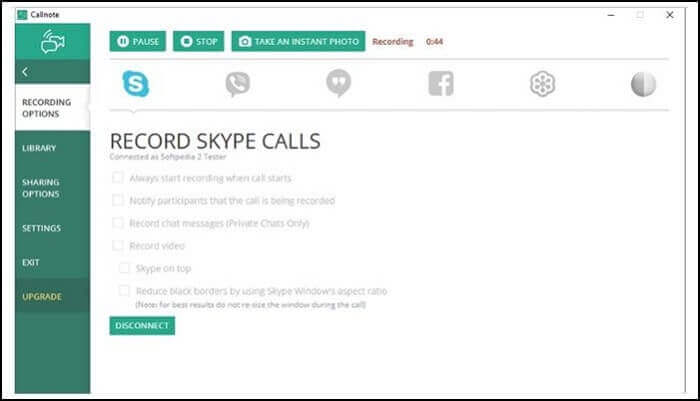 Pros:
Built-in editor to refine the recordings
Support quick share
Many other tools are available
Cons:
Work only on Mac
Text transcription doesn't work smoothly
Compatibility: macOS
Conclusion
With all these amazing tools for recording Skype calls on Windows and Mac, all tools come with their own set of features and advantages.
However, considering all the tools and ease of access, EaseUS RecExperts is the best choice. It offers exhaustive effects to improve audio, professional-level editing tools, and the option to export the files in multiple formats. The program is highly compatible with Windows, and overall the application is easy to use and beginner-friendly.