
Table of Contents

About the Author

Related Posts

Best Audio Recording Software
3 Ways | How to Screenshot on Acer Easily
Taking a screenshot on Acer's laptop sounds insignificant, but it plays a significant role in daily life. After all, screenshots are helpful in various ways. You can use screenshot tool to capture a specific moment of a video. That is useful when some video-sharing platforms lock the capture mode. The captured screenshot can also be shared with others and used for various purposes, from entertainment purpose to work.

Hence, it's essential to know how to screenshot on Acer and this post gives 3 ways.
How to Take a Screenshot on Acer with EaseUS RecExperts
Worried that the hotkeys will be hard to remember? Don't worry, because you can customize your own hotkeys.
What makes EaseUS RecExperts different from the others is its double functionality at taking screenshots plus recording. When you record, you can take a screenshot immediately by using the hotkeys. All you need is to click "Region" and then use the keyboard hotkey. 
To choose a custom hotkey, go to "Settings" > "Advanced" and finally click "Screenshot". Create your own custom hotkey that makes you feel comfortable the most! 
Key Features:
Take a custom area of the screenshot on Windows PC
Screenshot with a custom hotkey
Give task scheduler for scheduled recording
Allow users to change the setting of the video
Try this software to take a custom screenshot now!
How to take a screenshot with it:
Step 1. Open this screen recorder. To take a snap for your screen, select "Region" from the main interface.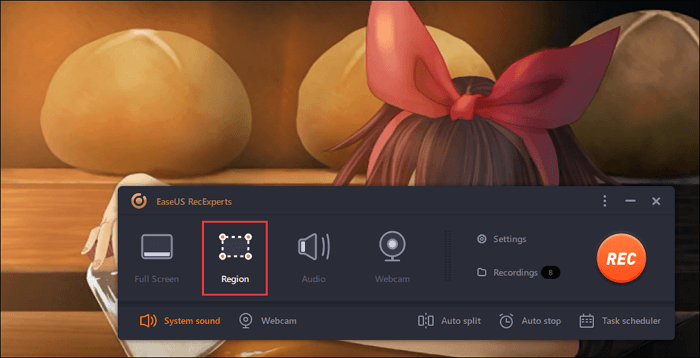 Step 2. Also, you can customize the hotkey of taking a screenshot. Click "Settings" to choose "Advanced". Then, change the hotkey from "Capture screenshot".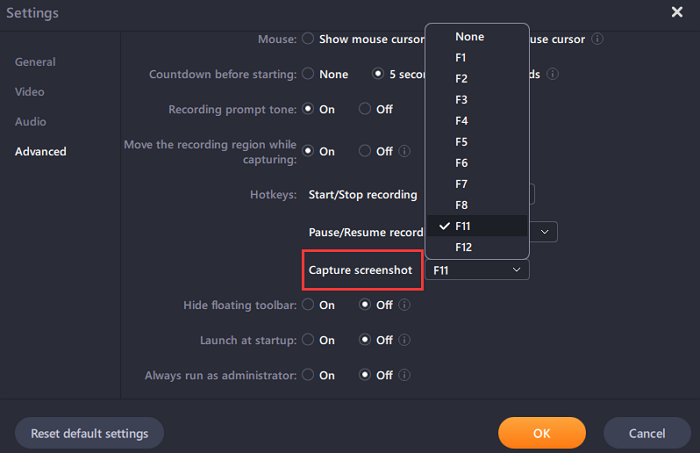 Step 3. Now, drag your mouse to select the desired screen area. Then, release the mouse and press the hotkey.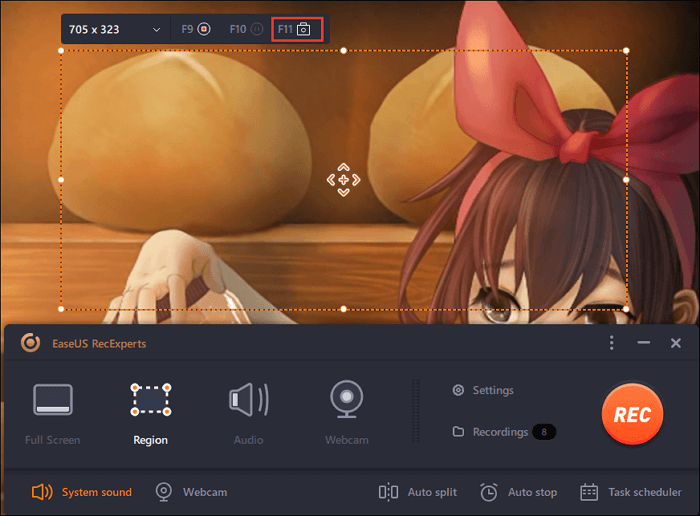 Step 4. After pressing the hotkey, the image is automatically saved on its "Recordings" and you can view it.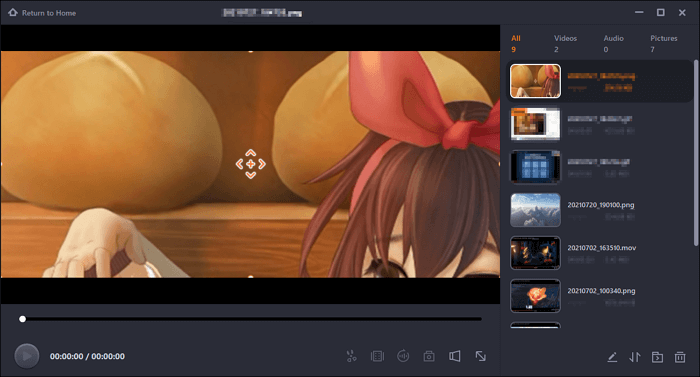 How to Screenshot on Acer Using Keyboard
Finding out how to take a screenshot on Acer is pretty straightforward. However, there are some extra steps needed for some methods. When you take a screenshot on Acer using the shortcuts, the device will capture the screenshots immediately. It will be automatically saved on Acer. However, there are also some moments where you need to use another software to open the captured image. 

Here are some methods of capturing a screenshot on Acer's laptop on Windows 7/8/10:
Windows 7
The method of capturing a screenshot on Acer on Windows 7 is pretty straightforward:
Step 1. Press "PrtSc" (Print Screen) located at the top right of the keyboard.
Step 2. Open Paint and press "Ctrl+V" to make the screenshot appear.
Step 3. If pressing "PrtSc" doesn't work, combine it with "Fn". This happens when PrtSc has another function besides capturing a screenshot.
Windows 8/10
Windows 8 and 10 have the same method of capturing screenshots, and it's pretty much automatic. 
Step 1. Press the Windows key and then click "PrtSc".
Step 2. Go to the output location, and you will see your screenshot there.
Pros of Keyboard Shortcut
No need for third-party installation
Fast and immediate capture
No interruption when we are watching a video
Cons of Keyboard Shortcut
Keyboard shortcuts cannot be customized
The complex shortcut combination makes it hard to remember
How to Screenshot on Acer via Snipping Tool
Suppose you want to use a method that doesn't use both keyboard and third-party software. In that case, you can opt for the built-in tool that's installed on Acer. to find the location, all you need to do is search "Snipping" on the Windows bar. Click the icon that has a scissor.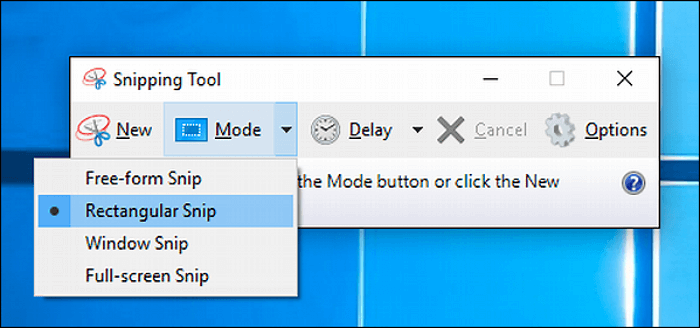 Here are the steps to use the Snipping Tool:
Step 1. Launch the Snipping Tool, and click "New". 
Step 2. Drag the mouse on the area you want to capture
Step 3. When the Snipping window shows the screenshot, click "Save As" and save as the desired format.
Step 4. Open the output location and check to see if your screenshot image is there or not.
Pros of Snipping Tool
The annotate function allows users to add notes
Offer basic image editing
Allow users to create GIFs
Cons of Snipping Tool
Do not automatically save the screenshot
There are times when the captured screen does not appear immediately
Conclusion
There are various ways to take a screenshot on Acer, from using keyboard shortcuts to built-in software. For total control of your screenshot, though, it's best to use EaseUS RecExperts, as it allows customization on screenshot hotkey, scheduled recording, and many more.
About the Author

Crystal Chen is very interested in technology products. She experiences many technological utilities and focuses on writing in this area. Meanwhile, Crystal aims to solve users' problems through sharing experiences.