Top Five Popular Screen Capture and Editing Software

Jane Zhou updated on Mar 23, 2021 to Screen Recording Utility | How-to Articles
Compared with the old-fashion way to present wordy emails, help desk articles, training manuals, and documentation, do you want a more attractive way to deliver information, to reduce the time length of reading, or to ask your readers to be listeners? Here the five best screen capture and editing software can get you there. 
Main Content:
What's Screen Capture and Editing Software?
The screen capture and editing software is a piece of software or app that provides one-stop service from taking a screenshot or screencast of your device's screen, at the same time, making you customize the video recording with a variety of video editing functions, such as adding annotations, speech, transitions, zoom effects, mosaic, and any effect that would help you produce the most expressive video tutorial.
For most of our modern computer and smartphone users, "screen recorder" is no longer a strange term. But, which one is the best free screen recorder? We particularly find that Android phones, iPhone, iPad, and iPod touch are equipped with the screen recording feature. Why do we still feel it necessary to introduce any equivalent screen recording software? 
First of all, if your case is simply recording your screen, the default programs are capable enough. For example, Windows 10 Xbox Game Bar (exclusively pre-installed application to let users capture game clips and screenshots); macOS Quicktime (default Mac video player as well as screen recording tool).
However, if you ask more than a simple screen capture or recording, instead, your job relies heavily on the post-editing, the mentioned inbuilt programs or functions should step back. Only third-party video editing software with the ability to flexibly record a screen can fulfill your demand.
Description: A full-featured yet lightweight screen recorder for Windows users
Operating system: Windows 10/8/7
Price: Free and paid version
if you want to record the screen on Windows, EaseUS RecExperts can do you a huge favor. This versatile screen recording software can record not just the screen for you, but record audio, record webcam, and record gameplay if you want. There are some features that can help you gain a better understanding of it.
Highlights:
Set up the time and duration to make a scheduled screen capture
Advanced editing functions like Spotlight, Zoom, Screenshot and Annotate during recording
Upload and share the recorded video to YouTube, Vimeo, Dropbox, etc.
Save video format up to 10 types, and audio format up to 6 types
Compress videos without losing the original quality of the video
Speed up/slow down, add watermark, set opening and ending effects to the recorded video
Support online and offline recording
A live recording-progress from the toolbar to check the recording time
To show you how to record the screen and edit the video recorded, we made you this tutorial below. All you need to do is to follow the steps.
Step 1. Launch EaseUS RecExperts. You can choose one of the four main functions on the main screen. Here you need to click "Record Screen".

Step 2. Click "Custom" to select a screen area to record. You may choose "Full Screen", "Selected Region", "Fixed Region", "Locked Window" or to customize window size here. If you want to record the screen and webcam at the same time, make sure you connected a webcam to your computer.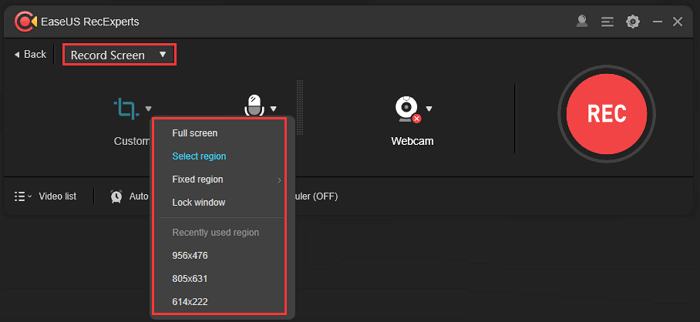 Step 3. Click "Microphone", and you may choose to record system sound only, record microphone only, record both, or record without audio.

Step 4. Click "REC" to start recording. After recording completed, the videos will be shown on the "Video List".

Step 5. Right-click the video recorded, you may preview, compress, edit, share the video, and do more.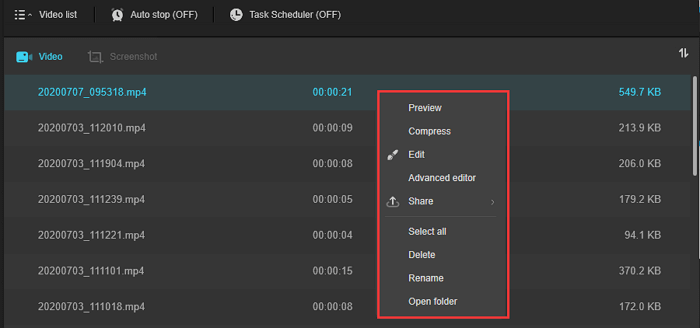 Description: Best screen capture and recording software on the market that combines unbeatable editing capabilities
Operating System: Windows, macOS
Price: Free trial; single license pricing $49.95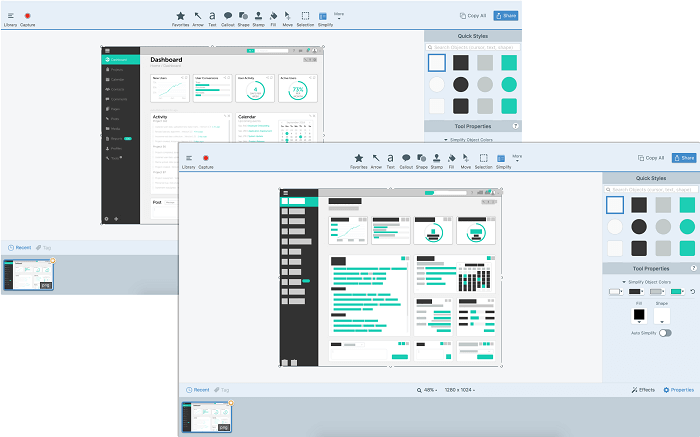 What makes Techsmith Snagit the other best screen capture and editing software are due to a bunch of powerful features, only the truth is that it's paid software. But if you download the software and try to explorer it as we guided here, you'll agree that the value is over the price.
It's a powerful screen capture and recording software, at the same time, simple to use. Snagit lets you quickly capture a process, add your explanation, and create visual instructions in three simple steps: capture a process > add your explanation > create visual instructions, by going through the steps you can achieve goals in the following:
Show customers and coworkers how to do something with screenshots and screen recordings.
Mark up your screenshots, or talk through a process and answer questions with a quick video.
Create custom how-to guides, tutorials, and quick videos right within one Snagit video recording and editing software.
Highlights:
Screen capture and recording on your computer/Mac screen
Supports panoramic capture, i.e. capture wide, horizontal scrolls, scrolling webpages, and everything between
Pre-made templates let you create visual documentation, tutorials and training materials more easily
Description: Free and open-source software for video recording and live streaming
Operating System: Windows, macOS, Linux
Price: Free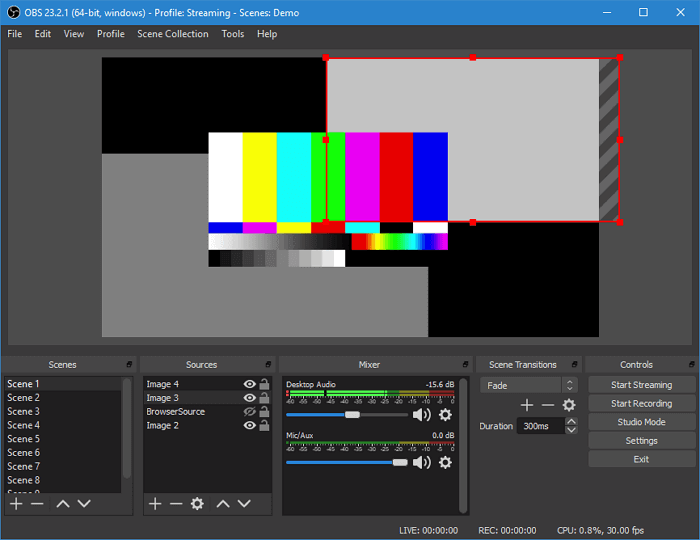 OBS Studio packs a lot of features and settings for people who are under the need of recording a screen, especially recording a game playback. To ease your learning curve for the first time, OBS Studio includes a wizard to help your get familiar with the process of optimizing your setup and lots of how-to guides for streaming or recording videos.
Though it's not the most user-friendly recommendation for beginners, OBS Studio makes up for its lack of simplicity with powerful screen recording and video editing features, among which is the multiscreen-friendly.
OBS works best when you have a multiscreen setup, so you can play your game on one display while let OBS record it on the other display without interruption. Moreover, if you plan to record your gameplay and then create a YouTube playthrough tutorial, you can get it done at one time in OBS.
Highlights:
Recording and live streaming
Great selection of source options
Optimized for games
Description: Stable and high-quality screen recorder, video editor, screenshots and image editing
Operating System: Android 5.0 and up
Price: Free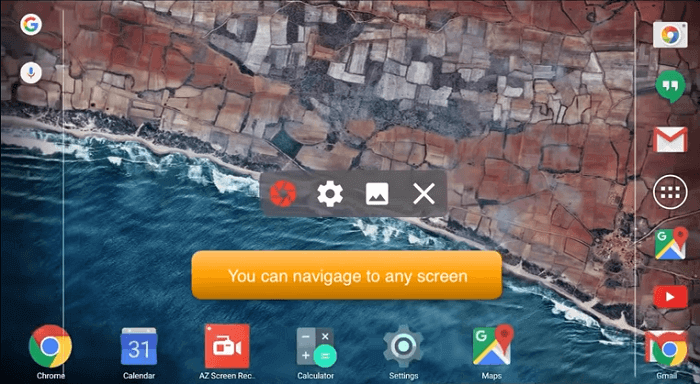 Feature-packed but simple to use, AZ Screen Recorder earns its place at the top-end of the Android screen recorder rankings. When you first launch the Android screen capture and editing software, you'll get an overwhelming app interface with a ton of fatures to record smooth and clear screen videos.
User experience with AZ Screen Recorder is always stable, high-definition screen recording and a wide array of screen capturing abilities, such as recording screen and live stream to create video tutorials, video calls, game videos, live shows and record videos that cannot be downloaded.
Dive into the app, you'll find options to customize the screen recording, including selecting a resolution, frame rates, bit rates and even edit the video recordings in all possible ways, including convert video to GIF, trim video, merge videos, add background music, add texts, subtitles, rotate the video, etc.
Highlights:
High-quality video: 1080p, 12Mbps, 60FPS
No recording time limit
No root needed
Description: Record your iPhone or iPad screen to create how-tos and send directly to Camtasia or Snagit
Operating System: iOS 12.1 and up
Price: 14-day free trial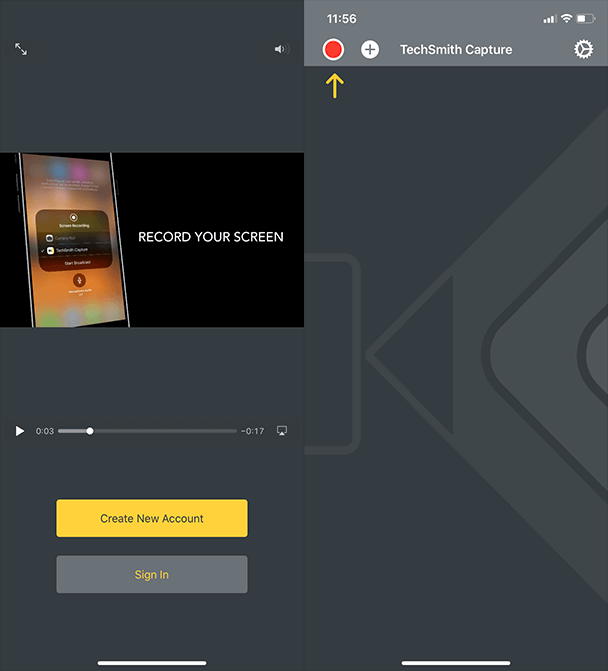 TechSmith Capture is a powerful screen recording app that's part of the Camtasia suite of video apps. If you want to eventually send the recording to your computer or a colleague's, then this app will allow you to do it fairly seamlessly. 
To get started with TechSmith Capture, you'll use your TechSmith account, otherwise, start to create a new account. As is mentioned, you can not only select the record button at the top of the screen to capture your screen, after recording you can also preview your recording and decide whether continue editing it or not.
When you need to add narrations, verbal reactions, and voiceovers, it'll be helpful to use the microphone to capture the audio. Let's dive deeper to see what makes it the best screen capture and editing tool for iPhone and iPad.
Highlights:
Record one or more full-screen video clips using the iOS system's global recording APIs
Import screen videos recorded by the iOS screen recorder or other recording enabled apps
Keep all of your screen recordings organized in the library
Quickly transfer videos to TechSmith products over a WiFi connection
To Sum Up
Regarding the topic of "2021 best screen capture and editing software", we've altogether presented five popular ones that cover all operating systems, including Windows, macOS, Android, and iOS. Among all the five pieces of screen capture and editing software/apps, EaseUS RecExperts is empowered with the best compatibility on Windows, you may download it from the button below.