
Table of Contents

About the Author

Related Posts
7 Working Methods to Record YouTube Live Stream
In recent years, live video streaming has been pushed to its climax around the whole internet world. YouTube Live is one of the most popular live-streaming platforms that enables users to stream an event, teach a class, or host a workshop.  
While these amazing moments last temporarily on your screen, you may wonder if there are some tools to capture YouTube live stream. The answer is "Absolutely yes". This article will offer 5 YouTube stream rippers and show you how to record YouTube live streams on various devices, like Windows, Mac, Android, and iPhone.
Part 1. How to Capture YouTube Live Stream on Mac
If you need to save a YouTube live stream on a Mac computer, we will share two YouTube live stream recorders with you. One is EaseUS RecExperts for Mac, and the other is OBS Studio.
1. EaseUS RecExperts for Mac
If you want to capture YouTube live stream without watermark, you cannot miss this powerful Mac screen capture. With this software, you can record YouTube videos along with the audio or your own voice with a few simple clicks. After recording, it will not leave a watermark on your recordings, even when you are using the free version. Apart from that, it is built with a timer, and you can set a schedule recording task so that you won't miss any live stream YouTube video.
How to record a live stream on Mac:
Step 1. Open the video that you are going to capture. Then launch EaseUS RecExperts to get used to its interface on your Mac computer.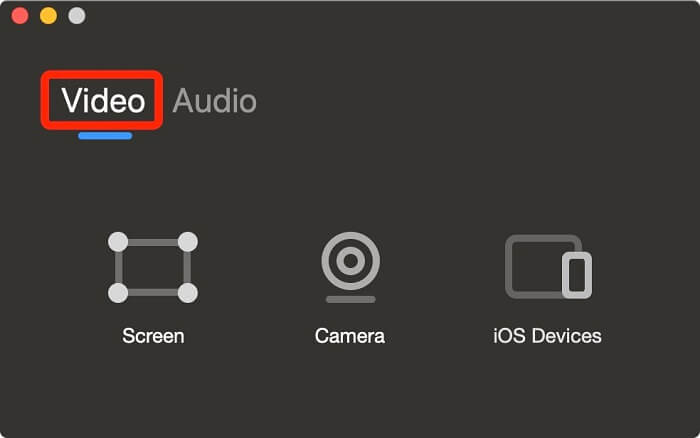 Step 2. In the Video tab, click on the "Screen" and "Custom" option to adjust your screen's recording area. After that, click on Audio Sources to choose the "System Sound" option. Once done, you can click on the red circle button to start the recording.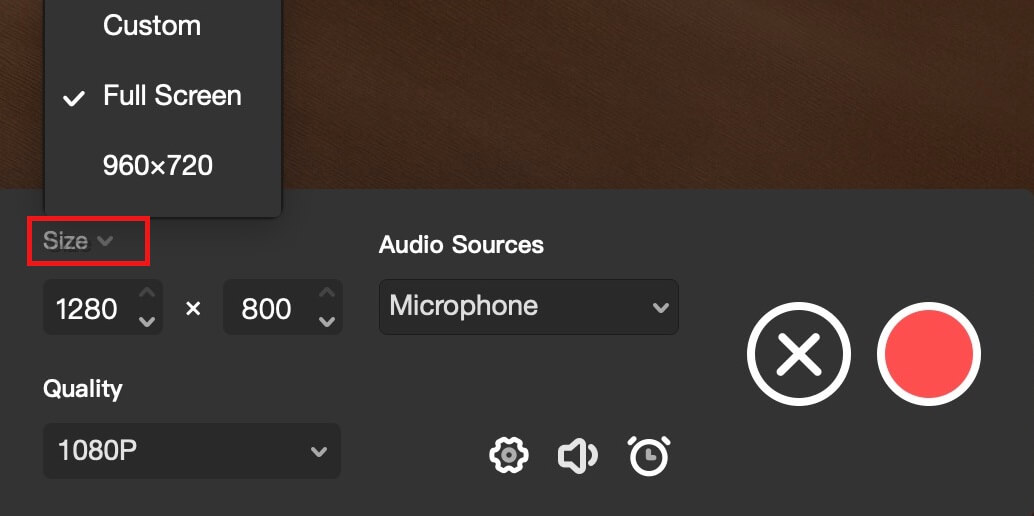 Step 3. Once the video has ended, click on the Stop Recording button in EaseUS RecExperts. Then you can watch the recorded video once you click the Stop button. 
When you are satisfied with your recording, you can choose the "MP4" option to export and save it on your Mac.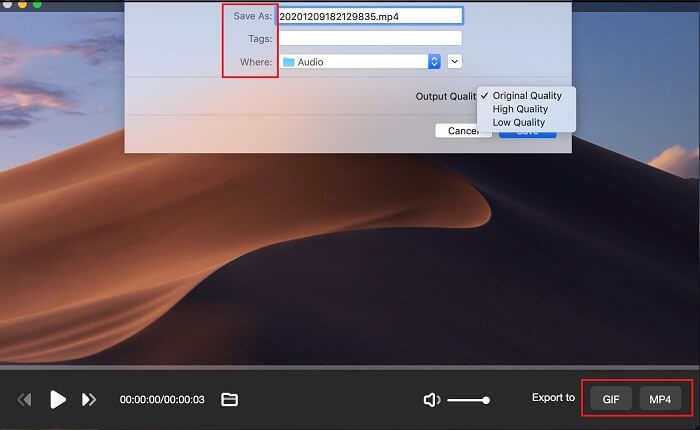 2. OBS Studio
Another YouTube stream ripper is OBS. This tool is famous as a free and open source screen recorder for video recording and live streaming that applies to Windows, Mac, and Linux. It supports the high performance of real-time video and audio capturing. To record a YouTube Live stream on Mac, OBS is a good choice to make things easier and faster.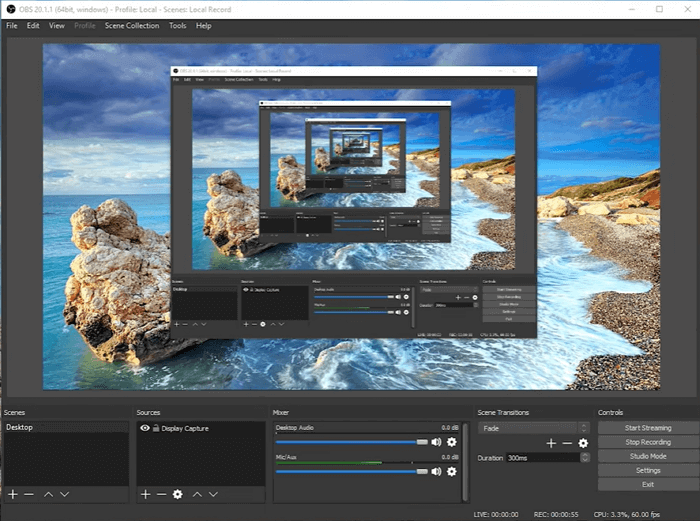 How to rip YouTube live stream video on Mac:
Step 1. Download and launch OBS Studio. Navigate to "Settings" to choose a directory to store your live stream recordings.
Step 2. GO back to the main window and right-click "Sources". Open the YouTube Live stream that you want to record.
Step 3. After that, place your cursor over "Add" and add either Monitor Capture or Window Capture to your sources.
Step 4. Click on the "Start Recording" button to begin capturing YouTube Live streams on your screen. When it is done, click "Stop Recording".
Part 2. How to Record YouTube Live Stream on Windows
Here, we will recommend Windows users with two useful programs that assist you in recording YouTube Live and the detailed steps to finish this task.
1. EaseUS RecExperts for Windows
When it comes to recording a live stream on your computer, our first recommendation is EaseUS RecExperts. This streaming video recorder enables you to record audio and video simultaneously when you are watching a stream. After recording, you can export your videos in many file formats, like MP4, MOV, GIF, and many more. With this tool, you can easily record the YouTube Live stream in a high resolution. 
Features
Record live stream video/audio for free
Various screen recording features, like auto split and auto stop
Record screen, system audio, microphone sound, and webcam at the same time
Schedule recording to start and stop recording YouTube Live stream automatically
Click the button to get the Live stream screen recorder now!
Open your YouTube Live stream and follow the steps below to capture YouTube Live stream with EaseUS RecExperts.
Step 1. Launch EaseUS RecExperts on your computer. The first option, "Full Screen", can help you capture everything on your screen. If you play the streaming video in full-screen mode, this is suitable for you.

Step 2. If you play the streaming video in a window, it would be better to select the "Region" option to record only the specific area.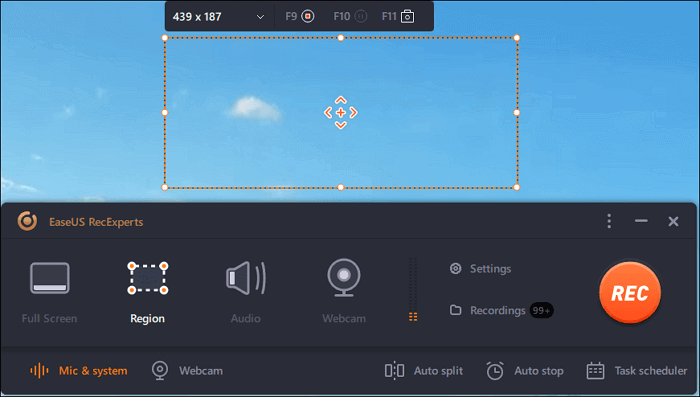 Step 3. Make sure that you are in "Region" mode. Then, click on the button in the bottom right-hand corner to select a suitable sound source and adjust the volume. After that, you can click on the "REC" button to start recording.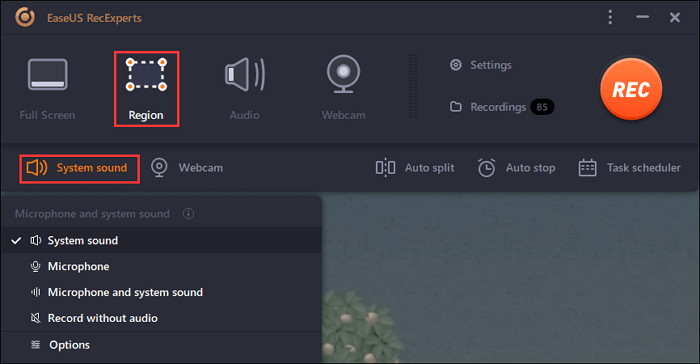 Step 4. There will be a floating toolbar on your screen when you are recording the video. The two buttons on it can help you pause or stop the recording.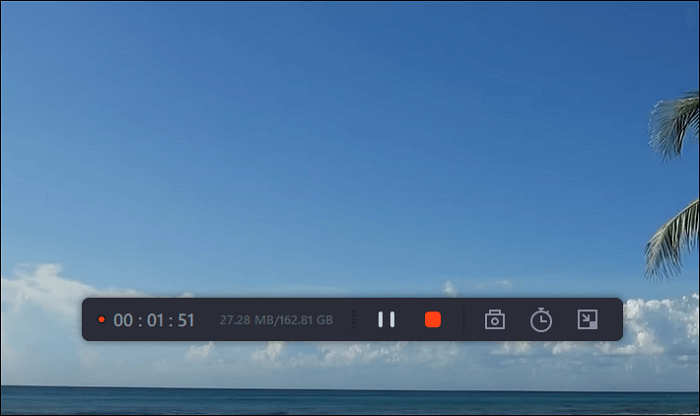 Step 5. If you click on the red stop button, the recording will be ended, and the captured video will be saved on your computer. When the built-in media player pops up, you can view the recording and use tools to trim it, extract audio from it, or add an opening and ending part.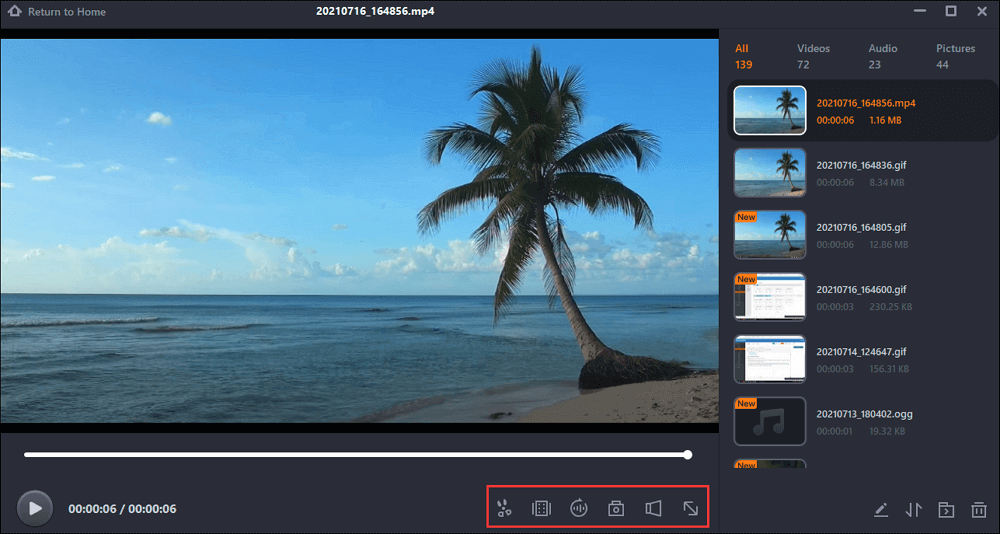 2. VLC Media Player
VLC is not only a free and open-source cross-platform multimedia player but also a wonderful YouTube live stream recorder that enables you to record live stream videos on your YouTube for free. This tool is compatible with most computer OS, including Windows, macOS, and Linux. 
Here's the tutorial on recording YouTube streams on Windows via VLC.
Step 1. Open your YouTube Live stream and copy the URL where you want to record videos from.
Step 2. Open VLC and go "Media" > "Open Network Stream" on the left-top corner.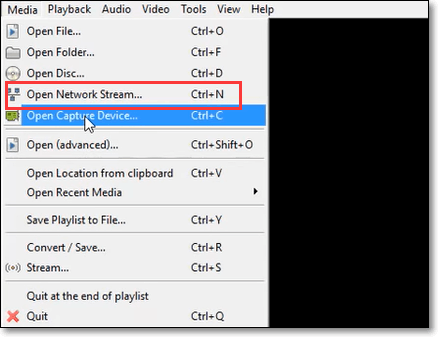 Step 3. A new window will pop out. On the "Network" tab, paste the URL from YouTube Live, then click "Play".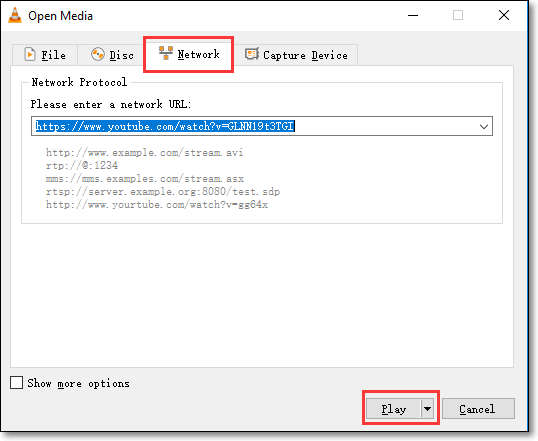 Step 4. Click the red "Record" button to start and stop capturing the YouTube Live stream.
Step 5. When you finish recording, you can choose the "Media" button and click on the "Open Recent Media" button to watch the YouTube streaming video on your computer offline.
Part 3. How to Record YouTube Live Stream on Android
If you are using an Android mobile phone to watch YouTube Live stream and capture your screen easily, we suggest AZ Screen Recorder is a good choice. With a ton of features like screen capture, screen video recorder, video editor, live stream screen, this screen recording app provides you an easy way to rip YouTube Live stream.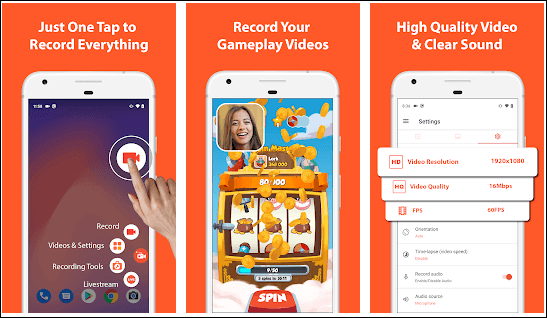 how to record a live stream on Android:
Step 1. Run YouTube and open the live stream that you want to record.
Step 2. Launch AZ Screen Recorder, click the "Recording" button and choose the "START NOW" option on a new window.
Step 3. When you need to pause or stop recording, you can pull down the window on the top of your screen and tap the relevant buttons.
Step 4. The recorded YouTube Live stream videos will be displayed on the top of your screen.
Part 4. How to Capture YouTube Live Stream Video on iPhone
iPhone users are allowed to record screens with the embedded function "Screen Recording". So you can record a YouTube Live stream on your iPhone without downloading any application. All you need to do is just a few clicks on your screen.
Follow the guide below to record YouTube Live on your iPhone.
Step 1. Go to "Settings > Control Center > Customize Controls" on your iPhone, then tap the "+" sign next to "Screen Recording".
Step 2. Open the YouTube Live stream that you want to capture, and then swipe up from the bottom edge of your screen. (On iPhone X or later, swipe down from the upper-right corner of the screen.)
Step 3. Press the concentric circle symbol to start recording your screen. And if you want to stop recording, swipe up from the bottom edge and hit the button again.
Step 4. Your recording files will be saved on the "Photos" of your iPhone.
Part 5. How to Record YouTube Stream Online
Screen Capture is a free online live stream recorder that works on Google Chrome, Mozilla, or others. It makes it easy to capture your browser activities or desktop, record audio, or capture the webcam easily and quickly. Most importantly, after recording, it allows you to save it in many different formats or share it directly with your friends.
Step 1. Head to the website and choose the recording parameters on the main page, then click Start Recording.

Step 2. Select the recording area. Once chosen, click the "Share the Screen" to begin the recording.
Step 3. When you end the recording, click on the "Stop recording", then you can download it to your computer.
Conclusion
To wrap up, 7 methods to capture YouTube Live stream on different devices are covered in this post. You can choose any of them per your actual situation. As for those who want to record YouTube Live stream on a Windows computer, we highly recommend EaseUS RecExperts since it offers the most features that you desire.
Record YouTube Live Stream FAQs
In this part, we collect several relevant questions to record a YouTube Live stream and offer answers, respectively. We hope they can benefit you more or less.
1. How do I record a live video on YouTube?
YouTube does not have a recording feature to capture videos. You can use some screen recorders on your computer to record and save a video. Then, you can upload the video to YouTube. If you have a mobile device, you can record videos with your phone's camera and upload them with the YouTube app.
2. How long can I live stream on YouTube?
There is no duration limit for streaming a Live to YouTube. The only limitation is for the live stream recording on YouTube itself. When you live stream, a public single archive will be generated for up to 12 hours.
3. Can you have a private YouTube Live stream?
The answer is YES. YouTube has 3 different options for live streaming - Public, Private, and Unlisted. YouTube's Private streaming allows you to share your video with 50 different people at once. Private videos will not appear in any of the search results or video recommendations.
About the Author

With the interest in English writing and computer technology, Vanessa chose to be an editor in EaseUS. She is professional in video and audio topics, including video & audio editing, converting, and recording. Vanessa will keep writing to help people solve problems.