
Table of Contents

About the Author

Related Posts

Best Audio Recording Software
How to Record WAV File on Windows/Mac/iPhone/Android
Sometimes we need an audio recorder to record a business meeting or a phone call in a certain format you like, such as WAV. But how can we record WAV files effortlessly on various kinds of devices? Two key points are worth mentioning. First of all, you need to find the best WAV recorder to save recordings in WAV format. Secondly, you need to make clear the detailed steps to capture WAV files.
This post will discuss various easy ways to help you record WAV on your computer or phone with some recommended WAV file recorder software.
How to Record WAV File on Windows 10
There are many tools that can help you record a WAV file in Windows 10. In this part, we will introduce the best audio recorder for Windows computers named EaseUS RecExperts to help you complete the task.
EaseUS RecExperts has a user-friendly and simple interface that can help you use it without effort. It can capture any sound coming from your computer and save it in more than 5 audio formats, including WAV. Besides working as an audio recorder, it can literally record any size of your screen as well as your webcam. 
Main Features:
Record the full screen or a specific part of your screen
Edit the recorded video by trimming
The task scheduler option allows you to schedule the recording at any time
Record streaming video on YouTube and other video platforms
Now download it to explore more stunning features!
How to create a WAV file on Windows 10 PC:
Step 1. First, you need to download and install EaseUS RecExperts on your computer. Then launch it.

Step 2. Click on the "Settings" icon, and change the output format into WAV. Then click "OK" to save your settings.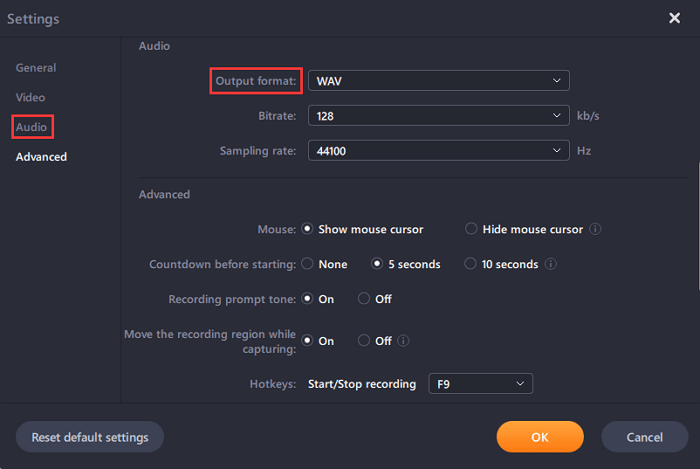 Step 3. Back to the main interface and select the "Audio" option to record the sound you want to capture.

Step 4. Choose the source of the audio you want to record. You can choose to record the system sound, voice from the microphone, or both of them. After that, click on the "REC" button to start recording.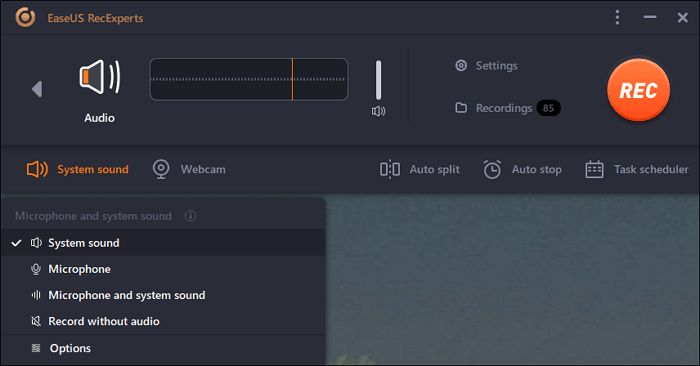 Step 5. After you record the audio you want to capture, click on the "Stop" button to finish recording. Then, you can check your recordings in the "Recordings".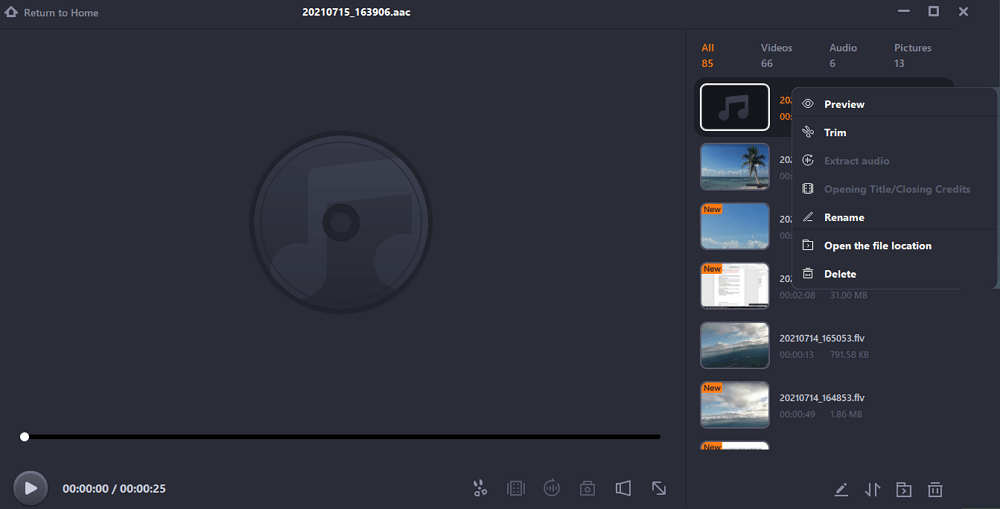 How to Record a WAV File on Mac
If you have a Mac and don't know how to record WAV files, you need to follow the method from this part. We will show you how to use EaseUS RecExperts for Mac and Garageband to record a WAV file on Mac.
1. EaseUS RecExperts for Mac
This Mac screen capture is an excellent tool to capture audio and screen on your Mac computer. Using it, you can easily capture audio from many sources, including the system sound, your voice, or both of them. As this software allows you to customize the output format, you can directly set WAV as the video format of your recordings. In this way, you will be able to capture WAV files on Mac with only simple clicks. 
Some other tools also make it effortless to capture WAV files on Mac using this software. For instance, a Task Scheduler is available to start capturing automatically, and a file trimmer can help you edit off unnecessary parts in your recordings.
Features:
Record internal audio on Mac and microphone separately or simultaneously
Support tools like Auto-End, Auto-Split, File Trimmer, etc.
Set the bitrate, sample rate, and other parameters of your audio
Support more than 10 video, audio, and image formats
Step by step to capture audio on Mac:
Step 1. Launch this Mac screen recorder, then click the "Audio" button on the main interface.

Step 2. Next, select the audio source by clicking "Sound" on the lower left. Here you can choose to record system sound, microphone, or both simultaneously, and even adjust the volume. Once done, click on the "OK" option.
Step 3. When you are ready, hit the "REC" button to start the audio recording.

Step 4. Once done, you can preview the recorded music files by clicking "Recordings" on the homepage. If needed, you can trim unwanted parts by clicking the Scissor icon at the bottom.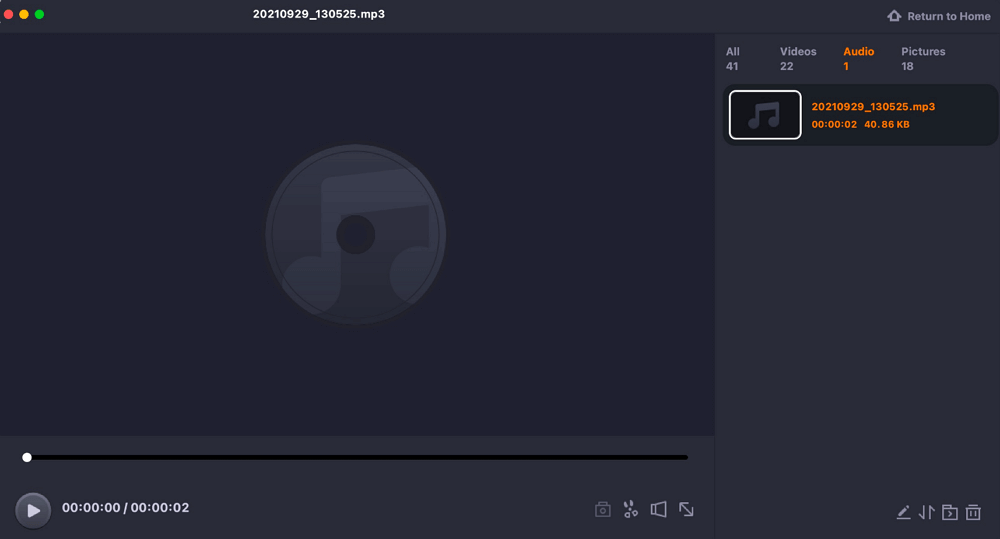 2. GarageBand
GarageBand is a great WAV recorder on Mac with a huge amount of music and sound effect loops such as echo, reverb, guitar, distortion, drum, etc. You can easily compose and produce your own music. It also supports various file formats, including WAV, AIFF, and MIDI, and it allows users to export audio to MP3, MP4, AIFF, etc. Besides, it also allows users to playback, record, trim, and loop music.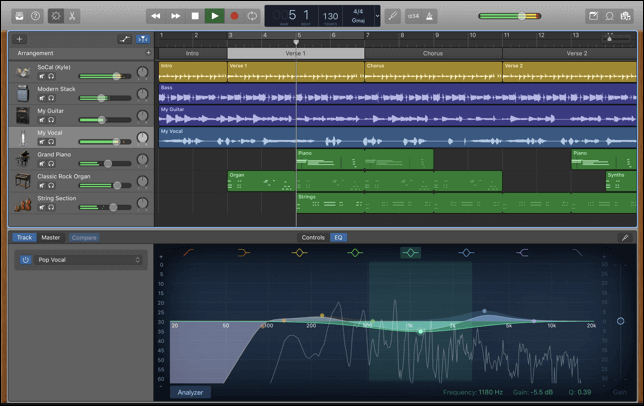 How to use the WAV file recorder:
Step 1. First, you need to download and start the program on Mac. There are different options available in the program window. Select one that you need. Let's take the Piano as an example.
Step 2. Now you need to click on the lower-right corner of the "New Project" and select "Input Source." This option can only help you to record in stereo and record on each channel as mono. So it would help if you navigated to "GarageBand," select the "Preferences" option and then choose "Menu" to change the microphone you want to use.
Step 3. Then you need to select one track that you want to record. You can select a male or female voice and click on the recording button. When you finish recording, you'll get to see a section of the colored sound waves.
Step 4. Finally, if you are satisfied with the recording, navigate "Share" and then select "Export Song to Disk." When the pop-up box appears, you need to select the destination folder and output format.
How to Record WAV File on iPhone
To record a WAV file on iPhone, you need a good WAV recorder app to back you up with a WAV file format. Hokusai Audio Recorder is a beneficial, easy-to-use, and flexible app to create WAV files for you on your iPhone.
It can save WAV or M4A audio files and convert M4A or other audio files to WAV format. But there is one thing worth noting. It doesn't support MP3 recording.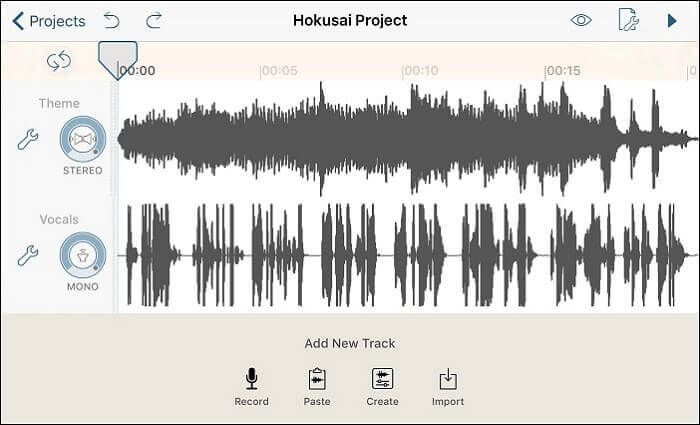 How to record a WAV file on iPhone:
Step 1. Download and install the app on your iPhone.
Step 2. Launch the app and go to "Settings." Then select the "Uncompressed Wave (WAV)"option. You also need to optionally set the audio quality in the "Sharing Format" tab.
Step 3. Now you can easily start recording audio and stop it when you want.
Step 4. Finally, you'll have a WAV audio file recorded on your iPhone.
How to Record WAV Files on Android
Auphonic is a great recording app with useful audio editing features to record a WAV file on Android. You can use this app for free or buy a subscription package. If you buy a subscription package, then you'll get to use all the premium features.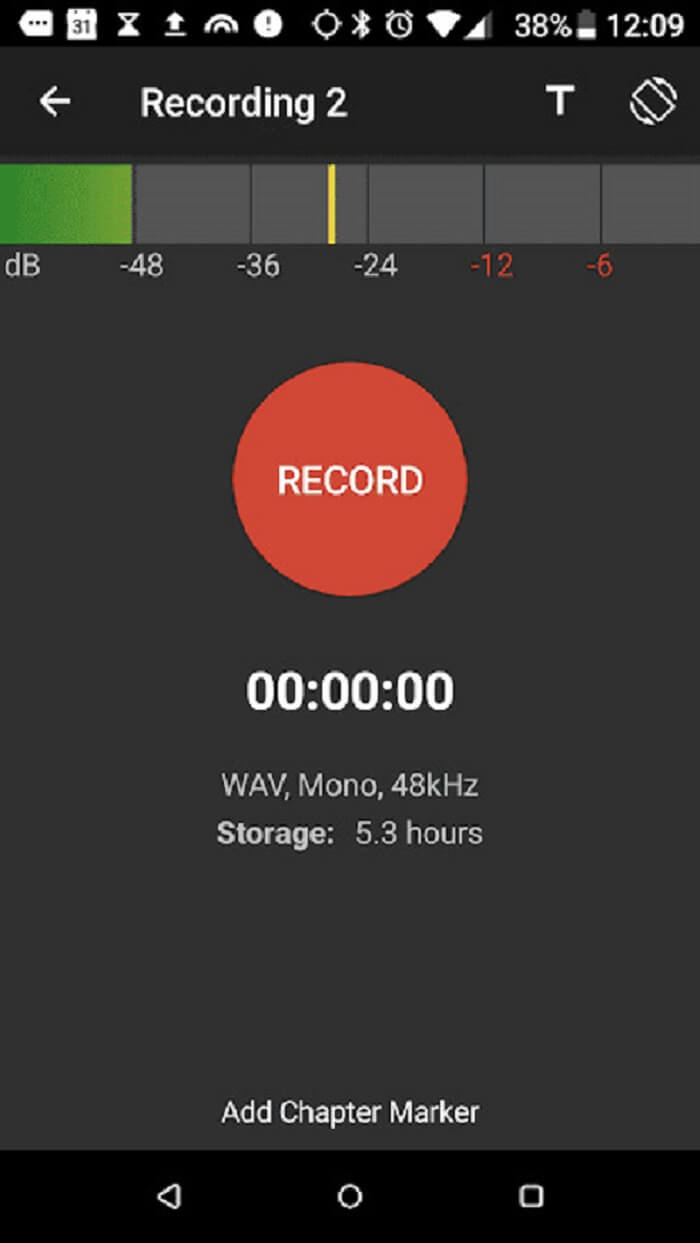 Record WAV File on Android Using Auphonic:
Step 1. Download and install the app from the Play Store.
Step 2. Launch the app and start recording audio on your Android device. Stop the recording when you want to stop.
Step 3. Finally, you will have a WAV audio file recorded on your Android phone.
How to Record WAV Online for Free
Online Voice Recorder is a great WAV sound recorder that can record high-quality audio by using an external or internal microphone of your computer. You can use it for free, and you will never have to install or download any software or setup files to use this tool.
There is almost no advertisement on the website's home interface so that new users can understand the steps to complete the converting task. As it's an online tool, it has a high-quality cloud server backup, which is really efficient.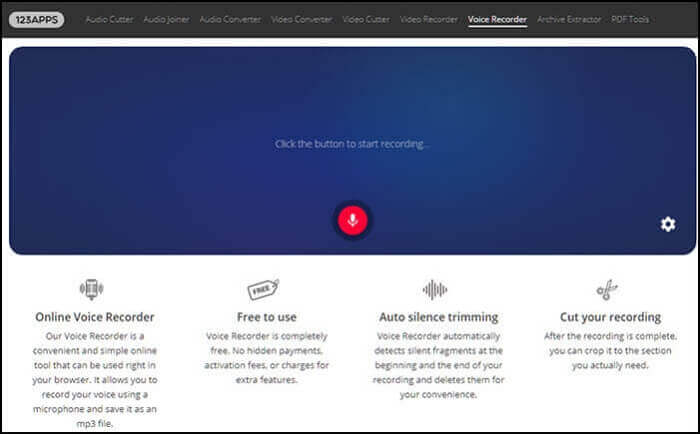 How to record WAV files online for free:
Step 1. Open the official website and click on the recorder feature on the tops side.
Step 2. Now, click on the Microphone icon presents on the screen, and your recording will start.
Step 3. Once you are done, stop the recording and download the recorded files.
Conclusion
Now you know that there are many ways to record WAV files. After reading this article, you have learned 6 ways to easily create WAV files on Windows 10/Mac/Online/iPhone/Android devices.
You can try any of these methods as your choice, but if you want us to recommend the best way, we would want you to start using EaseUS RecExperts. This is a powerful screen recorder that can record almost everything!
About the Author

Melissa is a sophisticated editor for EaseUS in tech blog writing. She is proficient in writing articles related to screen recording, video editing, and PDF file converting.