
Table of Contents

About the Author

Related Posts
4 Ways | How to Record Voice Over Music on Windows & Mac
For everyone who loves music, singing a song along with the background music is really a pleasure. Sometimes you may want to record your vocals and keep the recording as a souvenir, but how can you do that? If you are a professional singer, you must know that a microphone and a voice recorder are necessary, and also master the skills of utilizing them.
In this post, we will introduce some competent voice-over recording software to you and show you how to record voice over music. If you are an amateur singer who needs to know more about recording a song at home, keep reading this post. 
Quick Navigation:
How to Record Voice Over Music on Windows 
When you want to record a song by yourself on Windows, first of all, you need to find a suitable backing track, and then you should get a voice recorder that can capture your voice and mix it with the background music. Two of the most versatile recorders will be mentioned in this part: EaseUS RecExperts for Windows and Audacity. 
EaseUS RecExperts can be considered the most appropriate voice over recording software for a complete novice at recording songs. First and foremost, its main interface is simple and user-friendly. You can easily find the function you need in the following 4 modes, including "Full Screen" "Region," "Audio," and "Webcam".
As the name indicates, you should choose the "Audio" button to record audio on Windows 10/8.1/7. This mode gives you many choices of the audio source you record. For example, you can play background music as the system sound and sing a song using a microphone. You are able to record all these audios simultaneously and export the recording as a perfect song of your own.
Key Features:
Record audio from YouTube, Facebook, and other platforms  
Export the recording in more than 10 formats
Support starting, stopping, and splitting the recorded files automatically
Edit video and audio clips with the built-in editing tool
Configure the recording settings to adjust the quality of output files
Download it and have a try. You can record the best songs with its help.
How to Record Your Voice on Windows 10/8.1/7:
Step 1. Launch this software and select "Audio" from the four modes.

Step 2. Choose the Speaker icon in the bottom left-hand corner, and click on "Microphone and system sound".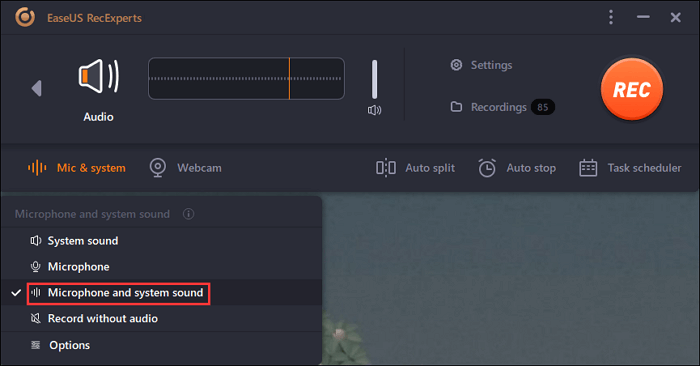 If there is more than one microphone, click "Options" to select your desired Microphone device.
Step 3. When settings are done, click on the orange button "REC" to simultaneously capture the system audio and microphone. When you finish the recording, click the red "Stop" button to stop recording.

Step 4. The captured audio will be saved on your computer, and you can find it in the "Recordings". Right-click the file if you want to edit it or rename it.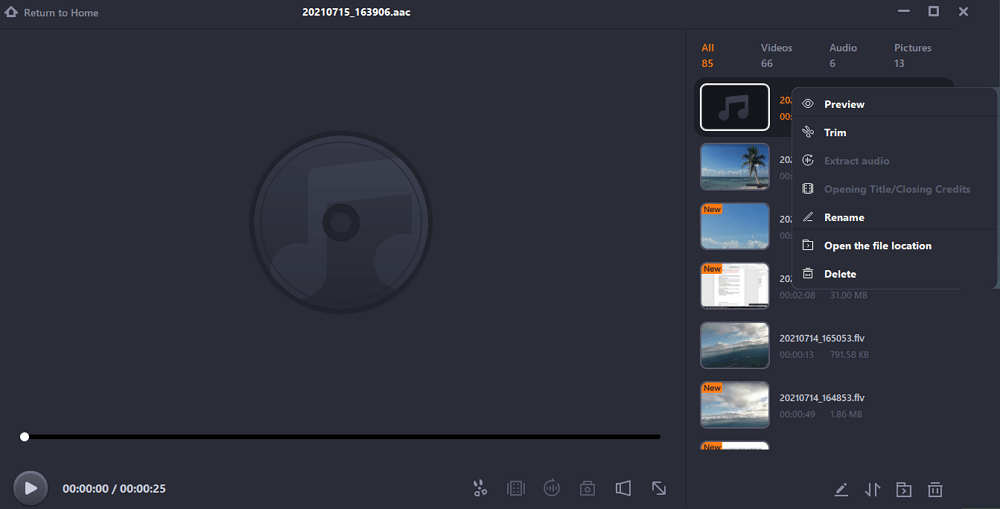 How to Record Vocals in Audacity
Audacity is one of the most famous audio programs that enable you to record and edit audio. This free software is open-source and cross-platform so that it can certainly be compatible with your Windows PC. Audacity supports various audio formats, ranging from the most common ones to professional and not commonly used ones. This software can satisfy your demands whether you want to keep your songs in MP3, FLAC, WAV, or OGG. 
Since Audacity is an open-source recorder and editor, you are capable of adding effect plug-ins to it, or you can even write your own plug-in so that you can modify your songs to make them more impressive.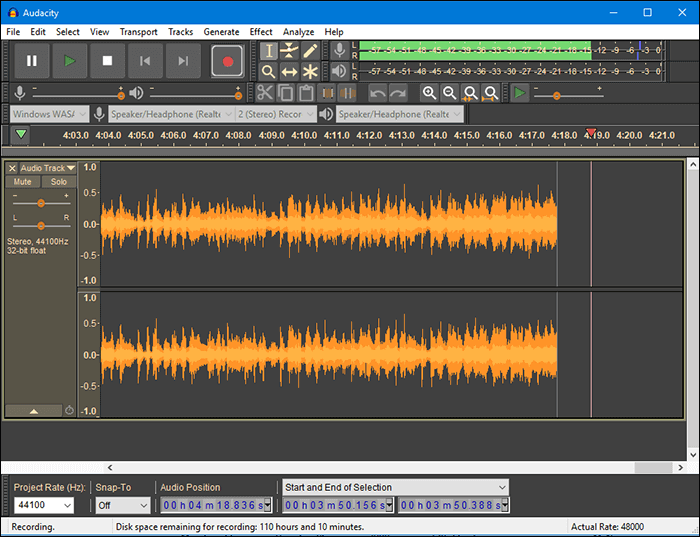 Features:
Keyboard shortcuts are available
Cut, copy, paste, and delete audio clips
Support different sample rates like 6-bit, 24-bit, and 32-bit
Record audios in high quality
How to Record in Audacity While Track is Playing:
Step 1. Prepare a karaoke track you need. Launch Audacity and drag and drop the background music file to Audacity, and you can click the green "Play" button to preview it.    
Step 2. Click on the red "Record" button while the karaoke track is playing. You can choose the audio device you like from the dropdown menu behind a little microphone icon. 
Step 3. When you record a whole song, click the "Stop" button. There are some optional settings you can use to make your vocals more suitable for the background music.
Step 4. Under the "File" tab, click "Export Audio..." or press Ctrl + Shift + E to save the recording. If you want to change the audio format, choose it from "Save as type."
How to Record a Song at Home on Mac 
Can I record my voice with background music on Mac? You probably want to know the answer to this question if you plan to record a song at home. Of course, you can record your own song with the help of these two rich-featured voice recorders on Mac. They are EaseUS RecExperts and GarageBand.
For many Mac users, a lightweight but all-in-one recorder may be the best choice when selecting the voice over recording software. There is no doubt that EaseUS RecExperts is what they want. It's featured by its ease of use and its simple interface. To record voice over music, you only need to click on the "Audio" option and then select "System Sound & Microphone" from the dropdown menu behind the microphone icon and start recording when the backing track is playing on your Mac.
In addition to that, you can schedule recording whenever you want. After you decide the desired recording length, the recording will stop automatically when it reaches the predetermined time limit.
Main Features:
Don't miss this versatile but lightweight recorder on Mac. Download it now.
How to Record Voice on Mac with EaseUS RecExperts:
Step 1. Launch EaseUS RecExperts and choose the "Audio" option on the main interface.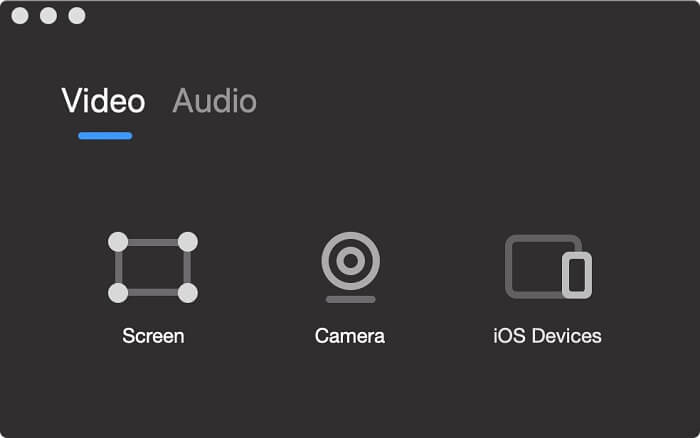 Step 2. Click on the microphone icon to select the audio type you want to capture, such as Microphone only, System Sound only, or both at the same time.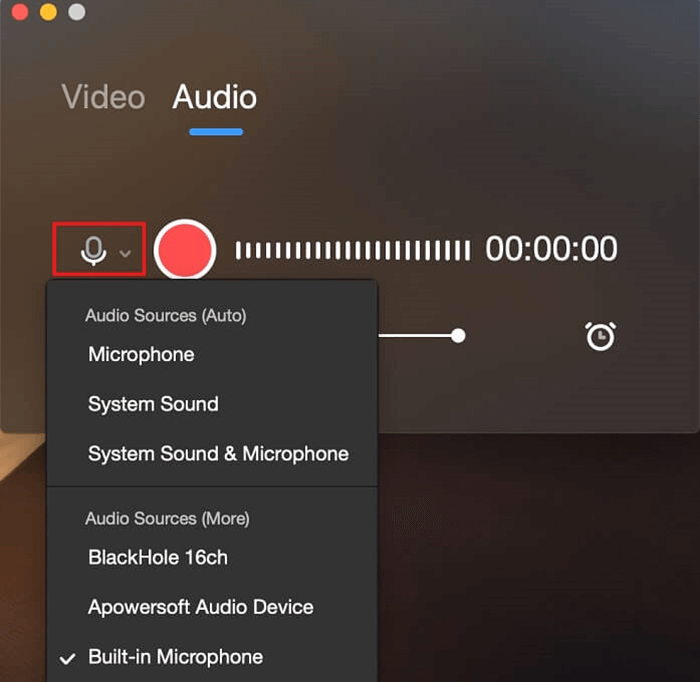 Step 3(optional). You can click on the Clock icon to create a scheduled recording and choose your audio recording duration based on your needs. Next, click "Done" and then choose the Red circle button to start your recording.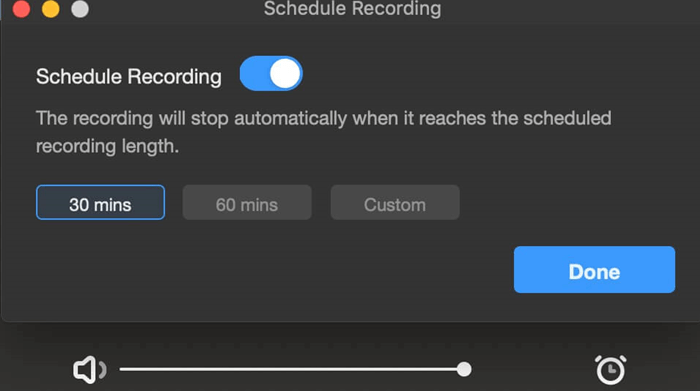 Step 4. When you are going to stop recording, you can click on the circle with a red square button to complete the recording. Then you will see the recorded audio file on your Mac computer.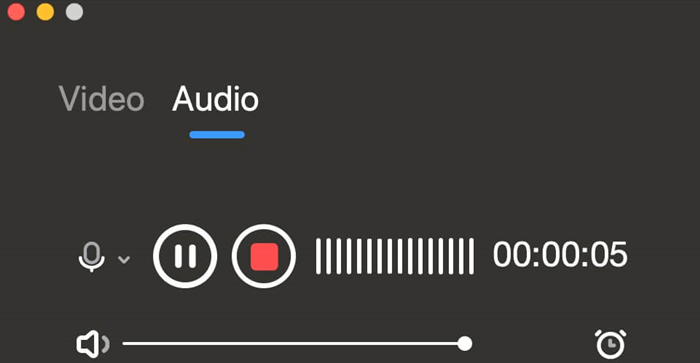 How to Record Voices on GarageBand
This is a famous and powerful application on Mac, and it gives users the ability to create their own music. As a professional music creation studio, it offers you many sound effects, such as the sound of instruments, presets for guitar, and voice. You can use those clips to compose music inside it. Besides that, if you need to capture some external audios as the material to make music, it's also possible to record audio. You can mix your recording with the existing music to create a perfect song.
By virtue of the functions above, you can record voice over music easily. Next, we will show you how to record your voice when the background music is playing.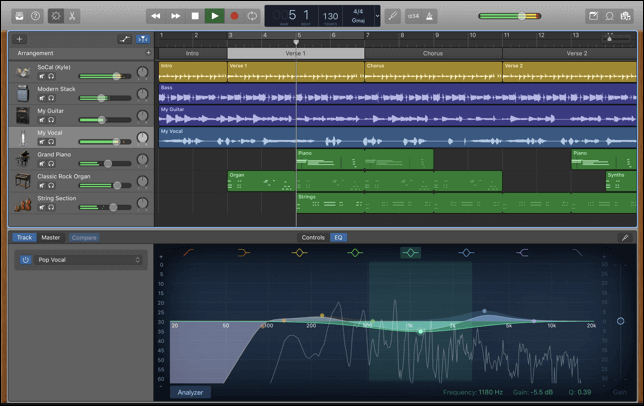 Features:
The interface is streamlined and professional
Many plug-ins are available
Support 24-bit recording
Free to use
How to Voice Record on Mac:
Step 1. Open an empty project. Click the "+" button and choose the microphone. 
Step 2. In the "Details," you can set the input as "Input 1+ 2." Make sure that you set "My instrument is connected with: Built-in Input" and "I hear sound from: Aggregate Device."
Step 3. Drag and drop the background music file to the application, and click the "Record" button to start recording. You can sing a song using a microphone. 
Step 4. Click the "Stop" button when you record all the audio you need. Then click "Share" and choose "Export Song to Disk" to save your song to Mac. 
Conclusion 
In this post, we show you 4 methods of recording voice over music on Windows and Mac. You can decide which is the most suitable way for you to record a song. 
If you are a beginner who has little knowledge about recording audios on PC or Mac, we suggest you choose EaseUS RecExperts since it's really user-friendly. Even a novice can use it quickly and conveniently. Don't be hesitate to download it and record songs now.
About the Author

With the interest in English writing and computer technology, Vanessa chose to be an editor in EaseUS. She is professional in video and audio topics, including video & audio editing, converting, and recording. Vanessa will keep writing to help people solve problems.