
Table of Contents

About the Author

Related Posts

Best Audio Recording Software
2022 Guide: How to Record Video on Mac with Sound
There are various situations when you need to record a video on Mac, such as capturing online meetings, courses, streaming video, etc. You can upload recorded videos to YouTube. This page shows you how to record video on Mac with sound, using QuickTime Player and other video recording software. Keep on reading to find the easiest way to complete the work.
How to Record Video on Mac with Sound
There are various tools to capture video on Mac. Among them, here you see several examples. 
Tool 1. Capture Video on Mac with Voice - EaseUS RecExperts for Mac
To record videos with sound on Mac, a lightweight but versatile video recorder is available. You can try EaseUS RecExperts for Mac, a Mac screen recorder. Firstly, it can record streaming video in high quality, and you can choose different formats for the saved video.
Besides its powerful functions of video capturing, it's also good at recording audio. If you want to record voice on Mac when recording videos, you only need to switch the audio source to another option and record both internal and microphone sounds at the same time.
If this tool is what you need now, click the button below to download it for free!
Recording video with sound on Mac:
Step 1. Open the streaming video that you want to capture. Then launch EaseUS RecExperts to get used to its interface on your Mac. If you want to record the whole screen, you can click the "Full Screen" option. If you want to customize the recording area, hit "Region". Then, select the recording area with your mouse. 
At the same time, to capture the screen with audio, you just hit the Sound icon in the lower left corner.

Step 2. Click "Settings" to apply more options, including changing the output format of the video, the quality, etc.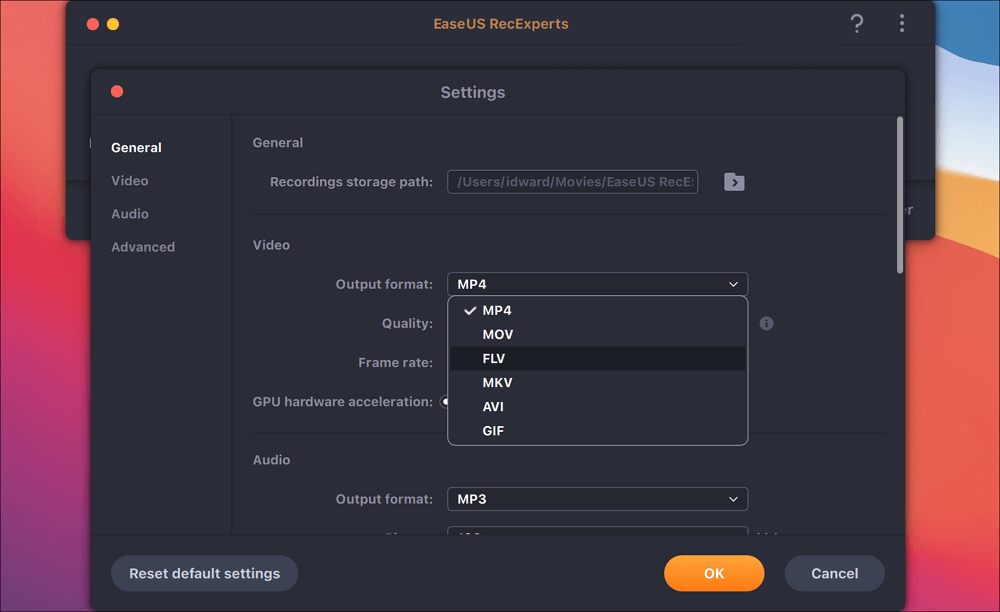 Step 3. Once you are satisfied with the settings, go back to the main screen and click the Sound icon. Then, enable the system or microphone sound if you want to record audio and screen at the same time. Click "OK" to ensure the audio options. After that, hit "REC" to start recording.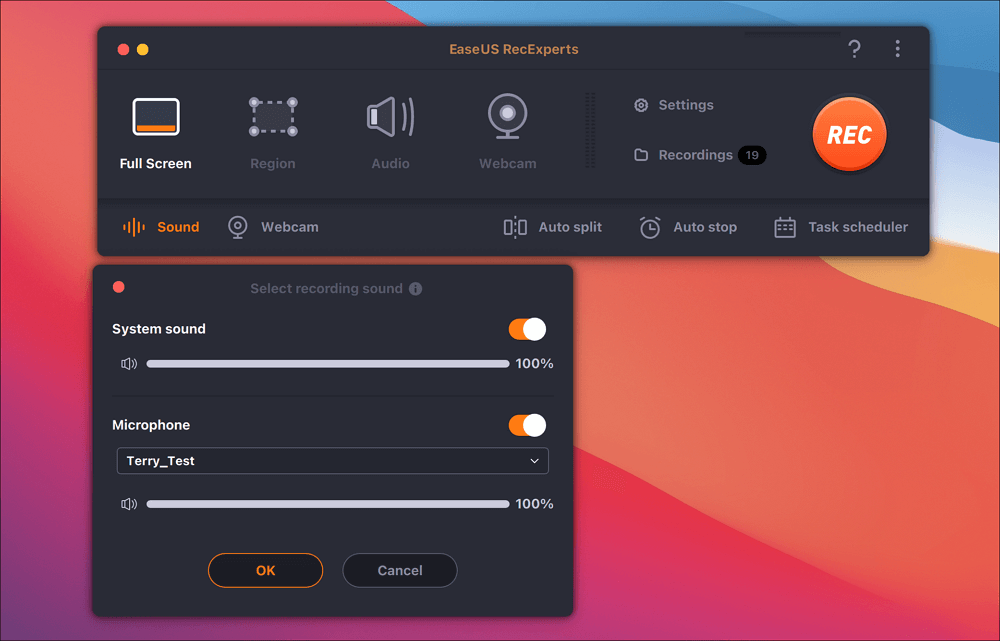 Step 4. Hit the Stop icon when you want to end the recording task. Then, watch the recorded video in "Recordings". The button can be found in the main interface. You can review the target saving from the lists.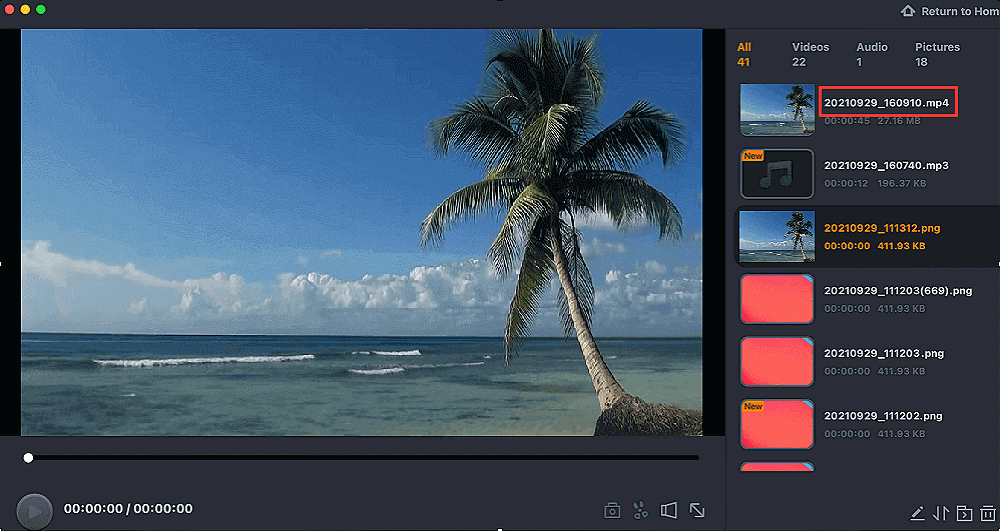 Tool 2. Record a Video with External Sound - QuickTime Player
QuickTime Player, a built-in media player on Mac, also has some recording features. You can capture different streaming videos, create brief tutorials for your students to demonstrate the common tasks and many others.
While the only limitation is that you cannot record internal audio on Mac with it.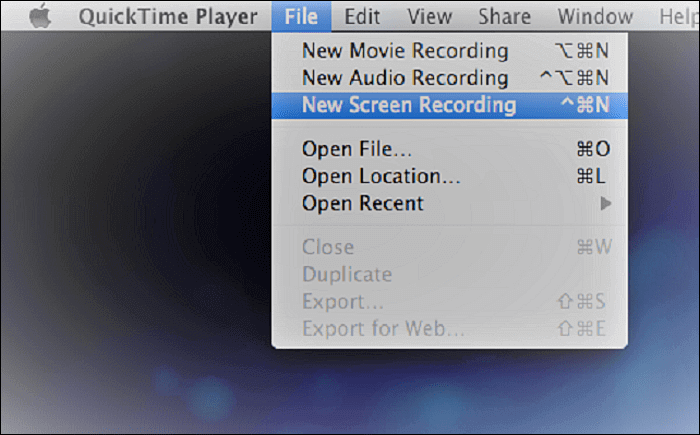 How to record video on Mac with QuickTime Player:
Step 1. Launch this default video recorder on your Mac. Choose "File" > "New Screen Recording".
Step 2. Open the video that you want to record from the player or any website. After that, click Record in the window. Next, select the screen area to record, and you can choose a full screen or just part of it.
Step 3. To end the recording, click the Stop button in the menubar, and then you can save the recorded video on your Mac or share it on YouTube.
Tool 3. Capture a Video with Audio - Screenflick
Screenflick is a video recorder for Mac, which provides high-quality screen and audio capturing. With a friendly interface, it is more efficient by requiring less setup before providing more flexibility for recording.
Also, it can help record video, audio, mouse clicks, and keystrokes in separate tracks allowing you to customize them after recording. Most importantly, it can capture audio from many sources playing on your Mac.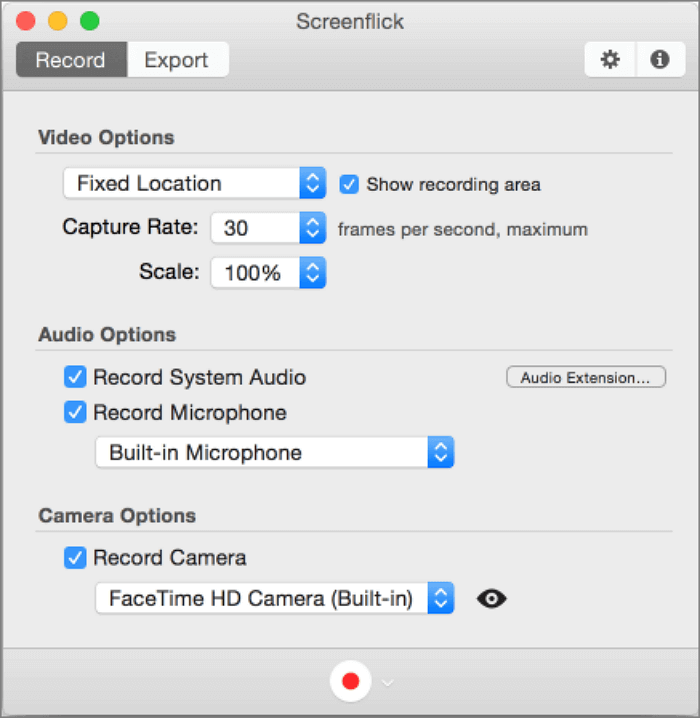 Capturing a video on Mac computer with Screenflick:
Step 1. Download Screenflick on Mac. Before recording, you can change the recording settings.
Step 2. Play the target video on your Mac, and then select the area of the screen you want to capture. Then click the Recording button to start the mission.
Step 3. When you are done, also hit the button again to stop it. Next, you can optionally change any of the export settings based on your requirements.
Step 4. Once done, you can export the recording videos with ease.
Tool 4. Capture a Video on Mac - VLC Media Player
We all know that the VLC media player is an open-source recording tool that can play various media files. Also, screen recording is one of its potential features. It allows capturing online streaming videos effortlessly, and you can record YouTube video with sound. The whole work will be done in simple clicks as below.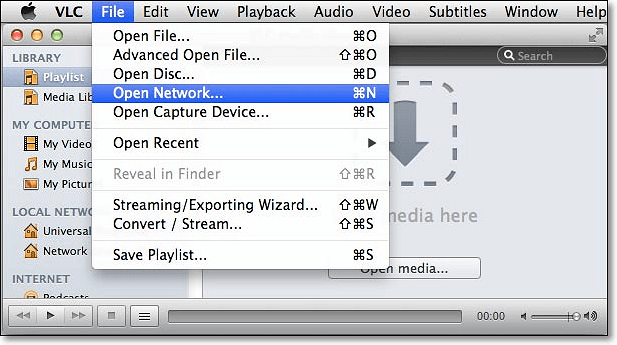 Steps to Record Video on Mac with VLC:
Step 1. Run VLC Media Player on Mac. Click "File", AND then choose Open Capture Device from the drop-down menu. A new dialog window will appear.
Step 2. Click Input Devices and select Screen as the input device. Next, click the Open button at the bottom right corner. You will then get a loop of the VLC player window, one nested in another.
Step 3. Open the video that you want to capture. Click Playback > Record to start recording. To end it, hit the button again to stop it.
Step 4. The recorded videos will be saved to the default path in AVI format.
Tool 5. Record a Video with Audio on Mac - OBS Studio
OBS Studio is a free and open source screen recorder for video recording and live streaming. This screen recorder sets up an unlimited number of scenes you can switch between seamlessly via custom transitions.
It has high-performance real-time video capturing. You can create a scene made up of multiple sources, including windows captures, text, webcam, and many more. Moreover, it offers an intuitive audio mixer with many filters like noise gate and noise suppression to make a high-quality video recording.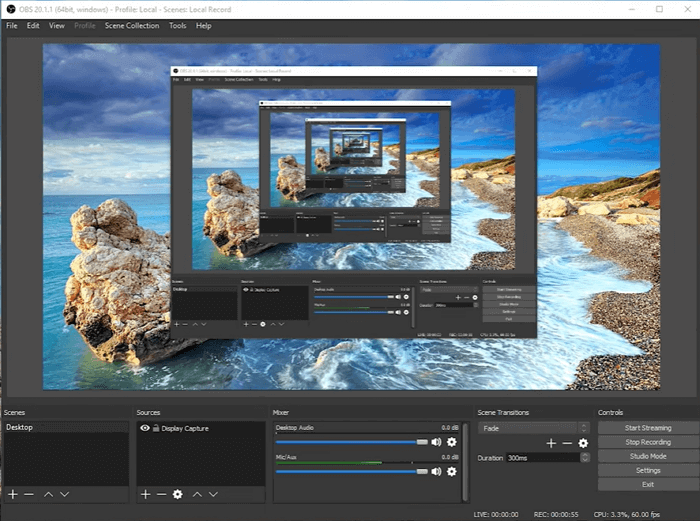 How to record video on Mac with OBS Studio:
Step 1. Open OBS Studio on Mac, and then click the "+" button under the Source tab to choose Display Capture.
Step 2. Select the display you want to record and click OK. Then you will go back to the main interface and see the "Mixer" tab, which can help you adjust the volume as needed.
Step 3. Click Start Recording near the bottom-right corner of OBS. To end it, click the Stop Recording button.
Conclusion
We have discussed several video recorders on Mac here. No matter what software you pick, make sure to choose the best one according to your needs. If you grab videos on your screen, try QuickTime Player. If you have higher requirements like recording system sound, try EaseUS RecExperts on Mac.
About the Author

Crystal Chen is very interested in technology products. She experiences many technological utilities and focuses on writing in this area. Meanwhile, Crystal aims to solve users' problems through sharing experiences.