
Table of Contents

About the Author

Related Posts
7 Tools to Record Viber Calls on Your Devices
Although more and more people are switching to mainstream instant messaging apps like WhatsApp, Viber still has a huge user base, and a lot of people use it on a day-to-day basis to make and receive calls. If you want to record your calls with this app, you will be disappointed to know that the app does not have an option to record your calls.
There are many possible reasons why Viber does not offer the option to record your calls. Regardless, there are some third-party Viber call recorder tools that you can use for Viber call recording on your devices. The following is a list of seven of the best tools to record Viber calls on PC, Android, and iPhone. Keep on reading to find the one you use is effective.
Part 1. The Best Viber Call Recorder for PC – EaseUS RecExperts
If it is a Windows computer where you use Viber to make and receive calls, you have a few options to record your calls. While you can certainly try out many self-claimed tools on the Internet to record your Viber calls, you will shortly realize that many of those do not work the way they are advertised.
Luckily, all hope is not lost. There is a tool called EaseUS RecExperts that allows you to record the activities of your computer screen. This is called screen recording, and you can perform it with various options using this program. Basically, you can use this feature to record your screen while your Viber calls are active. This will record the video and audio part of your calls. Besides, this best software allows you to record microphone and computer sound at the same time.
Key Features:
Easy to use with its user-friendly interface
Specify a custom area for your video call recording
Set up scheduled Viber call recordings
Access all your recorded calls from a single location
Click on this button below to download EaseUS RecExperts and save your Viber calls to your computer.
How to Record Viber Calls on Windows:
Step 1. Launch the App and Start a Call
You can change the order of this step, but generally, you should start a call with someone, and then you can specify the exact location of the Viber app window to record your calls. You can do this after configuring the screen recording program as well.
Step 2. Configure the Software to Record Your Calls
Launch the aforementioned program on your computer and click on "Region" to choose the area that you would like to capture, select the audio source by clicking the Speaker icon on the lower left, and enable "Webcam" if you would like to add a webcam overlay to your recording.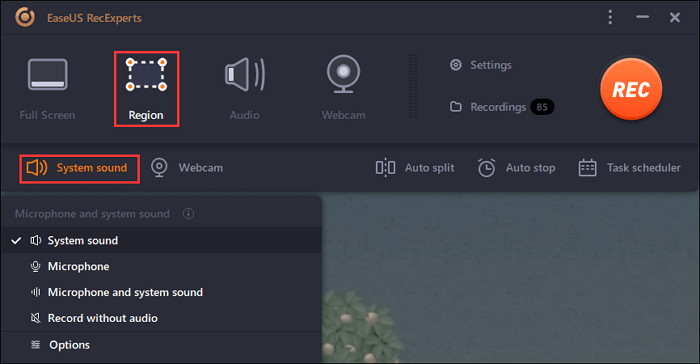 Step 3. Start and Stop Recording the Call
When you are ready to record the call, click on "REC" in the software, and it will start recording your screen according to the options you have specified. Click on the red stop button when you want to end the call recording.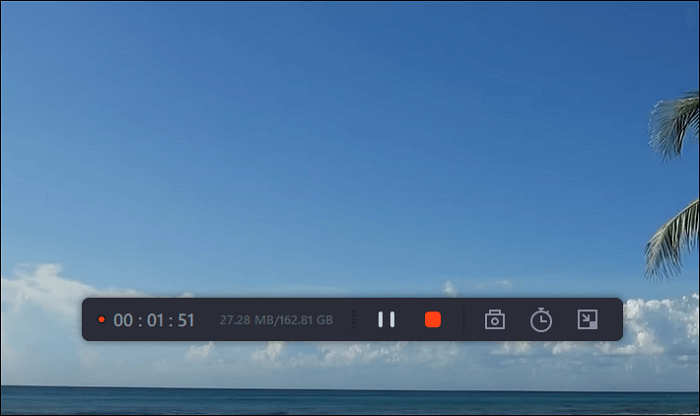 Step 4. Access the Recorded Calls
Once you have finished recording a call, you would like to find the recorded file and see how it looks. An app window will automatically open when the recording is finished, and you can see your recording on the list.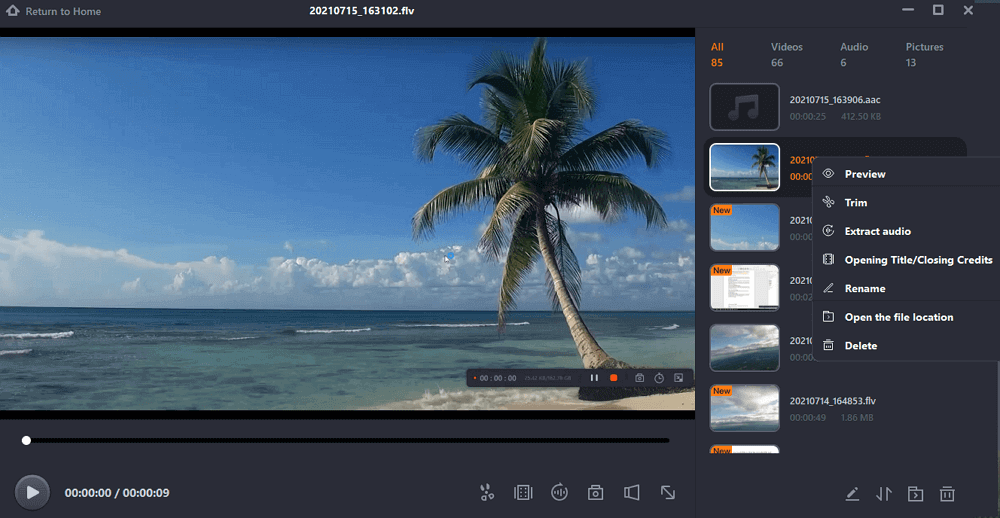 Part 2. Top 6 Viber Call Recorder for iPhone and Android
If you have an iPhone or Android-based device that you would like to record Viber calls on, there are several apps that you can use to do that. The following are some of the best ones for the task.
Top 1. Video Calling & Messages Recorder
Video Calling & Messages Recorder is built to help you record both your voice and video calls made using Viber on your Android device. Since this app's main focus is Viber, you can expect it to provide unique features that you would not see in other apps that offer recording for various apps. With this app, all you need to do is trigger the application when you are about to make a call with Viber. The app will launch and let you record your entire call. It saves the recording to your device so you can view and access it anytime you want.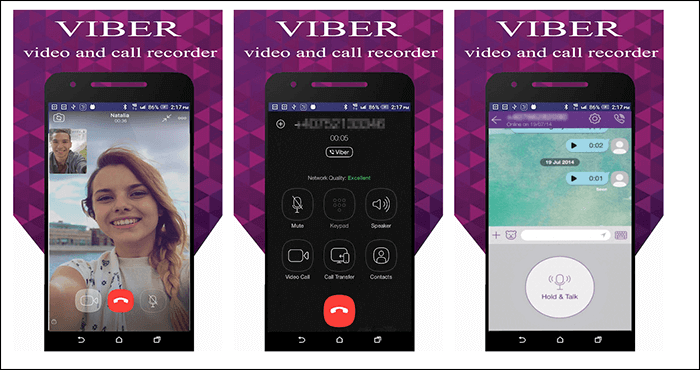 Pros
Neat and clean user interface
Record all types of Viber calls
Backup and restore Viber messages
Cons
It may not work with the latest version of Viber
Occasional recording issues
Compatibility: Android 5.0 or later
Top 2. AZ Screen Recorder
AZ Screen Recorder not only helps you to record gameplays and other content on your screen, but it allows you to record all your Viber calls as well. With its easy-to-operate recording functions, all you basically need to do is tap on the record button, and your recordings begin. If you ever get distracted during your calls, you can pause your recording with an option in this app. You can then resume whenever you are ready again. The app lets you use your selfie camera as well in your Viber call recordings.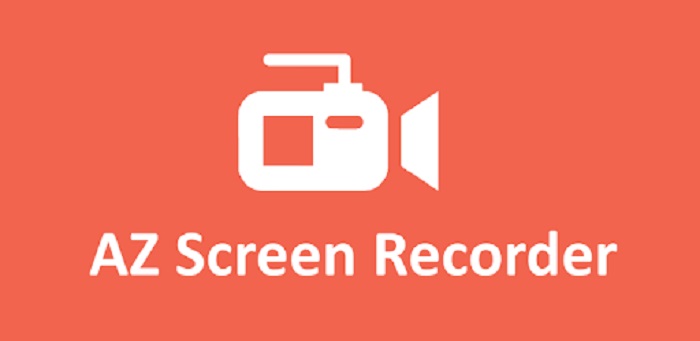 Pros
Record both audio and video Viber calls
Pause and resume your recordings
Use gestures to control the recording
Cons
Sometimes, it gets stuck while recording the calls
Recordings occasionally get corrupted
Compatibility: Android 5.0 or later
Top 3. Cube ACR Call Recorder
Cube ACR Call Recorder excels at recording both your regular phone calls and Internet calls like Viber calls. With this app, you can record both the calls that you make and the calls that you receive on your device. You do not necessarily have to be the one initiating the call to record it. The app currently supports several apps for recording calls, including Viber and WhatsApp. It has an option to auto-record your calls so that you do not need to initiate the action manually. There is a list where you can define people whose calls you do not like to be recorded.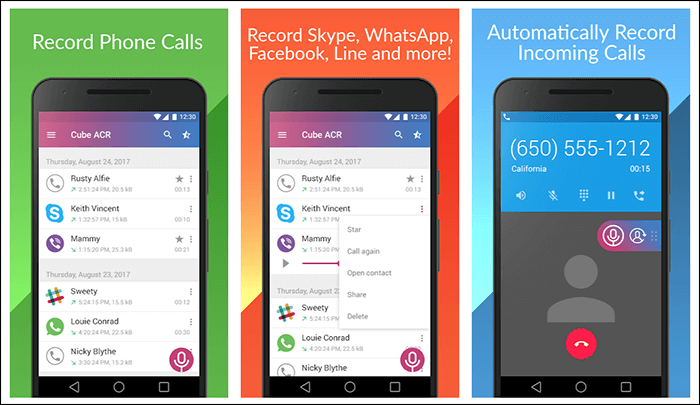 Pros
Automate your Viber call recordings
Smartly switch your speakers
Filter your important Viber calls
Cons
Certain features are not available in the free version
Sometimes it does not record the voice of the other person
Compatibility: Android 4.4 or later
Top 4. Record it Screen Recorder
Record it Screen Recorder is an app on the iOS App Store that lets you record the screen of both your iPhone and iPad devices. Therefore, whether you use Viber on your small iPhone or your large iPad tablet, you can still record your calls on your devices. The procedure to record a call is pretty simple.
Not only can you use this app to record your Viber calls, but you can use it to record other content as well. This other content usually includes your device's screen with your games, photos, and anything else that you want to capture as a video file.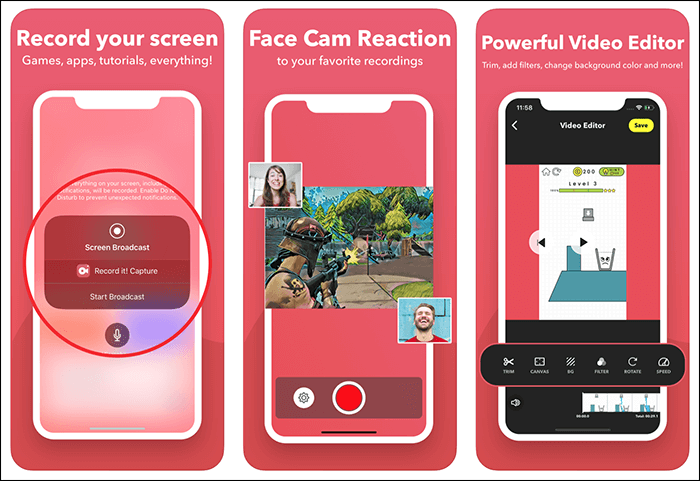 Pros
A single-tap to record your Viber calls
Add reactions to your recordings
Easily export your recordings
Cons
The audio gets lost in some call recordings
It gets sluggish sometimes
Compatibility: iOS 12.0 or later
Top 5. Record Now
Record Now is not only your friend for recording Viber calls, but it helps you edit your recorded calls extensively as well. Once you have got this app on your iPhone, you will realize how powerful and feature-packed it is. From being able to record your calls to manage all your calls in one place, this app has it all.
The app basically records the entire screen of your iPhone. This means everything that appears on your screen will be recorded, including all your Viber video calls. You can also add an overlay of your own face during the calls by enabling the front camera option in the app.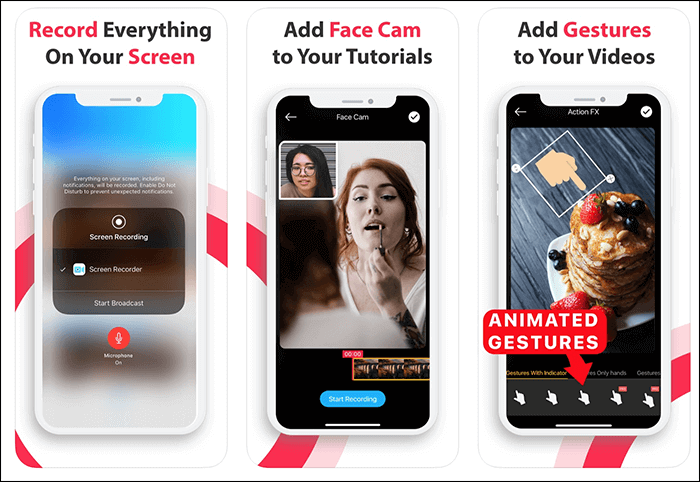 Pros
Edit your video call recordings
Save or share your Viber call recordings
Cons
Annoying prompts to subscribe to the app
Sometimes it only records calls in landscape mode
Compatibility: iOS 11.0 or later
Top 6. Go Record
Go Record serves the purpose of letting you record your screen and audio from your installed apps. With this combination of features, you can record all your Viber calls and save them to the Photos app or directly to YouTube from your iOS-based device. It is much easier to use this app than any other similar apps.
While recording a call, you can add your own reaction to it by enabling the front camera recording. It allows you to add audio commentary if you want to add notes to your call recordings. There is a whole suite of tools to edit your recordings within the app.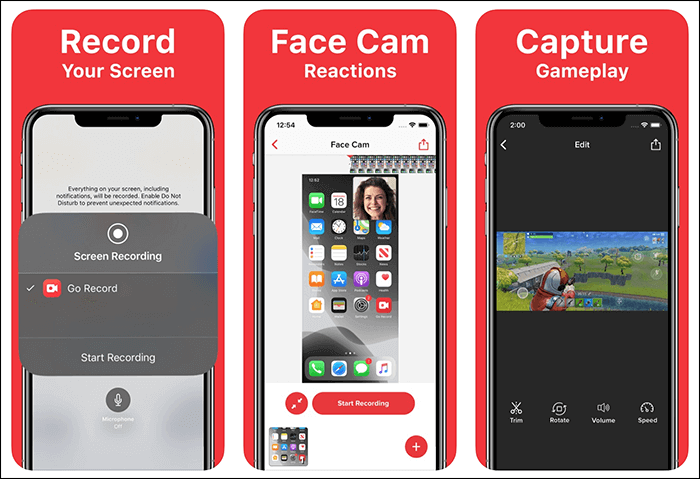 Pros
Works on many iOS versions
Easily save Viber recordings to your Camera Roll
Many editing features
Cons
Audio occasionally cuts off from the recordings
The option to stop a recording sometimes goes away
Compatibility: iOS 11.0 or later
Conclusion
While recording your important Viber calls, you need a solid option to do that. EaseUS RecExperts does the job perfectly by letting you view in real-time how the recording is going on. If you use an iPhone or Android device, you have some good apps available to do the task.
About the Author

With the interest in English writing and computer technology, Vanessa chose to be an editor in EaseUS. She is professional in video and audio topics, including video & audio editing, converting, and recording. Vanessa will keep writing to help people solve problems.