Steam Record Video | How to Record Video on Steam Easily

Vanessa Chiang updated on Apr 01, 2021 to Screen Recording Utility | How-to Articles
Nowadays, more and more hot games are published on Steam, a popular video game digital distribution platform, such as Player Unknown's Battlegrounds, Red Dead Redemption 2, Satisfactory, and more. And on YouTube, many bloggers show their game recording videos to attract massive fans to watch it.
If you want to be one of those bloggers, you must need a Steam screen recorder to help you do Steam video recording. Given that, this post will show you 5 best ways on how to record on Steam effortlessly.
How to Record on Steam Without Lag
For Windows users who want to record on Steam, EaseUS RecExperts is the best choice. This program is an all-in-one screen recorder that can help you record screen and webcam and capture video with audio.
Except for these basic recording tools, this software also offers you a Record Game mode, in which you can record the gameplay in 1080P and 60fps. In addition to that,  you can record gameplay and webcam simultaneously. It's convenient for you to create a game commentary video.
Moreover, it is also an excellent screen recorder, which enables you to capture all kinds of video conferencing, online courses, live streaming audio or video, etc. with ease.
Key Features:
Record part of screen according to your needs
Support advanced editing
Support adding text, lines, arrows, and other real-time editing works
Start recording automatically with the Task Scheduler
If you want to have a try, download it right now!
How to Record Steam Gameplay on Windows:
Follow this guide to create your own gameplay video now!
Step 1. Launch the game you're about to record and then the downloaded EaseUS RecExperts.
Step 2. Once you begin playing the game, click the "Record Game" button to get in the game recording.

Step 3. Select the region and click the "REC" button to start recording. And then you can choose to pause or stop the recording during the course of the gameplay.

Step 4. After saving the recorded gameplay video, you can directly save the video to a local disk or upload it to cloud storage, YouTube, Vimeo, and many other platforms.

Steam Record Video Using Windows Game Bar
Game Bar is a powerful Windows 10 built-in steam video capture. This software is designed for gamers in Windows to take screenshots, record, and broadcast video games. Besides recording games, this program also supports recording your full computer screen.
If you are a Windows user, you do not need to download any software that you can free to use this program. And this software is straightforward to use, and you can directly open it in the Start menu.

Key Features:
Free to use
Easy to operate
how to record in Steam on Windows 10:
Step 1. Click the Start menu to search Game Bar to open it or use the default keyboard shortcut "Windows + G."
Step 2. Before you use this software, you need to open a game. And then, on the main screen of the recorder software, you can change the recording setting, such as "General," "Broadcasting," "Audio," and other settings.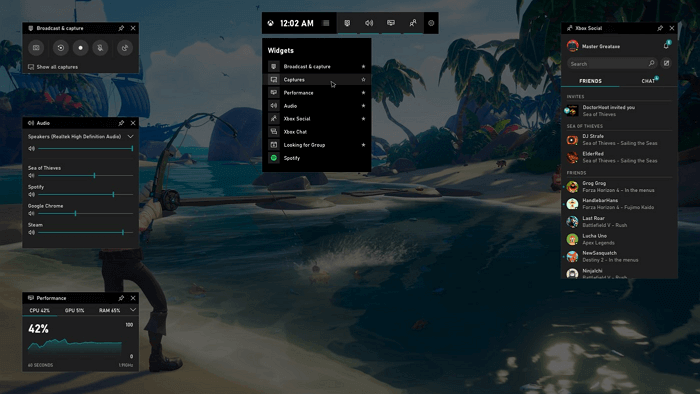 Step 3. When you finish editing, you can click the "Start" button to start recording. When you want to finish recording, you can click the stop to end the game recording, and the game video will save on your computer.
In the end, you need to make sure this software is open when you use it to record video. In general speaking, this software is enabled by default. You can check this software whether open or not by "Setting" > "Gaming" > "Game bar." Do not think this step is unnecessary if this software is not open, and you miss recording the highlights part. What a pity!
Here are some commonly used keyboard shortcuts in gamely video recorder you may use:
Windows+G: Open this software
Windows+Alt+R: Start/stop recording
Windows+Alt+T: Show/hide recording timer
Optional Steam Screen Recorder
There will be three more Steam screen recording software for users who want to have more choices to record clips on Steam in this part. You can choose the application which suits you best.
Icecream Screen Recorder is an easy-to-use screen recording software. You can use this software to do Steam video capture, or record any area of your screen or save it as a screenshot. This software supports you to record apps and games, video tutorials, webinars, live streams, Skype calls, and much more.
Although this software is convenient to use, users can freely use it for five minutes and only saves the video as a WEBM file format. If you want to use it for a long time or change the video formats, you need to pay for it. The price of this software is $29.95.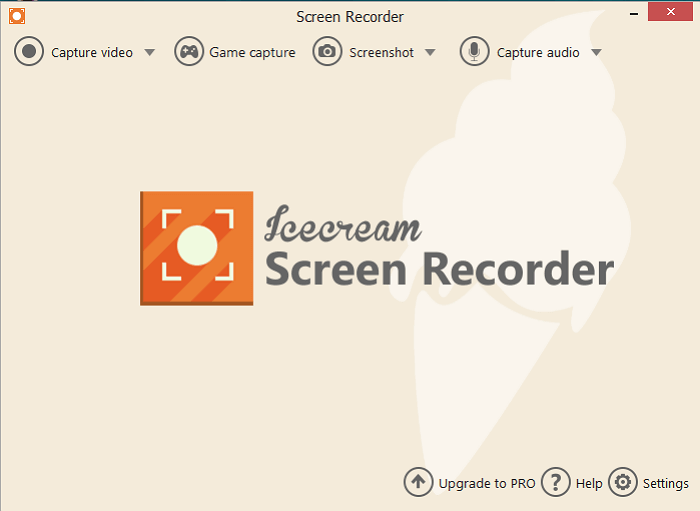 Pros:
Support taking screenshots of your screen
Support recording gameplay
Support adding your own loge to the screen recording
Cons:
Not support live streaming during screen recording
Offer few formats and video codecs
OBS Studio is one of the most famous open-source Steam screen recorder software that supports video recording and live streaming. Using this software, you can create scenes made up of multiple sources, such as window captures, images, text, browser windows, webcams, and so on.
When you record Steam games with it, you can select different resolutions and FPS according to the actual demands. For example, you can choose to record with the standard web-monitor resolution, 1920x1080. It allows you to choose the standard 30fps or choose 60 fps if the game you want to capture is fast-paced.

Pros:
Powerful configuration option
Intuitive audio mixer
High-performance real-time video and audio recording
Cons:
The interface is not appealing
A higher learning curve
Bandicam is also a famous screen recorder that supports recording videos and audio. This software offers you the ability to compress your recordings in a smaller size. Therefore, you don't need to worry about the storage space if you have to record the gameplay for a long time.
Using this best game recording software, you can record on Steam and export the video with high resolution. If you want to control your recordings' quality, it will show your frames per second during the recording.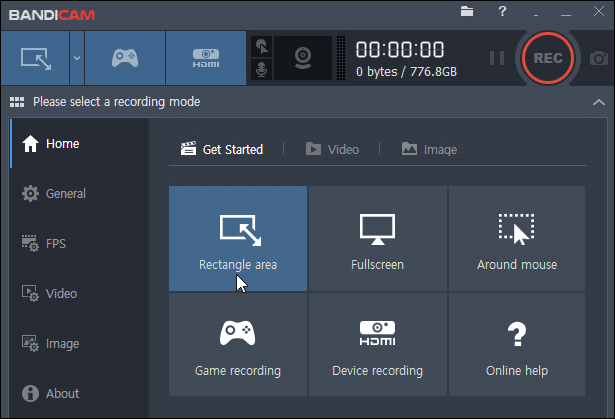 Pros:
Low use of system resources
High compression ratio
Support real-time drawing
Cons:
File directories are a bit confusing to use
Occasional split audio issue
Bonus Tip: How to Post a Video on Steam 
Sometimes you may want to post videos on steam but don't know how to get it, then you can find the answer here. In the following, we will show you how to upload a video on Steam badge with your YouTube account.
Step 1. Upload your video to YouTube and make sure the video is set to Public and allows embedding.
Step 2. Launch Steam and log into your account. After that, click "Link YouTube account" to a new page.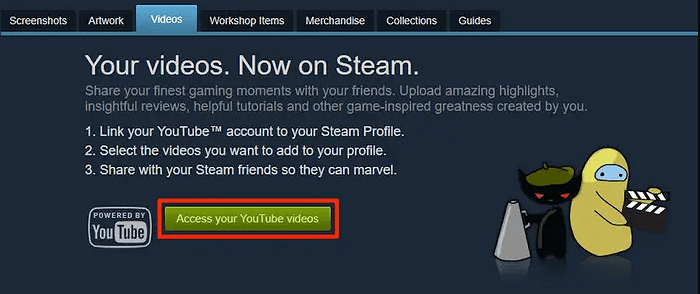 Step 3. On the following page, click "Access your YouTube videos" to connect the account to your Steam page. Then you can view your Public videos and select the one you want to post on Steam. Once selected, you can click the 'Add Video" option and the videos will be added to your Steam profile.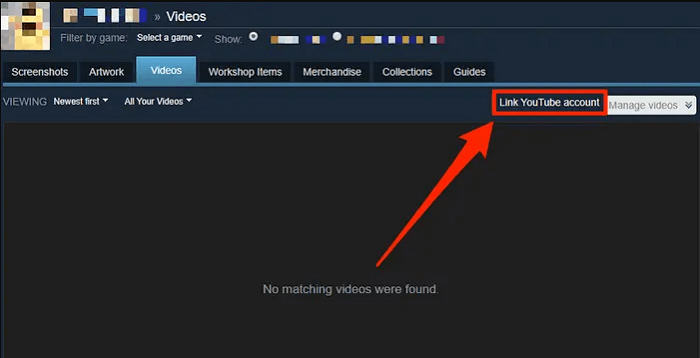 Conclusion
To sum up, we are talking about the best five software to record steam video on Windows on this page. You can choose the one according to your needs. Although each software has its features, we still suggest you choose EaseUS RecExperts.
Not only this software supports plenty of recording functions, but also it has powerful editing functions. If you want to know more about it, you can click the following link to download it and have a try! In a word, this program is a worthy choice!
FAQs About How to Record Video on Steam
Here list some questions about the steam recorder. If you want to know more, you can keep reading.
1. How do I record Steam games on Windows 10?
Recording gameplay footage is the primary use case for the Game bar, and it works as advertised: Press Win + G to bring up the built-in game recording software, then Win + Alt + R to start recording and the same command to stop.
2. Does Steam have a screen recorder?
No, Steam doesn't offer a built-in screen recorder, but it allows you to take screencasts on Steam.
3 Where are steam screenshots saved?
The easiest way to find Steam's screenshot folder is through Steam itself. In the menu bar, click on View and select Screenshots from the drop-down menu. If you have taken any screenshots, they'll be shown here, where you'll have some options about what to do with them.
4. How to record a video on Steam?
How to record a video on steam? This is a frequently asked question, but the answer is straightforward, you only need a powerful screen recorder to capture the gameplay footages on Steam. We recommend EaseUS RecExperts as the best Steam screen recorder since it offers you a specialized "Record Game" mode that allows you to record in 60fps. You can use it to record games in high framerate clearly and smoothly.