
Table of Contents

About the Author

Related Posts

Best Audio Recording Software
5 Free Solutions to Record Google Earth on Windows/Mac/Online
Google Earth is an amazing map application that provides a 3D representation of the earth. Using it, you can move from one place to another place, explore the world and enjoy the cities and landscapes with simple clicks at home.
It would be incredible to record the tour on Google Earth. However, only the paid users can record the tour video from Google Earth. If you are not a paid user and want to record Google Earth, you will find the best solution in this article. Here we list 5 efficient ways to guide you on how to record Google Earth.
How to Record Google Earth on Windows 
There are many screen recorders for Windows users to make a Google earth zoom-in video. In this part, you will find two ways to do that using two different tools.
EaseUS RecExperts for Windows
This is one of the most popular screen recording software for Windows that has a high reputation worldwide. As its name implies, it can capture anything displayed on your Windows PC.
It makes it easy and possible to record streaming video, online courses, meetings, etc. You can flexibly choose the recorded area, including the entire screen or a selected area.
What's more, it also enables you to record computer audio, microphone, or both simultaneously. If you like to play games, you also can record your favorite gameplay with this best free screen recorder.
More Features:
Friendly to both beginners and professionals
Enable you to set a recording task at a specific time
Export the recordings with high-quality in more than 10 formats
To enjoy all the features mentioned, click the download button below to install EaseUS RecExperts on your computer.
How to Record Google Earth Zoom in Video Easily:
Step 1. Launch EaseUS RecExperts. There are two different options for screen recording, i.e., "Full Screen" and "Region". If you select "Full Screen", you will capture the whole screen.

Step 2. If you select the "Region" option, this software will ask you to customize the recording area. Make sure that everything you want to capture is within the bounds of the select box.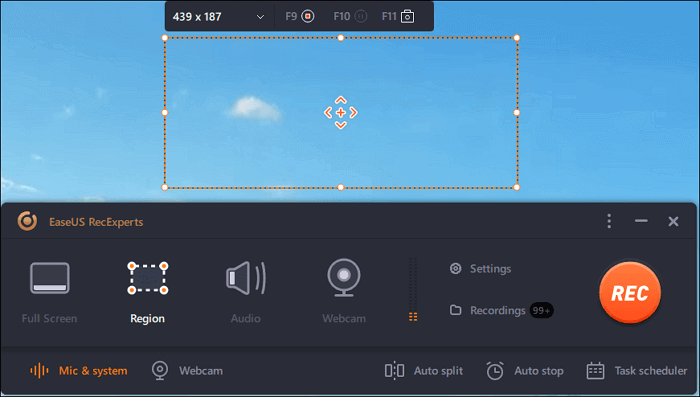 Step 3.  Tap on the button at the bottom left side of the main interface, and there will be many options you can select. This recorder supports recording microphone and system sound separately or simultaneously. The "Options" button is for you to adjust the volume and microphone device.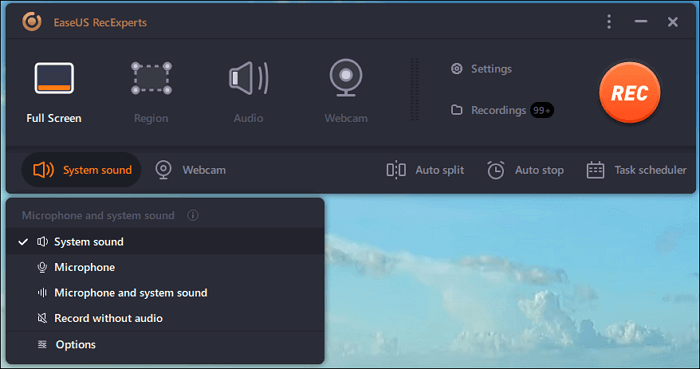 Step 4. To record the webcam simultaneously, click on the "Webcam" icon at the bottom of the interface. Tap on the button to enable the webcam recording, and there will be a drop-down menu to select the recording device. Click on "OK" to confirm your settings.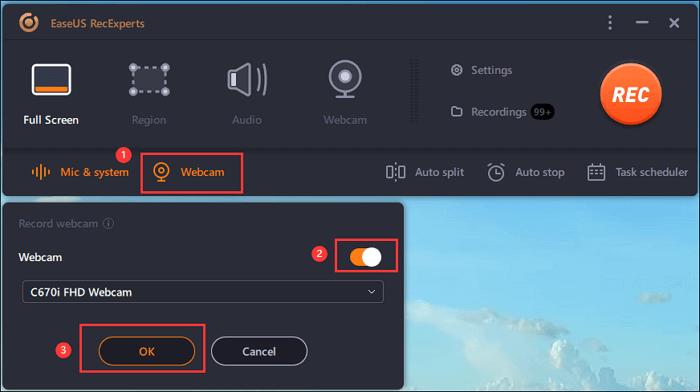 Step 5. When you turn back to the main interface, click on the "REC" button to start recording. A floating toolbar offers you buttons to pause or stop the recording during the recording process. In addition, the camera icon can be used to take screenshots, and the timer icon can help stop it automatically.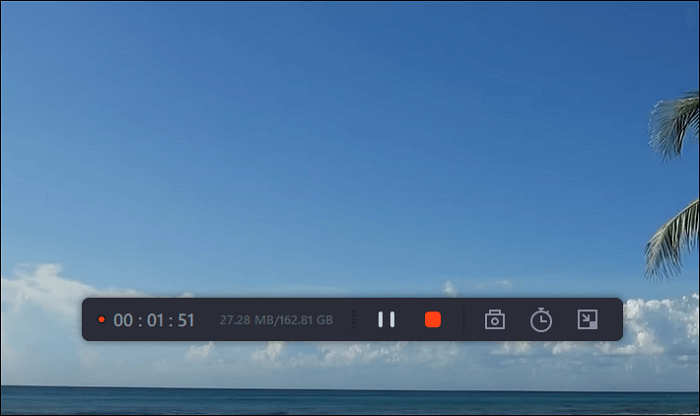 Step 6. The recorded video clips will be saved on your computer. When the media player appears, you see a set of tools you can use to trim the recordings, extract audio, and add opening title & closing credits to the savings.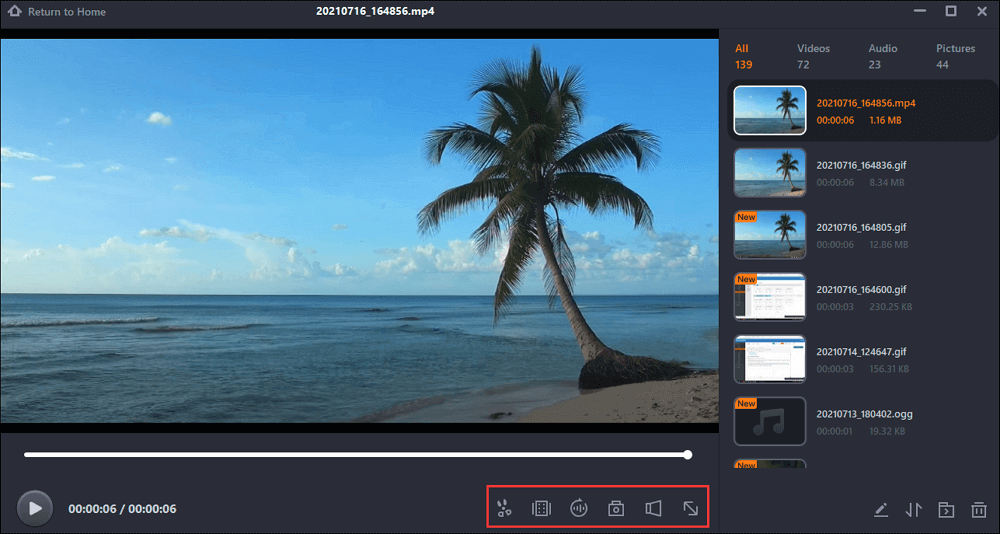 Built-in Screen Recorder
If you record video from Google Earth without other needs, you can rely on the built-in screen recording function. It enables you to capture Google Earth with your voice effortlessly.
How to Record Google Earth with Built-in Recorder:
Step 1. Open Google Earth. Then choose Add > Tour and click Record in the bar above the globe.
Step 2. Move to the lower-left corner in the media player and select the Record button to start recording. If you want to add a narration to the video, you also can click the Microphone button to capture your voice.
Step 3. Navigate to the places that you want to visit one by one.
Step 4. When you finish the recording, you can click the Stop button (the same as the Record button) to end the recording.
Step 5. After that, you can play the recorded video on the media player. To save the tour video, click on the Save button.
How to Record Google Earth Zoom In Video on Mac 
There is a lot of other screen recording software that can help you capture video from Google Earth. Want to learn more? Just keep on reading.
EaseUS RecExperts for Mac
This is a lightweight but all-in-one screen and audio recorder on Mac, and you can use this great Mac screen recorder on many occasions. If you need to attend online meetings, it helps you record Webex meetings and Zoom meetings without much effort. If you have some online courses, it's also possible to record lectures online using this recorder.
Besides, this tool enables you to record sound from computer in high quality. So you can record a Google Earth zoom-in video with your narration to show your ideas or explain some things.
Features:
This is really a suitable and user-friendly recorder for Mac users. If you want to create a video by recording Google Earth, don't miss this tool.
Tutorial of Google Earth Video Capture on Mac:
Step 1. Open the streaming video that you want to capture. Then launch EaseUS RecExperts to get used to its interface on your Mac. If you want to record the whole screen, you can click the "Full Screen" option. If you want to customize the recording area, hit "Region". Then, select the recording area with your mouse. 
At the same time, to capture the screen with audio, you just hit the Sound icon in the lower left corner.

Step 2. Click "Settings" to apply more options, including changing the output format of the video, the quality, etc.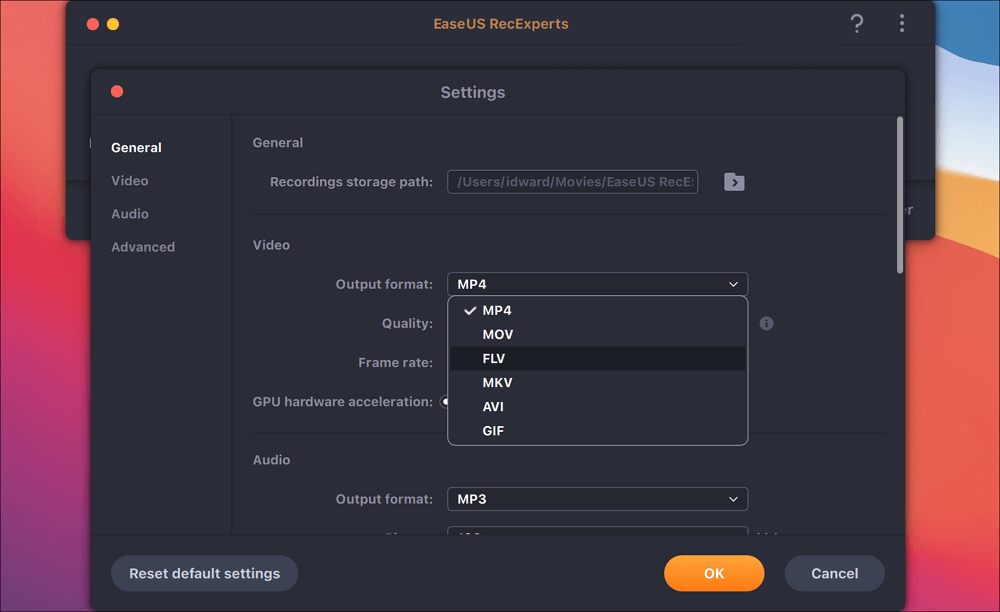 Step 3. Once you are satisfied with the settings, go back to the main screen and click the Sound icon. Then, enable the system or microphone sound if you want to record audio and screen at the same time. Click "OK" to ensure the audio options. After that, hit "REC" to start recording.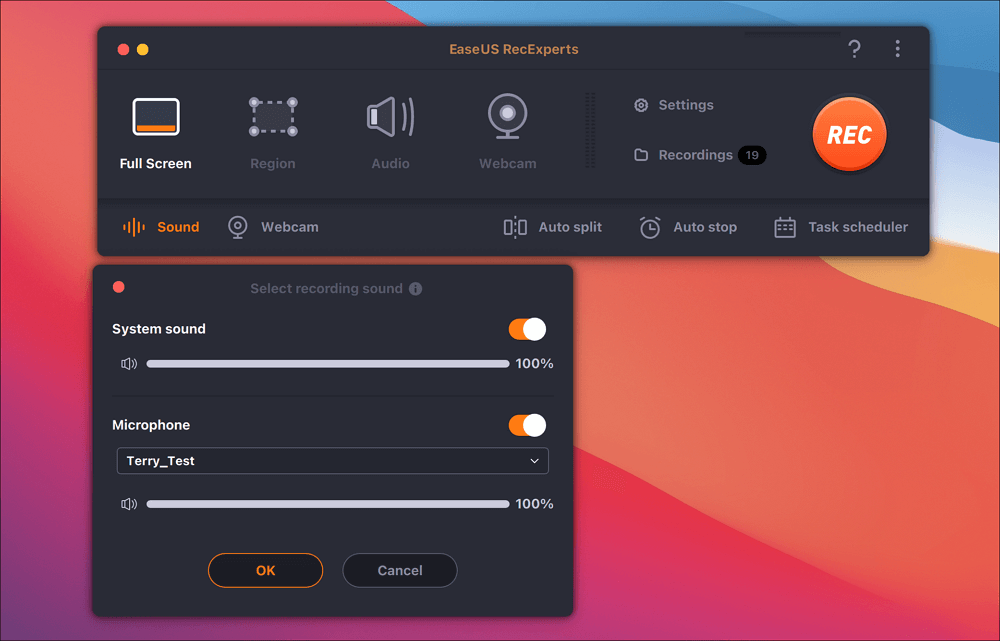 Step 4. Hit the Stop icon when you want to end the recording task. Then, watch the recorded video in "Recordings". The button can be found in the main interface. You can review the target saving from the lists.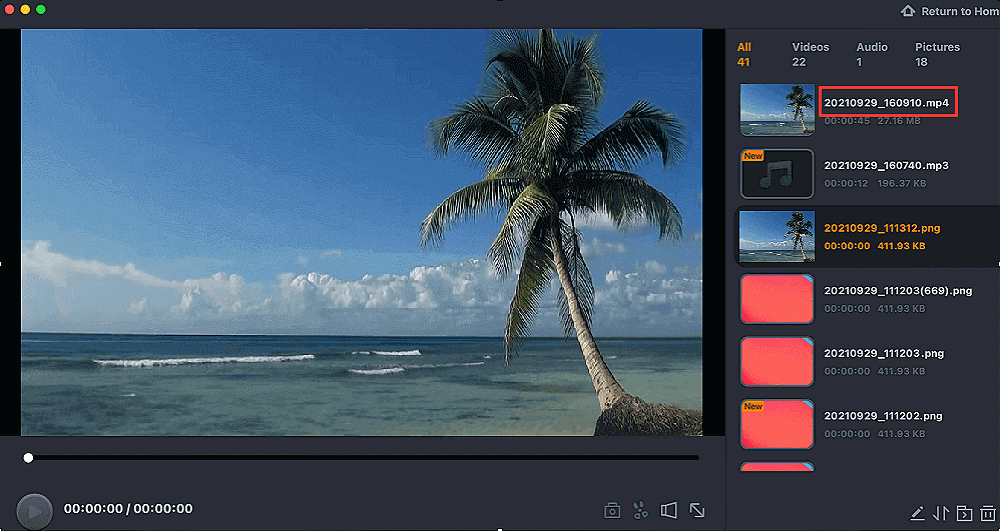 OBS Studio
Using this free screen recording software, you can create scenes of multiple sources, including windows captures, images, text, browse, webcams, capture cards, and more. And it can set up an unlimited number of scenes you can switch between seamlessly via custom transitions.
If you record audio with OBS Studio, you can get this job done efficiently, as it offers an intuitive audio mixer with per-source filters such as noise gate, noise suppression, and gain. To record a Google Earth video with OBS Studio, you can check the following tutorials.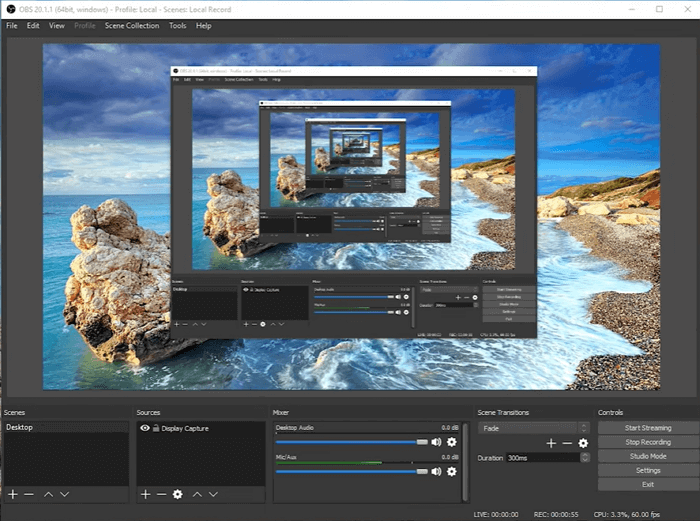 How to Record a Tour on Google Earth:
Step 1. Download and launch OBS Studio on your computer.
Step 2. Click the "+" button at the bottom of the Sources and select Display Capture, followed by the "OK" option.
Step 3. Click on the Settings button to choose the Output tab and select a location to save the recorded videos.
Step 4. Once done, click the Start Recording button at the bottom right to begin recording. When you are done, choose the Stop Recording button to end the recording.
Download: https://obsproject.com/
How to Record Capture Earth Video Online 
Screencapture is a free online screen recorder, allowing you to easily capture your browse activities or computer desktop without installing any third-party software.
While recording your screen, it also offers options to capture your webcam, microphone, or add watermark to video. Now take a look at the following tutorials to start recording Google Earth.

How to Record Google Earth Online:
Step 1. Go to Screencapture's official website, and you will see four tabs on the main page: Microphone, Sound, Webcam, Watermark. You can choose any one of them based on your needs.
Step 2. Click the "Start Recording" button, and a new window will appear. Here you can choose all the resources you want to capture: a full screen, an application window, or a Chrome page.
Step 3. When you are ready, choose the "Share" option to start recording Google Earth.
Step 4. Once done, click "Stop Recording". Then you can preview the recorded Google Earth tour. If you are satisfied with it, you can save it to your computer by clicking the "Download" button. Or you can re-record Google Earth by choosing the "New Record" button.
Try: https://screencapture.com/
Conclusion
To sum up, you have many easy ways to record videos from Google Earth. This post offers you 5 quick and efficient ways to record Google Earth as a video. If you want to obtain a high-quality video, EaseUS RecExperts is what you can never miss. Now download it to explore more amazing functions.
About the Author

Crystal Chen is very interested in technology products. She experiences many technological utilities and focuses on writing in this area. Meanwhile, Crystal aims to solve users' problems through sharing experiences.