5 Best Ways to Record Game in Windows 10 for Free

Vanessa Chiang updated on Dec 22, 2020 to Screen Recording Utility | How-to Articles
When you want to share the game operation with your friends, you may need to record the gameplay as a video, and send it to your friends. If you want to do that, you may need a powerful screen recorder. However, there are thousands of best software available in the markets, and each of them has its unique features. Do you know which is the best? This article helps you list the best five game recorders on Windows10, and I hope this guide may help you a lot.
Part 1. How to Record Game on Windows 10
1. Game Bar

Did you know Windows 10 has a built-in screen recording software named Xbox Game Bar? Game Bar is designed for gamers in Windows 10. Using this software, whether you want to capture gameplay or create a tutorial for someone that you all can free to use. And you even do not need to download or install any software on your computer that you easily record your computer screen. For this software, you can also take screenshots of your screen.
Do you know how to use this software to record gameplay videos using Game Bar? Following the steps that you will know.
Step 1. Using the default keyboard shortcut "Windows + G" to open this software.
Step 2. Then open your game. Before your recording your game, you can change the recording setting in the Game Bar main screen, such as "General", "Broadcasting", "Audio", and more settings.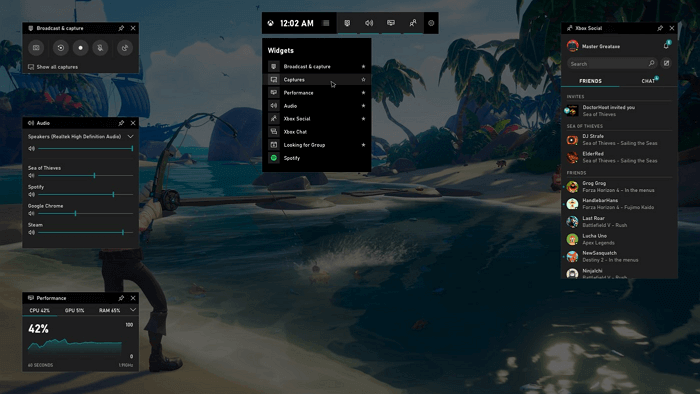 Step 3. When you finish recording, click the "Start" button again that you can stop recording, and the video file will save on your computer.
Here are some commonly used keyboard shortcuts in gamely video recorder you may use:
Windows+G: Open this software
Windows+Alt+R: Start/stop recording
Windows+Alt+T: Show/hide recording timer
If you want to edit your recording video, this software may not help you a lot, and you may need with the help of third-party software's help. Next, I will show you a powerful third-party software on Windows 10.
EaseUS RecExperts is an intuitive screen recorder for Windows operating system. It is simple and easy to use the software. If you want to know how to record zoom meeting, and how to record videos with audio, you just need to spend some time to get familiar with this software. 
The main feature is the capture of full screen, as well as a specific screen, which makes it enable to capture flexibly any part of the screen.
Using this software, you can record video, audio, webcam, and gameplay. For the gameplay function, you even can record the computer screen and facecam at the same time. If you are interested in this software, click the following link to download it and have a try.
Features:
It offers to add logos to screen capture
Support trimming video after recording
Support adding lines, text, images, arrows to enhances video during the recording
Support recording video and audio at the same time
It has an advanced editing function
How to record gameplay video using EaseUS RecExperts:
Step 1. Launch the game you're about to record and then the downloaded EaseUS RecExperts.
Step 2. Once you begin playing the game, click the "Record Game" button to get in the game recording.

Step 3. Select the region and click the "REC" button to start recording. And then you can choose to pause or stop the recording during the course of the gameplay.

Step 4. After saving the recorded gameplay video, you can directly save the video to a local disk or upload it to cloud storage, YouTube, Vimeo, and many other platforms.

Part 2. Extra Recommend: Top 3 Game Record in Windows 10
OBS Studio is an open-source screen record software, which you can free to use recording video and live streaming without watermark and time limit. Using this software, you can capture the video, audio, and gameplay video. This software supports high-performance real time video/audio capturing and mixing. If you want to find a free screen recorder, this software will be your best choice. But this program does not support editing video after recording. If you need to edit your recording video, you may need another video editing software to help you.
Features:
Support recording gameplay video
Support recording full screen, window, region, webcam, microphone, computer sound.
No watermark, no time limit, ad free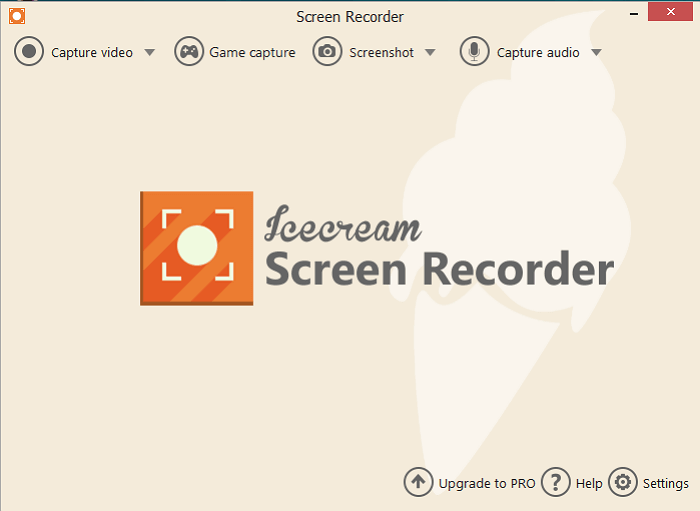 Icecream Screen Recorder is an easy-to-use free screen recording software. If you find a basic video recording software, this software will be the best choice. Using this software, you can record the full screen or select the part of the screen to record, record audio, webcam, webinars, and game. This software is easy to use, but it needs to pay for it. With the free version, you allowed us to use five minutes to record and only supports exporting one video format - WEBM. If you want to use for a long time or convert another file formats, you may need to pay for it. The price is $29.95.
Features:
Support changing the video speed
Support recording gameplay video
Support adding the logo to the screen capture
Schedule recordings to be recorded at a certain time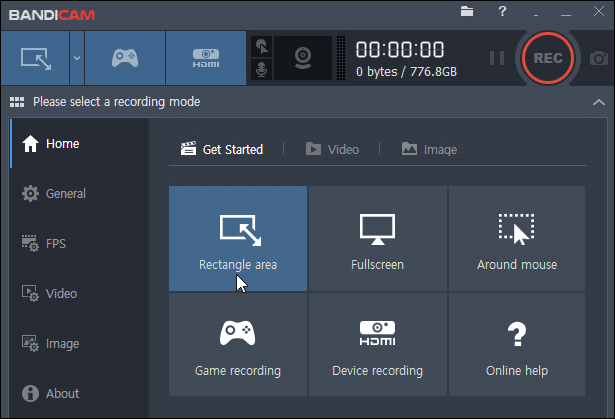 Bandicam is a lightweight screen recorder software for Windows. You can use this software to capture the video, audio, webcam, and game video. And this software also supports to record a certain area on your screen. For gameplay recording function, Bandicam supports users tin recording various 2D/3D games with 4K UHD Video and capture up to 480 FPS Video. But this software you allowed to free use ten minutes, and with watermark. If you want to use without time limited and remove the watermark, you may need to pay for it.
Features:
Support adding mouse click effects and animations while recording
Support recording gameplay video
Support adding the logo to the screen capture
Conclusion
To sum up, on this page, we are talking about the best five best gameplay video recorders on Windows 10. You can choose the one according to your needs. Compared with these five programs, we still suggest you choose EaseUS RecExperts. Because of this software, whatever to record computer screen or edit video or audio after recording, the functions of this software are more powerful than the other four. So, EaseUS RecExperts is a worthy choice, do not miss it!