[2021] How to Record FaceTime Call on Mac and iPhone

Jane Zhou updated on Dec 18, 2020 to Screen Recording Utility | How-to Articles
FaceTime calls can help us to stay in touch with our families and friends, even you are far away from them. Sometimes when you have a FaceTime call with your loved one, you may want to save some special and precious moments for later viewing. However, it does not offer an option to keep the FaceTime call, then how to deal with that?
The quickest and easiest way is to record FaceTime call with some screen recorders. On this page, we will share with you five ways and detail on how to record FaceTime call with audio on Mac, iPhone, and iPad.
You may also like: How to record screen and audio on Mac
How to Record FaceTime with Sound on Mac
In this part, you can learn two free ways to record FaceTime with audio on your Mac computer. Now let's take a look together.
1. macOS Screenshot App
How to record FaceTime call with audio? The easiest way is to use built-in software on your Mac. Here you can use macOS Screenshot App to capture FaceTime calls with audio. In the following, you can learn the detailed steps.
Steps on how to record FaceTime call with audio on Mac:
Step 1. Open FaceTime on your Mac, and join a FaceTime call with your friends or families.
Step 2. Open the Applications/Utilities folder to launch macOS Screenshot, or you can launch the application by pressing Command + Shift + 5 on the keyboard.
Step 3. Choose the recording area of your FaceTime call in macOS Screenshot. Here you can choose to record full screen or a selected region. After that, you can select the audio recording source and folder to save your recording.
Step 4. Once done, you can click the "Record" button to begin your recording.
2. QuickTime Player
Another way to record FaceTime call on Mac is QuickTime Player. Most of you know it is a great media player, however, apart from being a player, it is also a hidden free video recording software. It can assist you in recording your screen in flexible size. Moreover, this pre-installed app lets you edit, play, and share audio and video files onto every Mac effortlessly.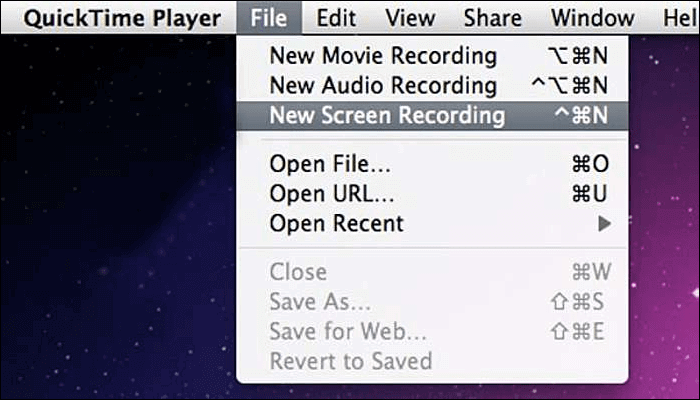 How to screen record FaceTime with sound on Mac:
Step 1. Launch FaceTime and start a call on your Mac computer.
Step 2. Open QuickTime Player. At the top menu bar, click "File" > "New Screen Recording". Then a new window appears, click the arrow to select the microphone, and click on the red button to start recording FaceTime call.
Step 3. If you want to end the recording, you can click on the stop button. Once done, the recorded video will be saved in .mov format on your Mac computer.
How to Record FaceTime Call on iPhone or iPad
For iPhone and iPad users, recording FaceTime call is much easier. If your iPhone is running iOS 11 or later version, you can directly use the built-in screen recorder. Otherwise, you can rely on some screen recorder applications. In this part, we will show you details on how to record FaceTime calls on iOS devices. 
1. iOS Screen Recorder
iOS Screen Recorder can be used successfully on iPhone, which runs iOS 11 or later version. It enables you to capture screen or audio with one click. And you can easily share the recorded videos with your friends and families with it.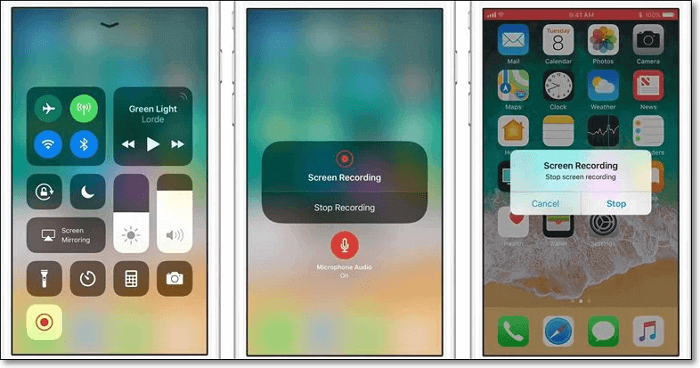 Steps on how to record FaceTime call with audio on iPhone or iPad:
Step 1. Unlock your iPhone, and tap Settings > Control Center > Customize Control to add a screen recording option.
Step 2. Open FaceTime app and join a video call on your iPhone. Then swipe up the screen to open the control center. Next, tap and hold the Screen Recording button - a red circle icon at the bottom of the screen.
Step 3. It will begin to record FaceTime call with audio in the next three seconds. When the FaceTime call finishes, press the button again to end the recording.
Record it! is a great screen recorder application for iPhone and iPad users. It allows you to record everything in full screen, like FaceTime video calls, games, video tutorials, apps, etc. Besides, it offers video face cam reactions, which enables you to add video reactions with audio commentary to further enhance your recording. 
Apart from that, it is built with a video editor. You can apply filters, adjust playback speed, change the background color, or trim your videos with one tap.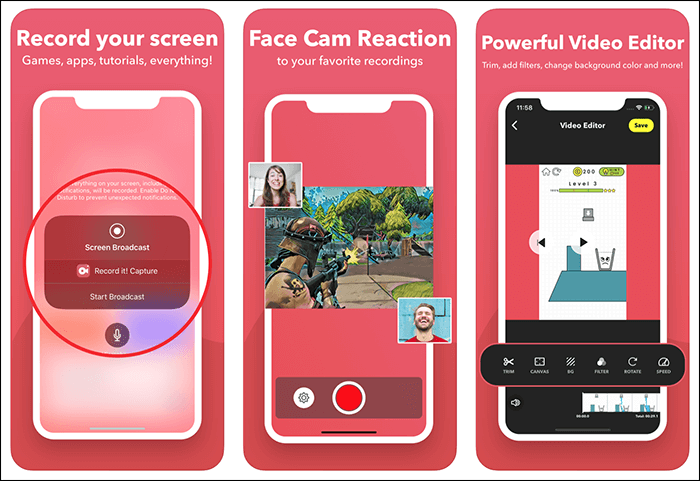 Another FaceTime call recorder app is Du Recorder. It is a reliable and easy-to-use screen capturing application. With it, you can record your iOS devices' screen and audio with one tap. In addition, it enables you to livestream your screen to multiple platforms with 1080p, like YouTube, Facebook, and Twitch quickly and easily. If you sometimes need to edit your recordings, you also can get the job done in this versatile app. It offers some basic editing tools including adding contents, changing speed, converting file formats, and many more.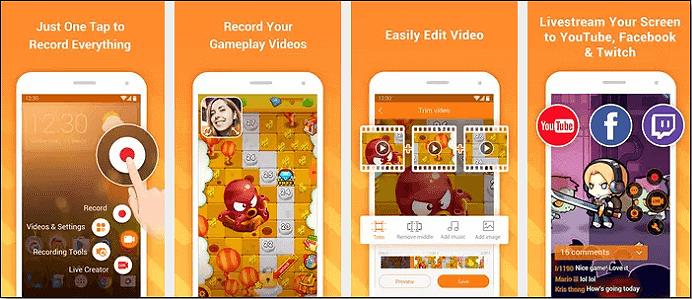 Bonus: How to Record Video Calls on Windows PC
Sometimes you may need to record some video calls or some meetings like Zoom meeting, Whatsapp video calls, etc. on your Windows PC, at that time, EaseUS RecExperts is your best choice. This screen recording software enables you to capture anything on your screen in flexible size. Moreover, it lets you to capture gameplay, audio, webcam, live streaming videos with a few simple clicks. Last but not least, after recording, you can upload and share the recorded files to social media platforms including YouTube and many other social sites.
Now click the below button to try EaseUS RecExperts.
Step 1. Launch EaseUS RecExperts. You can choose one of the four main functions on the main screen. Here you need to click "Record Screen".

Step 2. Click "Custom" to select a screen area to record. You may choose "Full Screen", "Selected Region", "Fixed Region", "Locked Window" or to customize window size here. If you want to record the screen and webcam at the same time, make sure you connected a webcam to your computer.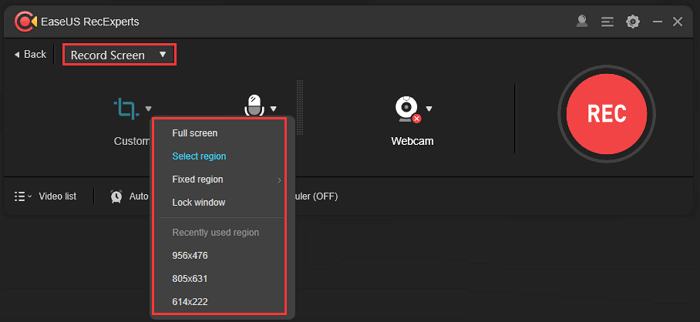 Step 3. Click "Microphone", and you may choose to record system sound only, record microphone only, record both, or record without audio.

Step 4. Click "REC" to start recording. After recording completed, the videos will be shown on the "Video List".

Step 5. Right-click the video recorded, you may preview, compress, edit, share the video, and do more.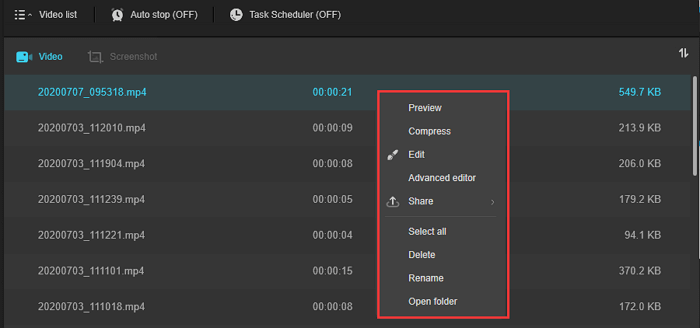 Conclusion
After reading this post, you can record FaceTime call with audio in five different ways. 
For macOS users, you can try QuickTime Player and other built-in FaceTime call recorder to get the job done
For iOS users, the built-in screen recorder and third-party screen recording apps are good choices to try
No matter what screen recorder you choose, make sure to choose the right tool according to your situation.