How to Record Drawing on Screen of Computer & iPad

Vanessa Chiang updated on Mar 16, 2021 to Screen Recording Utility | How-to Articles
If you are a teacher who needs to explain various concepts by drawing annotations, a recorder that can help you record drawing on screen is indispensable. These tools allow you to draw shapes and lines on your screen and capture this entire process in the form of videos.
You can use several tools to capture the drawings on your screen, and they are available for Windows and Mac users. Continue recording to know how to film yourself drawing on a computer and iPad now.
Related Article: How to Use the Top 5 Timelapse Screen Recorder
How to Record Drawing Videos on Screen in Windows 
There are plenty of tools for Windows users to choose to record drawing on the computer, and EaseUS RecExperts for Windows is a wonderful option. This recorder is compatible with Windows 10/8.1/8/7.
This screen recorder enables you to choose the recording area flexibly. In other words, you can freely record the whole screen, record part of screen, or only capture the contents in only a locked window. And this recorder supports recording in 1080P. All the details of your drawing will be clear and vivid.
What's more, you don't need to find a third-party tool to draw on your screen, and the built-in one is useful for you to draw lines, shapes, and arrows without effort. You can even use this tool to zoom in during the recording. If you need to emphasize some key points, the highlight tool is available.
Features:
Save recordings in high-quality
The built-in drawing tool is available
Record screen and Webcam simultaneously
Loads of customizable options for recordings
Support uploading recordings to other platforms
Many powerful recorders require a high-end computer to run effectively. However, this software works just fine, even on the most basic configuration. This is what makes it stand out from the crowd. If you want to know more about this software, you can click the following link to download it and have a try.
How to Record Drawing on Computer in Windows 10/8/7:
You may be curious about how to record yourself drawing with this recorder, and the following steps will help you start creating your own videos of drawing.
Step 1. Launch the recorder on your computer and choose what you want to record. Now, you need to click on "Record Screen" button to continue.

Step 2. On the following screen, you can customize the options for your recordings. You can choose the recording region by clicking on "Full". Then, click on "System & Mic" to choose an audio source and click on "Rec" to start recording.

Step 3. When it start recoridng, you can see some options on your screen. Click on the "Annotate" icon, you can open the toolbar and choose the drawing tool you want to use. Then, draw whatever you like on the screen.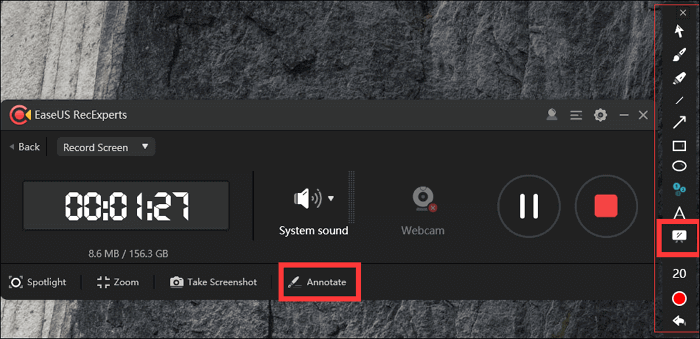 Step 4. When you finished recording, click on the red stop button to stop it. And you can find the recorded videos in the "Video List".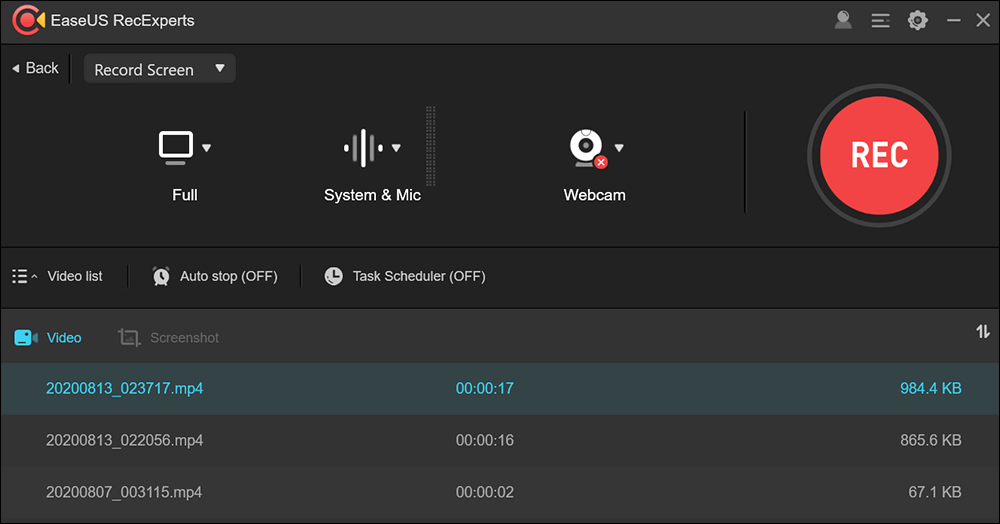 How to Film Yourself Drawing on iPad/iPhone via Mac 
Recording what you are painting on an iPad is not as simple as on a computer because many screen recorders will cause system lag. For users who want to capture their drawing process smoothly and quickly, it's a good choice to record their drawings on iPad via Mac.
EaseUS RecExperts for Mac is a wonderful video capturing tool that enables you to record drawings on Mac via AirPlay. You can easily mirror your iPad and iPhone screen on Mac, and this software will record anything you need on the Mac screen. In this way, you can draw on your iPad or iPhone with no lag.
As an MP4 screen recorder, it will capture videos in high quality, and you can export the recording in MP4 format, which is widely used on social platforms and video hosting websites. 
Features:
If this is an excellent recorder that can satisfy your needs, don't hesitate to download and install it on your Mac. When you are drawing a picture on an iPad/iPhone using a drawing app, you only need to mirror the iPad/iPhone screen to Mac, and then this software will capture all details you want to save.
How to Film Yourself Drawing on iPad/iPhone Using Mac:
Step 1. Make sure the iOS device and the MacBook are connected to the same network. Then, launch EaseUS RecExperts.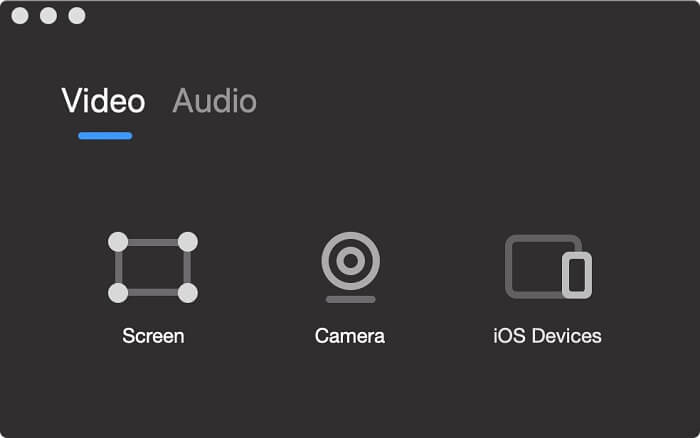 Step 2. On your iPad or iPhone, tap on the control center and click on the "Screen Mirroring option." It will open another window where you can see the MacBook on which the recorder is running. Tap on it to connect.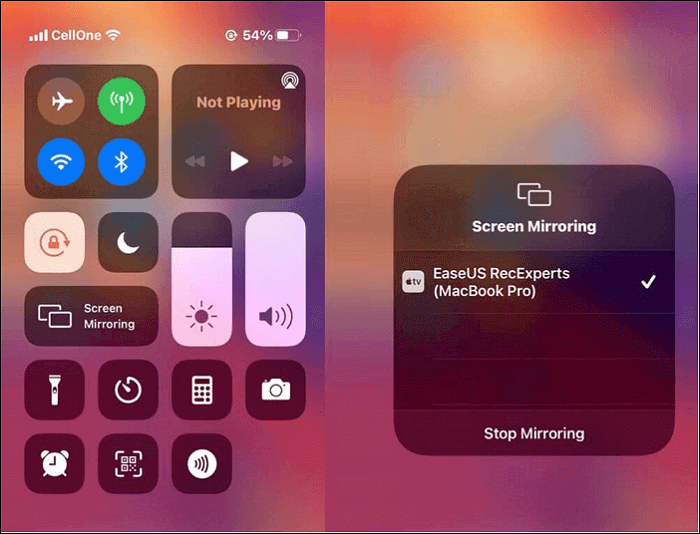 Step 3. After that, whatever you open on your iOS device will also appear on the Mac screen, and you can open the application you want to record.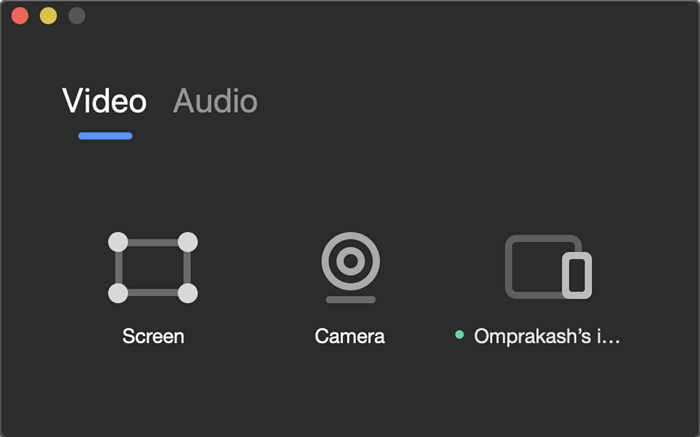 Step 4. Click on the red color record button, and it will instantly start recording. Now start playing the game while the recording happens on your MacBook. Once done, click on the stop button, and the recording will be available on the list.

Alternative Recorders to Record Drawing on Screen 
Besides the two recorders mentioned above, there are still some versatile recorders available on Windows, Mac, or both of them. If you want to compare those tools and choose the best one, this part will offer you more information.
Bandicam (Windows)
If you look at the software tools that let you record your computer screen, you will find that most of those are built for a specific recording type. If you need a tool that helps you record your screen no matter the purpose, you will need Bandicam. It is a screen recording tool that works for you no matter why you are recording your screen.
Since it works on all occasions, a lot of users use it for their screen recording tasks. It works just fine with your drawing recordings as well so that you can start or continue to make your drawing videos.
It has a real-time drawing function that helps you draw on your screen while recording your screen. This eliminates the need to get an additional software tool for your drawings.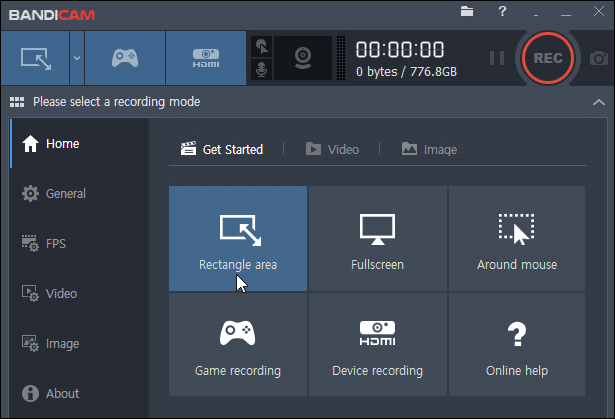 Pros:
A multi-purpose tool to record your screen
Schedule your recordings and start without manual input
Record both from your mic and system audio at the same time
Add mouse effects to your recordings
Cons:
The free version offers limited features
Too overwhelming for new users
No editing tools included
Add a watermark in the free version
Limited video formats
Download: www.bandicam.com/
Camtasia (Windows/Mac)
Not only is Camtasia a great screen recorder, but it is also a good video editor. You can use this tool to record your computer's screen whether you are not drawing on it. It focuses on helping you quickly make your videos, so there is a minimum amount of learning required to use this software.
This tool gives you everything that you need to record your screen when you are drawing on it. This removes the hassle of finding separate tools to do certain tasks on your computer, as most of those tools are included as features in this app.
The app follows a three-step approach to help you record your screen with drawings. The first step is to record your screen, the second one is to edit your recording to fine-tune it, and the third one is to upload your recording to various sites easily.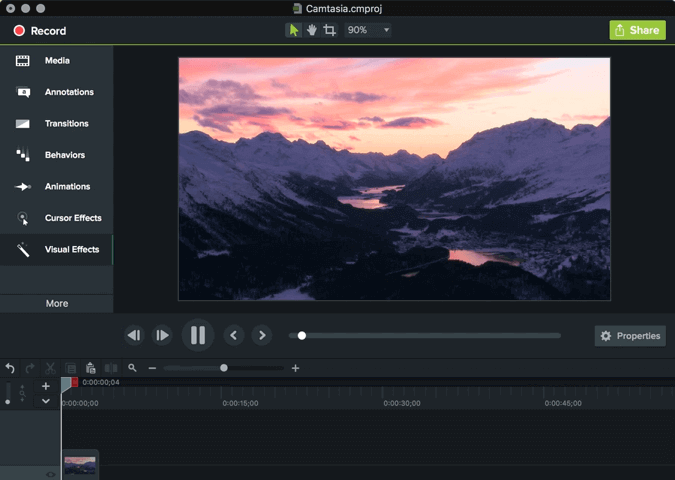 Pros:
Create many types of screen recordings
A minimum learning curve is required
It comes loaded with templates to help you get started
Editing tools are included
Add device frames to your recordings
Cons:
The free version only lasts for 30 days
You get a watermark in your recordings during the free trial
Relatively expensive for most users
Supports only 64-bit
Occasional bugs
Download: www.techsmith.com/video-editor.html
Icecream Screen Recorder (Windows/Mac)
If what you are looking for in a screen record is a huge number of features and the ability to run on multiple platforms, Icecream Screen Recorder could be a good choice for you. It works on both Windows and Mac and brings many options to let you record your screen while drawing on it.
This software focuses on providing an easy-to-use interface while still maintaining a good number of features. From the ability to record various parts of your screen to add your logo to your recordings, there is pretty much everything that you need for your drawing recordings.
It comes with the annotation tool to let you add various shapes to your recordings and screenshots. Once you have made your recordings with the software, you can share them on various platforms from within the app.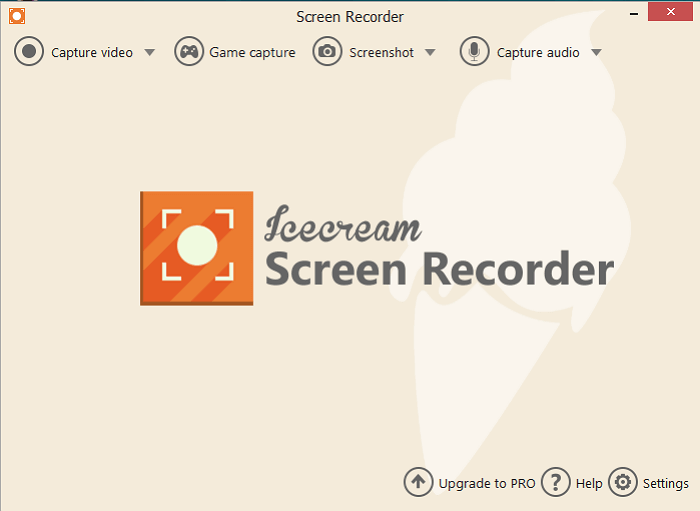 Pros:
Annotate your recordings with drawings
Record custom parts of your screen
Add a webcam overlay to your screen recordings
Quickly use a recently used area for recording
Editing options included
Cons:
The user interface could have been better organized
Too many options for someone who is only looking to record the screen
It does not come with any presets or templates
A bit of a learning curve is required
The free version only records for up to five minutes
Download: icecreamapps.com/Screen-Recorder/
Loom (Windows/Mac)
If you are looking to churn out several instructional videos in a single day, you will probably need something that helps quickly record your screen with your drawings and edit and share them.
The software offers the option to record your screen with and without your webcam overlay. In case you only want to record your webcam, you can do that as well in this software. It also allows you to select particular windows to be recorded, and you can use them if you make drawings on certain windows.
Once you have recorded your drawing video with this app, all you need to do is click on a single option, and you will be able to share your video with whoever you want. There are editing tools if you want to use those to refine your video before it goes live.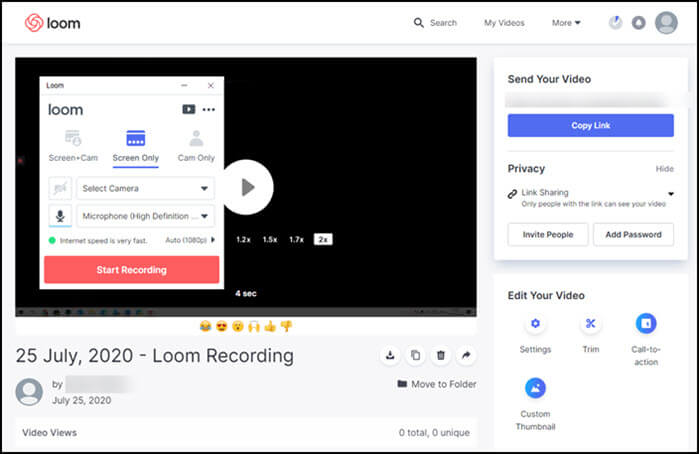 Pros:
Fast and quick recording of your drawings and screen
Basic editing tools included
Easily share your recordings with other people
Clean and neatly organized interface
Enable and disable audio for your recordings
Cons:
Lacks options for flexible screen recording
No support for many video formats
You cannot simultaneously record system and mic audio
A limited number of editing tools
It does not include drawing tools
Download: www.loom.com/screen-recorder
Conclusion
By now, you should probably know how to record drawing on screen and which is the best recorder. EaseUS RecExperts is an obvious choice for Windows users as it has all the features you need for your recordings and is extremely easy to use. The other tools are also good for their respective platforms.
FAQs About Recording Drawing on Screen 
If you are recording your screen drawings for the first time, you will probably have some questions about it. The following answers some of your most frequently asked questions.
1. How to record a speed drawing?
To record a speed drawing, first record your drawing in normal mode with EaseUS RecExperts. Then, right-click on your recording and choose "Edit". The video editor of the tool will open. Click on the "Playback speed" option and increase the speed to turn your drawing into a speed drawing.
2. How to record yourself drawing on the computer?
If you want to turn your video presentation into a drawing, the best way to do that is to use the Webcam recording feature. This feature allows you to record videos from your webcam, and it helps you record videos of yourself on your computer. Select the "Record Webcam" option on the main interface to record yourself.