
Table of Contents

About the Author

Related Posts
How to Record Audio When Screen Recording
If you ask me how to easily and quickly record audio when screen recording? It is so easy, and you just need to find a powerful screen recorder. The all thing you need to do is launch this software and click some buttons, the software will automatically finish your work. So, on this page, I will show you the five screen recordings on Windows and Mac.
How to Record Audio and Screen on Windows and Mac
If you want to find a powerful screen recorder, EaseUS RecExperts will be your best choice.
It is an all-in-one screen recorder. This software is built-in a lot of powerful screen recording functions, whatever you used in business, working, meeting, or entertainment. The functions of this software must satisfy your recording needs. Using this program, you can record the video, audio, webcam, and gameplay.
Especially the screen recording function, using this function, you do not only can select to record full screen on Windows 10, record part of the screen, or custom area of the computer screen, and also can record the system or microphone audio while recording the screen. About this software, it still has many special functions are waiting for you to discover, if you are interested in this program, you can click the button to download it and have a try!
The steps of recording game and audio using EaseUS RecExperts:
Step 1. Launch EaseUS RecExperts. There are two different options for screen recording, i.e., "Full Screen" and "Region". If you select "Full Screen", you will capture the whole screen.

Step 2. If you select the "Region" option, this software will ask you to customize the recording area. Make sure that everything you want to capture is within the bounds of the select box.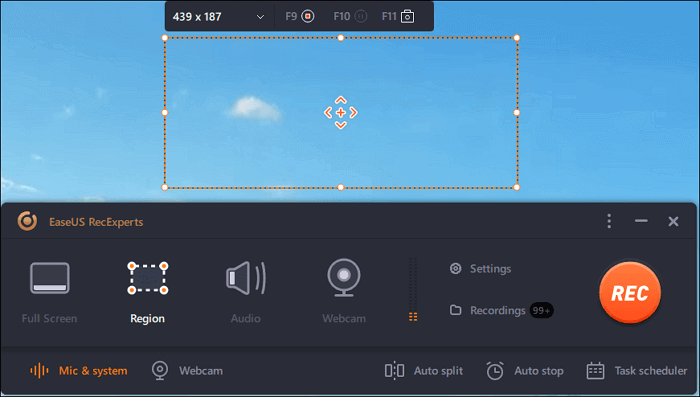 Step 3.  Tap on the button at the bottom left side of the main interface, and there will be many options you can select. This recorder supports recording microphone and system sound separately or simultaneously. The "Options" button is for you to adjust the volume and microphone device.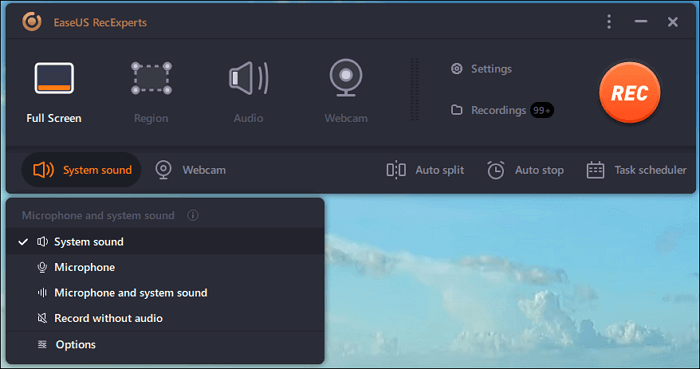 Step 4. If you want to record the webcam simultaneously, click on the "Webcam" icon at the bottom of the interface. Tap on the button to enable the webcam recording, and there will be a drop-down menu to select the recording device. Click on "OK" to confirm your settings.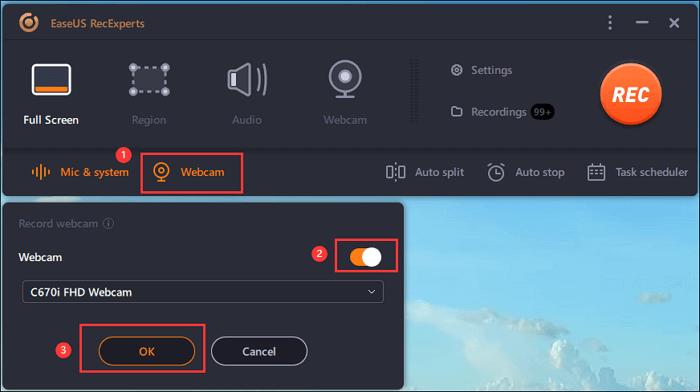 Step 5. When you turn back to the main interface, click on the "REC" button to start recording. A floating toolbar offers you buttons to pause or stop the recording during the recording process. In addition, the camera icon can be used to take screenshots, and the timer icon can help you stop recording automatically.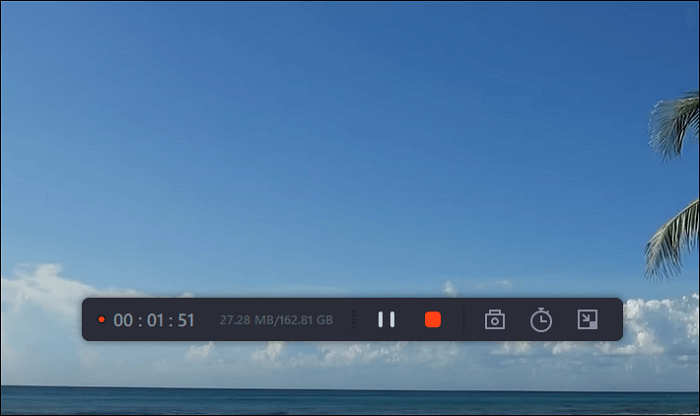 Step 6. The recorded video clips will be saved on your computer. When the media player appears, you will see a set of tools you can use to trim the recordings, extract audio, and add opening title & closing credits to the recorded video.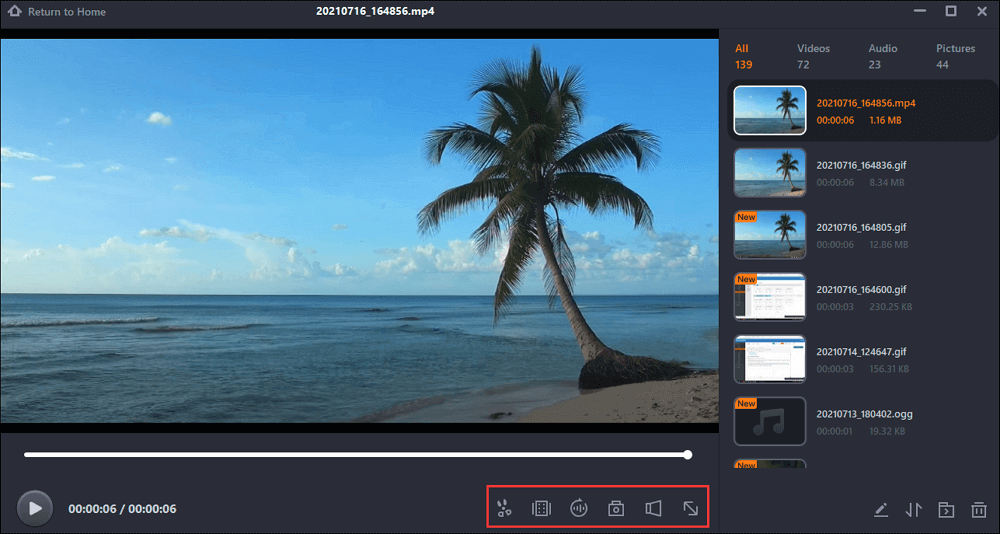 Extra Recommend: Other 3 Best Audio and Screen Recorders
1. Icecream Screen Recorder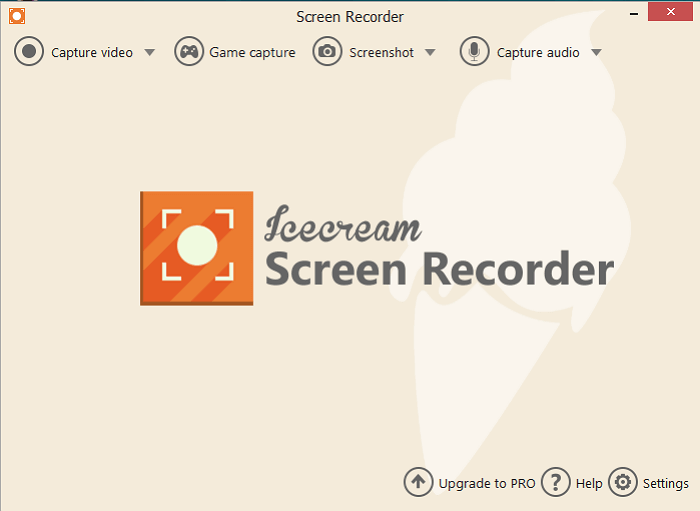 Icecream Screen Recorder is another powerful screen recorder. This software has a user-friendly main screen, and it is also easy to use. When you launch this software, the main functions of this software will show on the interface. You just select what functions you need and click the button that you can do your record operation.
This software supports user to record audio, video, game, and screenshot. You can use these recording functions to capture gameplay video, video tutorials, webinars, live streams, Skype calls, and much more. And you even can use this software to record audio while recording the screen.
Features:
Support recording your full screen or select the area you'd like to record
Support recording webinars
Support recording audio when recording the screen
Support adding your own watermark to the screen recording
2. OBS Studio
OBS Studio is one of the popular open-resource screen recorders. This software supports Windows, Mac, or Linux users to free use. And this program built-in a lot of recording tools that users can use this software to record video, audio, gameplay video, and even supports recording audio while recording the computer screen. But, this software may difficult for beginners. If you are a novice, you'd better find some tutorials pages or videos to learn how to use this software.
Features:
Support users free to use
Support recording audio when screen recording
Support noise suppression, and gain
Support setting unlimited number of scenes
3. Quick Time Player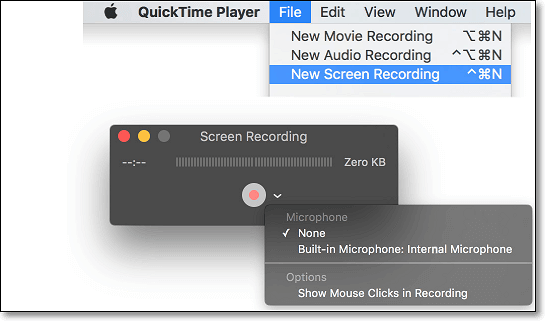 Quick Time Player is a built-in software in Mac device. If you are a Mac user, you must know this software. Quick Time Player is a powerful multimedia framework, which is developed by Apple Inc. This software supports user playing films, editing video, and also recording the screen. For this recording function, this software can help users to record video, record gameplay video, record audio, and record audio while recording screen.
Features:
Support recording audio with video simultaneously
Ability to save videos from the web
Support Mac users to free use
4. VLC Media Player
VLC Media Player is another open resource multimedia player. This software supports playing most multimedia files as well as DVDs, Audio CDs, VCDs, and various streaming protocols. This software can nearly run on all platforms, such as Windows, Linux, Mac OS X, Unix, iOS, Android, and more. Except for playing or editing videos, this software also supports the recording screen.
Features:
Support recording audio while screen recording
Stream media over the network or internet
Support free to use
Conclusion
To sum up, on this page, we are talking about the best five screen recorders with recording audio and video at the same time. You can choose the one according to your need. But, through our test, and compared with the functions and performance of these five screen recorders, we suggest you to choose EaseUS RecExperts. Each function of this software is better than the other four screen recording software. 
About the Author

With the interest in English writing and computer technology, Vanessa chose to be an editor in EaseUS. She is professional in video and audio topics, including video & audio editing, converting, and recording. Vanessa will keep writing to help people solve problems.