
Table of Contents

About the Author

Related Posts
[7 Easy Ways] How to Record Audio on HP Laptop
Nowadays, most of you work on laptops as it is convenient to carry. While working on an HP laptop, you may sometimes need to record an important online meeting, a class lecture, a crucial speech, or other audio information on your laptop, but how to get the work done?
Suppose you don't know the solutions, no worries! This article will show you some easy-to-use laptop audio recorders and give you a detailed step-by-step tutorial on how to record audio on HP laptop. Continue reading to find more useful information.
How to Record Voice on HP Laptop with Voice Recorder
Voice Recorder is a quick and convenient way to help you voice record on a laptop. It is a built-in audio recorder for Windows, so you don't need to download it. Next, we will show you how to do voice recording on an HP laptop with a built-in recorder.
Step 1. Click Start and type voice recorder in the search bar to open Voice Recorder
Step 2. Choose the microphone button to start recording. Or you can hit Control + R on the keyboard to start the recording. Here you can click the pause button to stop the recording temporarily.
Step 3. Once done, click the stop button to end the recording. Then the recorded file will be saved to a folder in your Documents directory.
 Recommendation

Although Voice Recorder is easy for capturing your own voice on the HP laptop, and it still lacks the function to record the system sound or other live streaming sounds. If you want to capture both microphone and computer sound, you can check the following voice recorder for HP laptop.
How to Voice Record on HP Laptop with EaseUS RecExperts
EaseUS RecExperts is a full-featured but lightweight audio recorder for Windows users. With an easy and intuitive workflow, it is friendly for both beginners and professionals. You can use it to record streaming audio, capture system sound, or record the background sounds and voice with your microphone at the same time.
Apart from audio recording software, it is also one of the best free screen recorder software. You also can screen record HP laptop with it with simple clicks. In addition, it will simplify your daily tasks such as delivering instruction, recording a video call, recording streaming video/audio, or sharing lectures. This software can capture anything and activities on your screen.  
Now click the blue button below to download this HP laptop voice recorder, then follow the tutorials to record audio on a laptop.
Step 1. Launch EaseUS RecExperts, and you can choose one of the four main functions on the main screen. Here you need to click on "Audio".

Step 2. You can select the sound source by clicking on the bottom left button. It supports recording system sound, microphone voice, and both of them. The settings in "Options" helps you to adjust the volume.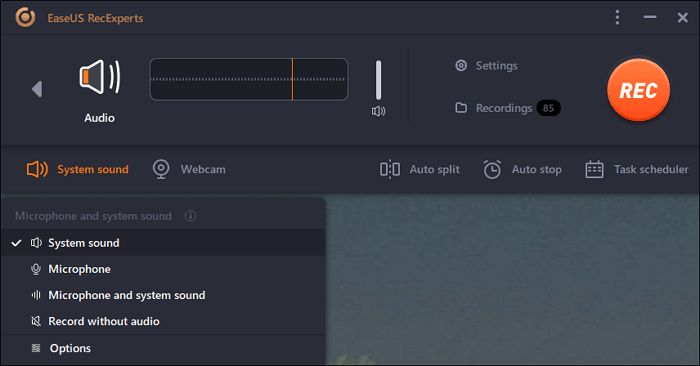 Step 3. Click on the "REC" button to start recording. When you want to finish recording, click on the red square icon to stop it.   

Step 4. An audio player will pop up automatically, and you can view the recorded audio or trim it with a built-in tool.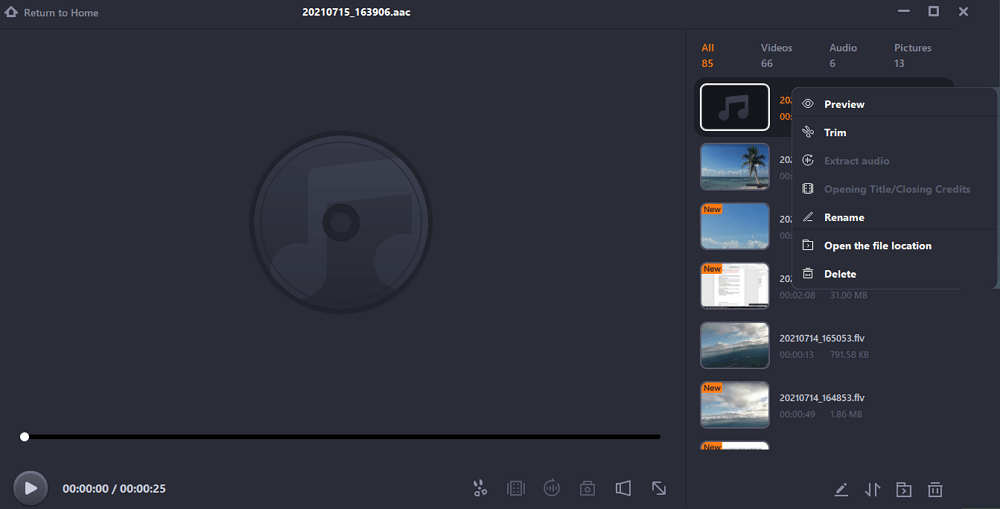 Top 5 Voice Recorder on HP Laptop
Besides the two methods above, you also can find many other laptop audio recorder software. In the following, we will share with you some EaseUS RecExperts alternatives.
#1. Audacity
Audacity is a great HP laptop audio recorder. It is completely free and compatible with three famous operating systems like Windows, macOS, and Linux. This free voice recorder for the HP laptop enables you to customize the interface if you don't like the default interface of Audacity, and it features an efficient multi-track audio recorder compared to other audio recording software.
In addition, it offers you many editing tools to edit your recorded audio file, which means you can directly cut, copy, paste, delete, or mix the sound files in Audacity.
Key features:
Offer two recording modes
Provide plentiful audio editing tools, including noise reduction, edit silence, equalization, etc.
Offer support for different effect plugins like LV2, VST, and Audio Unit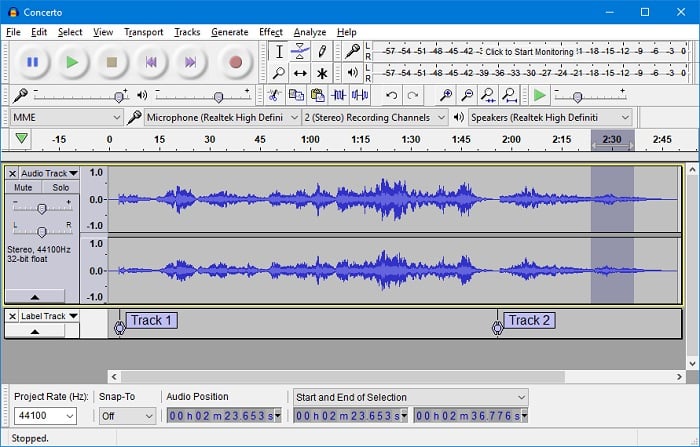 #2. Wavepad
Wavepad is one of the most popular HP laptop audio recording tools on the market. It is easy to use, and you can record audio with it without a tutorial, even you are a novice. Working with it, you can record high-quality audio from your computer or microphone. Once your recording is done, you can trim or compress your audio.
If you want to enhance your audio quality, you can apply effects like echo, noise reduction, and many more to your recorded files. Most importantly, this audio recording software supports a wide range of audio import and export formats, including MP3, WAV, OGG, etc.
Key features:
Support almost all the popular formats
A versatile audio recording and editing software
Allow you to edit audio from the video files
Facility to add effects or convert multiple files during batch processing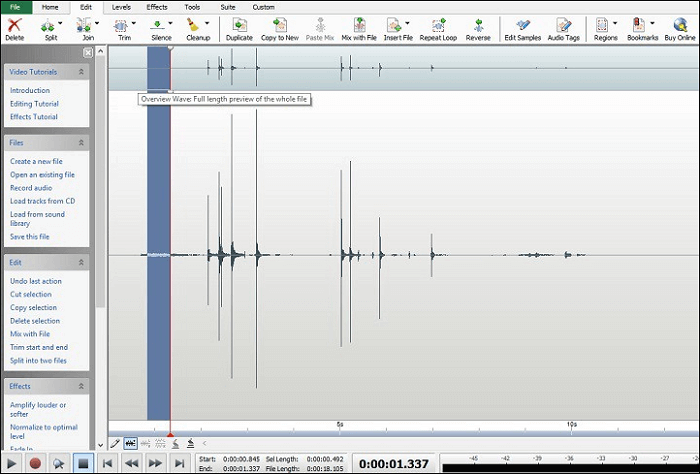 #3. Adobe Audition
Adobe Audition provides a lot of sound and voice recording features, and everything is packed in a visually pleasing user interface. When the audio recording is done with Adobe, you can directly edit the recording using the built-in editing tools to add sound effects or set the audio levels. Moreover, this audio recorder supports all the major audio formats, and it will suit your needs.
Key features:
Easy to record audio with a few simple clicks
Provide fast processing speeds
Offer numerous sound effects and useful features
Wide range of tutorials online that cover a vast array of utilities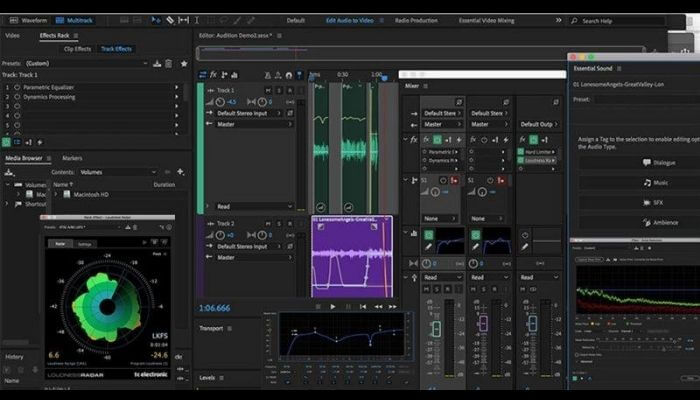 #4. Sound Forge Pro
Sound Forge Pro offers powerful tools for professional audio recording, editing, mastering, and restoration. This laptop voice recording software enables you to capture audio on up to 32 channels in resolution up to 64-bit/768 kHz so that you can create crystal-clear recordings from your vocals, instruments, or podcasts in astonishing sound quality.
Moreover, after recording, you can cut, edit, and enhance audio files with a massive range of professional editing tools.
Key features:
32 channel audio recording, editing, and processing
Numerous audio effects and plug-ins
Instant Action window for faster workflow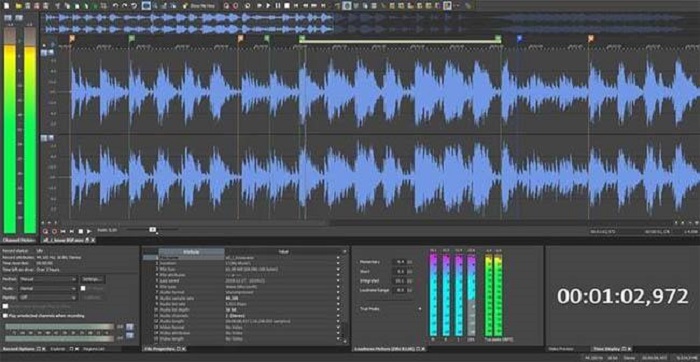 #5. Ardour
Ardour is an open-source audio recording software, which is compatible with Windows, macOS, and Linux. To record audio on an HP laptop, you need to set a nice audio interface, plug in a microphone or a keyboard, add a track, and press the record button to begin recording. Once done, it offers you options to modify these recordings by cutting, moving, stretching, etc.
All in all, Ardour will give you an exceptional audio recording and editing experience.
Key features:
Support multi-track recording and editing
Offer a wide range of editing tools
Export in multiple file formats like WAV, AIFF, OGG, and many more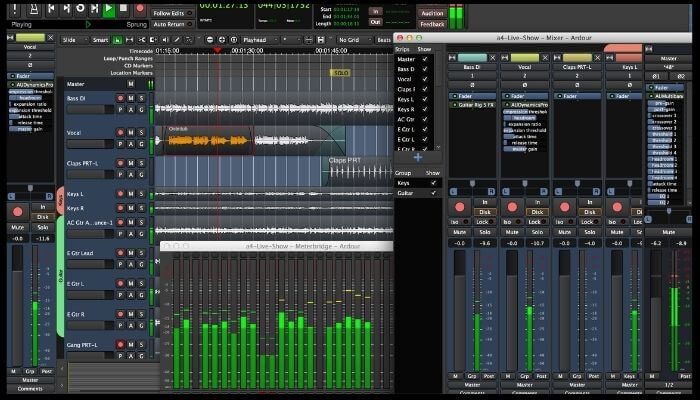 Conclusion
You can learn 7 free HP laptop audio recorder software and the detailed tutorials to voice record on a laptop on this page. Make sure to choose the best audio recorder based on your own situation.
If you are looking for a versatile audio and screen recorder, EaseUS RecExperts is your best choice. Taking only a few steps, you can capture your screen and audio with high quality. Just click the below button to get it now!
About the Author

Jane is an experienced editor for EaseUS focused on tech blog writing. Familiar with all kinds of video editing and screen recording software on the market, she specializes in composing posts about recording and editing videos. All the topics she chooses are aimed at providing more instructive information to users.