How to Record Audio from Computer in 5 Easy Ways | 2021

Jane Zhou updated on Apr 15, 2021 to Screen Recording Utility | How-to Articles
How can I record audio from my computer? How to capture streaming audio coming from my Mac?
When you are listening to some live streaming music or interesting lectures, you may want to record it for later enjoyment. Usually, you hold a microphone to the computer speaker to record the sound coming from your computer, but it's often time-consuming and laborious. Are there any easy yet efficient ways to record audio from computer?
Of course yes! After reading this post, you will know how to record audio from computer on Windows, Mac, and even online. Now let's read on together.
How to Record Sound from Computer on Windows 10
For Windows users, there are a lot of audio recorder for PC to capture the sound from your Windows computer, but some may take a lot of time and money. To avoid this situation, we will introduce two free and useful computer audio recorder in this part. One is EaseUS RecExperts, and the other is Audacity.
It is a professional audio recorder for Windows. With a few simple steps, you can easily capture any sounds coming from your computer, including microphone, system sound, or both at the same time. While recording, it will eliminate all the annoying ambient noises easily. 
Apart from recording audio, it is also a great screen recorder for Windows 10. You also can capture your screen flexibly, record webcam, or record your favorite gameplay with this simple and intuitive Windows screen recorder.
Key features:
Capture any audio and screen for any occasion
Enhance video with texts, lines, arrows, images while recording
Support schedule recording tasks automatically
Save the recorded files for more than 10 formats, like MP4, WMV, MOV, etc.
Export your recording files to popular video platforms like YouTube directly
Don't hesitate! Click the below button to get the powerful audio recorder on your PC now.
How to record the sound coming from your PC:
Step 1. Launch EaseUS RecExperts. Choose the "Record Audio" option from the main screen.

Step 2. Click on the "System sound" option to select the "System sound" as the recording source. Here you can create a recording task to capture audio automatically at a specific time by clicking "Task Scheduler".

Step 3. Next, click "REC" to begin your recording. When you are done, you can click on the red square button to stop the recording.

Step 4. Once done, you will see your recording on the Video List.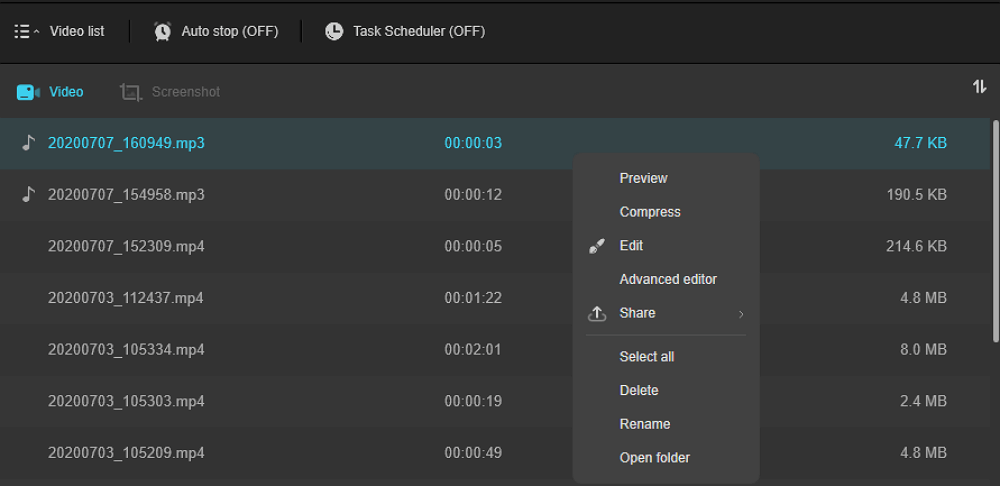 Audacity is a free and open-source audio recorder and editor, which is developed by a group of volunteers. With a simple and basic interface, this audio recorder not only allows you to record your voice but capture the internal sound of your computer with ease.
Moreover, it offers some basic audio editing tools to cut, trim, or copy your audio. For common users, Audacity is a great choice to capture your computer's system audio.
How to record computer audio with Audacity:
Step 1. Set your system sound and right-click the speaker icon in the systems tray. Click "Sound" > "Recording" > "Stereo Mix" > "Enable" > "OK".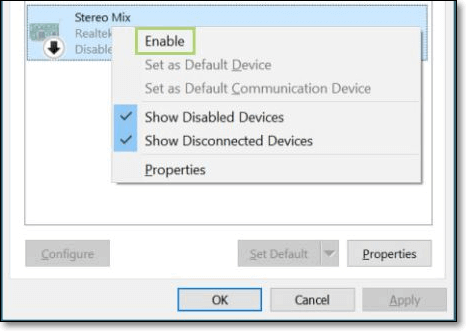 Step 2. Launch Audacity and open the dropdown menu for the Audio Host. Then select Windows WASAPI and check the recording is the default device. If it is, you are now ready to record audio.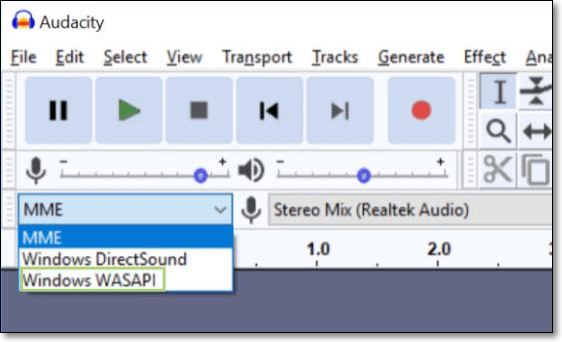 Step 3. Click the red dot icon in Audacity and open the software or anything else that you want to record audio. 
Step 4. Once done, click the black square icon to stop the recording. Then you can go to the File menu and choose the "Export" button to save the recorded audio file. Here you can save the audio file in the format of MP3, WAV, and OGG.
How to Record Computer Audio on Mac
For Mac users, it seems a little hard to record internal audio on Mac, as it will not let you record your computer audio with any of their built-in programs. Is there any solution to solve the problem? Of course yes!
In this section, we will show you two completely free ways to capture the system sound from your Mac computer. 
This is an easy-to-use Mac screen and audio capture software. It enables you to record your screen in your desired size without leaving a watermark. Besides that, it is a good helper for you to capture your system sound on Mac without downloading any software. If needed, you also can capture the sound from a microphone or even from another audio device.
How to capture the sound from Mac computer:
Step 1. Install and launch EaseUS RecExperts and click on "Audio" on the main screen.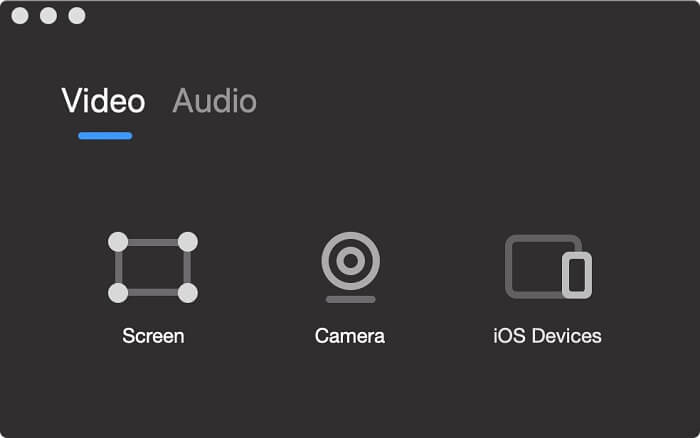 Step 2. Click the microphone icon to choose the audio sources that you want to capture. Here you can select the "System Sound" option to record your Mac's audio.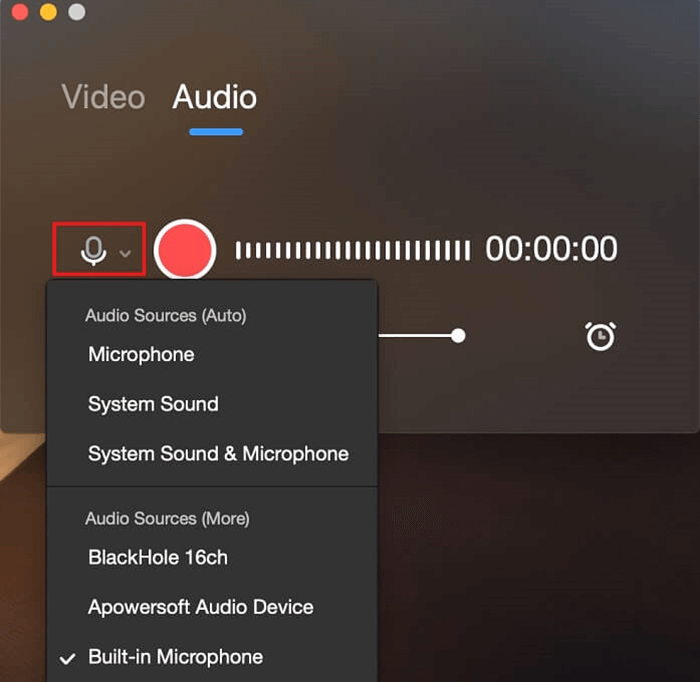 You can also create a schedule recording task to set the recording time and length by clicking the clock icon in the bottom right corner.
Step 3. When you get ready, you can hit the big red button to start your audio recording. Once done, the audio recording will be saved on your Mac computer automatically.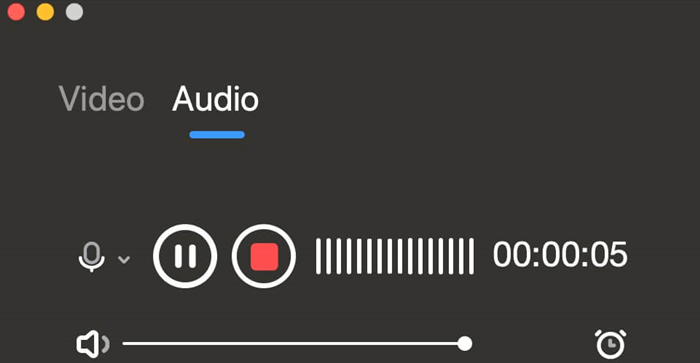 2. QuickTime Player + Soundflower
Another free way is to use QuickTime Player. It is a built-in screen and audio record on your Mac computer. However, it only allows you to capture your microphone. If you are going to record the internal audio, you need to download and install Soundflower first, a audio capture software.
Here is how to record audio from Mac computer:
Step 1. Before capture audio from your Mac, download Soundflower and install it just like any third-party software. Then go to "System Preferences" and choose "Sound Preference". In the Input and Output tab, select Soundflower (2ch).
Step 2. Open QuickTime Player. Click "File" > "New Audio Recording". When the audio recording appears, click on the dropdward-pointing triangle to the right of the Record button and choose Soundflower (2ch). In the audio area, it offers you two options-High and Maximum. You can choose one of them based on your needs. 
Step 3. When you are ready to record audio from the Mac computer, just click "Record". 
In the recording process, you can hear nothing from your Mac's speaker, as the audio is routed to Soundflower rather than your Mac's speakers. If you want to hear what you are recording, open Soundflowerbed located in your Application's folder. Click on the new menu that appears in Mac's menu bar and choose the output you like to monitor from.
Step 4. When your recording completes, just click QuickTime Player's Stop button. Close the window to set a name and save it as an audio file. 
How to Record System Sounds from Computer Online
Chrome Audio Capture is a chrome extension that allows you to record any audio playing on the current tab. Multiple tabs can be captured simultaneously. All the recording files will be saved in either .mp3 or .wav format. Also while recording audio, you have the option to mute tabs that are currently being captured. 
Note: currently captures are limited to 20 minutes because of Chrome memory constraints.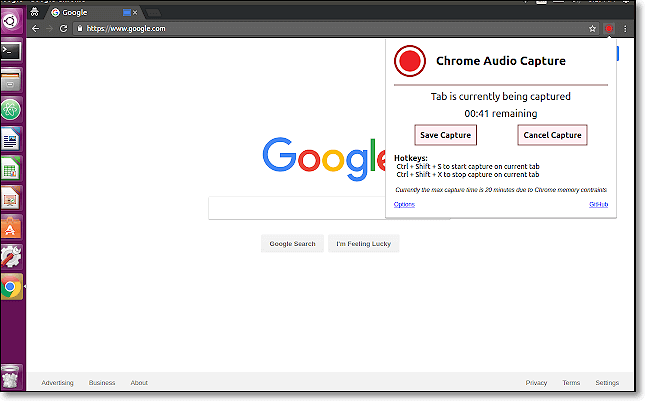 Steps to record sounds from computer online:
Step 1. Move to the chrome web store and add this tool to chrome.
Step 2. Click the Chrome Audio Capture to open it. When you are ready to capture the audio, just click on the "Start Capture" button.
Step 3. Once the capture is stopped or the time-limited is reached, a new tab will be opened for you to save and name your audio files. Make sure to save your files before choosing the tab, otherwise, the file will be lost.
Conclusion
Now you have known how to record audio from your computer, no matter the Windows or macOS operating system you use. To grab audio from your computer, you just need to pick one of the audio recording software mentioned above based on your needs.
In consideration of the functions and practicability, we highly recommend EaseUS RecExperts. Using this recording software, you can capture any audio you like and save as an audio file with many common and popular formats, also, you can remove the background noise and enhance your audio quality. What's more, if you sometimes need to record screen with audio, you also can work with EaseUS RecExperts. For this full-featured recording software, you can't miss it.
People Also Ask
1. Can I record streaming audio on my computer?
Yes, you can record streaming audio on your computer. Here we take EaseUS RecExperts as an example.
Step 1. Download and launch EaseUS RecExperts. On the main screen, choose "Record Audio".
Step 2. In the following window, choose the "System audio" option. Then you can play the streaming audio, and click the "REC" button to begin your recording.
Step 3. Once done, click the stop button to end the recording.
2. How can I record high quality audio from my computer?
There are many great audio recorders can help you record high quality audio from your computer.
EaseUS RecExperts
Audacity
OBS Studio
...
3. How do I record audio from a website?
To record audio from website, you need audio recording software. The tools mentioned above can easily solve your problem.