
Table of Contents

About the Author

Related Posts

Best Audio Recording Software
5 Workable Ways | How to Record AnyMeeting with Audio
AnyMeeting is a powerful online meeting software built for businesses of all sizes. It makes it easy to host or attend a webinar with your workmates. Sometimes, you need to recall the important contents of the meeting, and the best solution is to record AnyMeeting with a helpful screen capturing tool.
While its built-in recorder only enables its Pro users to do recording activities. If you are not, you can complete the work with the following solutions we offered in this post. Just go on reading to find more information.
How to Record AnyMeeting with Default Recorder
Firstly, you can capture AnyMeeting with the built-in tool. The recording feature offered is only for its Pros. If you are, take a look at the following guide. After capturing, check the savings in its built-in service. Also, ensure that this recorder cannot be used on mobile devices. For mobile users, apply other methods.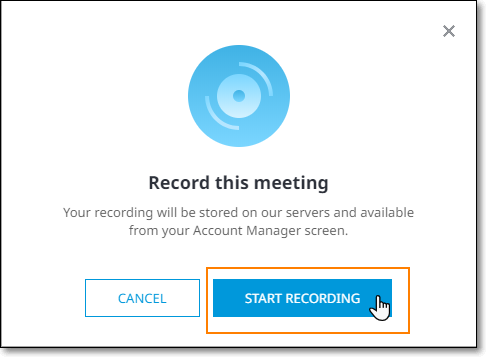 Recording AnyMeeting, use this default tool:
Step 1. Open AnyMeeting and click the Record button at the top of the screen. Then a new window appears, click "Start Recording". All audience will know that the meeting is being recorded by the button turning to red.
Step 2. While recording, you can click the functional button to pause, resume, or stop.
Step 3. Once done, it will provide you with a recording URL so that you can share it with your partners.
How to Record AnyMeeting on Windows PC
To record online meetings on PC, EaseUS RecExperts for Windows is one of the best choices. As the functional screen recording software, it can capture AnyMeeting with audio/webcam freely. Besides, this screen recorder supports creating schedule recording, which helps capture the AnyMeeting at a specific time even if you are not around the computer.
Also, it lets you achieve screen activities up to 60 fps, which means you can capture your screen without lag. For most gamers, it is also the best game recording software to demonstrate their skills.
Highlights:
Capture AnyMeeting video with audio/webcam
Support recording screen, audio, webcam, and gameplay
Export recordings in various formats, including MP4, AVI, etc.
Take a screenshot for online meetings without notification
Now, download this excellent AnyMeeting recorder to begin your recording with the following tutorial!
Recording AnyMeeting, use EaseUS RecExperts:
Step 1. Launch EaseUS RecExperts. There are two different options for screen recording, i.e., "Full Screen" and "Region". If you select "Full Screen", you will capture the whole screen.

Step 2. If you select the "Region" option, this software will ask you to customize the recording area. Make sure that everything you want to capture is within the bounds of the select box.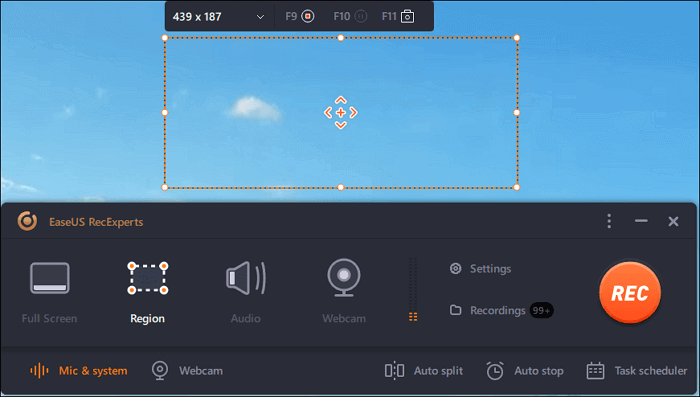 Step 3.  Tap on the button at the bottom left side of the main interface, and there will be many options you can select. This recorder supports recording microphone and system sound separately or simultaneously. The "Options" button is for you to adjust the volume and microphone device.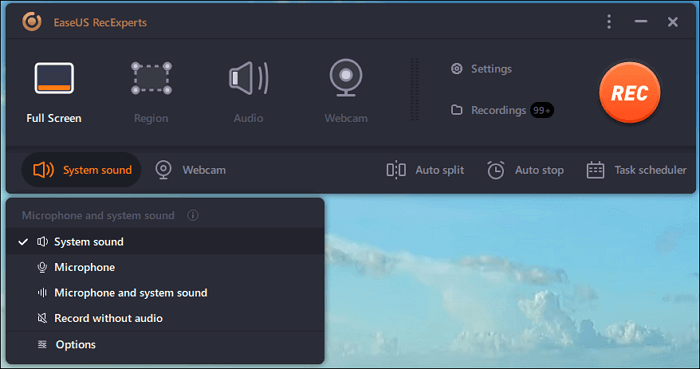 Step 4. To record the webcam simultaneously, click on the "Webcam" icon at the bottom of the interface. Tap on the button to enable the webcam recording, and there will be a drop-down menu to select the recording device. Click on "OK" to confirm your settings.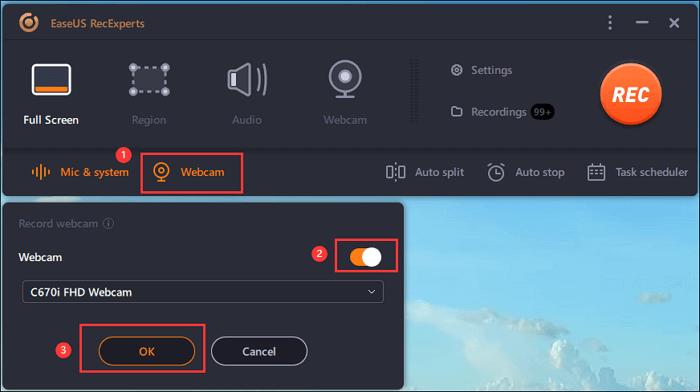 Step 5. When you turn back to the main interface, click on the "REC" button to start recording. A floating toolbar offers you buttons to pause or stop the recording during the recording process. In addition, the camera icon can be used to take screenshots, and the timer icon can help stop it automatically.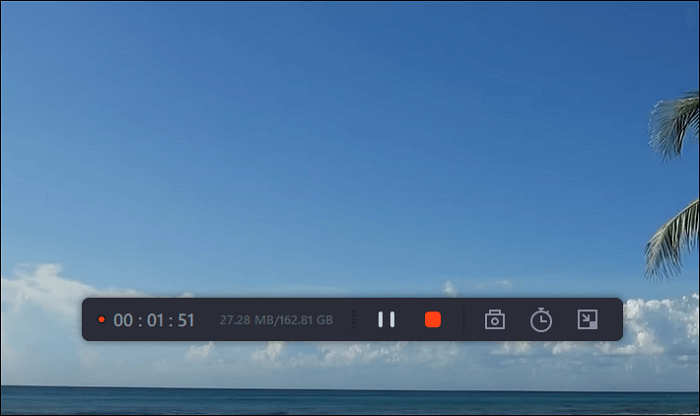 Step 6. The recorded video clips will be saved on your computer. When the media player appears, you see a set of tools you can use to trim the recordings, extract audio, and add opening title & closing credits to the savings.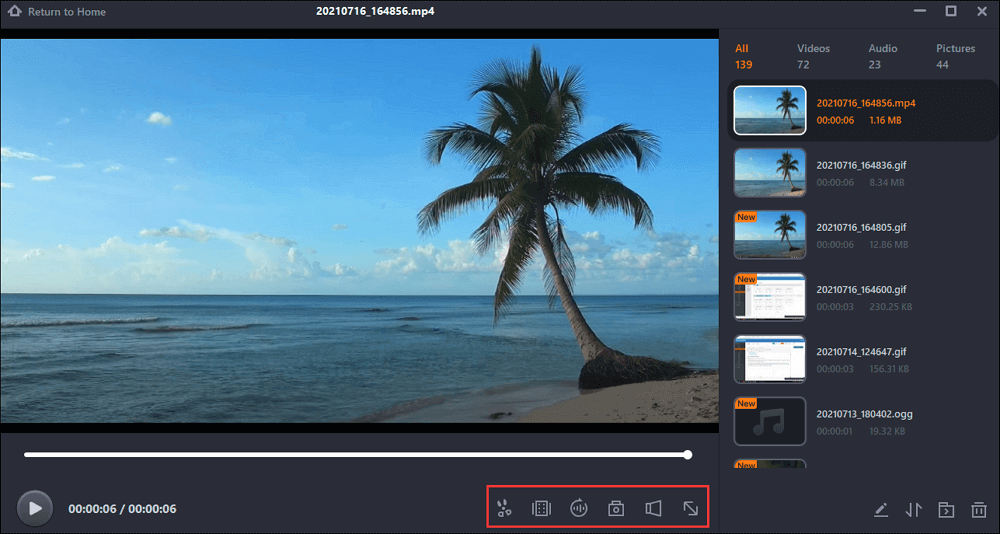 How to Record AnyMeeting with Audio on Mac
To capture AnyMeeting on Mac, try this Mac screen capture – EaseUS RecExperts for Mac.
Being the best free screen recorder for Mac, it can help capture anything on your screen. You can capture online meetings (AnyMeeting, Zoom meeting, etc.), live streaming video, internet radio with a few simple clicks. Also, you can select the desired output format for the recorded video.
Key Features:
How to capture AnyMeeting on Mac? Install this Mac screen capture and check the following steps.
Step 1. Before joining the meeting, download and launch EaseUS RecExperts for Mac. Then, choose a suitable meeting recording area from two options: "Full Screen" or "Region".

Step 2. Then, click on the "Sound" button at the bottom left corner to select the suitable audio source. The two buttons on the "Select recording sound" window are available to decide if you want to capture system sound, microphone audio, or both of them.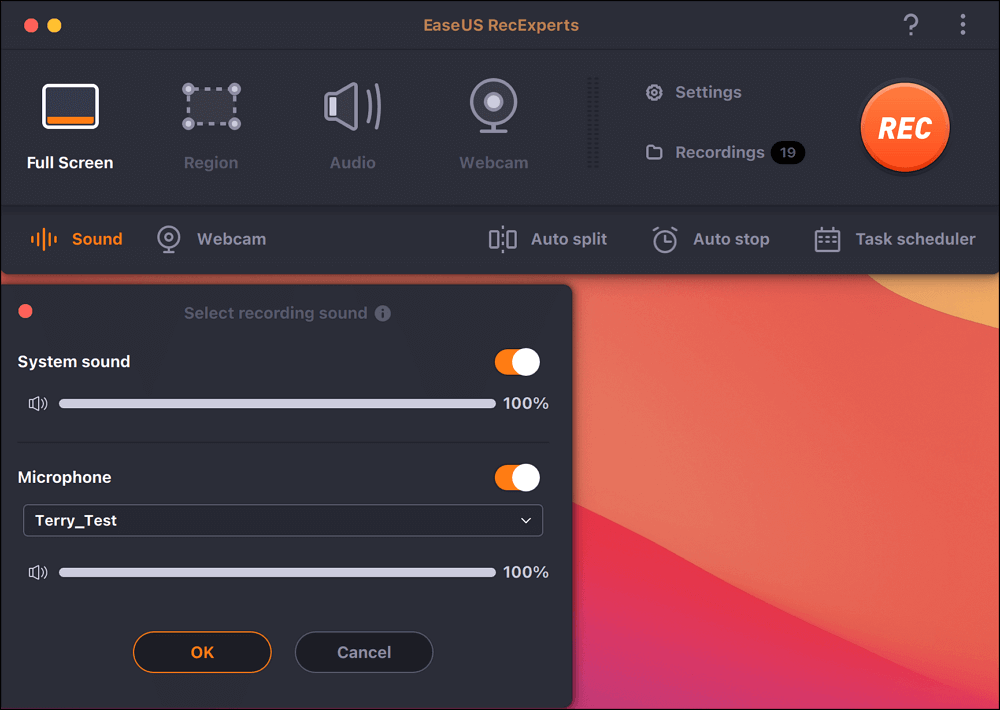 (Optional) To capture the webcam along with the meeting screen, the "Webcam" icon beside the "Sound" button can help activate a built-in camera or an external camera.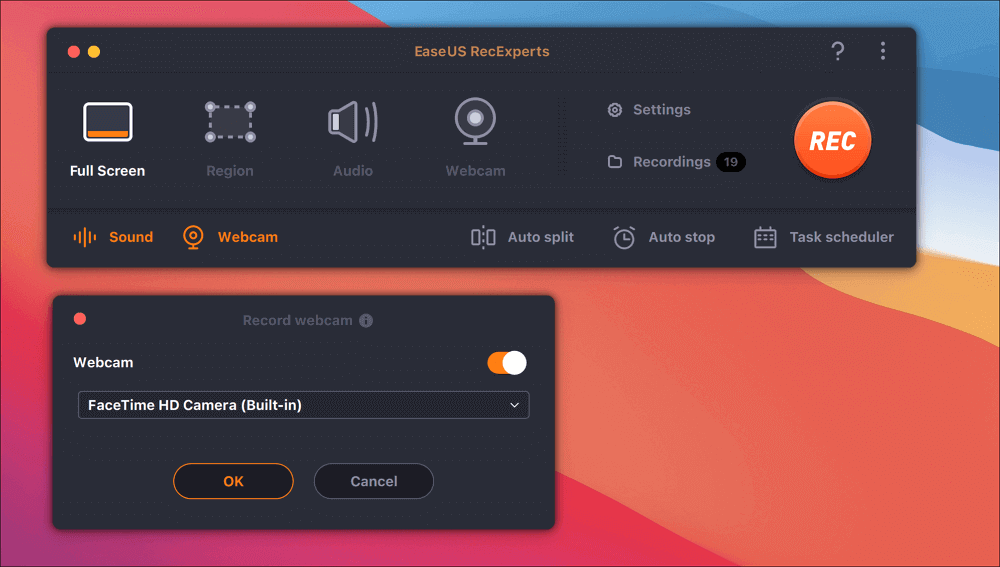 After adjusting the settings, hit "REC" to start recording.
Step 3. During the recording, there will be a floating toolbar that enables you to pause or stop the recording, as well as take screenshots. When you want to save the video you captured, click "Stop" on this toolbar.

Step 4. When the recording stops, a built-in player will pop up, and you can view the recorded video directly.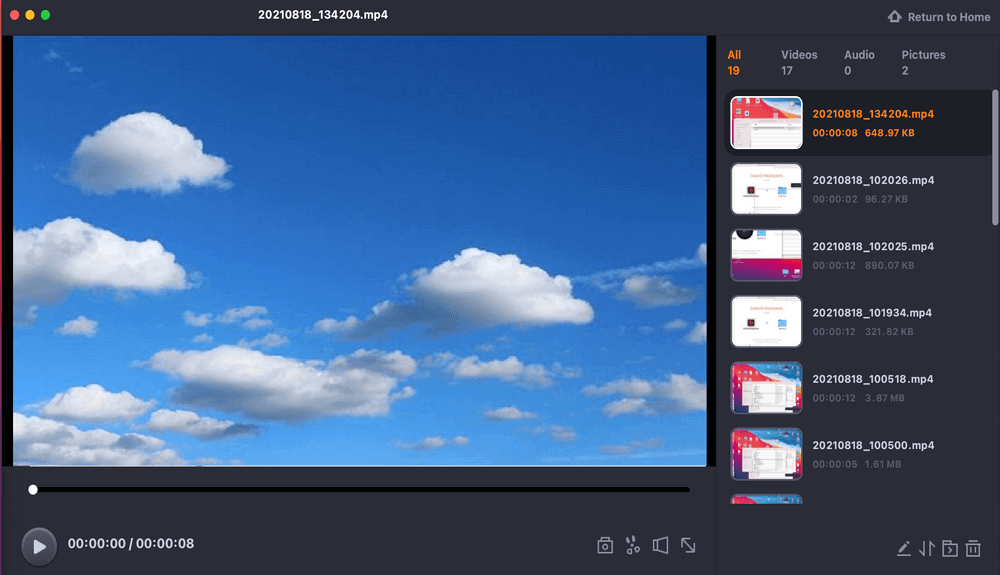 How to Record AnyMeeting on Mobile Phone
When you attend an AnyMeeting on your mobile phone and want to capture it, how to accomplish it? Here are reliable solutions to capture AnyMeeting on iPhone and Android phones, respectively.
1. Capture AnyMeeting on iPhone
If your iPhone runs iOS 11 or later, you can use the built-in screen recorder to capture AnyMeeting. All you need is to enable iOS Screen Recorder on your iPhone. You can use it to capture the video with the external sound. 
The only limitation is that you cannot use it to capture internal audio when screen capturing.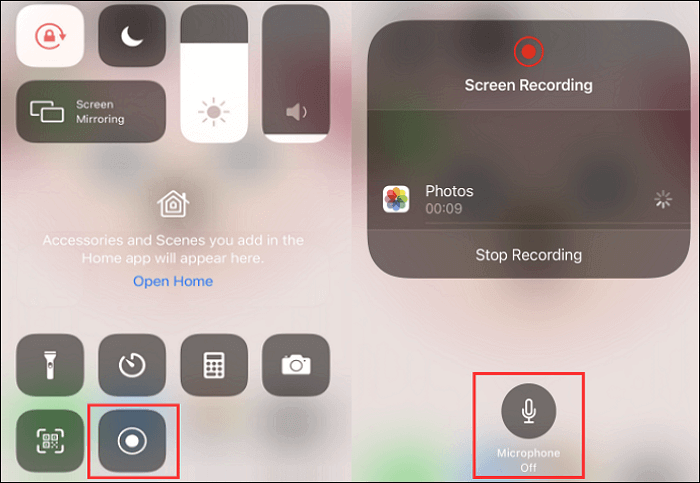 How to capture AnyMeeting on iPhone:
Step 1. Unlock your iPhone and go to Settings > Control Centre > More Controls/Customize Controls. After that, tap on the "+" button.
Step 2. Join an AnyMeeting, and then swipe up from the bottom of the screen and press Screen Recording > Microphone > Start recording. After a 3-second countdown, your iPhone screen will be captured.
Step 3. Once done, click the red blob to end it. The recording will be saved on Photo.
2. Capture AnyMeeting on Android
ADV Screen Recorder can help capture AnyMeeting on Android phone. It lets you capture anything on your screen without any kind of restrictions or requiring root. While recording, you can use the front or back camera or draw on the fly with your favorite color. What's more, you can set your text and banner with full customization.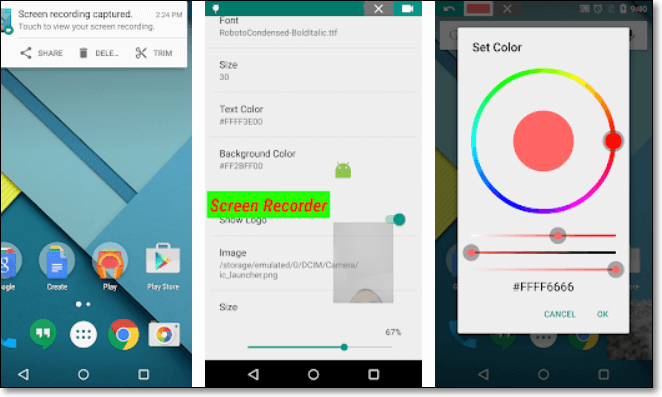 Steps to capture AnyMeeting on your Android phone:
Step 1. Download and launch this application. Tap "+" to open the magic button overlay.
Step 2. When you are going to capture, tap the record button to start your AnyMeeting recording.
Step 3. When it's over, you can edit or share the recordings in this application.
Conclusion
Now, you learn five workable ways to record AnyMeeting on the computer and mobile phone. For a Pro user on AnyMeeting, you can get the task done with the built-in recorder. If you are not, EaseUS RecExperts is the choice. Not only can it record all kinds of online meetings but also capture most screen recording activities without lag!
About the Author

Crystal Chen is very interested in technology products. She experiences many technological utilities and focuses on writing in this area. Meanwhile, Crystal aims to solve users' problems through sharing experiences.