
Table of Contents

About the Author

Related Posts

Best Audio Recording Software
How to Record PS3 Gameplay with a Laptop
When playing PS3 games, is there any precious moment you can record and share with others? Some people like to capture the gameplay when they gain a trophy which is hard to get or record the screen to teach others the skills to complete a level. In all those situations, a powerful PS3 game recorder is indispensable.  
There are multiple ways to capture the gameplay for people who use a computer screen or a laptop as the monitor for playing PS3 games. This post will tell you how to record PS3 gameplay with a laptop in 3 ways. Whether you have a capture card or not, there must be a suitable method for you. Read to know the detailed steps.
1. How to Record PS3 Gameplay Without Capture Card on Laptop
Many people believe that you must have a capture card to use a laptop as the monitor when playing PS3 games. However, as a matter of fact, the laptop with an "HDMI in" port allows you to connect the PS3 console directly with the laptop using an HDMI cable. With a compatible video port or an adapter, you can use the computer screen and television as a monitor to play PS3 games. But if you only have a DVI port instead of an HDMI port, an HDMI-to-DVI adapter is necessary.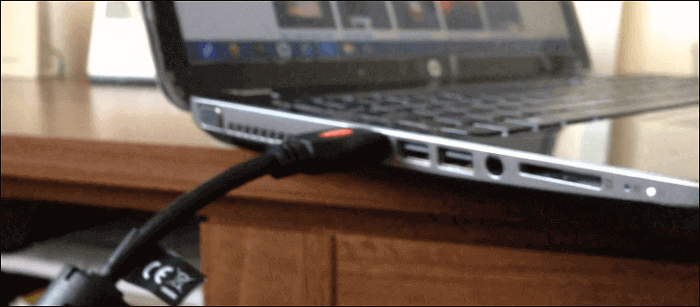 Method 1. How to Record PS3 Gameplay with EaseUS RecExperts
After connecting the PS3 console with your laptop, the next is finding an excellent screen recorder compatible with your device. If you are using a laptop with Windows 11/10/8/7, EaseUS RecExperts is the optimal choice. This screen recorder is lightweight, and you never need to worry that it will slow down your computer. And the video quality of the output video is outstanding, and the resolution of the captured video can be up to 4k or 1080P.
Moreover, this software supports recording the gameplay and your webcam at the same time so that you can make a game video as easy as possible. Other tools are also available, such as a Task Scheduler that helps the gameplay automatically.
Key Features:
Best game recording software for beginners
Capture screen, audio, and webcam simultaneously or separately
Support auto-stop and auto-split
Support more than ten output formats
Take a screenshot or extract the audio from a video
This software is what you can never miss for capturing PS3 gameplay on a laptop. Click on this button for free download now.
How to Record PS3 Gameplay with PC Without Capture Card:
Step 1. Launch the game you're about to record and then open up EaseUS RecExperts. There are four optional modes on the main interface. Choose the "Full Screen" to continue.
Step 2. If you want to adjust the settings according to your needs, click on the "Settings" button on the right side. You can customize the output folder, output format, and quality of the recordings. Moreover, don't forget to select a suitable frame rate as it will ensure you record the game without lag.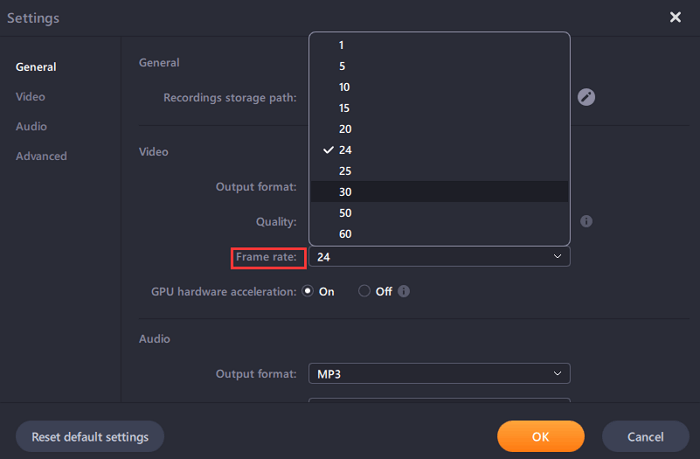 Step 3. And then, a floating toolbar will appear, and you can pause or stop the recording. Besides that, the camera icon enables you to take a screenshot, and the timer icon enables you to stop the recording automatically.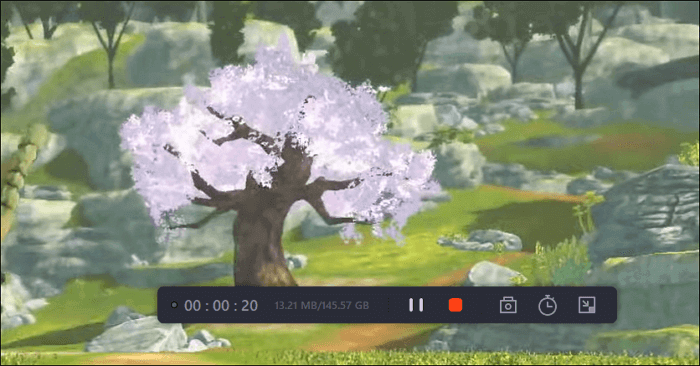 Step 4. After saving the recorded gameplay video, a media player will pop up. It gives you a built-in tool to trim the recording, extract audio from the video, add an opening & ending part. You can find the tool on the bottom of the player.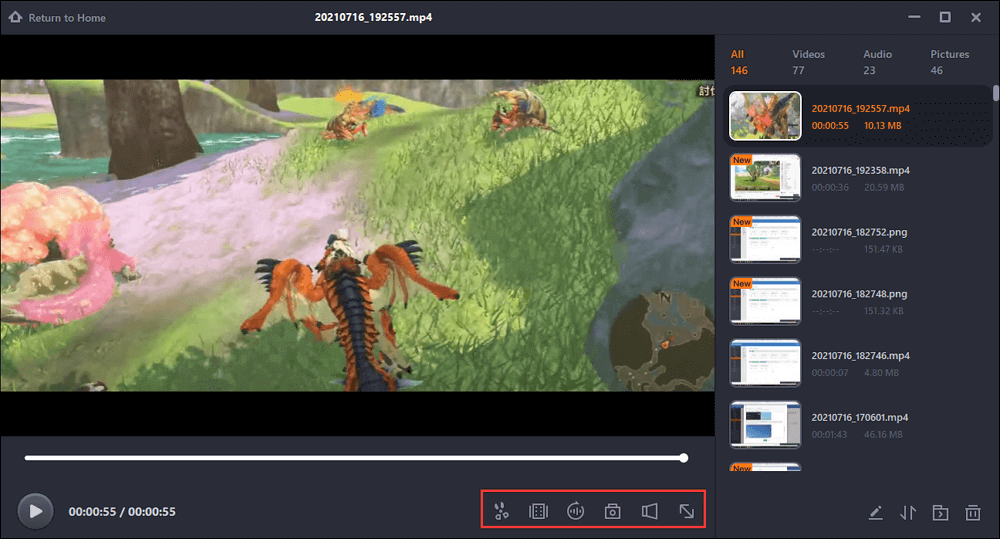 Method 2. How to Record Gameplay on PS3 Using OBS Studio
There is another famous screen recorder, which is named OBS Studio, that supports capturing PS3 gameplay on the laptop without a capture card. Compared with EaseUS RecExperts, OBS Studio is professional PS3 recording software that fits the needs of experienced users or Twitch streamers. The interface of OBS is relatively complex than its alternatives designed for beginners, and you may have to spend a lot of time learning the skills in handling this software.
OBS Studio is what you need if you require a high-quality audio track for your recordings. This software offers you an advanced audio mixer that integrates many audio filters for noise reduction or other purposes. Before recording the PS3 gameplay, don't forget to adjust the settings and choose a suitable resolution, bitrate, etc. 

How to Record PS3 Gameplay with a Laptop Using OBS Studio:
Step 1. Connect the PS3 console to your laptop using an HDMI cable. 
Step 2. Launch OBS Studio on your laptop. And click on "File" > "Settings" to adjust the options, such as video quality, bitrate, etc. 
Step 3. Select the suitable source for capturing the PS3 gameplay. For example, you can choose "Display Capture" as the video source.
Step 4. There are many options under the "Controls" tab. Select the "Start Recording" option to capture the PS3 gameplay on your laptop without a capture card.
2. How to Record Gameplay on PS3 with a Capture Card
The first step for recording PS3 gameplay using a capture card is to connect the capture card as a transfer station of the PS3 console and the computer. You can follow the following steps to connect those devices to each other and use powerful PS3 recording software to capture the gameplay.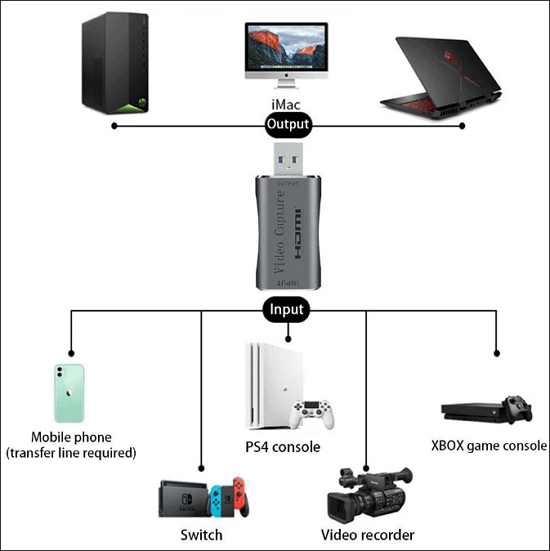 Step 1. Plug one end of the HDMI cable into the "HDMI OUT" port of the PS3 console, and connect the other end of this HDMI cable with the capture card via the "HDMI IN" port.
Step 2. Then, connect the capture card to your screen or laptop using the included USB cable.
Step 3. Some capture cards, such as Elgato, offer you related apps, including a webcam recorder, streaming software, and a screen recorder. You can download it from the website of the capture card you are using.
Step 4. In case that the capture card you are using doesn't offer you a screen recorder to capture the gameplay, you have to choose a third-party PS3 recording software to capture the gameplay. And among all those optional recorders, EaseUS RecExperts is the best for beginners.

If you want to know the steps to record PS3 gameplay on a computer using EaseUS RecExperts, click on this post to get the tutorial.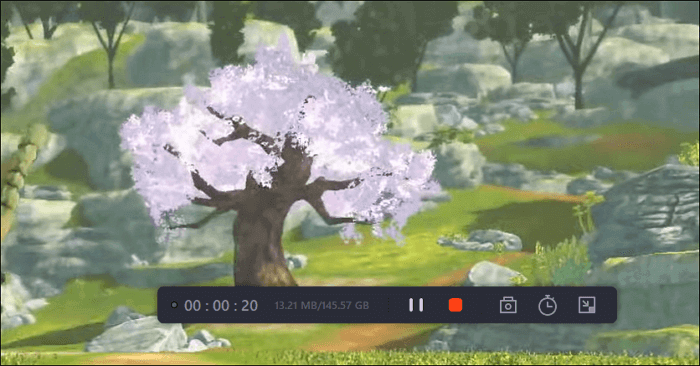 Conclusion
How to record PS3 gameplay with a laptop or a desktop computer? This solution is straightforward, as long as you have a screen with an HDMI port or a capture card. This post introduced the best three ways to record PS3 gameplay with or without a capture card. It is worth mentioning that EaseUS RecExperts is the best PS3 game recorder whether you have a capture card or not. 
About the Author

Melissa is a sophisticated editor for EaseUS in tech blog writing. She is proficient in writing articles related to screen recording, video editing, and PDF file converting.