Top 10 OBS Alternative for Windows and Mac

Jane Zhou updated on Dec 11, 2020 to Screen Recording Utility | How-to Articles
If you're a gamer who likes to stream the perfect gameplay or a teacher with many video lectures, you may know the OBS Studio. This free and open-source program is used for video recording and live streaming. The software is widely used for Twitch, Mixer, YouTube Gaming, and Facebook Live streamers. But it provides minor editing features, so sometimes you will need some OBS alternative tools. This guide demonstrates the top 10 best screen recording software, available for Windows and macOS, which could perform most of the OBS Studio tasks.
Don't Miss: TOP 10 Bandicam Alternative
Compatibility: Windows 7/Windows 8.1/Windows 10 
EaseUS RecExperts is a good alternative to OBS Studio, as it has a simple and intuitive interface. Using it, you can record a full screen and your webcam at the same time when you need to capture web conferences for backup or prepare a presentation. While recording, it allows you to add to your recorded file texts, lines, arrows, watermarks, and other real-time editing works to explain your video tutorial. 
Besides, the screen recording software supports editing functions to improve the recorded video and audio, including canceling a noise, cropping unwanted moments, or changing the format. Also, you can select the appropriate parameters of the output video and audio with ease. 
Pros:
Record background sounds and a voice with your microphone simultaneously
Automatically create recording tasks and start recording at a specific time
Remove the background noise and boost your audio
Add Intro and Outro to your tutorial or gameplay video
Cons:
It works only on Windows PCs
Now take a look at how to record screen with EaseUS RecExperts on your Windows PC.
Step 1. Open the web page that contains the video that you want to capture. Then launch EaseUS RecExperts on your computer and click "Record Screen". 

Step 2. Click "Full" and choose the "Select region" option to adjust the area of the screen that you want to record. After that, click "Microphone" to select the "System sound" option. 
If you need to leave your computer for a while, you can use the capture timer and the program will stop grabbing the video at the designed time. Just click on the "Task Scheduler(OFF)" button to set the start and stop time.
Step 3. Once done, click on the "REC" button to start the recording. While recording the video, you can use the take screenshots, add texts, and highlight the important part of the video. If you like, you also can add arrows, numbering, and something else to your video.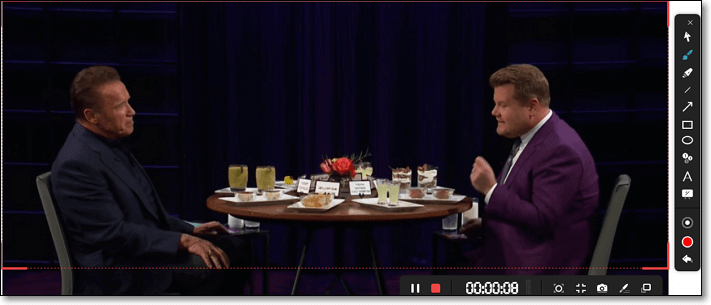 Step 4. Once you have captured the video from the web page, click the "Stop" button. The recorded video will be immediately saved to your computer. Then right-click on the recorded video on the Video list. You can choose to preview, compress, edit, or upload the video directly to sharing media sites like YouTube.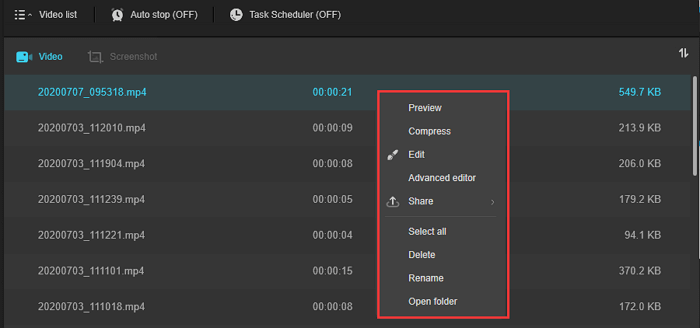 Compatibility: Windows
Xsplit supports two different software - Broadcaster and Gamecaster. Broadcaster tool has similar functions like OBS, so you can customize your desktop screen with overlays and add different audio and video sources (including from sound cards). Xsplit Gamecaster allows you to start live streaming or recording. You can adjust all of the necessary encoding settings. The interface (in-game stream control HUD) allows you to works directly inside your favorite game, so you can start and stop your broadcast and interact with chat.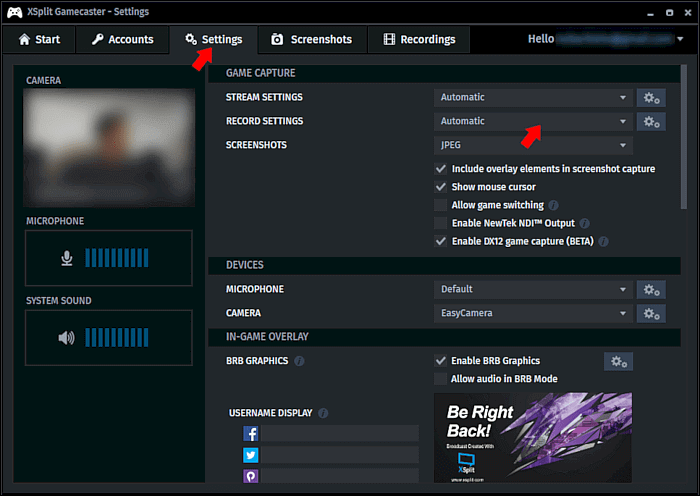 Pros:
Hundreds of fully customizable themes to choose from
Powerful and easy to use intuitive editor
Allow you to see all your stream events for new followers and subscribers
Store all of your themes in the cloud
Cons:
Put a watermark on higher resolution files
Compatibility: Windows
This free and quick video recorder provides an easy platform for new streamers. It has a lot of integrated features, including a huge number of free themes. The users with accounts for Streamlabs can import many tools directly from the company's website. It recognizes your supporters live on stream with fully customizable alerts. It supports dynamic in-game overlay for single monitors, so you can see events and chat on one screen.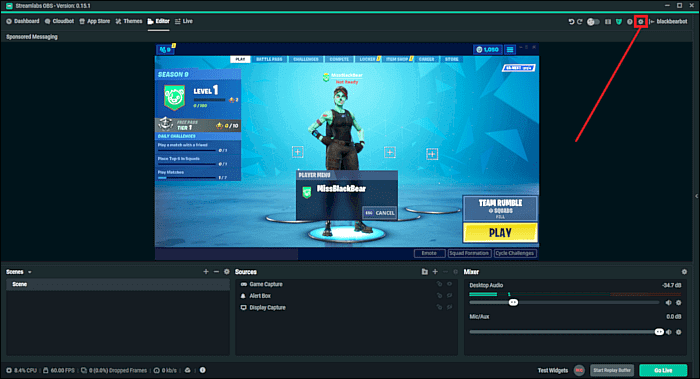 Pros:
Free to use streaming software
Save resources and settings on the cloud
Cons
Fewer encoding options than OBS Studio
Currently in beta so you might face some issues
Compatibility: web-based, Windows and macOS 
A simple, web-based broadcast studio powered by the cloud. It's a good starting point for new gamers. It simplifies the podcast creators and they can stream what they're passionate about. It supports many features like the third-party integrations, images, video clips, and more.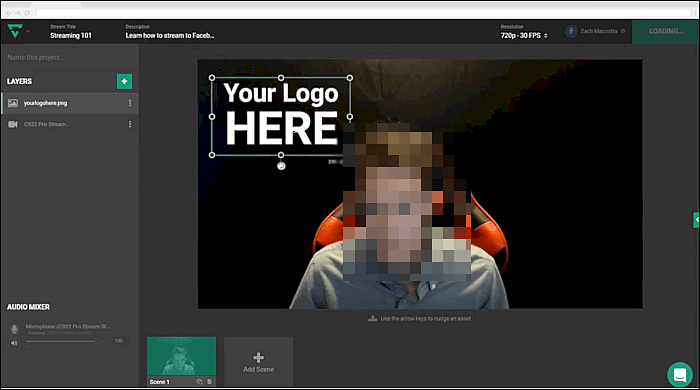 Pros: 
Full creative control over user stream
Access by any browser on modern desktop or laptop
Easily invite remote guests onto your stream
Remote control to your stream by a mobile browser
Cons:
Lightstream changed the policy and now offers a week free trial
Most of the streams are 720p
 
Compatibility: macOS, Windows, and Chromebooks 
It is simple and easy to use video recording software. This software allows you to choose different recording styles depending on whether you want your voice, your face, or both. It stores your videos on the online portal, protecting you against crashes. You can share your videos directly through their portal. The support team is friendly and quickly responsive. There is a Beta version of Loom for Teams, and you can bring the whole team together, recording and collaborating in a shared workspace.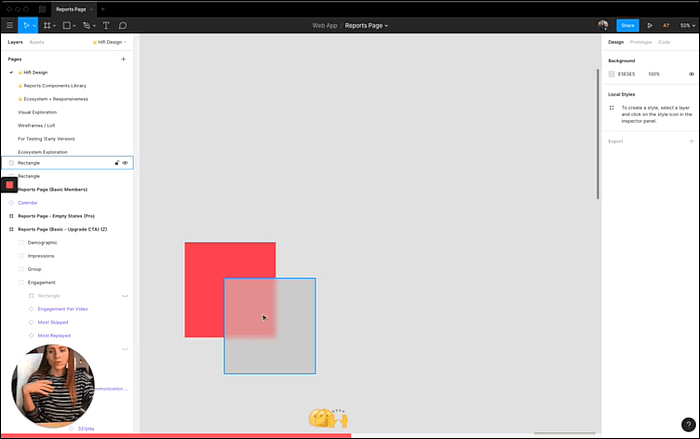 Pros: 
Allow you to save video data with large size out of disk
The dashboard contains the necessary tools to manage the videos
The keyboard during recording videos is practical, you can use letters as shortcuts
Cons:
Few editing options within the user console
There is no option of deleting videos
Compatibility: Windows
Stream Elements created an add-on to the application OBS. It's easy to set up and versatile. You have just to download, install, and use Streamelements' web page to create your scenes. OBS.Live loads of ready-made scenes for you at the click of a button. Practically SLOBS can do the same thing, but OBS.Live has fewer bugs and there is no latency issue.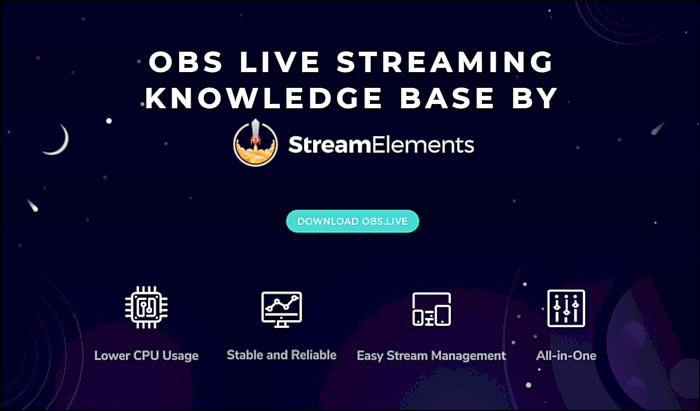 Pros:
Contains all StreamElements info in one place
Library of free overlays and SuperThemes for specific games
No bugs latency/connection issues
Cons:
Sometimes a widget may not appear
Not as many advanced bonus features as Streamlabs OBS
Top 7. Prism Live Studio
Compatibility: Windows, macOS, iOS, and Android 
You can use Prism Live Studio to stream to live platforms many platforms like Youtube, Twitch, Periscope simultaneously. You can add photos, videos, gameplay screens, and text to your broadcast. Additionally, You can add AR masks, graphic effects, and media files to your streams and videos. The latest update v2.1.2 provides a lot of easy-to-use features, including improved performance of Beauty Effects, 4K monitors, and many more.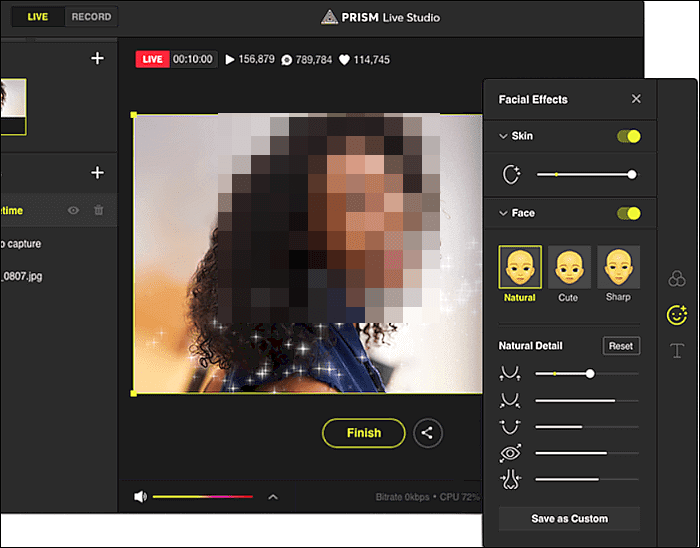 Pros: 
Run on multiple platforms (Windows /macOS, and iOS/ Android)
Stay camera ready with facial effects, powered by automatic face recognition technology
Enjoy real-time communication with the audience
Add some background music
Cons: 
No ability to stream 60 fps, as most games have 60 fps
It put watermarks on the video
The last update works unstable
Compatibility: Windows and macOS
It's a full-scale screen recording and tutorial creating tool. The software is designed mainly for e-learning and course creation, but with its features, anyone can use this software for screen recording and similar purposes. Active Presenter is based on a freemium model. Its free version has most of the necessary features for basic screen recording.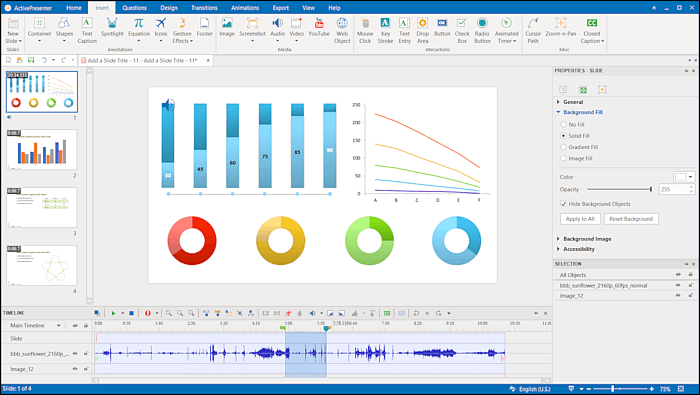 Pros:
Record videos of unlimited length
Edit videos with cut, speed up/down, blur, and volume adjustment
Full annotation capabilities Export to MP4, FLV, WebM, AVI, WMV and MKV formats
Cons: 
Exporting to HTML5 is available only in the professional edition
Upload recordings to YouTube or other video hosting sites
Compatibility: macOS
This application offers intuitive and affordable video creation tools. With an easy-to-use screen recorder, you can capture any area of your screen with the option to add narration from your microphone and video from your webcam. You can enhance your video with a video editor, like adding text, shapes, and images. You can also create fun animations or fluid transitions. Whether you are playing Minecraft, Sonic, Roblox, or Fortnite, you can easily capture all the action on multiple devices.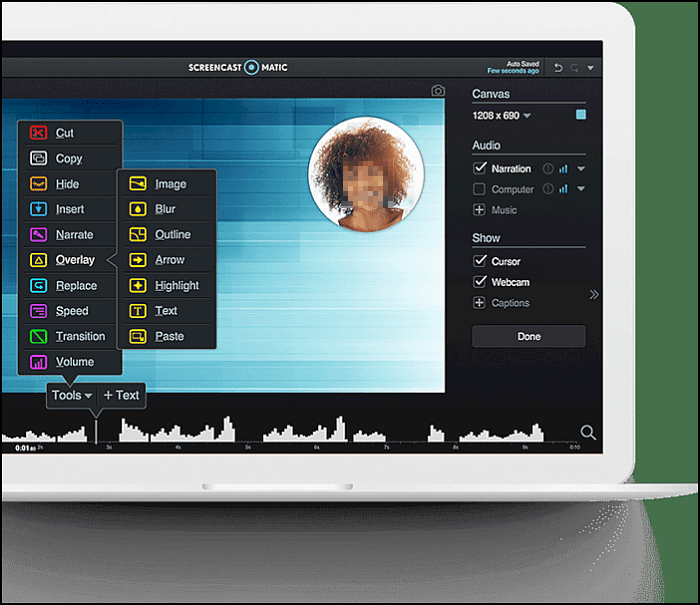 Pros:
Free to use and user-friendly
One-click uploading to YouTube, Google Drive, Dropbox
A built-in speech-to-text feature
A great Chrome extension that is easy to use
Cons:
Videos are watermarked
Only the paid premium versions include editing tools
Compatibility: Windows, macOS and Android 
This feature-rich screen recorder helps you to capture video and screenshots. You can record the screen, system audio, and microphone. You can also overlay your webcam on the screen while recording it. A useful feature for tutorial clips creators is drawing on the screen while recording. You can draw different shapes, arrows, or even erase a created shape. 
Pros: 
The free version supports decent features, but records in 25 fps
Multiple annotation options
Available for both Windows and Mac
Follow mouse feature allows you to capture a small resolution video on a large display
Cons: 
Export only to WebM format or YouTube in free version
No editing capabilities
No commercial use of videos in free version
Conclusion
OBS Studio is a popular application among gamers, professional trainers, and online streamers. There is much OBS alternative software and this guide gives some advice for 10 of the most appropriate free tools. Some of them are running only under Windows or macOS, other can be used both on PCs and mobile devices.
EaseUS RecExperts is the best replacement choice for Windows 10 users, as it records a full screen and a webcam at the same time. It supports many video and audio formats, it records a specific window or program, regardless of which applications or programs are in front.