Top 8 Laptop Screen Recorder on Windows

Vanessa Chiang updated on Dec 22, 2020 to Screen Recording Utility | How-to Articles
With a large number of laptop screen recording solutions available in the market, you might feel confused while taking the end call. We have done the research on our end so that you can save time and focus more on researching and testing.
Windows 8 lacks any built-in screen recording feature while Windows 10 is equipped with this feature. But the tools we have listed below come with professional-grade features such as adding annotations so that you can attain better results. So, without further ado, let's get on with the discussion on the top 8 laptop screen recorder which you can try absolutely for free.
1. The Best Choice of Laptop Screen Recorder - EaseUS RecExperts
Compatibility: Windows10/8.1/8/7
EaseUS RecExperts, which can help you record any portion of your Windows laptop, will bring out your inner creativity. This free utility is perfect for recording games, apps, video tutorials, Skype calls, live streams, webinars, etc. It allows you to schedule recording so that you can get your desired results even without having to manually conduct the whole process. This software is compatible with Windows 7,8, 8.1 and 10. You can record the microphone, webcam and sound of your laptop at the same time.

Features
More features of EaseUS RecExperts are waiting for you to explore. Come and try this amazing laptop screen recorder!
You can follow these steps to record the screen on your laptop with EaseUS RecExperts:
Step 1. Launch EaseUS RecExperts. You can choose one of the four main functions on the main screen. Here you need to click "Record Screen".

Step 2. Click "Custom" to select a screen area to record. You may choose "Full Screen", "Selected Region", "Fixed Region", "Locked Window" or to customize window size here. If you want to record the screen and webcam at the same time, make sure you connected a webcam to your computer.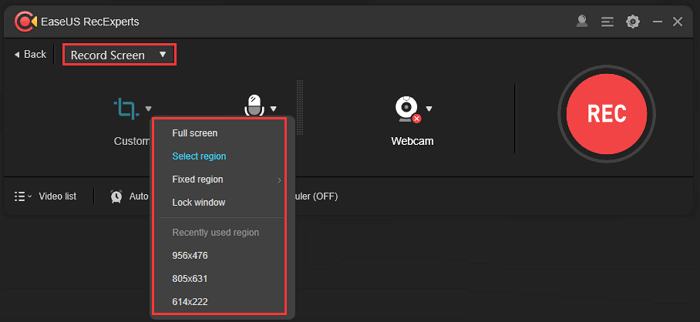 Step 3. Click "Microphone", and you may choose to record system sound only, record microphone only, record both, or record without audio.

Step 4. Click "REC" to start recording. After recording completed, the videos will be shown on the "Video List".

Step 5. Right-click the video recorded, you may preview, compress, edit, share the video, and do more.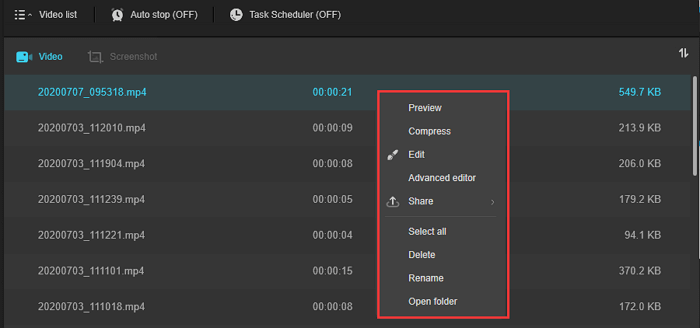 2. Other 7 Recommended Laptop Screen Recorders
Some people may ask if there are other options with different features to record screen on laptop. Sure! In this part, we will recommend 7 popular laptop screen recorders and discuss their pros and cons respectively.
Compatibility: Windows 10/8.1/7
This screen recorder is ideal for both recording the full screen or a selected portion as per your preference. On completion of screen recording, the video is displayed in a straightforward editorial manager from where you can trim it according to your needs. You can even add webcam footages to the screen recordings for more professional results. All the videos recorded are devoid of any watermark. You can share the results easily over YouTube, FlashBack Connect or download them on your laptop for later reference. The easy-to-use interface of this screen recorder is a match made in heaven for novice users.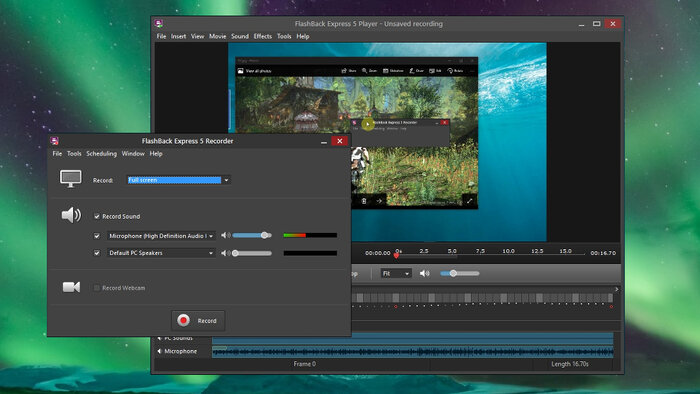 Pros
Does not leave any watermark on the resultant files
The footage captured can be shared online easily
Does not impose any time limits on the recordings
Can export videos in AVI, MP4 and WMV formats
Does not require any license key for its activation
Cons
Certain features can only be availed in the paid version
The free trial period covers just 30 days
You need to register with a valid email address for accessing the software
Has higher CPU utilization compared to peer software
The recorded files cannot be edited in the trial version
Compatibility: Windows 10/8.1/8/7
TinyTake is a feature-rich video and screen image capture tool which has been developed by MangoApps. You can easily make educational videos with this user-friendly tool which allows adding arrows, text boxes and even highlighting certain parts of the screen recording. For capturing the entire screen, webcam or a certain portion, you just need to right click your mouse and choose amongst the available options. The software has a user-friendly interface that allows completing the entire recording process without any hiccups.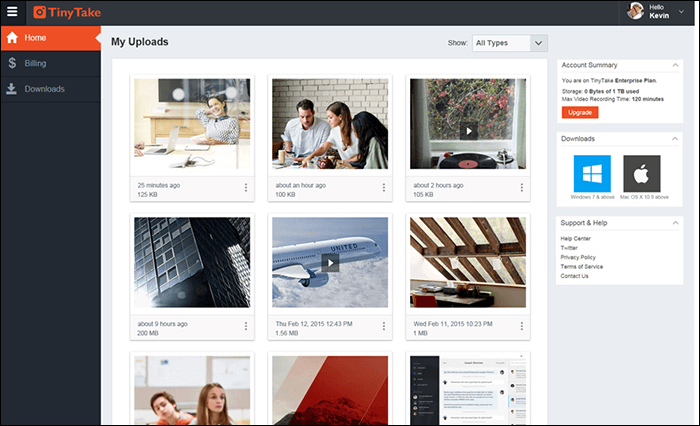 Pros
Upload recordings to YouTube
Share recorded vide easily as links.
Allow video capture over a time span of 60 minutes
Drag and drop functions to share and annotate your recordings
Cons
The free version cannot be used for commercial purposes
The trial version does not come with any online chat option to resolve your doubts
Limited social platform sharing channels
The basic version allows for only 2GB of cloud storage
Compatibility: Windows 10/8.1/8
This open-source software allows you to record webcam, capture screen and the microphone on your laptop. You can also undertake audio capturing and mixing with OBS Studio. Professional grade results can be attained by rearranging the layout as per preference or popping out each Dock to its corresponding window.
OBS Studio records directly from the GPU and this helps to capture games in full-screen mode. It can make optimal use of your multi-core CPUs by recording at 60FPS and even higher. Users can take their pick amongst a variety of customizable transitions while switching between scenes. Both the scenes and sources can be previewed in the Studio Mode before live streaming. The streamlined settings panel offers a plethora of configuration options which helps to tweak every aspect of your recording or broadcast.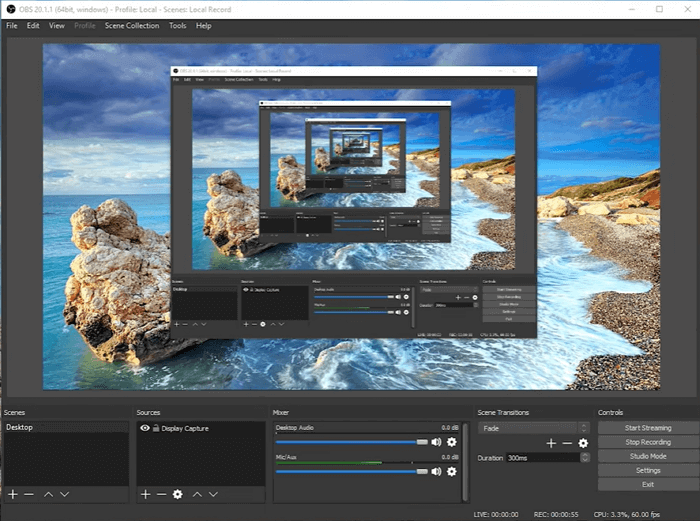 Pros
Specially optimized for recording gaming content
Allows working with multiple sources and mixing between them for better results
Screen recording can be streamed to Facebook, YouTube and Twitch
Does not impose any time limit on the video
The resultant video does not come with any watermark
Cons
Has a steep learning curve
Doesn't have the "Pause" feature
Setup takes some time for completion
Not well suited for beginner users
Applies to: Online
Record your computer screen with top-notch quality by banking on the AceThinker Online Screen Recorder. This highly powerful web-based utility can be used without creating an account or installing any software. The recorded videos can be shared instantly over YouTube, Google Drive or Dropbox. You can record the entire screen or just a part with Acethinker Online Screen Recorder even while being away from your laptop.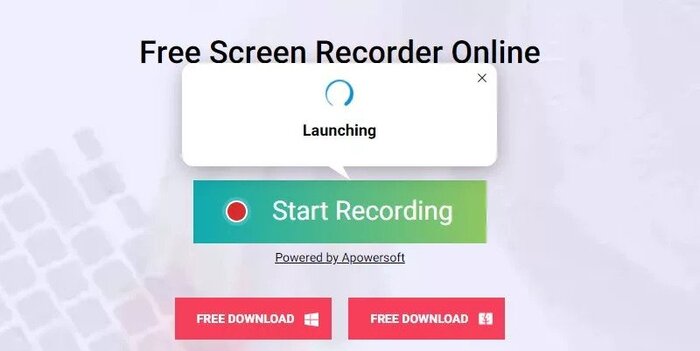 Pros
Videos can be recorded in AVI, MP4, WMV and MOV formats
An intuitive interface makes it well suited for users of all experience levels
Both video and audio can be recorded through your webcam
Users can be selective about including or excluding system sounds
Ideal for making tutorial videos, recording online conferences and gameplay
Cons
Not meant for online content creators trying to engage in professional-level editing
Doesn't offer advanced video editing options like speed ramping, chroma-key, frames per second adjustment etc.
Relies completely on the internet for its operation
Videos tend to lose their quality post-recording
Does not have any built-in video editor or filters
Compatibility: Windows 10/8.1/7
This free program can help you capture desktop screenshots for creating video files in a variety of formats. You can either select the entire desktop or a specific portion for creating intuitive video tutorials. Voice or audio can either be recorded from different external sound devices like microphones. You can switch to drawing mode during video capture for marking a specific area with a pencil tool. These features can prove to be extremely helpful in recording laptop screens with various audio and video effects.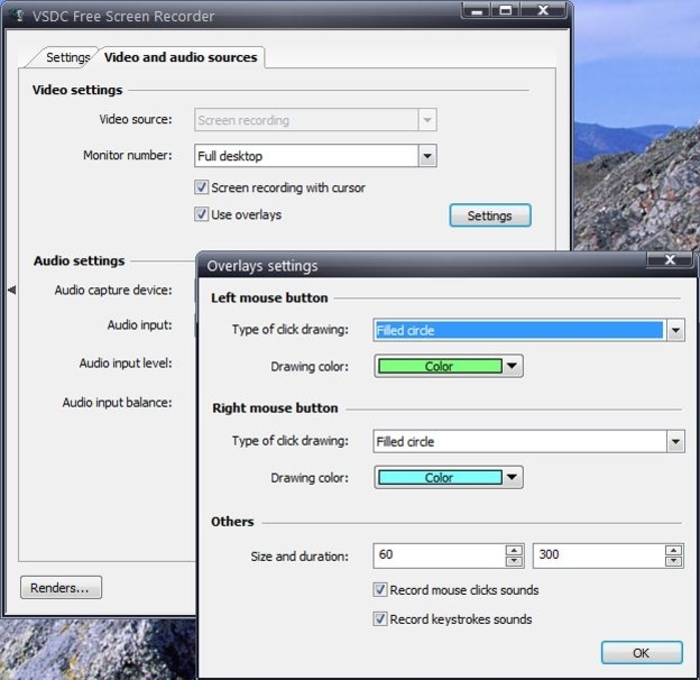 Pros
You can either record without audio or record with audio from the microphone
The screen resolution can be selected for greater versatility
The recording area can be customized as per preference
Simple settings of its easy-to-use interface make the software well suited for beginners
Drawing tools like shapes and annotations delivers professional-grade results
Cons
You cannot take screenshots with this tool
Videos cannot be uploaded directly to various portals
The cursor Overlay option is not of much help
Lacks necessary video editing tools
Webcam cannot be recorded with the VSDC free screen recorder
Compatibility: Windows 10/8.1/8/7
The free-of-cost XSplit Broadcaster can record your laptop screen, webcam, video card, and any media document. You can undertake live streaming, screencasting and game casting with this versatile tool. XSplit Broadcaster has interactive navigation along with drag-and-drop graphics. This makes it easy for users to access images from various folders and position them directly on the streaming screen. While a variety of file formats are supported by XSplit Broadcaster, PNG format leads to the best results while screen recording. Users can even skip the broadcast selection and switch to local recording options as per requirement.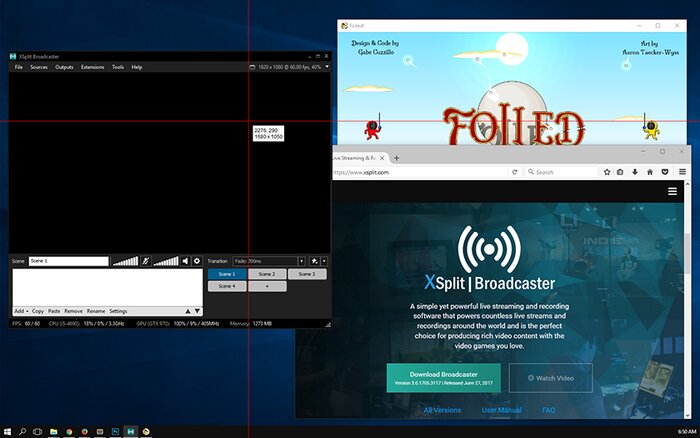 Pros
Offers a large selection of plug-ins and customizations
Stream layouts can be loaded automatically for recording the screen easily
Allows the creation of macros and hotkeys for greater ease of use
Can broadcast to numerous platforms including custom RTMP
The quality of the broadcast can be configured in terms of different technical aspects
Cons
Comes with a steep learning curve making it difficult for newcomers to understand and operate
Certain features can only be used with watermarks on the result files
The free version is plagued with advertisements which disrupt your normal workflow
You might face complications while working with multiple devices
The trial version has very limited features
Compatibility: Windows 10/8/7
With this software, you can capture your laptop screen along with audio and even refine the recording by banking on its built-in editor. On completion, the recorded video can be saved in 720p resolution and in WMV format. iSpring Free Cam allows users to upload and share the screen recordings over YouTube with a single click.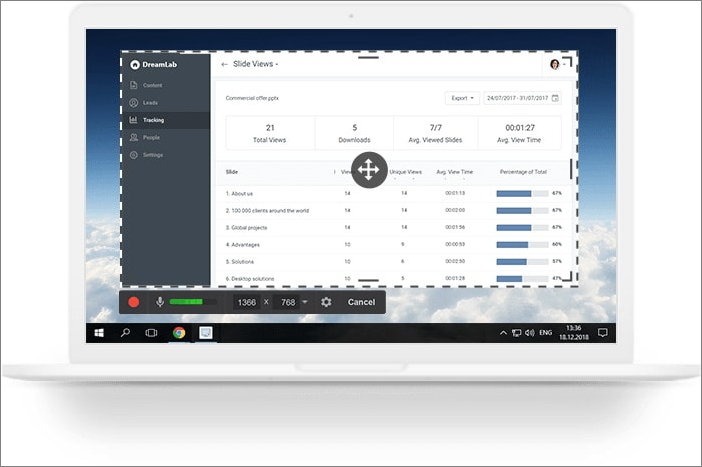 Pros
Record a voice-over using your microphone
Record the entire screen or a selected area of the screen
Record sounds of different applications and programs
Built-in audio and video editors
Cons
Allow the export of only WMV files
Cannot record webcam videos
Does not support cloud recording
Relatively high CPU usage
Lack of any annotation tool
Conclusion
In summary, we have discussed the 8 best laptop screen recorders. While all of these tools come with their own share of advantages and disadvantages, EaseUS RecExperts stands out from its peers with a simple and intuitive interface. In spite of being lightweight, this tool comes packed with features to deliver professional-grade results. With EaseUS RecExperts, ambient background noises can also be eliminated from your video which you can save in multiple formats such as WMV, MP4, FLV, MOV, ASF, AVI, and many more.